South Carolina vs. Georgia: Who Has the Advantage?
John Sommers II/Getty Images

I have never been this excited to see a football game in my entire life. This is the biggest game of the year for both teams.
These are two polar opposite teams. South Carolina has the No. 14-ranked defense in the country to counteract the No. 11 offense in the country. And Georgia's 57th-ranked defense takes on South Carolina's 59th-ranked offense.
It should be a huge matchup.
While some have the Florida Gators rising in the East (and seriously, who have they played?), this should be the de facto SEC East championship game.
How do these two teams stack up to one another in individual areas? I will try to take as unbiased a look as I possibly can. Here we go.
Begin Slideshow

»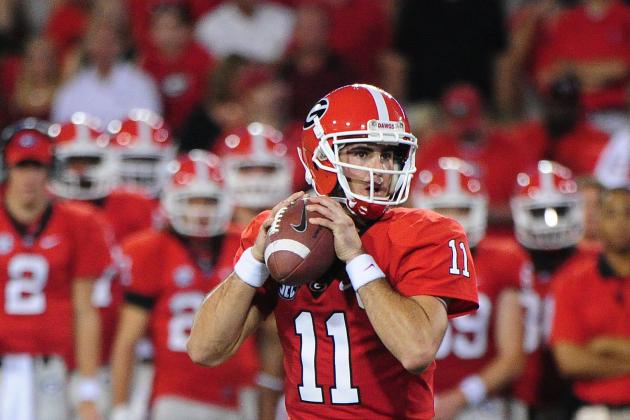 Scott Cunningham/Getty Images

This one is probably closer than most people realize. Georgia's Aaron Murray has been sensational, accounting for 1,370 yards, 12 touchdowns and only three picks.
However, Connor Shaw has been pretty amazing himself over the last few weeks, breaking the single-game completion percentage for South Carolina with a 95.2 percent completion rate against Missouri. He followed that up with an 83.3 percent completion percentage against Kentucky.
Add to that his amazing scrambling ability, and you have an excellent quarterback.
But wait... there's more. South Carolina also boasts one of the best backup quarterbacks in the SEC in Dylan Thompson. In two starts, he threw for 510 yards, five touchdowns and no picks.
So, to compare, you have to think about the combined statistics of both Shaw and Thompson.
The account for 1,081 yards, 10 touchdowns and only two picks. These are very close numbers to Murray. Add in Connor Shaw's 201 yards rushing, and you are even closer.
However, at the end of the day, Aaron Murray is a first-round draft pick at quarterback and seems to be more poised. I have to base this on more than just numbers.
I give the slightest of edges to Georgia.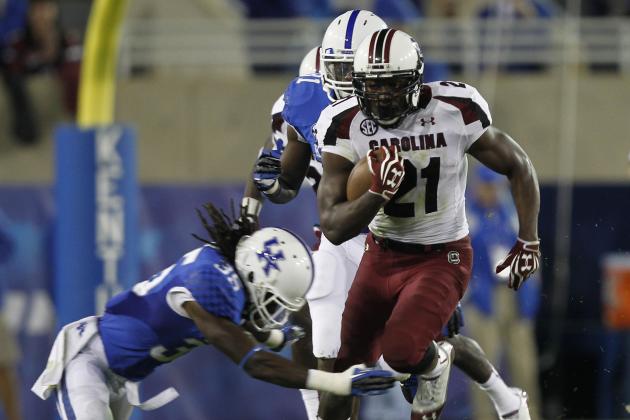 John Sommers II/Getty Images

Yes, I hear you, Georgia fans.
Todd Gurley and Keith Marshall are an excellent one-two punch. They've carried the ball 120 times for 964 yards and 14 touchdowns.
They're very talented.
However, the Gamecocks still have Marcus Lattimore. His numbers aren't as big as Georgia's dynamic duo, but he's been in these situations before. The Gamecocks haven't asked him to carry the load as much this year.
The Gamecocks also boast a pretty deep backfield, with the excellent Kenny Miles and Mike Davis waiting in the wings.
Again, this is based on more than numbers. Lattimore has the experience and the strength to play the big games. Gurley and Marshall are relatively unknown, and it's unclear how they will fair against the Gamecock's stout running defense.
Lattimore is also a great receiver.
Ask any coach to list the top three running backs in college football, and Lattimore will almost always be on that list.
Here, the slightest of edges goes to South Carolina.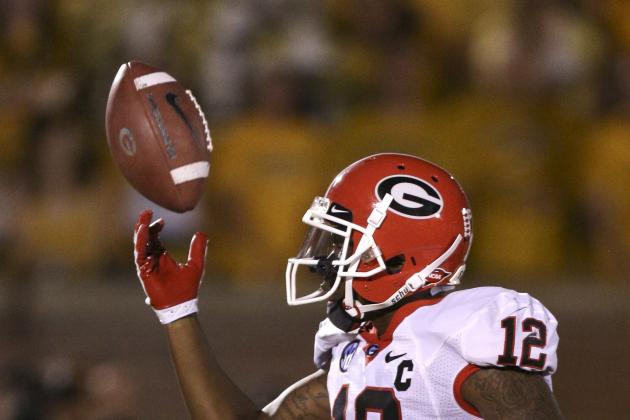 Ed Zurga/Getty Images

This one is also close. Georgia boasts some multi-talented guys who have size to go with good hands.
South Carolina has some undersized speed demons who are capable of just flat-out flying.
Georgia's receivers have more experience and are a better all-around unit, but South Carolina's crew is underrated and is slowly coming into its own.
Georgia gets the advantage in this area, though.
Grant Halverson/Getty Images

South Carolina is simply loaded at tight end with skillful players like Rory Anderson, Jerell Adams and Justice Cunningham.
Georgia has some big guys, but its biggest pass catching threat from that position, Arthur Lynch, isn't the touchdown-catching machine that Rory Anderson has become.
To push the Gamecocks over the top, Justice Cunningham is one of the best blocking tight ends in college football.
The advantage goes to the Gamecocks.
Mary Ann Chastain/Getty Images
Gamecock offensive line coach Shawn Elliot
Both the Gamecocks and Bulldogs have questionable fronts. Aaron Murray has been sacked seven times and been pressured throughout the year.
Connor Shaw has been sacked six times.
Both teams struggle to keep a consistent pocket.
They both excel at run blocking. It's too close to call.
These two young offensive lines get a push. They are even.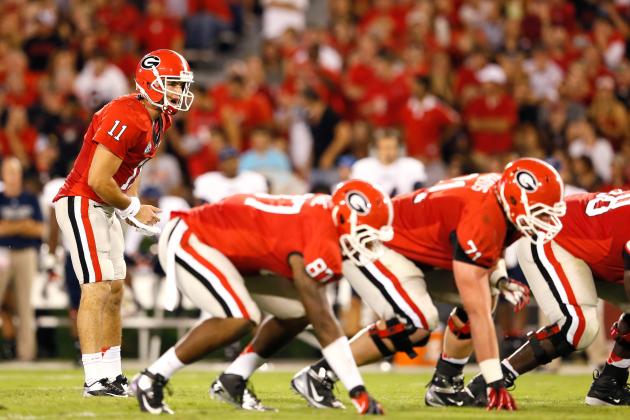 Kevin C. Cox/Getty Images

I have to give Georgia the edge here. The Bulldogs pass the "eyeball" test. They're multi-dimensional and difficult to stop, especially when Aaron Murray is given time.
South Carolina's offense isn't as consistent. It's capable of being as good (if not better) than Georgia's when everything is clicking, though.
Georgia gets the nod here.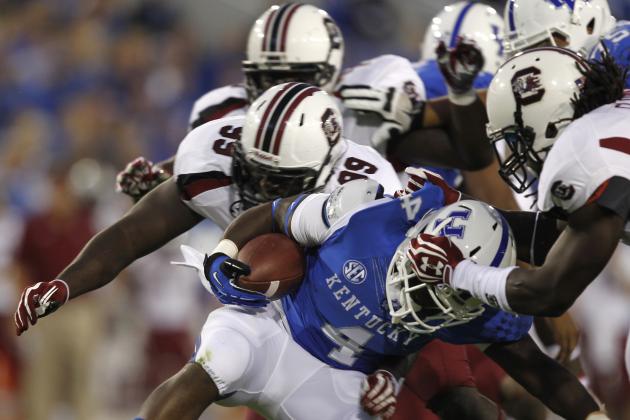 John Sommers II/Getty Images

This one is easy. South Carolina has by a wide margin the better defensive line. Jarvis Jones is a pass-rushing linebacker, so he doesn't really count as a defensive linemen. Even if he did, the edge would still go to the Gamecocks.
Jadeveon Clowney has been unstoppable this year. Even when he's triple-teamed he's still causing interceptions and making tackles.
Add to that Devin Taylor and the rest of the Good Squad, and you're looking at one of the best defensive lines in all of college football.
Big advantage to the South Carolina Gamecocks.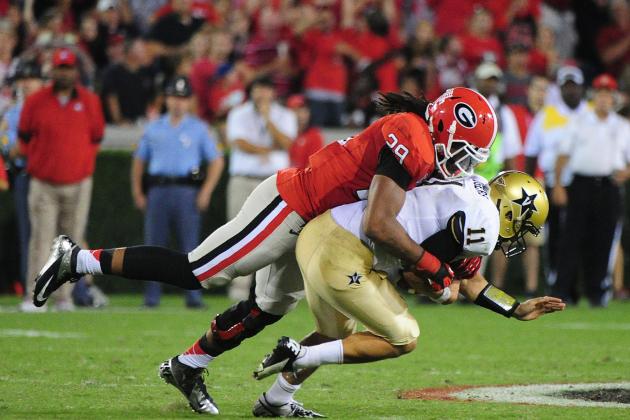 Scott Cunningham/Getty Images

I have to give the nod to Georgia. It has the most explosive linebacker in the game (and possibly the SEC) with Jones. That's not all, though. The Bulldogs have speed and power all along the linebacker position.
The Gamecocks are good and experienced at the linebacker position, with Shaq Wilson leading the way.
Georgia has the big-play linebackers, and they can make you pay.
Georgia with the advantage.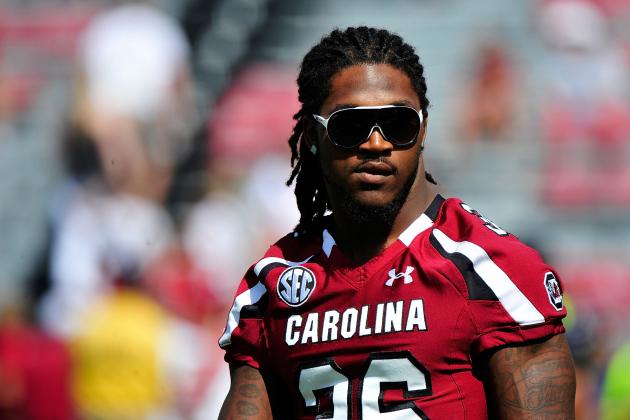 Grant Halverson/Getty Images

This one is almost even. While Georgia boasts the excellent Bacari Rambo (who is just now getting back into game form), the Gamecocks have a bit more consistency with D.J. Swearinger and company.
Jimmy Legree has come into his own as an excellent cover corner, and Devonte Holloman has been good from his Spur position.
South Carolina is averaging less yards per game than Georgia and has just looked a bit more solid.
The edge goes to the Gamecocks.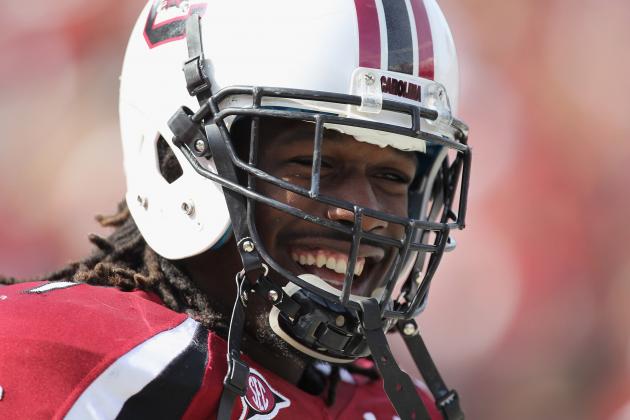 Streeter Lecka/Getty Images

South Carolina has the better defense from top to bottom. The defensive front four is fearsome and will give Aaron Murray fits if the line doesn't perform.
Georgia has the athletes to be elite on defense. They just haven't performed.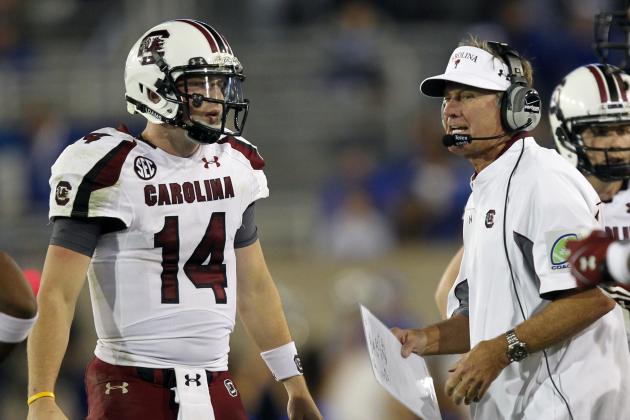 John Sommers II/Getty Images

This game is going to be a chess match. It will be close and incredibly fun to watch. These guys will be fired up, and the atmosphere will be intense.
It's a difficult game to predict, as there are many factors that go into it. I have to be cautious and try to identify the matchup that I believe will be the deciding factor in the game.
With all of that said, I need to make a prediction. It's tough, but I know you want it.
My prediction is....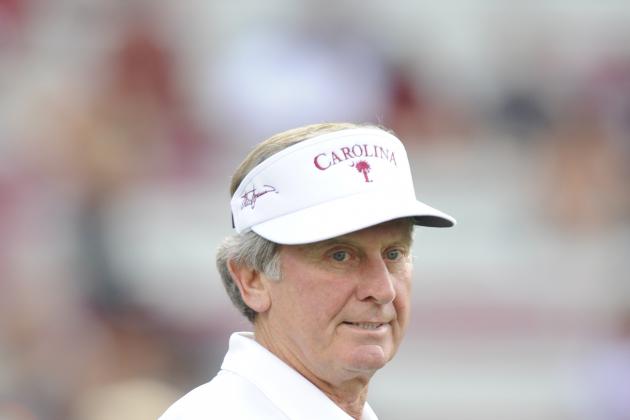 Mary Ann Chastain/Getty Images

South Carolina- 31
Georgia- 24
My rational thinking says UGA. It really does... however, I have to go with the Gamecocks, at home.