Grading Indianapolis Colts' Positional Units at the First-Quarter Mark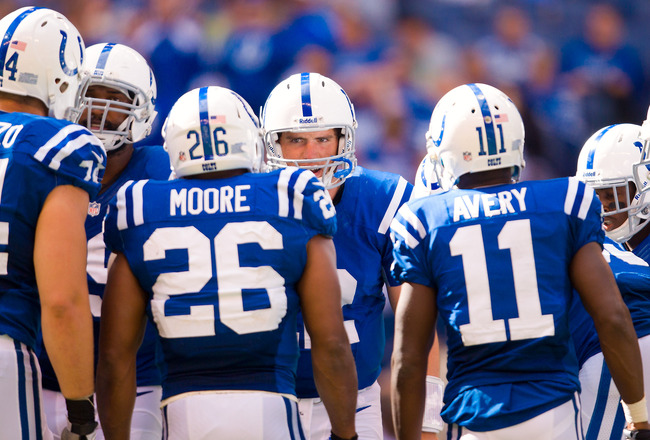 It hasn't been easy for the Indianapolis Colts, and it won't get any easier.
Michael Hickey/Getty Images
Already a quarter of the way through the season, the Indianapolis Colts have proven they are better than the 2011 version of the team.
That's about it.
While there have been glimpses of success in their first three contests, they have been about as consistent as the replacement refs' pass interference calls.
From front to back, the team needs improvement. However, it would be hard to say the team isn't better than it was a year ago. That's the best thing that can be said of this team, right now.
Let's take a look at the team, unit by unit.
Quarterback — B-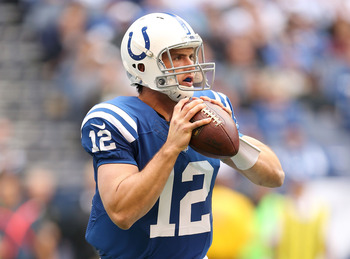 Andrew Luck has been up and down, not unlike Peyton Manning's rookie season.
Andy Lyons/Getty Images
All things considered, Andrew Luck is having a pretty fantastic rookie season.
When he gets a chance, he makes plays. The offensive line has him on the run on nearly every play, yet he maintains as cool a demeanor on each play as can be expected.
He's made some beautiful throws, some on the run, but also some terribly ill-advised throws.
Outside of his debut against the staunch Chicago Bears defense, Luck has thrown four touchdowns, compared to only one interception.
The run game has been less than helpful to the cause, but Luck has done his best under the circumstances. B-minus is a fair grade for the quarterback of a team in the midst of a major facelift.
Running Backs — C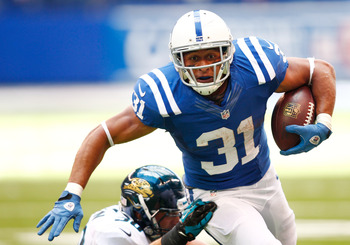 Tough sledding for the boys in blue.
Michael Hickey/Getty Images
With such a terrible offensive line showing up to play each week, it's tough to fault the running back corps of the Colts for being awful.
And they are awful, just to be clear.
74 rushes have resulted in 271 rushing yards for the Colts, thus far. 80 of those yards came on 10 Luck scrambles. Seven more yards on three rushes by Donnie Avery and Dwayne Allen. Subtract those and we've got 61 carries for 184 yards.
In other words, a yards per carry average of three.
Garbage.
I stress the poorness of our offensive line, but it can't all be on the line. Put Ray Rice or Arian Foster back there and it's a different story, no question.
Obviously, we can't compare Donald Brown to those players, but at the same time, we can. Those are his contemporaries.
Wide Receivers and Tight Ends — B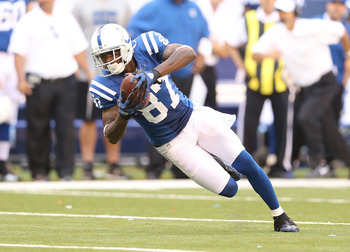 Reggie Wayne is having a resurgence.
Andy Lyons/Getty Images
Father Time hasn't taken Reggie Wayne from us, just yet. Instead, he's granted a resurgence to the 33-year-old vet with the help of Luck.
After Wayne, no particular wide receiver has really stepped up. Rather, it's been a different guy in each game.
Week 1, Coby Fleener brought in six passes for 84 yards. In Week 2, Donnie Avery played a pivotal role in the Colts win over Minnesota. In Week 3, T.Y. Hilton contributed over 100 yards and a touchdown.
The influx of new players in the receiving corps has given Luck a variety of targets to choose from. While they have had some trouble with drops, they have also made some game-changing plays that should have Colts fans excited for the future.
Offensive Line — D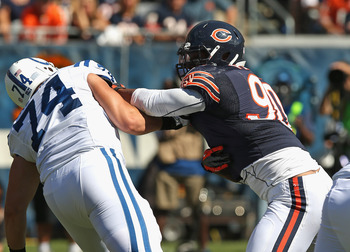 The Colts offensive line has been mauled.
Jonathan Daniel/Getty Images
Only one offensive line has been worse to their running backs this year, and that's the Tennessee Titans—prior to Week 4, at least.
The stat sheet doesn't reflect it, but the Colts line hasn't given Luck much in the way of a clean pocket, either. He's only been sacked five times to date, but that is more of a testament to his awareness and savvy than their protection.
There's simply no way around it, the line needs to be rebuilt. Anthony Castonzo hasn't panned out. Samson Satele and Winston Justice have been injured, along with Mike McGlynn. The continuity of this unit leaves something to be desired.
And that's putting it nicely.
Defensive Line — C-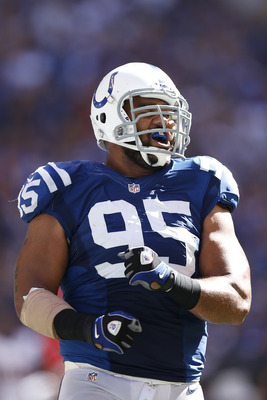 The Colts D-line just isn't getting it done.
Joe Robbins/Getty Images
It's hard to endorse a product that simply isn't doing anything.
The Colts have recorded seven sacks in 2012. None of them came by way of a defensive lineman.
No matter, the Colts have been in the process of converting to a 3-4 defense, and have shown more in the new formation than most predicted they would this year. D-linemen in a 3-4 are often more focused in stopping the run than getting to the passer.
But the Colts aren't stopping the run consistently, either.
In Week 1, Matt Forte had only 80 yards rushing, but those came at 5 YPC. After inexplicably bottling up perhaps the NFL's best pure runner in Adrian Peterson during Week 2, the Colts returned to form in Week 3, allowing 177 rushing yards to long-time nemesis Maurice Jones-Drew.
This is not a unit that is taking pride in their work at the moment.
Linebackers — B+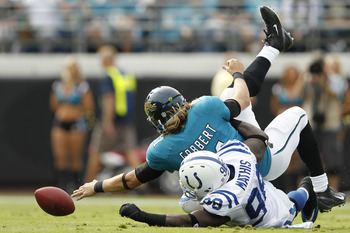 Robert Mathis has made the transition to OLB admirably.
Joe Robbins/Getty Images
This is a unit that the Colts can be happy with. Despite losing their leader Pat Angerer during the preseason, these linebackers have shined.
Newly assigned outside linebacker Robert Mathis is tied for seventh in the league with four sacks, even after the Colts early bye week. Kavell Conner, Jerry Hughes and Jerrell Freeman have all contributed a sack, as well.
Freeman, Angerer's replacement, also added the Colts only interception of the season. He returned the Jay Cutler pass for Indy's first points of the season.
These players contribute to the porous run defense, too, but 3-4 linebackers can't succeed without quality defensive linemen in front of them. Ray Lewis epitomized that truth in 2005, before the team selected Haloti Ngata in the 2006 NFL Draft.
Indianapolis' best defensive group is their linebackers, and that's something that hasn't been true in a very long time.
Secondary — F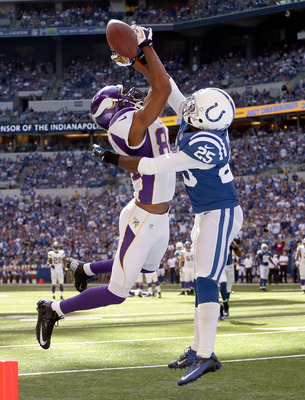 At least they have recognizable names in the secondary now.
Andy Lyons/Getty Images
After making the trade for former Miami Dolphins corner Vontae Davis, one would expect the Colts secondary to be a unit of strength.
Not necessarily the case.
Indy's secondary was diced up by Jay Cutler in Week 1 and shredded by Christian Ponder in Week 2. After 59 minutes had elapsed against the Jacksonville Jaguars, it looked as though they had finally stepped up.
This one hurts to think about.
The wretched Blaine Gabbert needed only a single play on the Jags final drive to remind Colts fans how much of a joke our secondary still is.
Despite holding a one-point lead with under a minute to go—and the Jags with no timeouts—Colts safety Sergio Brown thought it was imperative that he jump a short slant that would've been a ten-yard gain at best. His eagerness and ineptitude gave Jags receiver Cecil Shorts the space he needed to haul in the game-winning 80-yarder.
59 minutes of great play, ruined by an instant of misguided heroics.
Bad teams find a way to lose.
Special Teams — C+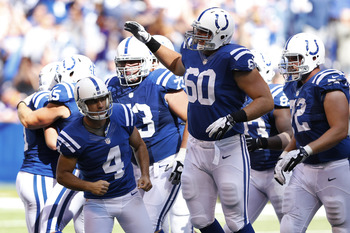 Adam Vinatieri won the Colts their only game.
Joe Robbins/Getty Images
It's hard to hate on a guy with the credentials of Adam Vinatieri, but facts are facts.
He's hit only four of his six attempts this season. Not a great sample size, but his 67-percent conversion rate is the third worst among NFL kickers.
On the other hand, his 53-yarder against the Minnesota Vikings is the only thing keeping Indy from sitting at 0-3.
Pat McAfee has been slightly above average, but certainly nothing special. The team hasn't given up any catastrophic returns, which is new. The return game, on the other hand, also hasn't done anything of note.
Keep Reading

Indianapolis Colts: Like this team?