Grading the Buffalo Bills' Positional Units at NFL's First Quarter Mark
Can someone submit a grade for the Jills
Rick Stewart/Getty Images
Inconsistent. In a word, that might be the kindest way to describe the play of the Buffalo Bills in 2012.
Standings-wise they're not yet in a bad position, and the season is still young enough to turn things around.
Yet, as good as they've looked in their two wins, they've looked every bit as bad in the two losses to division rivals the New York Jets and New England Patriots.
At the season's quarter mark, the team has given no indication that they know its way from the playoff desert to the promised land.
To top it all off, there have already been several curious roster moves that continue to deserve attention.
But, for now, we'll analyze and grade the Bills positional units after the first quarter of the season.
Quarterbacks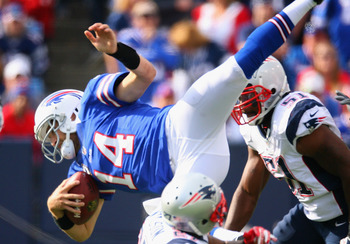 Rick Stewart/Getty Images
We'll have to start with the game's most important position, because that's where Bills continue to look the weakest.
The Bills' No. 1 quarterback, Ryan Fitzpatrick, personifies the inconsistent nature of the entire team. He's leading the NFL in touchdown passes with 12—and in interceptions with seven.
He routinely makes the read and finds the open man, but inexplicably misses the target. Much was made in the offseason of how quarterbacks guru David Lee was working with Fitzpatrick on his footwork to improve his accuracy.
That work has yet to pay off, and Fitzpatrick's magic may be wearing off. He hasn't won a big game in a year now.
Behind Fitzpatrick, quarterback depth remains a huge concern. There's little upside with either Tarvaris Jackson or Tyler Thigpen, both of whom, like Fitzpatrick, have already been dumped by two other NFL teams.
Buddy Nix's reluctance to draft project-type quarterbacks in the second or third round is clearly hurting the team's prospects at the position.
Grade: C
Running Backs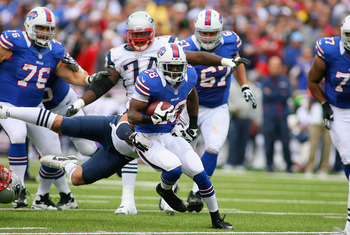 Rick Stewart/Getty Images
Until the Bills Week 4 assignment against the New England Patriots, the team's running backs were a constant bright spot for the team.
Led by veteran all-purpose-yards freak Fred Jackson, and punctuated by the explosive open-field burst of C.J. Spiller, the Bills have one of the better 1-2 backfield punches in the NFL.
When both were injured as of Week 3, Tashard Choice filled in admirably gaining 91 yards on 20 carries in Cleveland.
Spiller and Jackson get somewhat of a pass, as they both entered the New England game nursing injuries that definitely appeared to have impacted their play.
The Bills are currently fourth in the NFL in rushing, gaining an average of 158 yards per game.
Grade: A
Tight Ends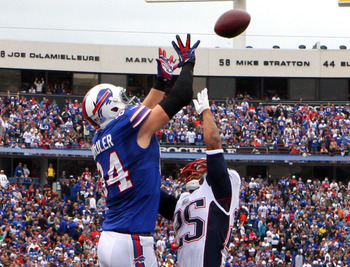 Timothy T. Ludwig-US PRESSWIRE
We should perhaps just call this category "Scott Chandler," because Lee Smith isn't doing much else beyond blocking in the run game, and Dorin Dickerson is playing a very limited role in the offense.
And because, of course, Scott Chandler has really played at or above where he was expected to play, unlike other members on the team (see: Johnson, Stevie).
The 6'7'' Chandler has been a solid option for quarterback Ryan Fitzpatrick and a mismatch problem for shorter defenders. Fitzpatrick obviously feels comfortable throwing high to Chandler and letting him make a play. Chandler's got a soft pair of hands, as they say.
But Chandler's fellow tight ends haven't been pulling their weight, and the Bills need to get more from this position.
Grade: B -
Offensive Line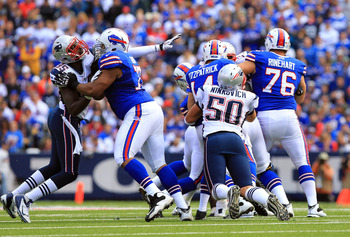 Kevin Hoffman-US PRESSWIRE
The continued strong play of the Bills' offensive line has to be the most positive development of the 2012 season.
Until allowing three sacks to the New England Patriots, the line had only allowed one phantom sack, when Ryan Fitzpatrick fumbled a wet ball while trying to throw a pass against the Cleveland Browns.
In addition to the ample pass protection and the strong rushing numbers, the Bills' O-line has given the team a little something they've lacked over the years: toughness.
Rookie left tackle, Cordy Glenn, was off to a superb start until going down with an apparent ankle injury against New England. Right guard Kraig Urbik suffered a similar ailment, so the starting line's health may become a growing concern as the season wears on.
But for now, the offensive line is still the most productive unit on the team.
Grade: A
Wide Receivers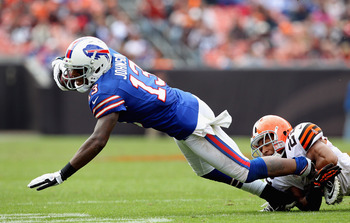 Matt Sullivan/Getty Images
The receiver position is fraught with concerns for the Bills.
Slot receiver and trusted target David Nelson is injured and out for the year. Stevie Johnson is most likely playing injured and minimizing the impact of his sore groin on his play. At times he, like the rest of the receiving corps, appears out of synch with quarterback Ryan Fitzpatrick.
Donald Jones made a sensational 68-yard touchdown catch and run against the Patriots, but he still doesn't appear to be a valid No. 2 NFL receiver. Rookie T.J. Graham is only slowly staking a larger piece of the offensive pie.
And that just about sums it up. The Bills have serious problems at wide receiver. Of course, an accurate quarterback always helps, too.
Either way, the Bills' passing game has to get on track, and that has to start with the receivers being more involved in the game.
Grade: C-
Defensive Line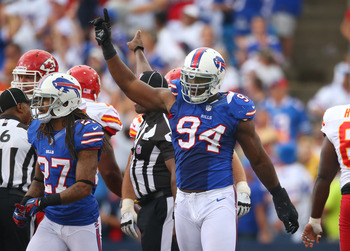 Tom Szczerbowski/Getty Images
Before the New England Patriots came into Orchard Park and pushed the Bills around to the tune of 247 rushing yards, I had the defensive line ranked right up there with the O-line.
The Bills, on paper, should have one of the better front fours in the league. But the best units in the league don't let a guy with 15 career rushing yards average 8.6 yard per carry en route to a 137-yard day.
That's exactly what New England's Brandon Bolden managed to accomplish.
The Bills have been only decent with their pass rush so far, which is not what the team envisioned when it unloaded a Brinks truck for Mario Williams and Mark Anderson.
Mario Williams, it must be said, is simply not playing up to the stature that his salary suggests. If Bruce Smith could do so, I have no doubt he would go back in time armed with tape of Mario Williams' first four games with the Bills and hold-out for more money. And Smith would be worth at least double what Williams is getting.
The D-line's tremendous run-stuffing performances in the first three weeks of the season help the unit's grade here a bit.
Grade: B-
Linebackers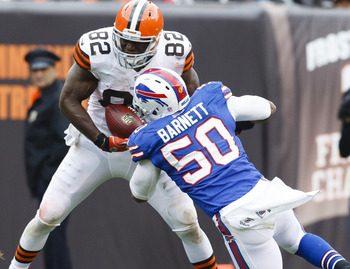 Rick Osentoski-US PRESSWIRE
On good days, Nick Barnett reminds me of Darryl Talley: fast, energetic, spirited, with a nose for big plays. Barnett had 15 tackles against the Patriots.
On bad days, he reminds me of London Fletcher's tenure with the Bills: making tackle six to 10 yards downfield.
There's no question he's the Bills best linebacker, but that's not exactly a compliment considering the productivity of the other guys playing the position, namely Kelvin Sheppard (14 tackles on the season), Arthur Moats (16 tackles) and Bryan Scott (18 tackles).
The Bills are simply not getting enough from their linebackers this season. Sheppard has one sack. Moats has one tackle for a loss.
The linebacking unit is in the same boat as the receivers: thin on talent, thin on depth.
Grade: D
Cornerbacks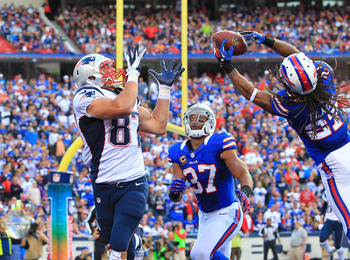 Gilmore almost comes up with a game-changing interception in the third quarter
Kevin Hoffman-US PRESSWIRE
Let's say this to start off, Stephon Gilmore, in his fourth game as a pro, really showed against the Patriots why he was worthy of a No. 10 overall selection.
He was a beast against the Patriots, breaking up a number of passes, including a surefire touchdown to Patriots' tight end Rob Gronkowski, while the game's fate still hung in the balance.
As for Gilmore's cornerback mates, Aaron Williams has also quietly improved from his rookie year. Justin Rogers appears to be a better option in the slot that Leodis McKelvin.
The Bills' cornerback unit appears headed in the right direction and should be a real strength of the team in years to come.
Grade: B
Safeties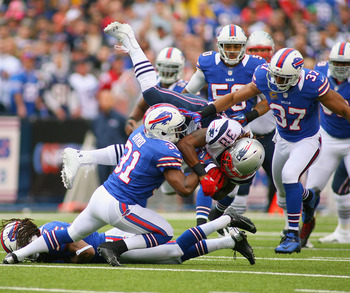 Byrd goes digging for gold again
Rick Stewart/Getty Images
The book on Jairus Byrd since he appeared in the NFL is that he's a ball hawk, a man with a nose for an interception.
After forcing two fumbles against the Patriots, he may have added another moniker to his collection...how about "gold digger"? Byrd's two forced fumbles were just brilliant plays, victimizing a team that historically takes care of the ball extremely well.
Byrd's also been strong in pass coverage. His safety colleague George Wilson has had a quiet four weeks up to this point, but this unit appears to be slightly above average.
Grade: B
Special Teams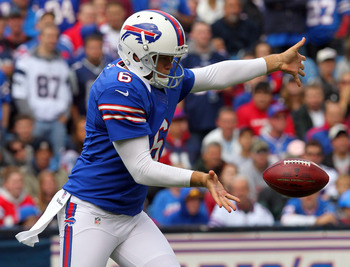 Timothy T. Ludwig-US PRESSWIRE
The Bills made a curious roster move between Weeks 3 and 4 in releasing its longest-tenured player, punter Brian Moorman, and signing the punting prospect they had invited to training camp, Shawn Powell.
Powell had an uneven day in his first game as a pro, shanking one off the side of his foot for 28 yards, though he did hit a few solid punts.
Kickoff specialist John Potter recovered from his poor two-for-five touchback performance in Cleveland with four touchbacks in five kickoffs against the Patriots.
Leodis McKelvin appears to have found a home—at least temporarily—in the kick-return game, taking a punt return to the house in Week 2. But for grading purposes, that only cancels out the punt return touchdown allowed by the Bills in Week 1 against the Jets.
Grade: B
Keep Reading

Buffalo Bills: Like this team?