Amir Khan: 3 Areas Where Virgil Hunter Will Help Khan Improve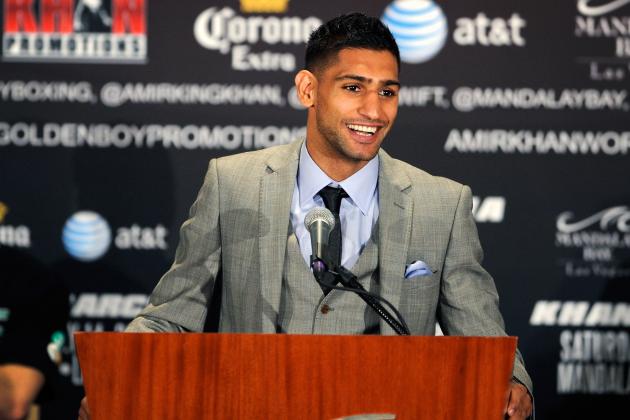 David Becker/Getty Images

According to ESPN's Dan Rafael, former world champion Amir Khan has hired Virgil Hunter as his new trainer and will face Carlos Molina—a career lightweight with a thin resume and little power—in a comeback fight this December.
Despite the dubious nature of Khan's defeat to Lamont Peterson two fights ago, the former WBA/IBF titleist and 2004 Olympic silver medalist is coming off consecutive losses and finds himself at a critical juncture in his career.
When considering Khan's two recent announcements, the decision to box Molina (17-0-1, 7 KO) is somewhat head scratching, and perhaps, too soft of a touch. Khan (26-3, 18 KO) has generally been willing to fight elite opposition and is consistently in entertaining scraps, which somewhat mitigates the selection of a vastly inferior opponent for his ring return.
Considering that Khan suffered a thudding knockout loss to Danny Garcia in his last fight, it is reasonable to expect him to rebuild his career carefully, and the selection of Hunter as his new trainer is both a confident and positive choice.
If anyone can mould Khan into a more complete fighter at this juncture of his career, it is the knowledgeable and experienced Hunter, who happens to be the reigning Boxing Writers Association of America Trainer of the Year.
While fans and pundits will surely argue and debate the selection of Molina as an opponent, what cannot be denied is that this fight offers Khan and Hunter the perfect platform to work on new aspects of Khan's craft in a competitive yet relatively safe environment.
Khan's stubborn bravery and questionable chin are flaws that might never be corrected. That said, it is reasonable to suspect that Hunter can offer new insight and perspective on other aspects of Khan's makeup as a prizefighter that could pay both immediate and gradual dividends.
This is not to say that Khan will suddenly transform in Andre Ward—Hunter's star pupil and clear No. 1 priority (we'll see how that plays out); rather, expect to see certain subtle changes in Khan when he makes his highly anticipated comeback. What might those changes be?
Let's find out.
Begin Slideshow

»
Khan is a tall 140-pound fighter, and he is at his best when he uses his speed to control range and unleash blinding combinations. With Freddy Roach, Khan used a quality jab to set up his straight right hand, and because of his speed, the combination became his scoring bread and butter.
When pitted against rugged and game opponents who were able to maneuver inside, however, Khan too often let himself get backed up and outworked on the in-close scenarios. This was starkly evident in his fight against Lamont Peterson.
At first, Khan was able to outbox Peterson with superior combinations and speed, but when Peterson adapted and bullied Khan against the ropes, the tone and momentum of the fight drastically shifted.
Peterson was both able to back Khan up against the ropes and land numerous flush punches between Khan's inside guard.
Unable to move his head, Khan was repeatedly tagged with uppercuts and body punches, and while Peterson might not have deserved the decision, he emphatically reversed the tide in a fight where Khan looked like he might score an early knockout.
When watching Andre Ward fight, one thing that is starkly evident is his ability to control fights on the inside. Whether it is the requisite technique to throw short, precise punches or use superior arm placement and wrestling techniques, Ward completely dictates the pace when his fights go into the trenches.
Of course, Ward is a genius in the ring, but much of this technical ability comes from his work with Hunter.
Expect Khan to drastically improve in the clinch and on the inside after working with Hunter. Given Khan's speed and solid power, learning how to better position himself in the clinch and use his arms to gain advantages should allow him to land more in close.
Also, expect Khan's head movement and wrestling to improve as he learns to avoid those sneaky uppercuts and hooks that have plagued him in the past.
Khan will not necessarily look to fight on the inside, but he will certainly appear more comfortable when opponents work their way into his grill.
In watching Khan's past few fights, both his foot and hand speed have been obvious and impressive. That said, in a seeming effort to protect his chin, much of that quickness was used to dart forward and backward to throw stiff jabs and straight right hands.
While Khan also incorporated flashy combinations, his basic attack and movement seemed a tad predictable.
Freddy Roach deserves tremendous credit for reigning Khan in and working on these fundamental aspects of his boxing. Of course, Roach could do little to control Khan when his charge got stunned or hurt and was intent on recklessly fighting back, but it always seemed that Khan had the ability offer more variety.
Given Khan's natural foot speed and overall athletic ability, expect him to use more lateral movement to bait his opponents into making mistakes. While Khan has always been able to land first because of his speed and precision, he has yet to truly develop the ability to lure his opponents into traps and exploit the subsequent openings.
Khan obviously has the potential to accomplish this, and more lateral movement to create punching angles and keep his opponents off-balanced will both create opportunities to attack and disrupt his opponent's leverage and punching power.
This will obviously take patience and work, but training with Hunter should give Khan a more authoritative command of the ring's geography.
Few fighters have the natural foot speed to keep up with Khan. If Khan harnesses this ability to outmaneuver his opposition, he should find himself punching at open targets and avoiding wild, telegraphed punches.
Freddy Roach is an incredibly knowledgeable trainer, and in no way is this section suggesting that Khan wasn't ring savvy under Roach's tutelage.
However, everything from Virgil Hunter's speech cadence to the flawless performances of Andre Ward indicate that aspects ranging from training to the advice offered between rounds has been a meticulous and carefully crafted process.
At this point in his career, Khan can only benefit from a controlled and measured approach to training and fighting. Observing Khan in the ring is sometimes like watching a man in fast forward, and a steadier pace should enable him to incorporate more lateral movement and counterpunching into his arsenal.
Slowing things down will also benefit Khan on the inside and when he gets hurt, which will happen as he returns to championship form. If Khan wants to improve his infighting, he needs to think his way through clinches and take the time to both negate his opponent's maneuvers and figure out how to gain an advantage for his own offense.
In terms of rallying from knockdowns or getting tagged, Khan needs to understand that bravery might win fans but not necessarily fights. Determining how and when to hold on is crucial, and Khan must also be aware of how much time is left in a given round when his situation turns dire.
Being able to determine and assess these factors will be invaluable to his success going forward.
Ultimately, Khan does not need to always fight at such a frenetic pace. A more varied and thoughtful attack will help rattle his opponents, as Khan will be able to unleash his speed and combinations whenever an opportunity presents itself.
Setting traps and using feints will also allow Khan's opponents to do some of his work for him, and anything that lessens his exposure to the proverbial knockout punch is ideal.
Virgil Hunter seems to be the ideal choice to make these potential changes a reality. Whether fans and pundits see evidence of any significant alterations against Molina is entirely up to Khan.