Melky Cabrera: Erasing Cabrera's Batting Title Just Another Baseball Cover-Up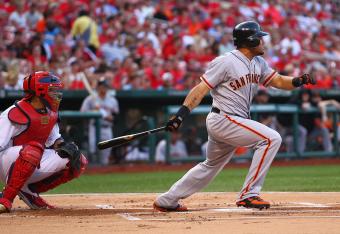 Dilip Vishwanat/Getty Images
Sleight of hand can't fix this one. Neither can an eraser. Major League Baseball may have changed the rules, but fans will always remember the year the San Francisco Giants' Melky Cabrera led the National League in hitting while testing positive for a banned substance.
It's too bad, really, and it's all on Cabrera. Andrew McCutchen and Buster Posey are both more deserving of the batting title, and it would have been a great story for either to win it legitimately. But neither performed as well as Cabrera on the field, and that's what a batting title measures.
Baseball is a numbers-driven sport long-wedded to statistics. And while we sometimes don't like those numbers, they never lie.
The numbers are a bedrock principle of the sport. The numbers are something we all watched play out on the field. Their integrity is one of the reasons we love the game.
Barry Bonds and Mark McGwire hold or held prestigious home run records, and each tested positive for performance enhancing drugs. But for all the clamor and controversy surrounding the players, their names are still in the books.
Their records and accolades still stand.
Baseball, Melky Cabrera and the Major League Baseball Players Association have blinders on if they think this will all go away just because Cabrera refuses to accept the batting trophy. In fact, this ploy to cover up the truth about the statistics only cements the incident in history.
Indeed, the controversy created by Cabrera and the rule-book wizards is certain to keep this year's batting title in people's memories. You might not remember who won the batting title five years ago, but five years from now you will remember when the sport tried to cover up Cabrera's undeserved title.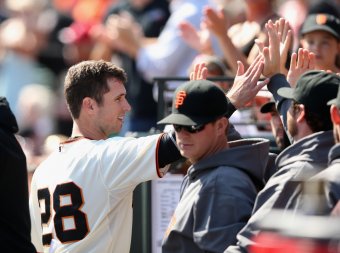 Ezra Shaw/Getty Images
I give credit to the rule-book aficionados who came up with the idea to have Cabrera ask that certain rules not apply to him this year. That was creative.
It reminds me of that movie Blades of Glory. Will Farrell and Jon Heder play two male figure skaters who are banned from singles competition and seize upon a rule-book technicality that allows them to enter the pairs skating event at the fictional World Winter Sport Games. Two men in pairs figure skating was an outrageously funny hook in a comedy that set out to expose the underbelly of figuring skating.
But that was comedic fiction.
Sadly, the Cabrera rule-book technicality is real-life baseball.
In truth, Cabrera put baseball in a tough position when he asked for a rule change that seemed fair and pleasing to all parties. It must have seemed like an irresistible drug to the sport, and I almost don't blame the league for playing to the masses and giving them a short-term fix to a messy situation.
But at the end of the day, it is a mistake to grant a player's request to disregard a rule—a classic example of the saying "bad facts make bad law."
What if other players want to ignore or change rules in the future? Will baseball grant their requests? And if so, when and based on what standard?
Will the it-feels-good standard apply?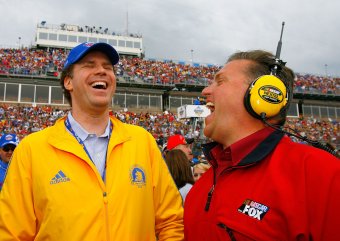 Rusty Jarrett/Getty Images
Forcing Cabrera to own an undeserved batting title this year would have been a sweet reminder of his crimes for the rest of time—a scarlet letter that would have lived with the player and the league as a reminder of the PED era.
Don't get me wrong, I don't like Cabrera winning the batting title. But this contrived opt-out solution hatched by Cabrera and embraced by baseball is somewhat embarrassing. It doesn't come close to penalizing the player or showing the public that baseball is finally going to take cheating seriously.
If anything, it lets Cabrera off the hook and clears his conscience.
If baseball, Cabrera and the Players Association were serious about doing the right thing, they would have signed an agreement whereby Cabrera turns in his All-Star MVP trophy and agrees to donate 100 percent of his guaranteed playoff share to a charity that fights drug abuse. The trophy is a meaningless piece of glass at this point, and it was given to Cabrera by voters who didn't know the truth. And as for the playoff share—well, there is simply no good reason for Cabrera to participate in postseason revenue sharing this season.
And while we're considering one-year rule changes for the better of the game, why not change the dumbest rule ever created—the rule that gives the winner of the All-Star game home-field advantage in the World Series. Yes, force the Giants or some other National League squad to play four of seven on the road as a penalty for Cabrera's suspension. Of all the possible rules baseball could have changed this year, changing the All-Star rule would have been the most just.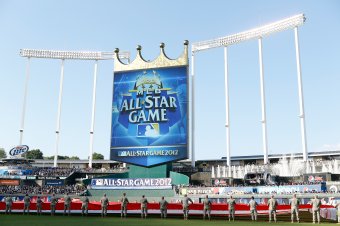 Jamie Squire/Getty Images
It's only an exhibition anyway.
Cabrera was the darling of this year's Midsummer Classic, and forfeiting the National League victory in that game or flat changing the All-Star rule would have sent fans the message that baseball, Cabrera and the Players Association thought they were sending when they attempted this opt-out-of-the-batting-title nonsense.
Think that's too harsh? Okay.
But if Cabrera is clean enough to affect the outcome of the 2012 World Series, he's clean enough to own an undeserved batting title.
Bob Firpo is an attorney and freelance sports and outdoors writer. He lives in Boise, Idaho. Follow him @knockingitout
This article is
What is the duplicate article?
Why is this article offensive?
Where is this article plagiarized from?
Why is this article poorly edited?

San Francisco Giants: Like this team?