Manchester United vs. Tottenham: What Fans Should Expect at Old Trafford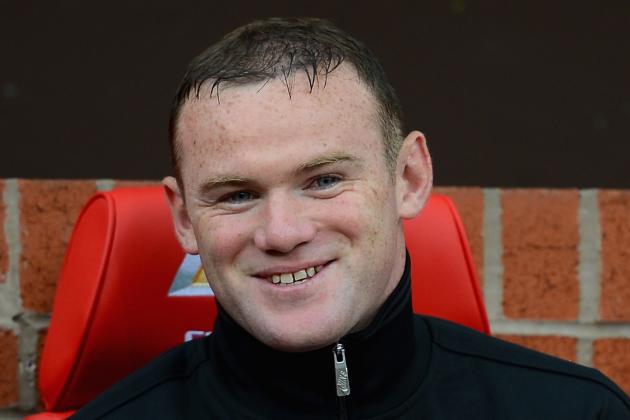 Shaun Botterill/Getty Images

Manchester United's match against Tottenham on Saturday takes on additional significance for a number of reasons.
After stumbling against Everton where they couldn't find a way to handle Marouane Fellaini, nor score a goal, United have four straight wins.
To say that they have been fortunate is a massive understatement. They say great teams make their own luck and there are two ways to look at the come-backs against Fulham, Southampton and Liverpool.
Yes, United took the points, but they were woeful at times and also in the first half against Wigan and against Galatasaray.
They did redeem themselves in the second half against Wigan and the second string showed how to get and keep a result in the Carling Cup on Wednesday.
So what can the fans expect against Tottenham?
Begin Slideshow

»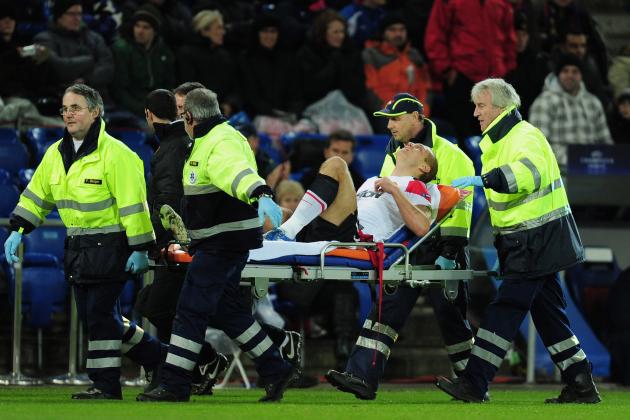 Jamie McDonald/Getty Images

We've seen enough of this to last a season. Let's hope it isn't another six months out for the captain. Unfortunately, although the prognosis is two months out, Sir Alex will be very careful this time to ease Nemanja back in, assuming he has other centre backs fit.
Valencia and Young are out until 20th October, so the manager will have to conjure up a winger from somewhere. Jones and Smalling are out until November and October, respectively.
Nevertheless, there may be few changes on Saturday.
Lindegaard did little wrong at Anfield, but De Gea needs more game time. If Rafael recovers from his knock, the defence may be unchanged.
Tom Cleverley and Anderson had effective games against Newcastle, but both played the full 90 minutes, so it will be interesting to see whether Scholes or Giggs start again.
Wayne Rooney also played most of the match, looking the sharpest he has all season. That could mean Kagawa gets another start.
Possible Team:
Lindegaard
Rafael, Ferdinand, Evans, Evra
Nani, Carrick, Scholes, Giggs
Kagawa
Van Persie
Substitutes: De Gea, Buttner, Keane, Cleverley, Anderson, Rooney, Welbeck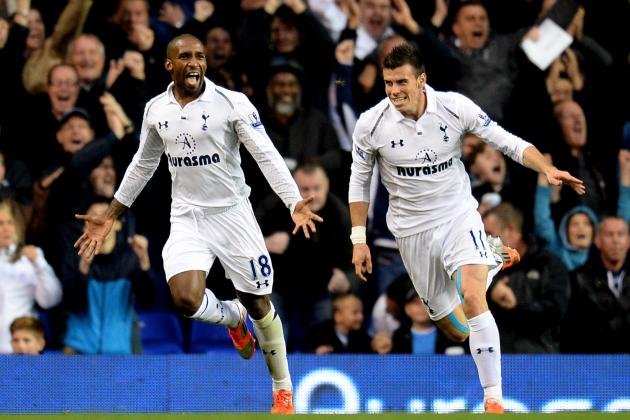 Mike Hewitt/Getty Images

These are the two danger men for Spurs.
It would be nice to see Alexander Buttner at left back if Bale plays down the right, but that's not going to happen. He will cause problems for either full back.
Emmanuel Adebayor is scheduled to be back from injury by Saturday, but this may be a game too soon given United's high tempo.
So the likely Spurs team could be:
Friedel
Walker, Gallas, Vertonghen, Bale
Lennon, Sandro, Dembele, Sigurdsson
Dempsey, Defoe
Dempsey, Sigurdsson and Vertonghen all played against Carlisle in the Capital One Cup on Wednesday, but all are likely to feature with Spurs' squad being relatively thin. A 600 mile round trip won't have helped them, however.
While they don't look as threatening as last season—without Modric and Van Der Vaart, plus the injured Adebayor and Parker—Dempsey and Defoe are always a threat if they can get the service.
Walker and Lennon down the right, Bale and Sigurdsson down the left should ensure that, so it could come down to how resilient Spurs are at defending.
The jury is out on whether Andre Villas-Boas is the right man to take them forward, after his failure at Chelsea. Spurs will struggle to get near the top four this season.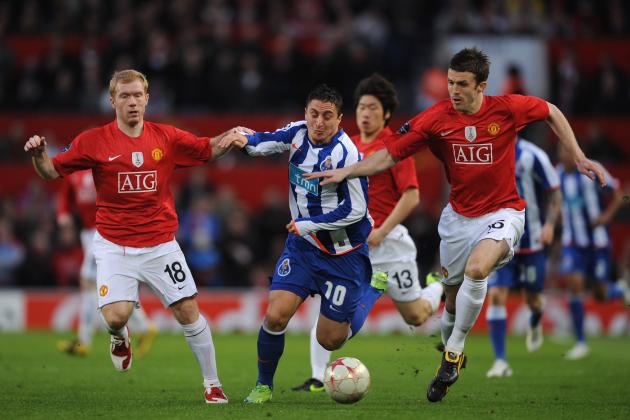 Shaun Botterill/Getty Images

With Rooney likely to start on the bench and Darren Fletcher needing a rest after a draining first 90 minutes on Wednesday, there is no need to look further than the 4-4-2 we flagged up earlier.
Paul Scholes has undeniably influenced the matches where he has come on as a substitute and his less-than-stellar performance against Galatasaray simply showed that he can't play two games in five days any more.
With Carrick clearly being rested on Wednesday, but Fletcher playing the same role, allowing the other attacking players to flow, Sir Alex will stick to the formula that has produced the results, even though they have not been convincing.
Nani is a lucky boy because he almost certainly would have been dropped following his atrocious non-appearance on Sunday. He was probably substituted at half time because of third-degree burns from a blistering blast by Ferguson.
Nevertheless, he will be happier for being in his favourite position wide right and anticipating a run there before either Young or Valencia return.
Giggs always looks better on the left wing, even when he breaks into the centre of the park. He is due a goal.
Kagawa and Van Persie will renew their partnership with the former realising that Rooney is breathing down his collar. Wayne will surely replace Shinji after an hour and Cleverley has earned 30 minutes when Scholes comes off.
Ferguson will have impressed on his team that they must click, because there are plenty of reserves who gave a good showing on Wednesday. This should be good enough to gee up his chosen eleven, with the exception of Ferdinand and Evans, whose only instructions will be to stay fit.
If United get another three points in what could be a tight game, the reward for some of the players might ironically be to get rested for the Champions' League fixture away to Cluj, before returning for a much tougher fixture against Newcastle in ten days time.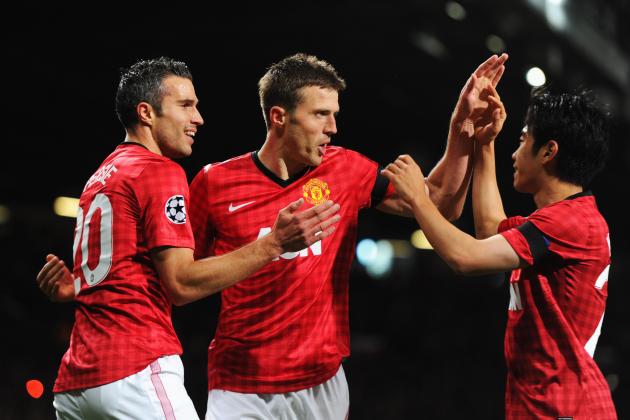 Michael Regan/Getty Images

Van Persie didn't quite hit it off against Liverpool, which is hardly surprising. No other team this season will harry United more, because that is the game Rodgers wants to play.
Villas-Boas might want to do much the same but his new style hasn't gelled yet at White Hart Lane, despite their two recent wins.
Spurs have only played one decent team so far in Newcastle and never looked like winning that. They didn't look like scoring against Lazio, either.
Nevertheless, they have goals in them and Dempsey and Defoe can both steal in.
This time United will find their rhythm and Nani will have a better game. Evra will be to blame for a Spurs goal, being torn apart by Lennon before Dempsey converts a header.
Predicted Result?
Manchester United 3 Tottenham 1, with Kagawa, Van Persie and Rooney to score.