Ricky Seals-Jones: 9 Reasons No. 1 Receiver Prospect Could Sign with LSU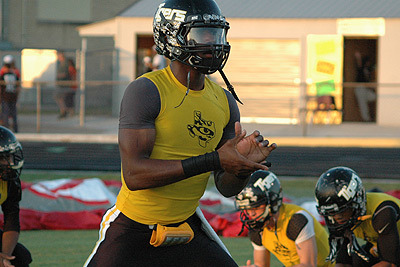 247Sports.com
According to multiple reports, including one from The Dallas Morning News, the nation's top receiver prospect, Ricky Seals-Jones, has narrowed his list down to Texas A&M and LSU. Both the Aggies and Tigers are great SEC programs, and a wrong choice can't be made between either school.
This read will focus on the program in Baton Rouge, as many felt LSU was the second choice when Seals-Jones initially committed to Texas. The Tigers are having a great season and are lurking around the top-10 in recruiting-class rankings for 2013.
There are endless draws that LSU can boast to attract recruits. Here are nine of them that could suit Ricky Seals-Jones.
Begin Slideshow

»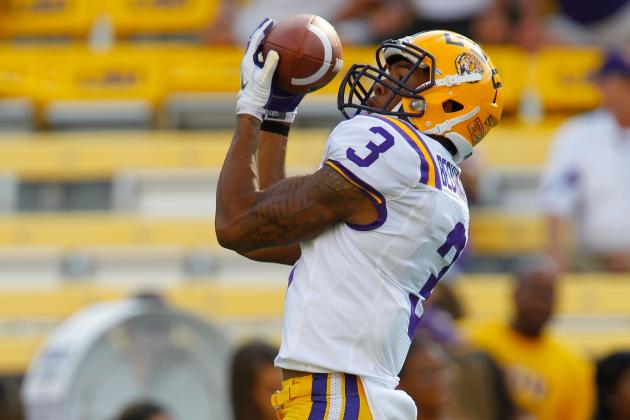 Derick E. Hingle-US PRESSWIRE

Many of LSU's receivers are slender, speedy types.
None of have the size of the 6'5", 230-pound Seals-Jones, so he would definitely spice up in the LSU receiving corps.
Having rare size and tools could surge RS-J up the depth chart and get him early playing time. It's not a stretch to say that Seals-Jones could be the first of his kind on the LSU roster.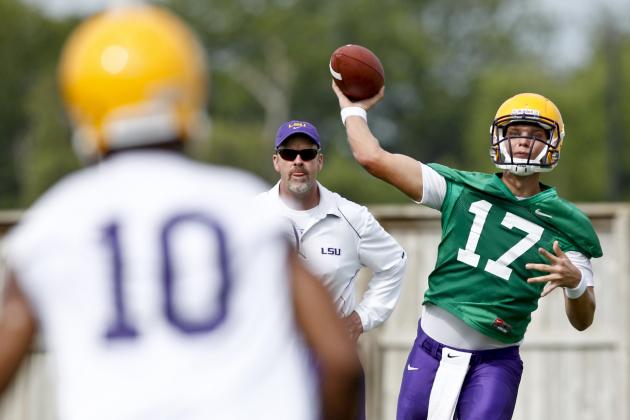 Derick E. Hingle-US PRESSWIRE

I doubt that Seals-Jones has given Rivers much thought in his considerations of LSU, but the young QB could factor in at some point.
Zach Mettenberger will only be at LSU for one year of Seals-Jones' collegiate career, regardless of where the latter chooses to attend, so looking at the next QB would be a wise thing to do.
Rivers appears to be the next man in line, and the 6'8", 225-pounder is the brother of Phillip Rivers.
Stephen is said to exhibit the same throwing motion Phillip does, but he also has many of the same leadership and mental traits. Seals-Jones could be impressed by thought of having a guy like Rivers tossing him the rock.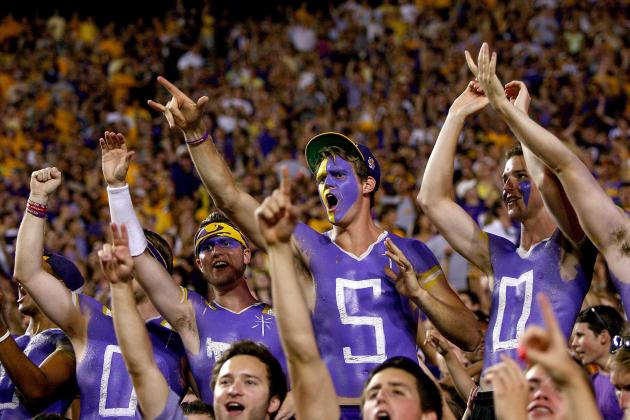 Crystal Logiudice-US PRESSWIRE

Going to a Saturday-night game at LSU is one of the items on my bucket list. I've heard great raves about the atmosphere and spectacle the Tiger fans create on game day.
There's nothing like an electric atmosphere and thousands of crazed fans ready to cheer you on.
Boasting one of the top game-day experiences in the country helps LSU in recruiting and could help get Ricky Seals-Jones.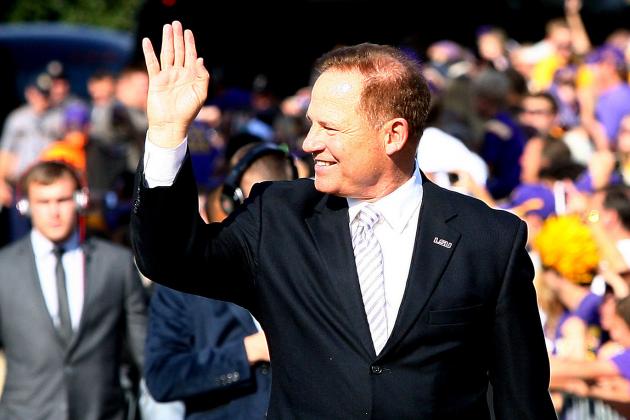 Crystal Logiudice-US PRESSWIRE

What more can you say about Miles? The charismatic coach is a winner as well as entertaining. He runs a loose program that takes care business but also knows when it's time to have fun.
Miles leaves big impressions on parents from in-home visits, which helps him close recruitments.
With his combination of being a proven winner and also being personable, recruits dig Miles.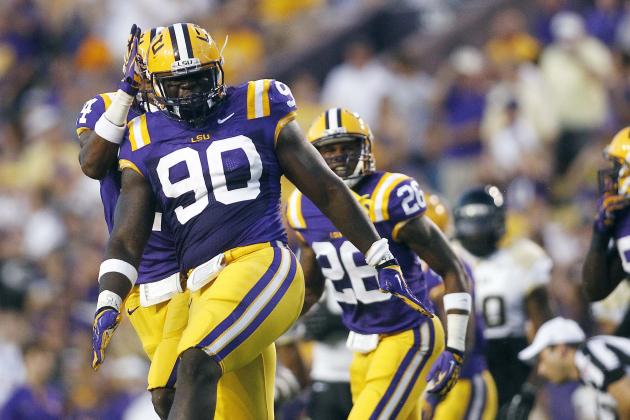 Crystal Logiudice-US PRESSWIRE

The Tigers get their fair share of elite recruits year in and year out, so Seals-Jones would be playing with great talent around him. He wouldn't have to feel he has to do everything himself and this would free him up to focus on playing one position.
The more talent you have, the better your chances are to have winning success. Everyone wants to win, and Seals-Jones is no different.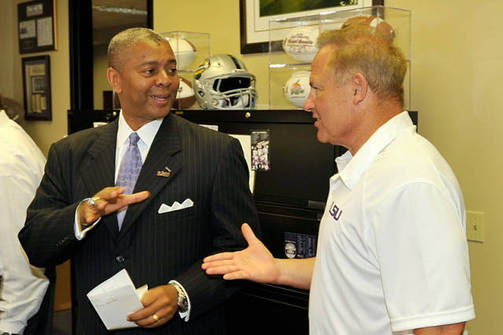 Steve Franz - LSU Athletics
As a junior, Seals-Jones was a dominant player on the football field, but he also has fantastic ability on the hardwood. Seals-Jones finished the basketball season with an average of 32 points, 15 rebounds and over two blocks a game.
He played the 3, 4 and 5 for the Sealy High hoops team and has the skills to contribute to a college team.
Seals-Jones' athleticism could make him a solid small forward for Johnny Jones in Baton Rouge.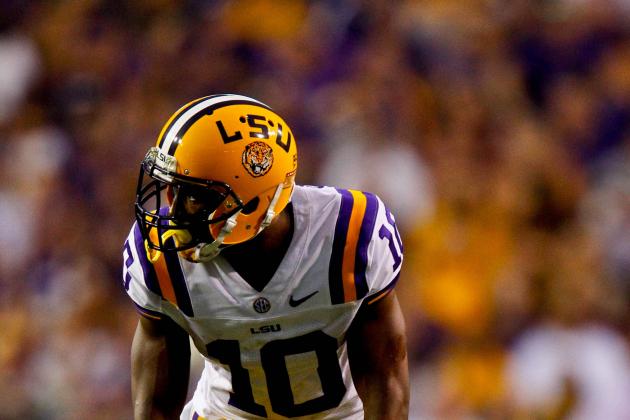 Derick E. Hingle-US PRESSWIRE

Seals-Jones has the talent to warrant early playing time at LSU. His size, speed and athleticism are wonderful, and LSU also has several upperclassmen receivers that are leaving.
He could come to Baton Rouge, prove to be a quick study and get on the field as a true freshman.
All recruits want early playing time, and for Seals-Jones, it likely is available at LSU.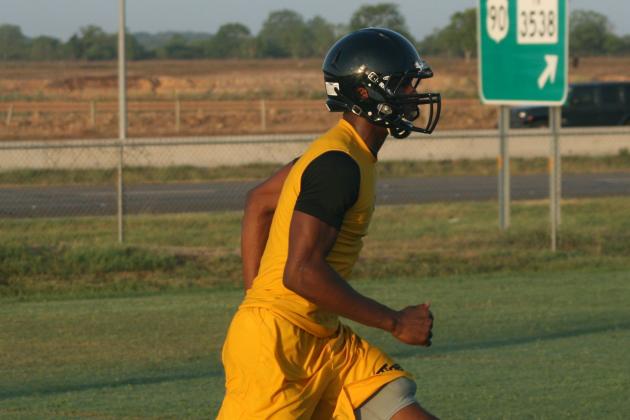 247Sports.com
Seals-Jones already stands a huge 6'5" and weighs 230 pounds, which is big for a receiver. Many evaluators, including myself, have suggested that tight end is likely where his future will be.
The only thing is that Seals-Jones wants to stay at receiver, and there is growing resistance to moving to tight end. LSU could have already told the big Texan that it plans to keep him at wide receiver.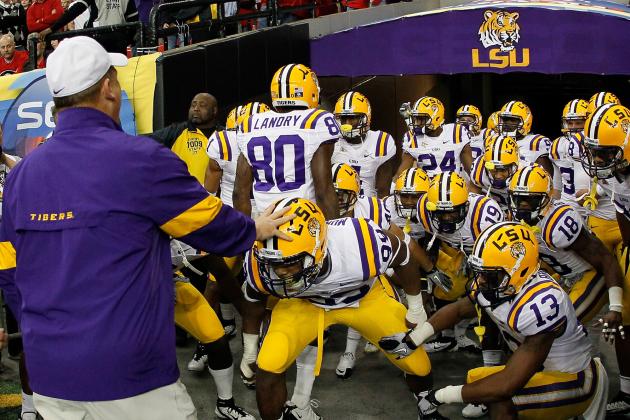 Kevin C. Cox/Getty Images

Simply and frankly speaking, LSU wins a lot of football games. The Tigers are not only an SEC powerhouse but also a national juggernaut.
With the ability to reload every year and consistently contend for SEC and national titles, LSU has a winning program. Playing in big-time games with championship implications is the bottom line for any competitor.
Ricky Seals-Jones could win a lot of games at LSU.
Edwin Weathersby has worked in scouting/player-personnel departments for three professional football teams, including the New York Giants, Cleveland Browns and the Las Vegas Gladiators of the Arena League. He spent a year evaluating prep prospects and writing specific recruiting and scouting articles for Student Sports Football (now ESPN Rise-HS). A syndicated scout and writer, he's also contributed to WeAreSC.com; GatorBait.net; and Diamonds in the Rough Inc., a college football and NFL draft magazine.