25 Most Telling Stats of the Philadelphia Phillies' 2012 Season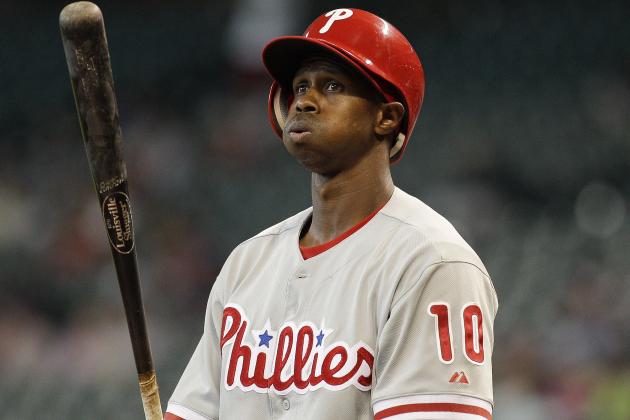 Bob Levey/Getty Images

"Train wreck" seems like an appropriate phrase to describe this Philadelphia Phillies club when you think about how things have turned out, but the Phillies have had their good moments this season too.
They came into the season expecting to be—and expected to be by others—World Series contenders and instead flopped around like fish out of water throughout most of the regular season, only to get hot following the trade deadline and inspire dreams of a wild card berth.
Sure, they had their excuses. No team is going to cruise through any season with the middle of their lineup and ace on the disabled list for an extended period of time. This game just doesn't work like that.
The Phillies probably should have been better than they were, however. The starting pitching, while solid, hasn't been "elite" (and they're being paid to be elite). They've settled into a comfortable slot just below that. The bullpen has been a disaster at times, and it seems as though any rookie that comes up is shot down pretty quickly.
But there's a flip side to that coin as well. The pitching has been excellent at times, and that includes the much maligned bullpen.
Then again, it is hard to score runs for a pitching staff that you expected to be better when you're replacing several All-Star caliber players with players below the replacement level. But guys like Kevin Frandsen and Erik Kratz have had their time in the sun.
In the end, words are arbitrary. Opinions only go so far. If you really want to know what went wrong (or right) for the Phillies in 2012, let's have a look at the statistics.
Begin Slideshow

»
Bob Levey/Getty Images

Wins: 73
If you will give me the soapbox for just a few moments I'll let you know why wins—especially if you're trying to evaluate the effectiveness of a pitcher—is about as meaningless a statistic that exists today.
But there is something to be said about the Phillies having just 73 wins at this point in the season.
Here we are in late September and the Phillies are in third place in the National League and barely hanging on to a faint heartbeat in the wild card race. Who would have thought that this would be the case when the team entered spring training last February?
Having just 73 wins at this point in the year is a microcosm of the Phillies' season. They were pretty good despite all of their flaws, but nearly good enough to live up to their lofty expectations.
Stats through 9/16/12.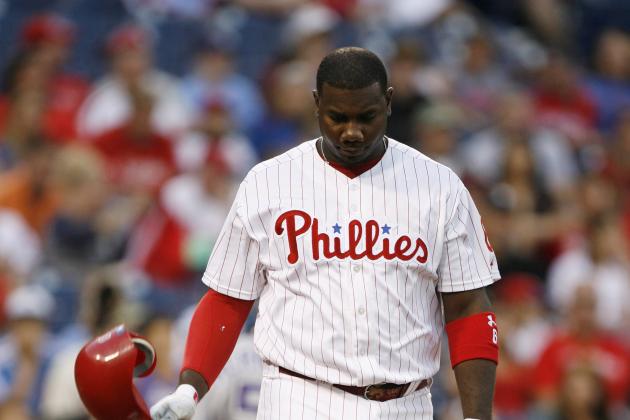 Chris Gardner/Getty Images

Home Runs: 144
This is an area of the Phillies' offensive attack that has been noticeably lacking this season, but that isn't entirely expected.
Two of the Phillies' biggest power hitters—Ryan Howard and Chase Utley—spent the first two months of the regular season on the disabled list. You have to expect a small decline without them in the lineup.
But the rest of the lineup wasn't able to pick up the slack, which is also somewhat surprising. The Phillies are getting above-average home run production out of two positions this season at catcher (Carlos Ruiz) and shortstop (Jimmy Rollins).
The Phillies, however, made more of a shift to a contact-oriented lineup coming out of spring training, and that shows in the lack of home run power.
Stats through 9/17/12.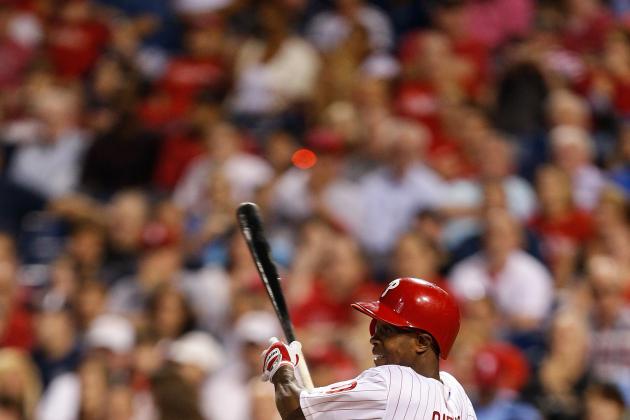 Brian Garfinkel/Getty Images

Strikeouts: 988
The Phillies' offense has been average to slightly below-average this season as a whole, but one thing you have to give them credit for is being able to make contact with the ball on a consistent basis.
They opened the season with guys like Juan Pierre, Placido Polanco, Freddy Galvis, Shane Victorino and Carlos Ruiz on the roster—all of whom are players who've shown good discipline at the plate in the past.
While the end result may not have been the most dynamic offense, one thing that they have been able to do is put the ball in play with consistency.
Only the Kansas City Royals, Minnesota Twins and Cleveland Indians have recorded fewer strikeouts.
Stats through 9/17/12.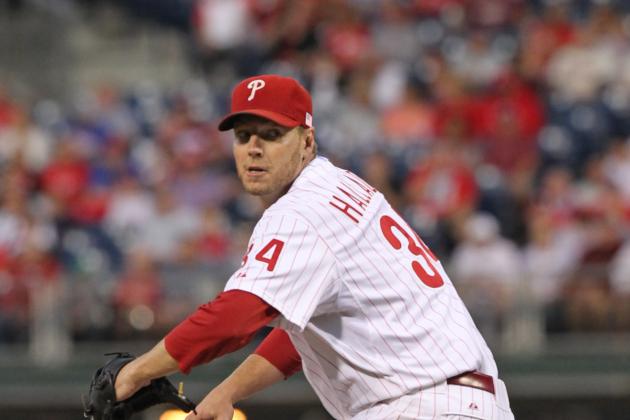 Hunter Martin/Getty Images

Staff ERA: 3.88
ERA is right up there with "wins" in being a worthless evaluation of a pitcher, but it does give you a crude sense of what the Phillies' pitching staff—as an entirety—has been doing this season.
A staff ERA of 3.88 is good but not great. It puts the Phillies right around the middle of the pack (14th overall) when compared against the rest of Major League Baseball.
But the Phillies have so much money tied up in payroll that you expect them to be much better than this—particularly in the likes of Roy Halladay, Cliff Lee, Cole Hamels and Jonathan Papelbon.
Now, it's hard to say that Hamels and Papelbon haven't been great because they have been. You could also chalk up the season of Halladay and Lee to bad luck, but someone has to take the fall.
Maybe that should be Ruben Amaro Jr. He spent an exorbitant amount of money on those four pitchers and filled out the rest of the pitching staff with a majority of inexperienced arms.
Regardless, I believe that this is an area that will see a drastic improvement in 2013.
Stats through 9/16/12.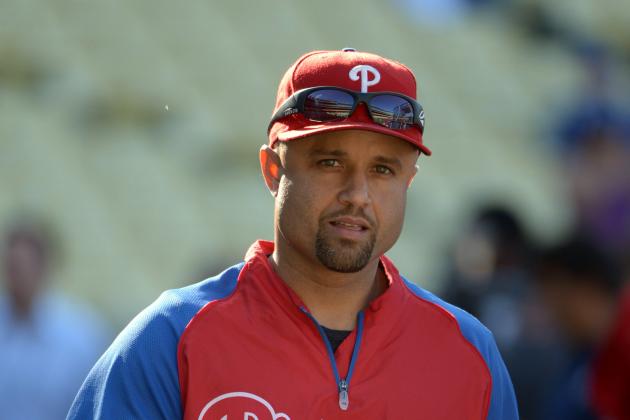 Kirby Lee-US PRESSWIRE

Walks: 415
For a team that hasn't had much of a home-run presence this season, this Phillies club is not a patient one, and that's something that I find to be curious about them.
It's a huge part of the reason that the top of their order has struggled. Jimmy Rollins' walk percent is 8.3 and his on-base percentage is .314. When Shane Victorino was patrolling center field for the Phillies, his walk and on-base percentages were 8.1 and .324, respectively.
And those are just a couple of examples. The Phillies have struggled with their plate discipline as a whole this season. The only three guys who have posted a walk percentage north of 10 this season are Chase Utley, Domonic Brown and Ty Wigginton—zero of whom have played a full season's worth of games.
Currently seventh worst in all of MLB, this is something that the Phillies will need to improve upon in 2013.
Stats through 9/17/12.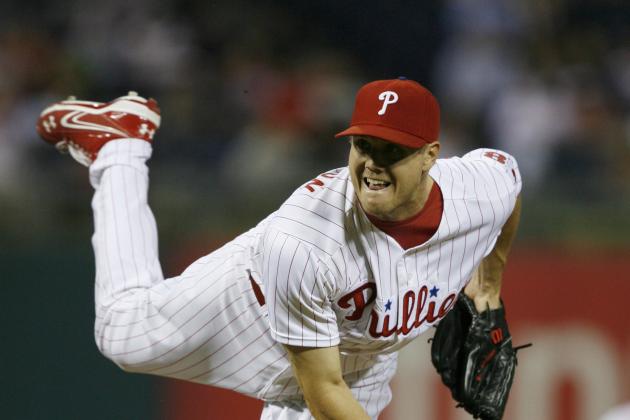 Chris Gardner/Getty Images

Saves: 37
Is it the saves statistic that is unimportant in today's game or is it the closer? The chicken or the egg?
Personally, I find myself right on the middle of the fence. The ninth inning is no different than any other inning in baseball, but anyone building a team wants a pitcher that they know is going to succeed in that role.
Enter the closer.
Outside of Ryan Madson's stellar 2011 campaign, the Phillies have been a disaster in the ninth inning ever since Brad Lidge's "perfect" 2008. You can almost understand why they'd spend $50 million on a guy who throws a maximum of 70 innings a season (although I surely can't).
But regardless of what he is being paid, Jonathan Papelbon has come on and done his job this season. He currently has 34 of the club's 37 saves and has been the only consistent reliever out in that bullpen this season—especially in the later innings.
With the Phillies out of contention, however, you have to question just how important Papelbon was to this club in 2012. $11 million for a WAR of 1.2 this season. Is it worth it?
Stats through 9/16/12.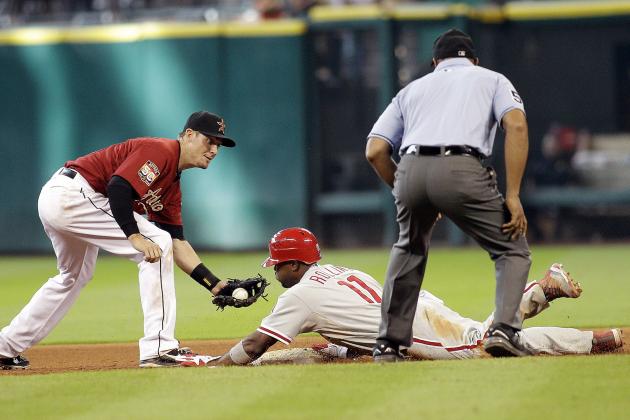 Bob Levey/Getty Images

Caught Stealing: 22
22 times. That's it.
The Phillies haven't stolen a ton of bases this season, but the 111 steals they do have is good enough for 10th place in MLB right now. To have more than 100 steals and be caught, as a team, less than 25 times is impressive.
Of course, that speaks to the veteran base-stealing presence that this club has. At one point in time, the Phillies featured prominent base stealers like Jimmy Rollins, Juan Pierre and Shane Victorino, as well as fringe guys like Chase Utley and Hunter Pence.
Normally, when they run, they make it.
They're going to need to revamp their speed game for 2013, however. Victorino and Pence are gone. Pierre is likely to join them. The Phillies will need to find ways to add some speed.
Stats through 9/17/12.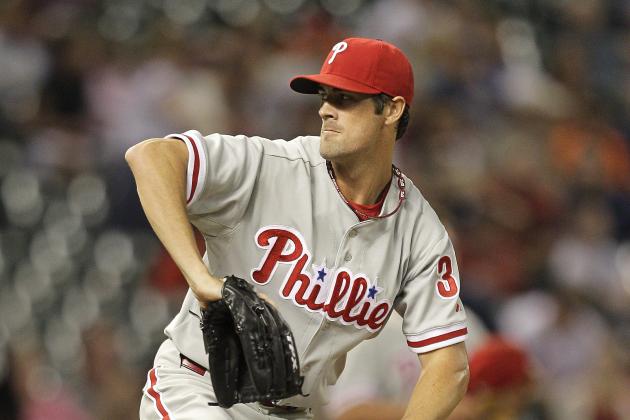 Bob Levey/Getty Images

Innings Pitched: 1,319
With the money they have invested in the three workhorses at the top of their starting rotation, you almost expect the Phillies to be right near the top of the league in innings pitched, and they are yet again.
Surprisingly enough (or unsurprisingly, I suppose, dependent upon your perspective) it's Cole Hamels who leads the club in innings pitched this season.
Of course, Roy Halladay and Cliff Lee have each spent time on the disabled list this season, but Lee has thrown more than 180 innings and Halladay is up over 140.
Joining Halladay above that 140 innings threshold is Kyle Kendrick, who spent parts of the season in the bullpen, and both Joe Blanton (now with the Los Angeles Dodgers) and Vance Worley (on the disabled list) have thrown more than 130 innings apiece.
Stats through 9/16/12.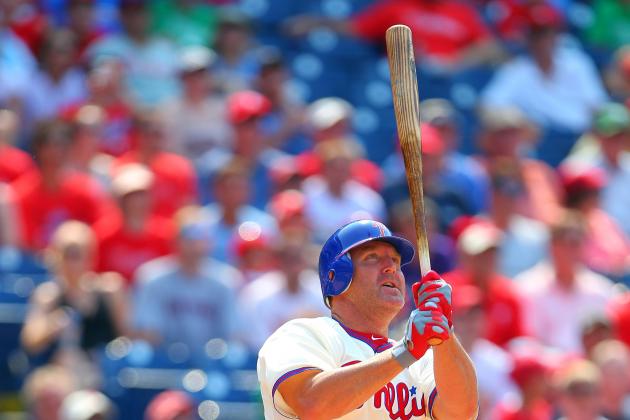 Rich Schultz/Getty Images

Pinch-Hitter Hits: 48
I'm not quite sure how to feel about this.
Heading into spring training, I thought that the bench would be a great strength for the Phillies. Jim Thome was a solid bat against right- and left-handed pitchers. Laynce Nix was supposed to provide power against right handed-pitchers, Ty Wigginton against lefties. Juan Pierre was another solid option.
My, how things change.
Thome was wearing a different uniform following interleague play, Nix spent more than 50 games on the disabled list, and both Wigginton and Pierre were forced into more regular roles.
And yet, some way, some how, the Phillies still managed to collect 48 hits from their pinch hitters—good for ninth best in baseball (about the middle of the pack).
How do you feel about that? It's kind of a microcosm of the Phillies' season, no?
Stats through 9/17/12.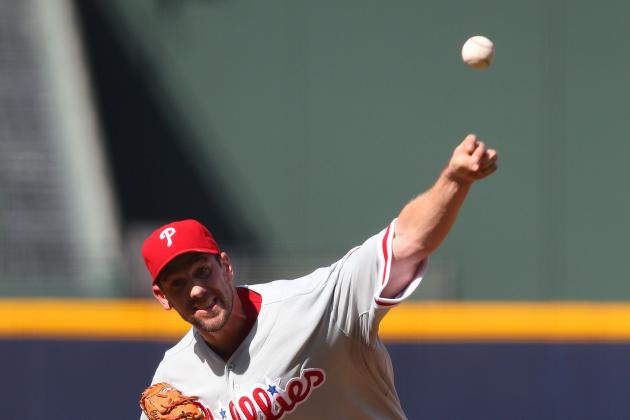 Mike Zarrilli/Getty Images

Quality Starts: 90
For all of the grief that the Phillies' starting pitchers have gotten this season, they've been up around the league lead in quality starts for quite a while.
But again, given the money that is invested in starting pitching, that's something that you could almost expect out of this club. They have three pitchers in Roy Halladay, Cliff Lee and Cole Hamels that could realistically be the "ace" of many clubs.
When you have three pitchers like that on one staff, it's hard to go wrong, but the Phillies have also received contributions from guys like Joe Blanton, Vance Worley and Kyle Kendrick this season, and it is important to get help out of the back end of your rotation.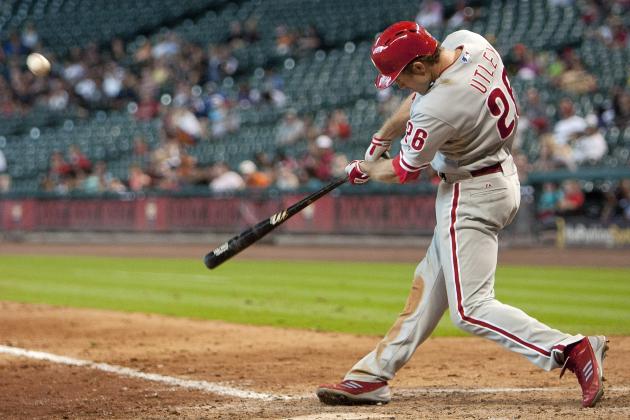 Bob Levey/Getty Images

At-Bats / Home Run: 35.3
The Phillies' power department has been lacking this season, and there is no doubt about that. But somehow, this club has managed to launch home runs with more frequency than a lot of teams around baseball this season.
Their mark of 35.3 placed them 12th in MLB. That's not a great number, but it's not terrible either.
Of course, there is an obvious caveat here: The Phillies spent nearly the entire first half of the regular season without Chase Utley and Ryan Howard—arguably their best power bats—in the lineup.
I think you can expect to see this number jump next season, especially if the Phillies add the right-handed power bat that they so desperately desire.
Stats through 9/17/12.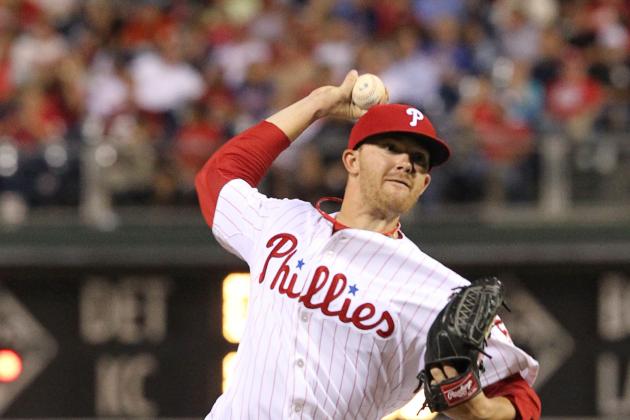 Hunter Martin/Getty Images

Base on Balls: 370
The Phillies have issued the fewest free passes in the league this season, and that's about all you need to know about that.
But I'll elaborate anyway.
The Phillies issuing the fewest walks doesn't come as much of a surprise. Guys like Roy Halladay, Cliff Lee and Cole Hamels are known for their control (and Lee has been historically good this season in that department).
They just have guys that throw strikes, and it is as simple as that.
Stats through 9/17/12.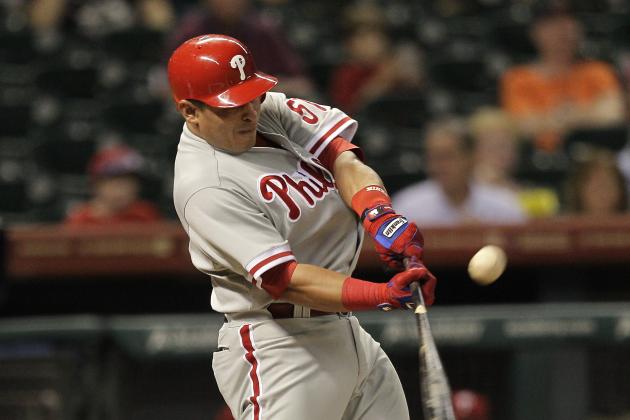 Bob Levey/Getty Images

Extra Base Hits: 419
This is something that needs to change if the Phillies want to keep pace in the National League East in the near future.
If you're not hitting home runs, you need to be good for some extra base hits—and the Phillies haven't been good for either this season.
You wouldn't think that this would be a huge problem when spring training rolled around last February. Sure, Ryan Howard would be out for a while, but guys like Jimmy Rollins, Chase Utley, Shane Victorino and Hunter Pence are worth some extra base power.
John Mayberry Jr. was set for a breakout year. Even if he wasn't, maybe Domonic Brown would step up and play left field, right?
Wrong.
It's funny how things work out. Even with Carlos Ruiz's career year, the Phillies traded two of those guys, sent one to the minor leagues and put two on the disabled list with major injuries.
Ouch.
This is a number that I think you'll see increase quite a bit in 2013, but as far as 2012 goes, it wasn't good.
Stats through 9/17/12.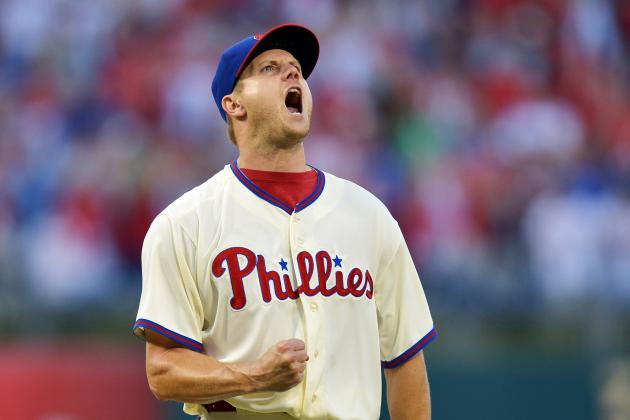 Drew Hallowell/Getty Images

Strikeouts: 1,249
The only team with more strikeouts than the Phillies this season is the Milwaukee Brewers.
For all the grief that this pitching staff has gotten this season at various points, they sure have been great in both the walks and strikeouts department.
Then again, the Phillies' pitching staff with this many strikeouts doesn't come as much of a surprise, especially as of late.
The back of their bullpen is built to rack up strikeouts. Guys like Jonathan Papelbon, Antonio Bastardo, Phillippe Aumont and Justin De Fratus are going to pile up the Ks at the back of the bullpen.
Throw in a starting rotation that includes three of baseball's best pitchers, and you're in business.
Stats through 9/17/12.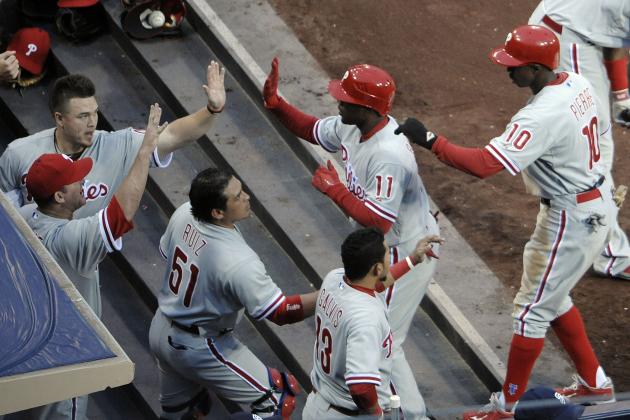 Denis Poroy/Getty Images

wRC+: 94
Part of the Phillies' biggest problem this season has been creating runs.
You would think that trading Shane Victorino and Hunter Pence would only make that problem worse, but adding guys like Domonic Brown and Nate Schierholtz, along with the returns of Chase Utley and Ryan Howard, added a new dynamic to the lineup.
Even still, the Phillies aren't creating runs as well as they should be if they want to be contenders. With the average wRC+ being 100, the Phillies are still a below average offense.
Full seasons from Howard and Utley and a right-handed power bat should help quite a bit.
Stats through 9/17/12.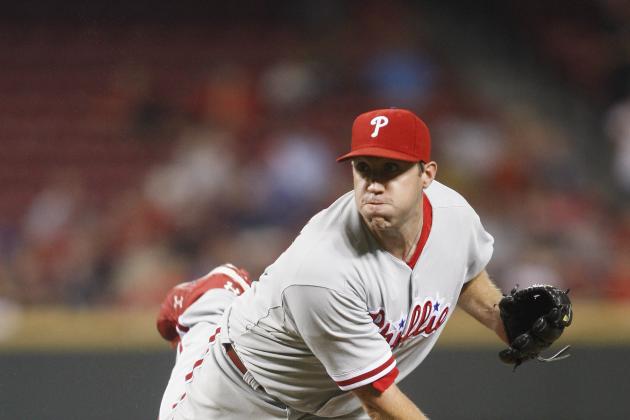 John Grieshop/Getty Images

Blown Saves: 19
That's a lot of blown saves for a team that is paying their closer $50 million over four seasons, but that's not a statistic that falls entirely on Jonathan Papelbon's shoulders.
While the back end of the Phillies' bullpen has shown a ton of promise at various points during the season, they've looked like a train wreck at times as well.
Antonio Bastardo was supposed to solidify the eighth inning from day one and couldn't do the job for a while. Guys like Phillippe Aumont and Josh Lindblom have had their troubles as well.
Can you call this "growing pains" for a young bullpen?
Stats through 9/17/12.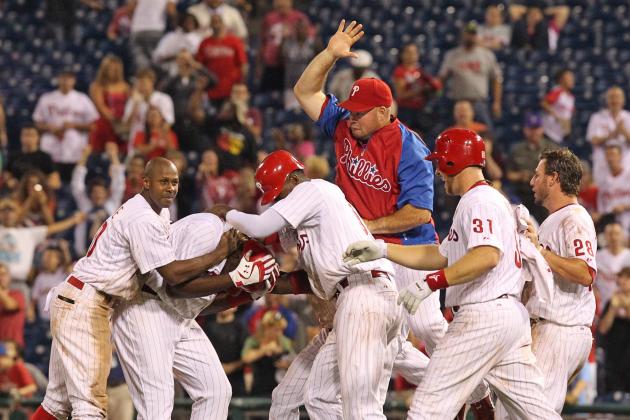 Hunter Martin/Getty Images

wOBA: .314
Average to below average. That's how I'd describe the Phillies' season right now, especially at the plate.
Sure, they weren't fantastic for most of the season, but they managed to get the job done somehow. I guess they deserve some credit for not sinking into the abyss with replacements like Freddy Galvis and Ty Wigginton, but it's the general manager's job to have capable players waiting in the wings.
Did Ruben Amaro Jr. do his job last offseason? It's easy for me to sit here and say it, but I'm not so sure. When you spend $50 million on a single reliever and add questionable pieces to your bench, you're opening yourself for criticism.
But whatever the case may be, the Phillies have been average at the dish this season—right in the middle of the pack. At least, that's what their wOBA (weighted on-base average) would argue.
Sounds about right.
Stats through 9/17/12.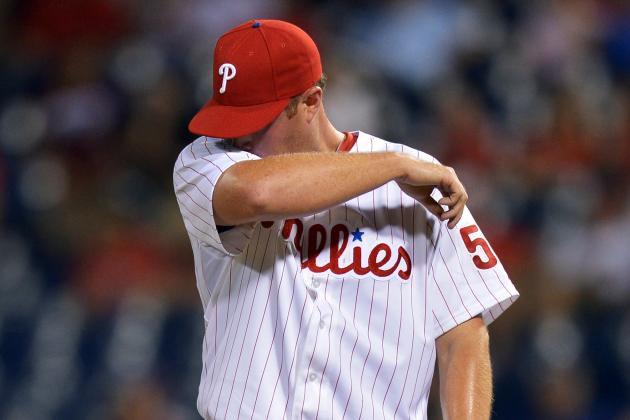 Drew Hallowell/Getty Images

Home Runs Allowed: 162
If the Phillies' pitching staff had an Achilles heel this season, this was it. There is far too much money tied up in this staff to be in the top 10 for most home runs allowed.
Or is that just a part of the problem?
Early in the season, Cliff Lee was one of the biggest culprits in this area, but he's evened himself out since. The Phillies' other three big money pitchers—Roy Halladay, Cole Hamels and Jonathan Papelbon—all fared well in this area.
The biggest problem the Phillies have had with home runs allowed this season is in the inexpensive area of their bullpen. Antonio Bastardo, Josh Lindblom, B.J. Rosenberg and Joe Savery are all guys that spent significant time with the club this season and posted a HR/9 mark north of 1.3.
Does this warrant a change in the offseason?
Stats through 9/17/12.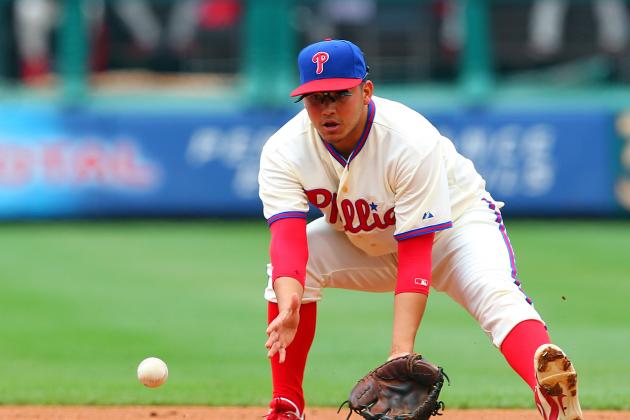 Rich Schultz/Getty Images

UZR/150: 0.5
No defensive metric is perfect, but I'm surprised that the Phillies' UZR/150 mark is only 0.5. There are some good defensive players on this team.
I don't think that anyone would argue that Jimmy Rollins isn't one of the best defensive shortstops in the game, and one thing that Placido Polanco can still do is play third base—and play it well.
Shane Victorino is an above-average defensive center fielder. The Phillies replaced Chase Utley with Freddy Galvis and didn't miss a step.
Sure, they had their question marks. Hunter Pence wasn't nearly as good as we thought he'd be in right field, and Juan Pierre has an arm that I would classify as "noodle" on most scales.
But even still, I thought they'd have a better UZR/150 mark than just 0.5.
I guess that could be the mantra for the Phillies this season: Looks can be deceiving.
Stats through 9/17/12.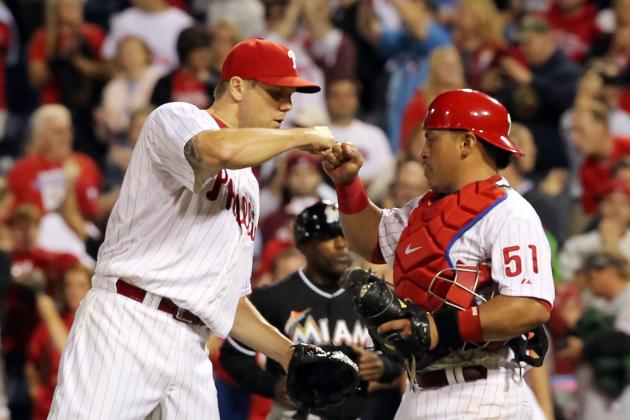 Hunter Martin/Getty Images

Wild Pitches: 27
The Phillies seem to be perennially at the top of this statistic and, although it is technically a stat for pitchers, there is no doubt that a big part of the reason why is Carlos Ruiz.
Even before he stormed onto the offensive side of the game this season, Ruiz was well known as one of the game's top defensive catchers, and he's proving where his true value lies yet again in 2012.
The Phillies are currently tops in MLB with just 27 passed balls.
You also have to give credit to Erik Kratz and Brian Schneider, both of whom have played well (at least defensively) in Ruiz's absence.
Stats through 9/17/12.
Bob Levey/Getty Images

Caught Stealing Percentage: 38 percent
Would it be fair to say that—had the Phillies been in a better spot in the standings—Carlos Ruiz would be a serious candidate for the National League's MVP award?
I think it would be.
First, you have to look at what he's done offensively. Ruiz has been one of the game's top offensive performers this season, and that is not an exaggeration. If he did not suffer a foot injury and logged the necessary plate appearances, he would currently be sixth in the league in wOBA (.402) and seventh in wRC+ (154).
Then you factor in his defensive value, and few players can make the same kind of argument for being "most valuable" than Ruiz can.
He's a huge part of the reason that the Phillies are currently in third place in the game in caught stealing percentage.
He probably won't win the award, but Ruiz deserves some serious consideration.
Stats through 9/17/12.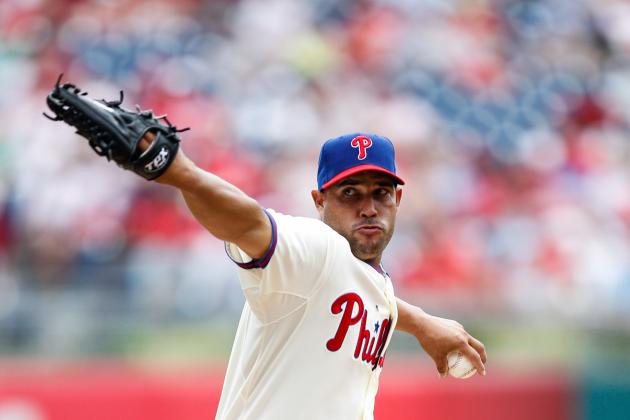 Brian Garfinkel/Getty Images

WHIP: 1.24
WHIP certainly isn't the be-all, end-all of pitching statistics, but I think it does a pretty good job of quantifying the "pitching basics"—keeping the other team off of the base paths.
WHIP measures a pitcher's walks and hits and divides them by innings pitched. The Phillies currently have a mark of 1.24, which is good for fourth best in MLB.
Of course, with the number of strike throwers on this staff, that isn't much of a surprise.
Stats through 9/17/12.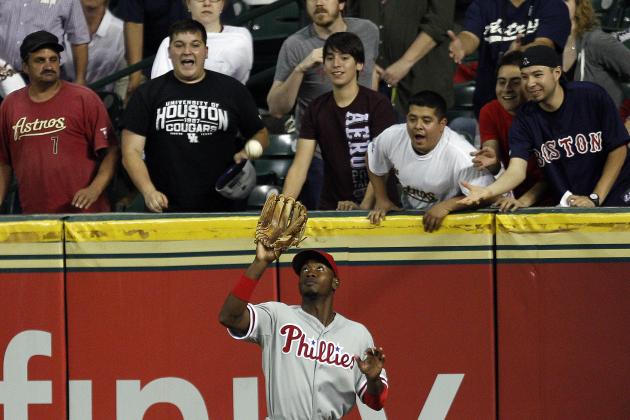 Bob Levey/Getty Images

Team Defensive Runs Saved: -6
Yes. A negative number.
There are only two defensive metrics on this list, and I think it is worth repeating that neither is perfect by any stretch of the imagination. But I also think that this is a good illustration of one of the big things that this team has lacked in 2012—defensive consistency.
When the Phillies are at their best, they're playing above-average defense behind their heavily invested pitching staff. The Phillies have not played above-average defense in 2012.
Their outfield was disappointing. Their infield couldn't pick up the slack. The result was a poor defensive effort.
If you want to know why the Phillies are so intrigued about Chase Utley's potential move to third base, here's a little part of the reason why: Their leaders in defensive runs saved in 2012 both play second base.
Stats through 9/17/12.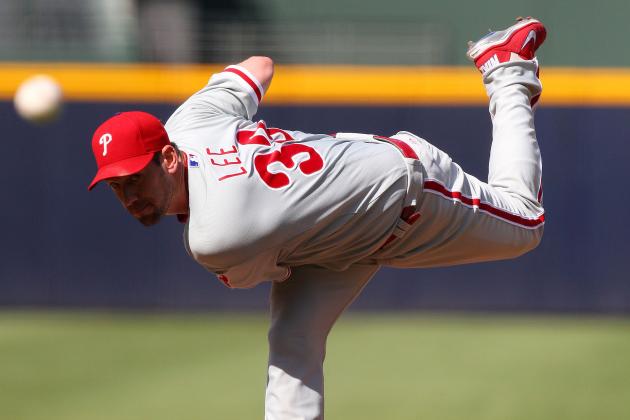 Mike Zarrilli/Getty Images

K/BB: 3.38
Yet another pitching statistic that the Phillies are currently dominating.
Of course, a huge portion of the Phillies' sparkling strikeout-to-walk ratio is Cliff Lee's historically good season in that area. He's currently posting a strikeout to walk ratio of 6.57—the best mark in baseball by nearly two full points.
The Phillies are also chocked full of guys who are notorious strike throwers, like Roy Halladay, Cole Hamels and even Jonathan Papelbon.
But again, this just goes to show that the Phillies are pounding the strike zone and that the pitching staff hasn't been nearly as bad as some will lead you to believe—not even close.
Stats through 9/17/12.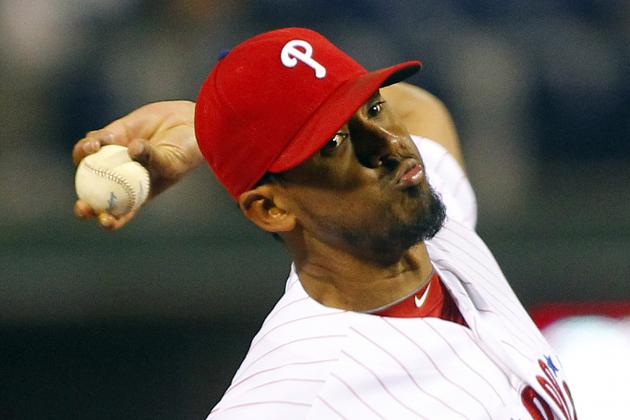 Rich Schultz/Getty Images

K/9: 8.46
That's a lot of strikeouts (per nine innings).
The Phillies aren't just racking up the strikeouts—they're getting them in bunches. Antonio Bastardo is at the forefront of that crusade with a very impressive K/9 mark of 13.89.
But he isn't the only one.
Josh Lindblom, Jonathan Papelbon, Jake Diekman, Jeremy Horst, B.J. Rosenberg and Raul Valdes have all posted K/9 marks north of 10.
Michael Schwimer, Phillippe Aumont, Tyler Cloyd, Cole Hamels and Cliff Lee all have marks north of eight.
Stats through 9/17/12.