5 Philadelphia Phillies Prospects That Could Steal a Job in 2013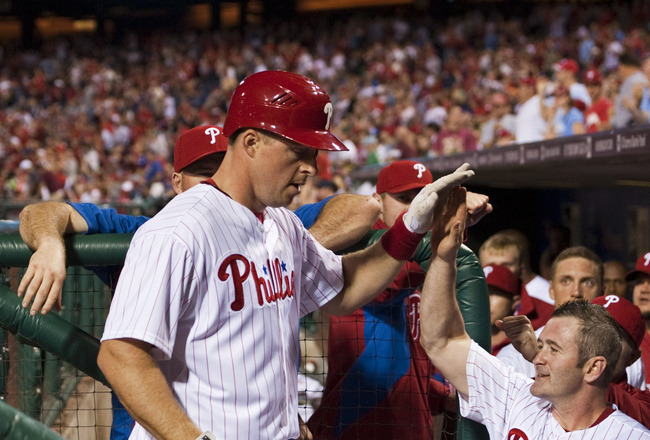 Howard Smith-US PRESSWIRE
Big changes are on the horizon for the Philadelphia Phillies. The last month of the season will serve as a tryout for players looking to earn a more substantial role in 2013. Some will flourish, some will bust, but one way or the other, change is eminent.
With new blood from Triple-A filling in admirably for injured and traded players, several prospects, both young and old are going to change the face of Phillies baseball.
A new era of Phillies baseball is upon us, the majority of the 2008 championship team has all but disappeared. Only a memory of what once was. With all the recent success, mediocrity will no longer be tolerated in the city of brotherly love. For the current Phillies roster, it's shape up or ship out.
Here are 5 Phillies prospects who could steal a job in 2013.
Phillippe Aumont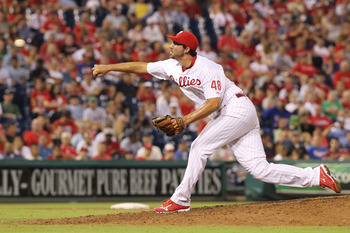 Hunter Martin/Getty Images
It seems like the Phillies have been waiting forever for pitching prospect Phillippe Aumont to make an impact on the major league club after coming to Philadelphia as apart of a deal that sent Cliff Lee to Seattle. Don't be so impatient just yet, Aumont is still only 23 years old and has an arm worth waiting on.
The Phillies will be looking for a reliable set-up man for the 2013 season. If Aumont can improve his control, he has a serious shot of taking over the 8th inning from the likes of Antonio Bastardo and Josh Lindblom.
So far in 2012, Phillippe has pitched well in his 4 innings of work. He has given up one run, struck out three and walked two. The amount of walks he allows will determine how much success he will have at the major league level. He has the right tools, now he just has to put it all together.
The Phillies could address the 8th inning in the offseason, but if they don't, Aumont could take innings away from the other arms in the Phillies bullpen.
Darin Ruf
Eric Hartline-US PRESSWIRE
The 2013 Phillies outfield is completely up in the air at this point. Phillies prospect Darin Ruf has had arguably the best minor league season in franchise history. He blasted 38 HR's, drove in 104 runs and batted .314 for the Reading Phillies. He just turned 26 this past July.
How can Ruben Amaro Jr. and the rest of the Phillies organization ignore that kind of talent?
They can't.
Ruf has recently switched from first base to left field in hopes he can make a run at a job in the big leagues for 2013.
The Reading Phillies have made the playoffs and hopefully once Reading's season is over Darin Ruf will make his way up to the Phillies and get a chance to hit against some major league pitching.
John Mayberry Jr. has disappointed this season, even though he has played well since taking over the everyday centerfield job with the departure of Shane Victorino. Dom Brown is still unproven and Nate Schierholtz has been nothing but an average major league outfielder. None seem to be a long time fixture for Philadelphia.
If the Phillies want to return to championship form, their current options in the outfield are simply not going to cut it. Some tough decisions need to be made and hopefully Ruf will get the chance to prove himself in the major leagues.
Cody Asche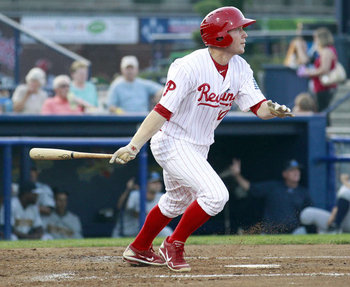 (YONG KIM / Staff Photographer) Philly.Com
Every fan who follows the Phillies knows they desperately need a third baseman for the 2013 season. Kevin Frandsen has filled in admirably since taking over the job for Placido Polanco, but he does not look to be a long time solution to their problem. Third base is a power position and neither Polanco or Frandsen can fill that void.
Insert 22 year old Cody Asche, who has flourished at two levels in 2012. In 130 games between High-A Clearwater and Double-A Reading, Asche hit .324 with 12 HR, 72 RBI, 11 SB, and an OPS of .849.
If the Phillies do not sign a free agent and Frandsen starts to struggle, look for Cody to get a shot.
The Phillies have had Chase Utley over at third base recently fielding ground balls. He is an option there, but the Phillies will be better off keeping him at second.
Tyler Cloyd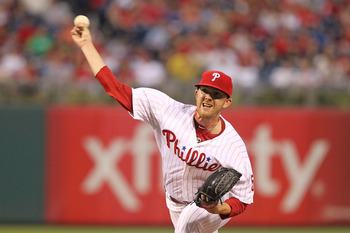 Hunter Martin/Getty Images
Phillies' fans have been begging for Tyler Cloyd all season. After going 15-1 with a 2.26 ERA in 26 starts for both Reading and Lehigh Valley, the fan's wish finally came true.
Tyler has not disappointed. In two starts he has pitched very well, he owns a record of 1-1 with a 2.77 ERA in 13 innings of work. He has given up two home runs, but those two pitches were his only real mistakes thus far.
However, Cloyd lacks a major league fastball, topping out at around 88 MPH. The question remains; can he survive by changing speeds and keeping hitters off balance? Only time will tell. Cloyd will have the rest of the season to show the Phillies what he's got.
With Worley's injury and Kendrick's inconsistency over the years, Cloyd could be taking one of their jobs in the very near future.
Erik Kratz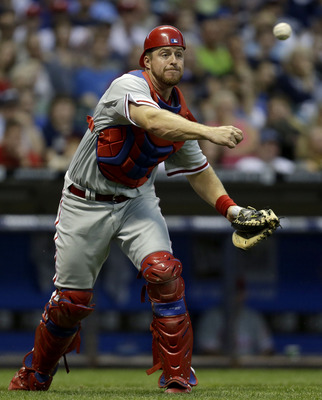 Mike McGinnis/Getty Images
What a wonderful surprise Erik Kratz has been for the Phillies in 2012. Through 38 games, Kratz is batting .287 with 9 home runs and 24 RBI. His OPS is a staggering .944. In a full season with 500 at bats, if Kratz stayed on his current pace, he would hit over 40 home runs and drive in 100 runs.
I know you're thinking there is no way in he** that Erik Kratz will replace All Star Carlos Ruiz, who has had the best year of his career in 2012. Hear me out...
Before being turned into a catcher, Ruiz played second base. There were even rumors swirling around the Liberty Bell recently that Ruiz could possibly move to third base. Chase Utley has also been taking ground balls at third. Could the Philly's play musical chairs in the infield? Move Ruiz to second, Utley to third and Kratz behind the plate. Crazy? Yes. Possible? Maybe. If Ruiz can play third, Utley can stay at his natural position. A win-win if they both can play at least average defense.
With Kratz playing everyday, the Phillies will see if he has what it takes to player everyday in the major leagues. They could sure use Kratz's power over a 162 game season in 2013.
Keep Reading

Philadelphia Phillies: Like this team?