Georgia vs. Missouri: Complete Game Preview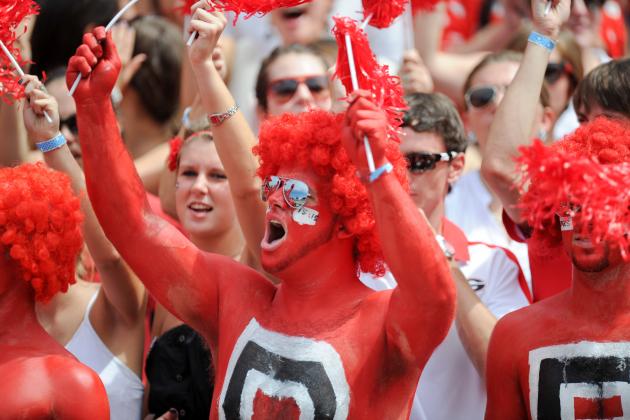 Kevin Liles-US PRESSWIRE

SEC actions heats up in the second week of the season as the Georgia Bulldogs take on the Missouri Tigers on Saturday night. This will be only the second time these two have faced each other. The Bulldogs won the first meeting 14-0 in the 1960 Orange Bowl.
Can the Tigers get their first ever SEC win or will the Dawgs tame the Tigers in Columbia?
Who: Georgia vs. Missouri
When: Saturday, 7:45 P.M.
Where: Columbia, Missouri
Stadium: Memorial Stadium (71,004)
TV: ESPN 2
Radio: Sirius 91, XM 91, Georgia Bulldog Radio Network, Tiger Radio Network
Internet Stream: ESPN3.com, GTV on georgiadogs.com
Begin Slideshow

»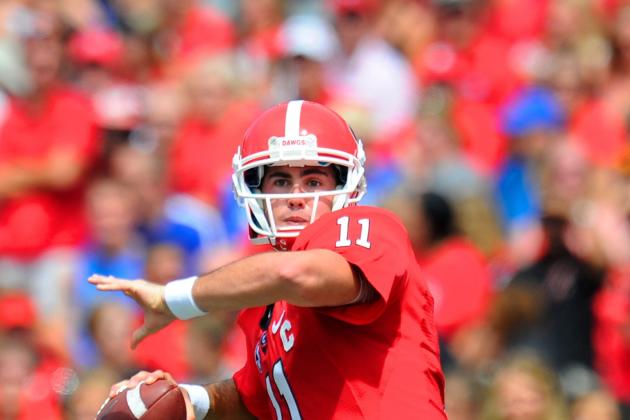 Dale Zanine-US PRESSWIRE

OFFENSE
QB: Aaron Murray, Hutson Mason, Christian LeMay
RB: Ken Malcome, Todd Gurley, Keith Marshall
FB: Merritt Hall, Richard Samuel
FLK: Tavarres King, Rantavious Wooten, Chris Conley
SE: Marlon Brown, Michael Bennett, Malcolm Mitchell
TE: Arthur Lynch, Jay Rome
LT: Kenarious Gates, Mark Beard, Austin Long
LG: Dallas Lee, Ben Reynolds
C: David Andrews, Chris Burnette
RG: Chris Burnette, Greg Pyke
RT: John Theus, Watts Danztler
DEFENSE
DE: Abry Jones, Garrison Smith
NT: John Jenkins Kwame Geathers
DE: Cornelius Washington, Ray Drew, Mike Thornton
OLB: Ramik Wilson, Josh Dawson
OLB: Jarvis Jones, Jordan Jenkins, T.J. Stripling
ILB: Michael Gilliard, Amarlo Herrera
ILB: Alec Ogletree, Christian Robinson
CB: Malcolm Mitchell, Devin Bowman
CB: Branden Smith, Damian Swann
SS: Shawn Williams, Corey Moore, Josh Harvey Clemons
FS: Bacarri Rambo, Connor Norman
SPECIALISTS
P: Colin Barber, Adam Erickson
PK: Marshall Morgan, Jamie Lindley
PR: Branden Smith, Damian Swann
KR: Branden Smith, Todd Gurley, Malcolm Mitchell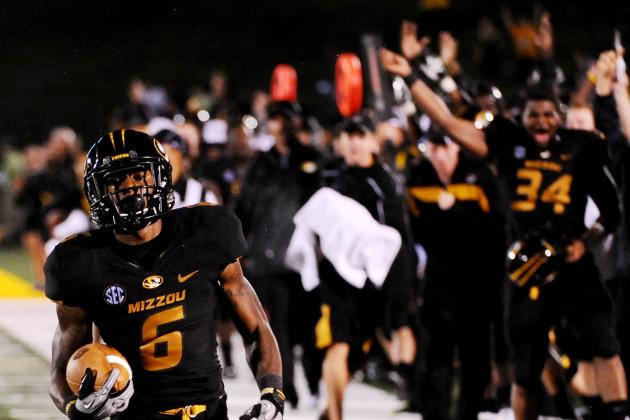 Dak Dillon-US PRESSWIRE

OFFENSE
QB: James Franklin, Corbin Berkstresser
TB: Kendial Lawrence, Marcus Murphy, Russell Hansbrough
X-WR: Marcus Lucas, Rolandis Woodland, Jaleel Clark
H-WR: T.J. Moe, Gahn McGaffie, Jimmie Hunt
Z-WR: L'Damian Wahsington, Bud Sasser, Kevin Strickland
Y: Eric Waters, Dorial Green-Beckham, Sean Culkin
LT: Elvis Fisher, Anthony Gatti
LG: Evan Boehm, Nick Demien
C: Mitch Morse, Brad McNulty
RG: Max Copeland, Connor McGovern
RT: Justin Britt, Chris Freeman
DEFENSE
DE: Michael Sam, Brad Madison
DT: Sheldon Richardson, Marvin Foster
NG: Matt Hoch, Jimmy Burge
DE: Kony Ealy, Shane Ray
WLB: Zaviar Gooden, Darvin Ruise
MLB: Will Ebner, Donovan Bonner
SLB: Andrew Wilson, Kentrell Brothers
CB: Kip Edwards, Randy Ponder
CB: E.J. Gaines, Ernest Payton
SS: Kenronte Walker, Ian Simon
FS: Braylon Webb, Matt White
SPECIALISTS
P: Trey Barrow, Christian Brinser
PK: Andrew Baggett, Trey Barrow
KR: T.J. Moe, Marcus Murphy
PR: Marcus Murphy, E.J. Gaines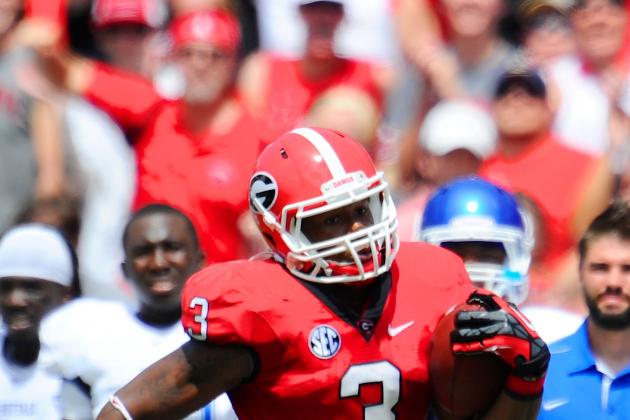 Dale Zanine-US PRESSWIRE

The Bulldogs blew past the Buffalo Bulls 45-23, but it took a second-half push by the Bulldogs to fend off the Bulls.
Freshman running back Todd Gurley was the Bulldogs go-to guy, scoring three touchdowns and racking up over 200 all-purpose yards. Quarterback Aaron Murray had a solid game, throwing for 258 yards, three touchdowns and zero interceptions. Tavarres King was Murray's favorite target as King racked up 117 yards and one touchdown.
The Bulldogs defense had trouble stopping the Bulls run attack as they rushed for 199 yards on 45 carries. However, nearly 150 of those yards came in the first half.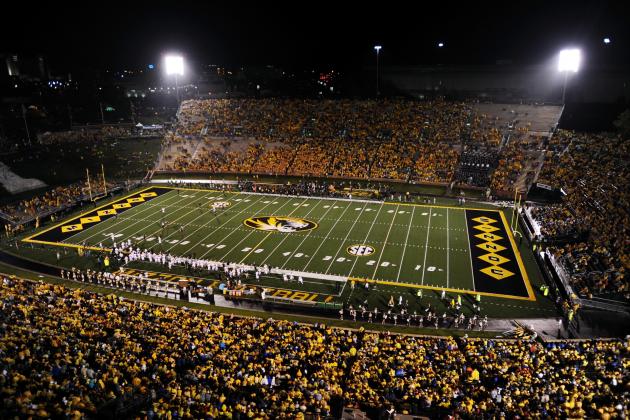 Dak Dillon-US PRESSWIRE

Missouri had no problems with SE Louisiana as the Tigers came away with a 62-10 win. The Tigers scored their points any way they could. Marcus Murphy scored twice via punt returns. Zaviar Gooden and Michael Sam had defensive touchdowns early in the game.
Kendial Lawrence ran for a 76-yard touchdown and tallied 121 yards on 10 carries. And James Franklin threw for 131 yards and one score in three quarters of work.
Murphy's two punt return touchdowns as the first time since 1965 a Tiger scored twice on kick or returns in a single game. He also added 32 rushing yards on five carries.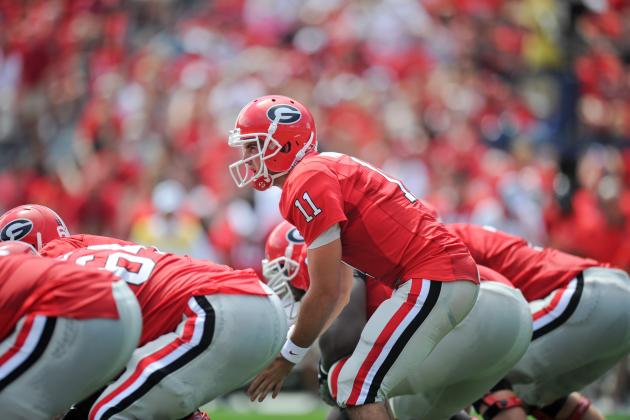 Kevin Liles-US PRESSWIRE

Both teams have something to prove in this game.
The Bulldogs have to show that they are worthy of the No. 6 ranking. They also don't want to be the first SEC team that loses to Missouri in its first year in the SEC.
The Bulldogs defense has more to prove than any other unit in the country this week. They have to show that they are a top-five defense because they did and look like that last week when the Buffalo offensive line was pushing around the Bulldogs defensive line in the first half.
Missouri would really love to get this win because it will give them the confidence that they can hang with anyone in the SEC. If Franklin can have a big game against an athletic defense, there will be some buzz around the SEC that Franklin could be the best quarterback in the SEC.
Gulrey won't be the starter when the first play snaps for the Bulldogs, but he will see more action than the starter, Ken Malcome.
Gurley played in his first college game last year and was named SEC Freshman of the Week for his all-round performance against Buffalo. His 100-yard kick return for a touchdown was the first time a Bulldog has returned a kick or a punt return since Brandon Boykin a couple years back.
Gurley has great speed and tremendous size. So when he's in open space, he is near impossible to bring down or catch him from behind.
Franklin did not have a big game for the Tigers last week, but when your specialists and defensive players score 28 points, there was really no need for Franklin to do much of anything.
As it was mentioned earlier, Franklin passed for 131 yards and a score in the win against Southeast Louisiana. But it's what he did last year that gives the Georgia defense reasons to be focused.
Franklin threw for 2,865 yards as well as rushed for 981 yards. He had 21 passing touchdown and 15 rushing.
Franklin is very dangerous when the ball is in his hands and will be the central focus of the Bulldogs defense all night long.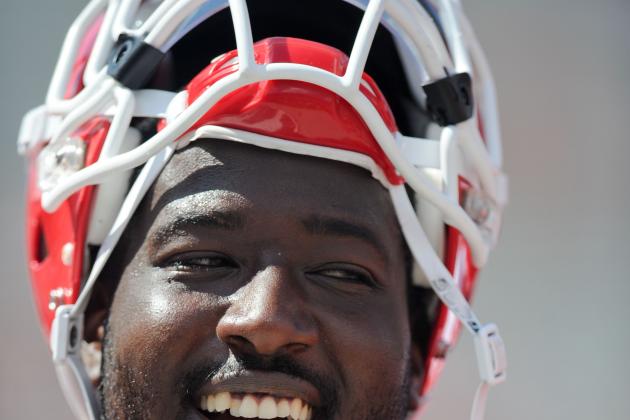 Kevin Liles-US PRESSWIRE

The Bulldogs will win if the defense can contain Franklin and not have him making any big plays.
The Bulldogs gave up a few of those big plays last week, and they are looking to limit those on Saturday night.
Also, if the Bulldogs can weather the storm they should have no problems getting out of Columbia with a win. And when I say weather the storm, I mean getting past the fans and the atmosphere, and just going out there and playing football.
It will be a very rowdy place at Memorial Stadium on Saturday night, and the Bulldogs will have to find a way to calm that crowd early and quickly.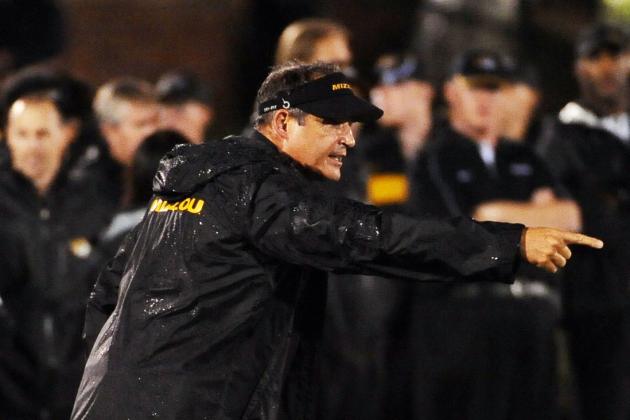 Dak Dillon-US PRESSWIRE

Missouri will win if they can start fast and end faster. They jumped to a 28-0 lead against SE Louisiana after the first quarter. Franklin and the rest of the offense know that they can have a fast start, it's just going out there and executing against a defense that has bigger defensive lineman and more athletic linebackers.
They also know that Georgia will make a run, and if the game comes down to the wire, the Tigers must make big plays to take the life out of the Bulldogs.
Also, if the defensive line can overpower an inexperienced offensive line for the Bulldogs, Murray won't have time to make any of his big throws and will be out of rhythm all game long.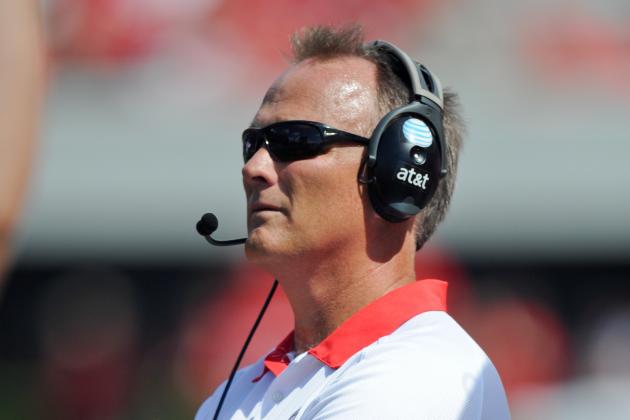 Kevin Liles-US PRESSWIRE

This could be the Bulldogs toughest game of the year. And it's not so much because of the talent. This is Missouri's first SEC game and would love nothing more than to get a win over a top SEC squad. This will be the best offense the Bulldogs will face all year as the Tigers know how to score points in bunches.
But Missouri has not really faced a team like Georgia. The Bulldogs have speed on the outside on offense, aggressive running backs, a big-time quarterback and Jarvis Jones who could be the best defensive player in the country.
Missouri will make this game close, but because of the size and speed of the Bulldogs, they will come out of Columbia, Mo. with their second win of the year.
FINAL SCORE: Georgia 27, Missouri 21