Chad Dawson vs. Andre Ward: Complete Breakdown of 11 Essential Categories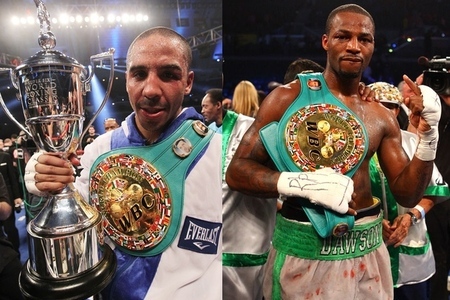 Image courtesy of badlefthook.com
If ever a fight deserved intense scrutiny, it is the upcoming super middleweight title clash between Super Six World Boxing Classic winner Andre Ward (25-0, 13 KO) and current lineal light heavyweight champion Chad Dawson (31-1, 17 KO).
In an unprecedented move, two prime, lineal champions—Ward is 28 and Dawson is 30—agreed to fight each other without the histrionics and backdoor tactics that have become disturbingly prevalent in boxing today. Ward-Dawson is simply a case of the best fighting the best without the childish squabbles of money or promotional pride circumventing what fans and the sport of boxing deserve to see.
While the Ward-Dawson fight is certainly noble and refreshing—and hopefully the start of a positive trend in boxing—there is still the actual fight and the stakes of potential outcomes to consider. Very little separates Ward and Dawson, and they have combined for 15 world title fights, posting a joint 13-1 record with one no-contest.
Both Ward and Dawson find themselves in the pound-for-pound discussions—a case could be made for Ward being as high as No. 4, while Dawson, after defeating Bernard Hopkins, hovers around the top 10. Given their all-around skills and elite athleticism, it is difficult to pinpoint one area where either man has the overwhelming advantage.
Dawson, of course, is dropping seven pounds to move down to super middleweight, which means he will be the naturally bigger man and likely carry more power. Ward, however, has incredible adaptability and has thus far been able to adjust to any type of opponent.
Dawson holds a three-inch height advantage over Ward (6'3 to 6'0), as well as a five-and-a-half inch reach advantage (76.5 to 71). Ward, however, is fighting at his natural weight and at home. Fair trade?
Check out Ward and Dawson's boxrec profiles for additional information as references from these pages will be used throughout this article. To determine who holds the ultimate edge in this fight of equals, a mixture of conjecture and number crunching must take place.
So, who holds the advantage in speed, power, heart, ring generalship and all the other essential categories? Let's find out.
Begin Slideshow

»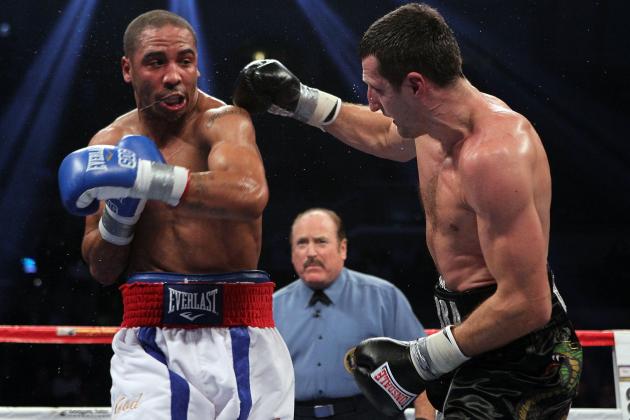 Nick Laham/Getty Images

Because of his awkward and adaptable style, Andre Ward is not often credited with having blinding hand speed.
Much of this misconception has to do with how Ward varies his attack. As opposed to merely launching conventional rapid-fire combinations off a stiff jab, Ward is able to employ lead right hands and left hooks to catch his opponents off-balance after slipping punches.
Added to this is that much of Ward's most effective work comes from counters and in-fighting, which sometimes masks his speed because his punches are so economical. But make no mistake; Ward's fluidity has much to do with quality speed.
Chad Dawson is a gifted athlete who, when he applies the full measure of his concentration, can make boxing look easy. A significant aspect of Dawson's naturally endowed athleticism is quality hand speed, and this attribute is evident in Dawson's fluid and crisp combinations.
From his southpaw stance, Dawson is capable of teeing off with straight punches, and it is his sound fundamentals that enhance what is already usually a general speed advantage over most of his opponents.
Much like Ward's adaptability, Dawson's classic boxing abilities sometimes mask the true quality of his speed, as does, at times, body language that evokes indifference.
Advantage: Even
It will be interesting to see if Dawson's recent string of ancient opponents have made him look faster by proxy; however, both men are superior athletes and technicians, which means that the ability to capitalize on mistakes will be the true difference as hand speed will ultimate negate itself.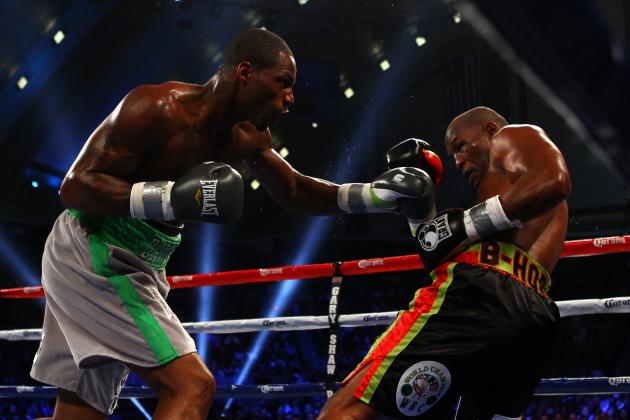 Al Bello/Getty Images

With 13 knockouts in 25 career fights, Andre Ward carries a knockout percentage of 52.
Of course, when discussing punch strength, the raw numbers don't always definitively explain the quality of a fighter's power. One's level of opposition needs to be considered, and few boxers have faced a tougher slate than Ward has since his inclusion in the Super Six World Boxing Classic.
Ward last scored a KO in 2009 when he disposed of Shleby Pudwill in three rounds in his last fight before the Super Six. Despite not scoring a KO in his last five fights, Ward has won lopsided decisions over Mikkel Kessler, Allan Green, Sakio Bika, Arthur Abraham and Carl Froch, all of whom are extremely durable (Green excluded).
The bottom line is that while Ward might not be a knockout puncher, he packs enough of a punch to keep opponents honest.
A similar case of deceptive power could be made for Chad Dawson. Having scored 17 knockouts in 34 career fights (including two no-contests), Dawson has a career knockout percentage of 50, but his level of oppositions has much to do with his fights going the distance.
Dawson last scored a knockout in 2007, but his subsequent string of fights against Glen Johnson (twice), Antonio Tarver (twice), Jean Pascal, Adrian Diaconu and Bernard Hopkins (twice) have pitted Dawson against some of the light heavyweight division's most durable fighters.
Still, Dawson has shown the ability to hurt his opponents—his late-round efforts against Pascal were especially telling—and he has been fighting naturally bigger opponents than Ward. Dawson does possess latent power, but his safety-first style, at times, prevents him from showing it.
Nevertheless, as he moves down in weight, Dawson should carry more power to the super middleweight division.
Advantage: Dawson
While he doesn't always show it, Dawson seems to have more natural firepower in reserve. Some feel he could have stopped Pascal—if given another round—and if Dawson is willing to open up against Ward, he should hold the power edge with his seven-pound drop in weight.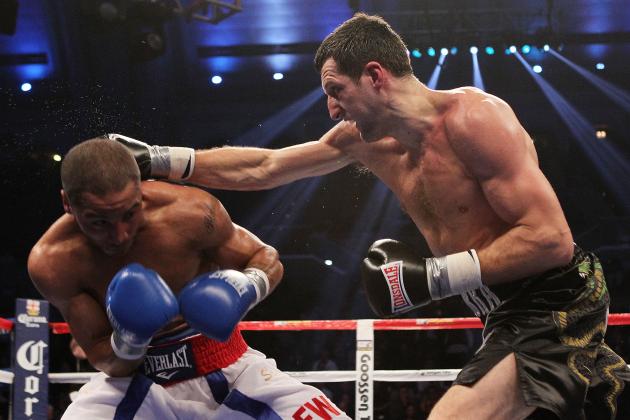 Nick Laham/Getty Images

Andre Ward is the craftiest and most intelligent fighter not named Floyd Mayweather. Ward has a bottomless bag of tricks, and despite facing elite opposition since he became a champion, no one has been able to solve his malleable style.
The ability to adapt to whatever his opponent throws at him is grounded in Ward's ability to control ring geography, and he is equally adept at counter-punching as he is at bullying his opponent or initiating offense.
Against Sakio Bika and Allan Green, Ward outmuscled seemingly stronger opposition on the inside as he consistently backed his opponents up or effectively tied them up.
On the other hand, Ward used deft movement and accurate punching to pick apart Carl Froch, moving in close when necessary. Precise foot movement also allows Ward to maintain perfect balance, which maximizes his power and creates openings for his offense.
When it comes to controlling the geography and pace of a fight, Ward is one of boxing's best.
At 6'3" and possessing elite athleticism, Chad Dawson is both rangy and powerful. When Dawson is completely focused and engaged in a fight, his long and stiff jab acts as an effective tool to initiate his offense. It is also an excellent range finder and a means to control his opponent's movement.
Dawson's footwork and speed is also commendable, even if he at times appears lackadaisical; this actually has more to do with Dawson's fluidity, and it seems that the ease with which he fights is sometimes mistaken for indifference.
Dawson has also held his own against several of the craftiest fighters in boxing, yet he sometimes lets other fighters dictate tempo (Pascal most notably).
Advantage: Ward
No one has been able to dictate tempo or solve Ward at this juncture, and that has to count for something. Dawson, while no slouch when it comes to ring generalship, can have his rhythm disrupted, as seen in his loss to Pascal.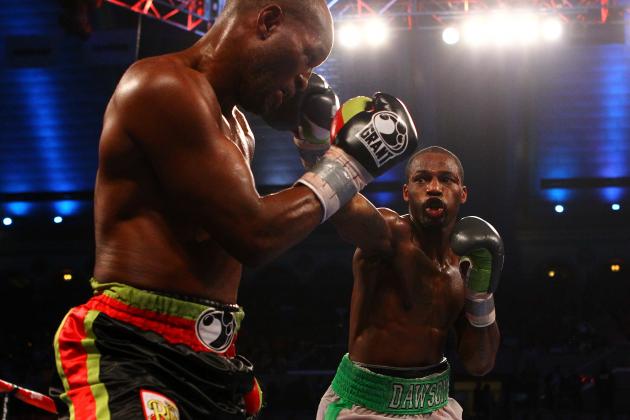 Al Bello/Getty Images

As previously mentioned, Andre Ward's technique adapts to his opponent's style. That said, as an Olympic gold medalist with an extensive amateur background, Ward has excellent fundamentals and technique in everything ranging from punching mechanics to footwork.
If Ward sometimes appears awkward, it is because his natural abilities allow him to get away with throwing punches such as lead left hooks and straight right hands.
Defensively, Ward is sound, and he is a master of maneuvering his arms and throwing short punches on the inside. Some argue that Ward lunges with his head, and there are perhaps opportunities for an elite counter-puncher to catch him on the way in. That said, Ward's technique is grounded in his superb timing.
Chad Dawson is perhaps a more conventional boxer than Ward, and Dawson possesses a classically strong jab, as well as an excellent straight left hand from his southpaw stance.
When he works behind his jab, Dawson's speed and movement can prove overwhelming, and Dawson is rarely guilty of throwing wild and looping punches. In fact, the criticism leveled so frequently at Dawson has much to do with how sound his technique and skills are.
Many fans and pundits are baffled that Dawson hasn't done more with his skill set, and considering he's only lost once, that acts as an odd testament to his abilities. Other than his loss to Pascal and his first fight with Johnson, Dawson has generally befuddled his quality opposition.
Advantage: Even
While Dawson is more classically conventional, Ward has undeniable adaptability. Both men were quality amateurs, and it seems unlikely that a breakdown in technique will cost either man in this fight.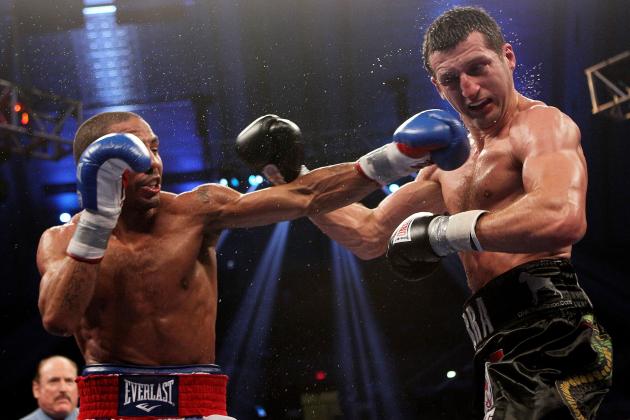 Nick Laham/Getty Images

Andre Ward is one of boxing's most versatile and adaptable fighters. Whether he's counter-punching, wrestling on the inside, fighting off his back foot or initiating offense, Ward seems equally comfortable and adept.
Much of Ward's versatility has to do with his intelligence and ring savvy, and he has proven that he can overcome most conceivable style and tactics; fighters who try to bully Ward are subjected to his effective short punches and maneuvers in the clinch, while those who try to box him fall victim to his precision and movement.
Consider Ward's fights against Allan Green and Arthur Abraham, respectively. Green was vocal about imposing his physical will upon Ward, but that attempt ended with Ward forcing the issue inside, throwing short, effective punches in the clinch and backing Green up against the ropes and taking away his punching range.
Against Abraham, Ward weathered Abraham's bursts of aggression with movement and used strong combinations to gradually pick his opponent apart. Ward, at this point, can do it all.
If Chad Dawson hasn't shown as many facets of his game as Ward has, it could be because Dawson's more conventional style—combined with his physical skills—is generally more than enough to win.
That said, Dawson, when compared to Ward, is somewhat more predictable, despite the fact that he can throw excellent combinations and box beautifully when he puts his mind to it. As a southpaw, Dawson usually forces opponents to adapt to him, but he has shown the ability to both counter-punch and initiate offense.
More telling than any of Dawson's victories might be his loss to Jean Pascal. In that fight, Dawson let Pascal dictate tempo and initiate offense. Dawson seemed passive as Pascal routinely beat him to the punch, and Dawson was visibly holding on in the seventh and eighth rounds.
Despite his lethargy, Dawson was able to rally and finally amped up the pressure, stunning Pascal with powerful, straight shots in the 10th and 11th before the fight went to a technical decision because of a Dawson cut.
Still, it took Dawson nearly 10 rounds to adapt to Pascal's powerful right hand and awkward aggression. Dawson should have gone on the offensive earlier, and the fact that he was unable or unwilling is disconcerting.
Advantage: Ward
Dawson sometimes wastes too much time figuring his opponents out and fails to apply consistent pressure. Ward, on the other hand, is always confident and decisive in his actions.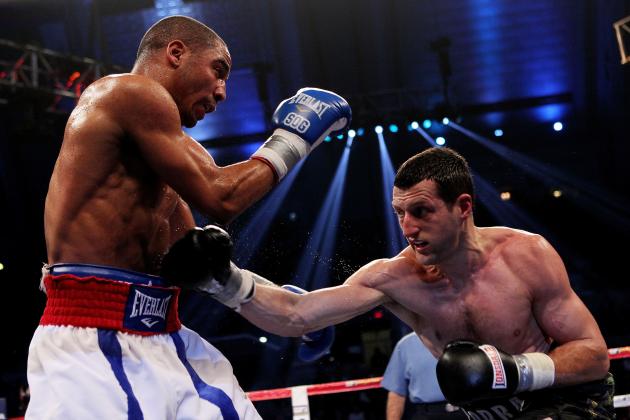 Nick Laham/Getty Images

Andre Ward has never won a world title fight via stoppage, meaning that he has fought four 12-round championship fights with one 11-round technical decision. Ward also went the 12-round distance in two minor title fights, so his physical stamina and ability to surge through the championship rounds is evident.
Furthermore, Ward has gone the distance with several world-class fighters, and he has shown the ability to sustain his offense when jostling and wrestling on the inside.
Leading up to his fight against Carl Froch, Ward was averaging 54.7 punches thrown per round, which is right at the super middleweight average.
Ward splits his jabs and power punches evenly, throwing 27.3 of each per round, but it is his average connect percentage of 43.9 on power shots—well above the division average of 37.7 percent—that sets him apart.
Even if Ward throws fewer punches than his opponents, which was the case against Froch, he is able to conserve energy while landing with greater accuracy.
Chad Dawson has gone 12 rounds on eight occasions, seven of which have come in world title fights. Clearly, Dawson comes into fights in excellent shape, and his ability to go twelve rounds is unquestioned.
Crunching some numbers on Dawson, however, reveal polarizing trends. Take Dawson's first fight against Glen Johnson, for example. In that bout, Dawson landed 28 percent of 79 punches thrown per round, which is an impressive output.
However, when Dawson lost to Pascal, he averaged only 42 punches per round (after coming back from a long layoff); before the Pascal fight, Dawson had averaged 61 punches thrown per round in his previous seven fights, a number which was not met against Adrian Diaconu in Dawson's comeback win after the Pascal fight (Dawson threw 52 punches per round).
The numbers suggest that Dawson has the potential to throw a barrage of punches per round but that he either steps off the gas or chooses to conserve his energy. What Dawson needs to avoid is merely having a punch output that mirrors his opponent's work rate.
Advantage: Even, though Ward scores points for consistency
The numbers suggest that Dawson can and has thrown an obscene number of punches per round for a man of his size. That said, both men rely on intelligent aggression and know when to conserve energy. Furthermore, neither man has ever faded badly at the end of a meaningful fight.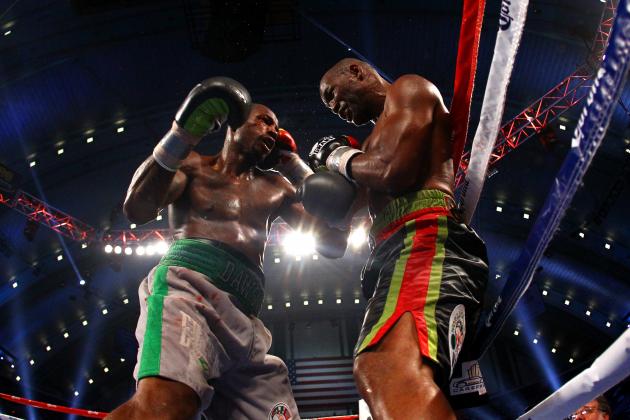 Al Bello/Getty Images

Early in his career, Andre Ward suffered a major scare when he was nearly out on his feet against Kenny Kost. Since then, Ward has proven his ability to take a punch, and he has demonstrated this against some of the hardest hitters in the super middleweight division.
In swapping punches with Mikkel Kessler, Sakio Bika, Arthur Abraham and Carl Froch, Ward has dealt with and negated the power of seemingly naturally stronger men.
Of course, much of Ward's effectiveness has to do with not getting hit cleanly, but it remains to be seen how he will fare against a faster, more athletic opponent who can also punch with power. That said, Ward has proven he can take shots from elite-level fighters.
In 2007, Chad Dawson survived a knockdown against Tomasz Adamek to wrest the WBC light heavyweight title from his Polish counterpart. It was a rare blip for Dawson, and he has generally been able to withstand his opponent's assaults.
In Dawson's first fight against Glen Johnson, both men traded some heavy leather in what amounted to highly competitive fight, and Dawson withstood Johnson's relentless in-fighting.
Of greater concern is that Dawson was visible rocked against Pascal and held on to the point where referee Michael Griffin could have credit Pascal with a knockdown. Still, Dawson was able to rally, but it should be interesting to see how he fares against another prime fighter.
Advantage: Even
Both men have fought elite opposition, though significantly more of Ward's opponents have been in or near their primes. Despite this, both Ward and Dawson have shown brief flashes of vulnerability, as well as plenty of resolve.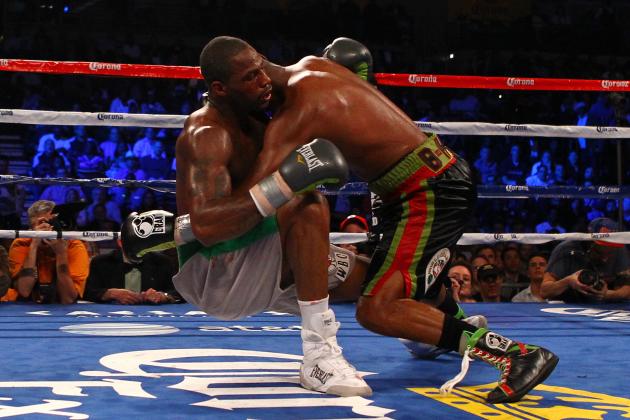 Al Bello/Getty Images

In 25 professional fights, Andre Ward has boxed 163 rounds and has a 5-0 record in world title fights. Having fought 59 championship-level rounds against elite opposition through the Super Six, it seems as if Ward has been a champion longer than he actually has.
It is easy to forget that Ward only became a champion in 2009, but his murderer's row of title defenses has been more valuable than boxers who claim alphabet belts and rack up meaningless or scripted mandatory defenses.
Ward has evolved into an elite boxer over the past three years, claiming the WBC, WBA and Ring titles, and he appears wise beyond his years.
Chad Dawson has been operating at the championship level since 2007. He has held the WBC, IBF, IBO and Ring light heavyweight titles at different junctures over that stretch—he is the current WBC and Ring champion—and he has fought a unique level of opposition.
In 10 career world title fights, Dawson has a record of 8-1 (1 NC) with his only loss coming against Jean Pascal in Montreal.
Two of Dawson's defenses can be considered soft-touches (Jesus Ruiz and Epifanio Mendoza), while multiple fight against Glen Johnson, Antonio Tarver and Bernard Hopkins are all legitimate, despite the age of the aforementioned boxers.
Fighting Hopkins is the closest thing a boxer will get to defending a PhD dissertation, and Dawson has gained tremendous experience from tangling with these over-40 fighters.
Advantage: Even
Ward has never had a soft-touch defense, while Dawson has been operating at the championship level for longer.
The Super Six was arduous and more competitive than any scenario Dawson has faced, but that does not mean Ward has the clear edge. Dawson has fought the more experienced and cagey opposition, even if three (Hopkins, Tarver, Johnson) were past their primes.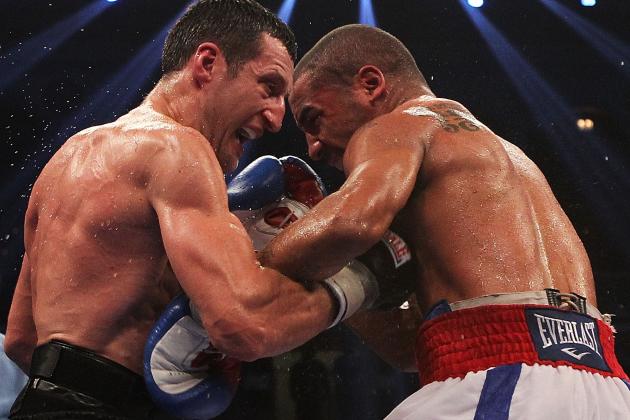 Nick Laham/Getty Images

When one thinks about how to quantify a boxer's heart, what often comes to mind is determining how a fighter responds to punishment and fights through adversity. While Andre Ward has been in some grueling fights, his skill and overall abilities have not required him to exhibit heart in the traditional sense.
Despite this, Ward's will to win is unquestioned, and his willingness to fight on the inside and bully his opponents is a testament to this.
An interesting example of Ward's deceptively large heart is his bout against the rugged Sakio Bika. Ward took the Bika fight to stay busy when Andre Dirrell had to withdraw from the Super Six, and Ward overcame Bika's rough and, at times, dirty tactics to dig deep and win a grueling fight.
Chad Dawson rallied from a 10th-round knockdown to defeat Tomasz Adamek for the WBC light heavyweight title in 2007. The win was particularly impressive because Dawson was dominating the fight until he was dropped, and his ability to regroup demonstrated that he does possess resolve.
Dawson, much like Ward, has not had to show much conventional heart due to his often-superior abilities. However, examining Dawson's bout against Jean Pascal raises a few question marks.
As Pascal—a world class but less naturally gifted fighter than Dawson—was the aggressor and imposed his will on Dawson for much of the fight, Chad showed little early resolve to respond with a fighter's spirit. While Dawson did mount a furious late-fight offensive, he should have met Pascal's fire earlier.
Advantage: Ward
The difference here is consistency. While it is unfair to question Dawson's will to win, he can appear disinterested when fans and pundits are yearning to see him throw down. This mercurial nature contrasts with Ward's intensity and consistency, giving Ward the slight edge.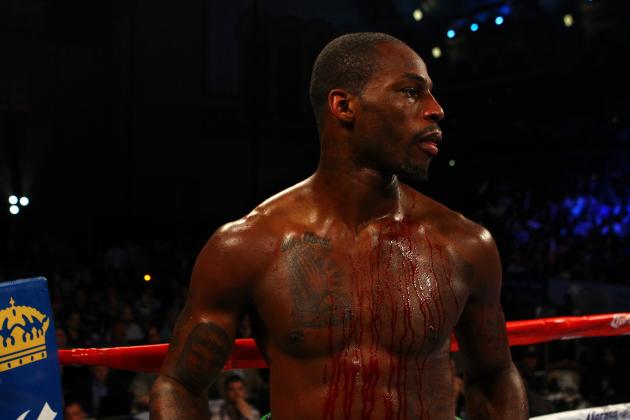 Al Bello/Getty Images

Andre Ward is the "intangibles" guy in this equation. Ward does everything extremely well, which for some means that nothing completely blows them away.
For such an elite fighter, Ward doesn't necessarily have that one attribute that stands out, but that has much to do with his well-roundedness. It is sometimes difficult to latch on to Ward because that which makes him special is unquantifiable, and he always seems to have that little bit extra in every fight, which, thus far, has always been able to push him over the top.
Dawson, of course, is dropping down in weight for the fight and is thus the naturally larger and stronger man. Dawson moves down with a three-inch height advantage (6'3" to 6'0") and a five-and-a-half inch reach advantage (76.5 to 71).
These advantages are significant, and if Dawson commits to his jab and snaps the punch with purpose, he could make it extremely difficult for Ward to find his rhythm. Dawson's natural size advantage should also give him the edge in power, even if he isn't a concussive puncher.
Advantage: Even

It remains to be seen whether Ward will have that unspeakable advantage against someone with Dawson's physical gifts; that's what makes this a fascinating fight.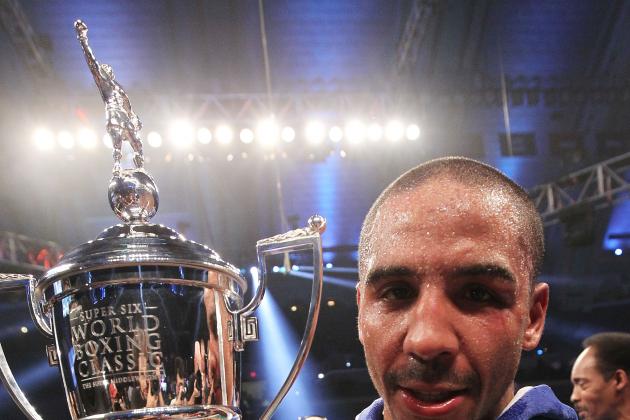 Nick Laham/Getty Images

By participating in the Super Six World Boxing Classic, Andre Ward has pitted himself against several of the world's elite super middleweights. Since defeating Mikkel Kessler via lopsided technical decision in his opening tournament bout, Ward has easily dispatched Allan Green, Sakio Bika, Arthur Abraham and Carl Froch to ultimately stake claim to the WBA, WBC and Ring super middleweight titles.
The fact that Ward has largely won wide unanimous decisions further reflects his recent run of superiority. Consider this: Of the 12 official scorecards rendered over his last four fights, Ward has won by scores of 118-111 or better on 10 occasions.
Since 2010, Chad Dawson has fought four times with mixed results. This four-fight stretch began with a loss to Jean Pascal that was controversial in that Dawson seemed to be surging when a cut forced the fight to be stopped.
That said, Pascal was clearly ahead on the scorecards (108-101, 106-103 twice), and the defeat left Dawson searching for answers. Dawson rebounded with a lopsided if lackadaisical win over Adrian Diaconu in a fight where Dawson should have pressed the action.
Then came the bizarre series of fights with Bernard Hopkins that no one was clamoring to see. Awkward and painful no-contest aside, the second fight proved Dawson was the better fighter (at this point in history), even if the bout was devoid of memorable action.
Advantage: Ward
Two words: Super Six.