NFL Preseason 2012: Cincinnati Bengals Biggest Winners and Losers vs Colts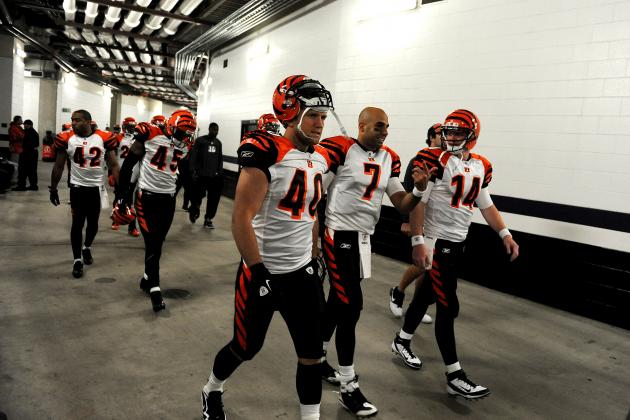 Patrick Smith/Getty Images

The 2012 preseason is officially in the books.
Following a 20-16 loss at the hands of the Indianapolis Colts, the Bengals finished with a 2-2 record.
Cincinnati are now one week away from Monday Night Football and a date with the Baltimore Ravens.
With the final 53 to be decided imminently, let's look at the biggest winners and losers from Thursday's action.
Begin Slideshow

»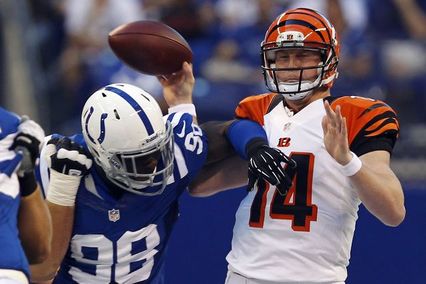 Andy Dalton completed only three of four pass attempts on Thursday night for a grand total of 26 yards.
The Bengals first unit were never expected to see too much time in this one, but Dalton would have hoped to do more.
Marvin Lewis pulled Dalton after the second-year QB was tackled by Robert Mathis and was left clutching his arm. It didn't appear serious, and Dalton looked visibly frustrated on the sideline.
After a lackluster showing against Green Bay in Week 3, this week's display did little to alter the record.
Andy Dalton has struggled to get much going with the offense this preseason, a theme that continued on Thursday night.
The opening drive looked fairly promising, but its yet another opportunity lost for Dalton.
We had hoped to see progression in Dalton's chemistry with receivers not named A.J. Green and are still waiting as we head into the regular season.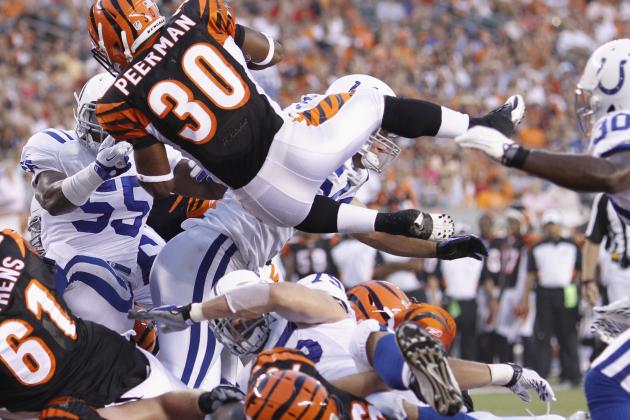 Joe Robbins/Getty Images

Up until Thursday, Brian Leonard's extended playing time in the backfield had done little to suggest he is anything more than a situational back.
However, Thursday saw a breakthrough for Leonard, who took three carries for a total of 27 yards in the early going with a long of 15 yards.
Cedric Peerman tallied 27 yards off of six carries, with a long of 13 yards. He also added an impressive 43-yard kickoff return at the end of the 2nd quarter.
Simply put, it was a reassuring display after weeks of stagnation.
With Bernard Scott's hand still heavily wrapped and Green-Ellis likely to be eased back into things, it looks like Leonard and Peerman could see extended carries in the regular season.
Leonard and Peerman gave impressive performances against Indianapolis, but Baltimore is an entirely different kettle of fish.
Also, as expected, Dan 'Boom' Herron was the big loser in the backfield. He put together a really disappointing performance and will be lucky to make the practice squad.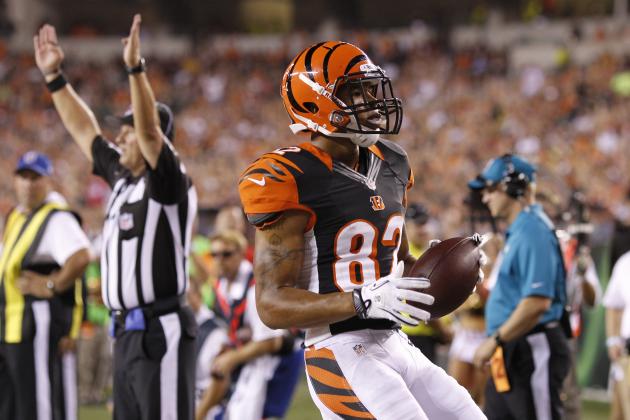 Joe Robbins/Getty Images

Marvin Jones may not have scored a touchdown against a first unit defense this preseason, but the fifth round pick has made a serious impression.
He started off slowly tonight by dropping a surefire TD catch in the endzone, but soon rectified that. He displayed some fancy footwork, making a catch on the sideline and tiptoeing into the endzone for the first score of the night.
Jones' impressive preseason will prove a head-scratcher for Marvin Lewis. Both Armon Binns and Brandon Tate are expected to share duties as the No.2 receiver, but neither have shown as much as Jones this preseason.
That is not unusual for a first unit, but it is a concern given that both Binns and Tate are new weapons in the offense this year and have had little time to get on the same page as Dalton.
Jones also lead the team in punt return yardage with a long of 15 yards.
Jones has well and truly earned his spot on the roster and has the potential to make a meaningful contribution to the offense in 2012.
He finished the game with four receptions for 39 yards and a TD.
Mo Sanu also had a strong game, being targeted frequently by Zac Robinson. He lead the team with eight receptions for 80 yards and a long of 21 yards.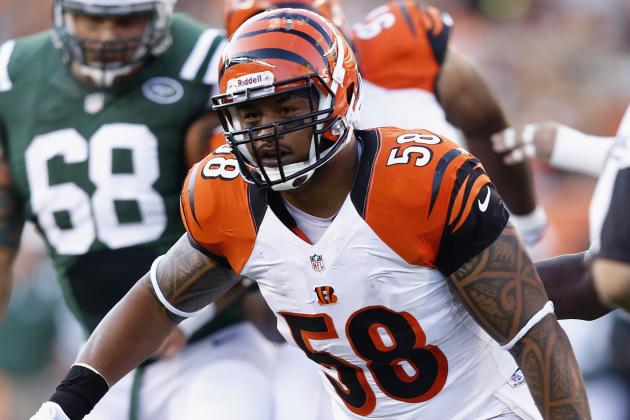 Joe Robbins/Getty Images

This slide could just as easily read, WINNERS: Roddrick Muckelroy, Vontaze Burfict and Dan Skuta.
Maualuga suited up for Thursday's game but didn't see any field time.
Muckelroy saw limited action but made a serious impression with the time he was given. Fans and pundits have watched expecting Burfict to leapfrog Muckelroy on the depth chart, but Roddrick has more than held his own. He finished the day with one solo tackle and one assist.
Burfict looked confident in Indy. He has made some serious strides since his turbulent senior year. With one tackle, one assist, and a pretty nice sack, Burfict continued to impress here. He has had a solid offseason and has shown some of the potential that made him such an exciting prospect.
Skuta has transitioned to strong side LB this offseason and looks to be the opening day backup for Manny Lawson. Skuta is an incredibly versatile player who played well at MLB in Rey's absence last year. He will continue to be a real asset for Mike Zimmer's defense.
These three strong performances are bad news for Rey Maualuga. Finding himself in a contract year with the three guys capable of replacing him having solid preseasons, Maualuga needs to get healthy and start fast.
He has the faith of Zimmer at the moment, but the pressure is well and truly on and the race for 2013 begins now.
Joe Robbins/Getty Images

George Iloka did not have a good Thursday night.
The promising Boise State standout is fighting for a spot on the roster and didn't make a strong case in Indinapolis.
Iloka gave up two silly penalties, one of which came via a pretty reckless helmet to helmet hit (or flying headbutt!) to Colt Kris Adams, who had to be helped to the sidelines.
He then followed the penalty with some poor footwork that took him out of a Colts' run for a TD that he should have stopped.
Iloka was seen as a huge steal in the fifth round of the 2012 draft but has struggled to live up to the hype.
He has great versatility but has looked incredibly raw, with patchy awareness and an inability to consistently wrap up tackles.
He should just about scrape through Friday's cuts, but he needs to turn potential into production if he doesn't wants to be more than just the next Robert Sands.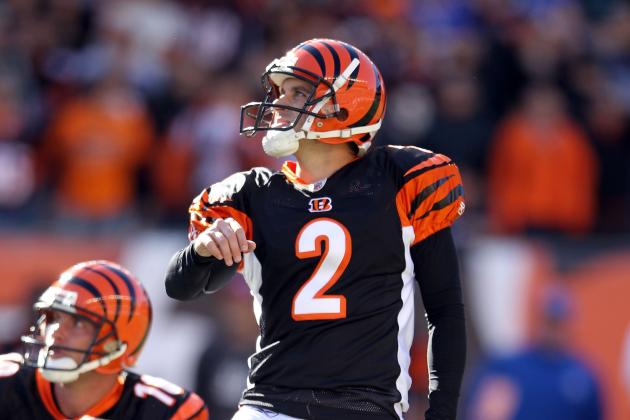 Andy Lyons/Getty Images

Mike Nugent continued his quietly solid preseason this week at Lucas Oil Field.
Nugent was three of three on the night, bagging 10 points for the Bengals.
The highlight came from a 48-yard bomb through the uprights.
One of the league's most consistent kickers during the 2011 regular season, Nugent looks to have put his late year struggles behind him and is shaping up for another solid year.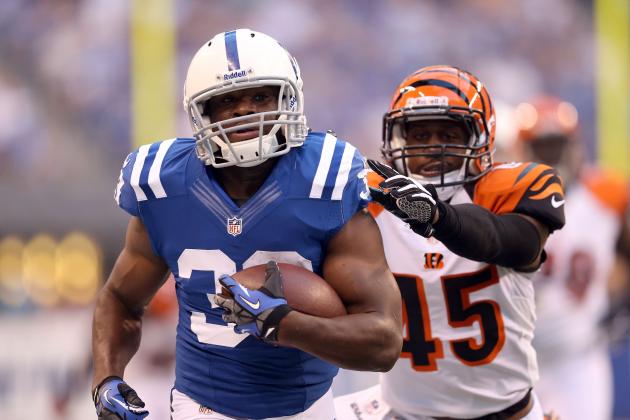 Andy Lyons/Getty Images

Mr. Special Teams Jeromy Miles continues to impress.
Miles put on a masterclass in tackling on Thursday night.
With an uncanny ability to get to the ball and wrap up the tackle, he has made himself invaluable to the 2012 Bengals.
He has great awareness and is a good decision-maker, and while he thrives on special teams, he showed that he deserves to have his name mentioned in the safety debate.
Miles finished the game with a team-leading five solo tackles and one assist in Indianapolis.