The Most Ravenously Hungry Athletes in Sports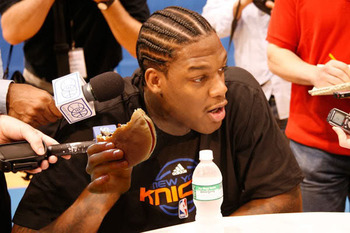 Image via realgm.com
A healthy diet is essential to any athlete's prosperity. But some dudes go far and beyond in their quest for sustenance.
Whether their diet calls for a monstrous amount of calories or their sweet tooth is banging on the door at all hours of the night, these ravenous competitors can't avoid the temptation to eat.
Don't judge an athlete by his weight. Some of these competitors are small, fierce and starving. With that said, let's dive in.
Introducing the hungriest bros in sports...
Keep that Pepto close by, this could get painful.
10. Ryan Lochte, Swimming
In what seemed like a remake of Super Size Me, swimmer Ryan Lochte ate McDonald's three times a day during his 2008 trip to the Beijing Olympics, gaining 13 pounds of body fat in the process.
Now, thanks to coach Gregg Troy, Lochte has drastically altered his diet. "Instead of McDonald's and Skittles, he actually eats some food that normal people eat," says the optimistic coach.
Nature vs. nurture, nature always wins.
9. Wade Boggs, MLB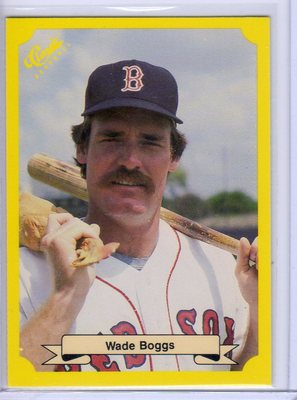 Image via funnybaseballcards.com
Perhaps the most superstitious athlete to ever approach the diamond, Wade Boggs spent his entire career dominating opposing pitching and mastering the art of winning.
The Hall of Fame third baseman can thank chicken for the energy. He was known to eat entire chickens before games, preferably soaked in lemon.
8. Lamar Odom, NBA
Simply dubbed the Candy Man, forward Lamar Odom possesses a legendary sweet tooth. And clearly isn't afraid to share.
Considering he wakes up at "three or four in the morning" to get his fix, it's safe to say the lanky tweener has a mean addiction.
7. Shaun Rodgers, NFL
At 350-plus pounds, massive defensive tackle Shaun Rodgers is expected to be a renowned eater.
But while we have no actual diet-regimen proof, his post-touchdown celebration (at 1:19) tells us all we need to know. His form is only of a seasoned vet. Num, num, num.
6. Chad Johnson, NFL
While a first date at McDonald's may not be everyone's choice, Chad's reasoning is perfect. You have to enjoy the simple things.
Although it's hard to enjoy them when stomach cramps are brewing. Perhaps former Bengals teammate T.J. Houshmandzadeh put it best back in '07. "He eats McDonald's and then bread. And then he wonders why he cramps up all the time."
And then bread?
5. JaMarcus Russell, NFL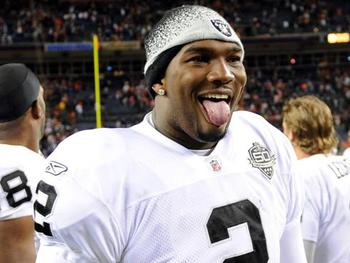 Image via content.usatoday.com
Considering his weight only ballooned during his brief time in the NFL, we'll assume that the anonymous coach who called this former LSU stud a "binge eater" was indeed correct in his analysis.
Although it seems he prefers the purple drank.
4. Eddy Curry, NBA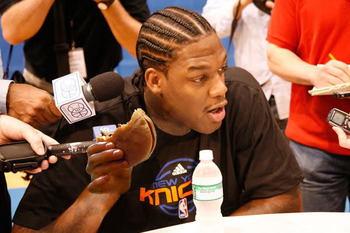 Image via realgm.com
Six Snickers, four two-packs of Reese's peanut butter cups, four bags of popcorn, two slices of pizza, a single package of apple-flavored Sour Punch straws and two 20-ounce Diet Cokes at the concessions during last year's Melo League showdown. Once-promising center Eddy Curry did more damage in 48 minutes than he has in 10 years of NBA mediocrity.
"That's just me doing me," said Curry. "I've been known to put away some food, and when you get in to an environment like this, you've got to prove you still got it. I was just having fun out there."
3. Joey Chestnut, Competitive Eating
As if this legend needs any introduction, eating hero Joey Chestnut ate 68 hot dogs in 10 minutes back in '09. But his prowess doesn't stop there.
Pork rib meat: 9.8 pounds in 12 minutes in '08, nine pounds, 5.2 ounces of tempura-fried asparagus at the World Deep Fried Asparagus Eating Championship in '11, 103 burgers at the Krystal Square Off in '07 and 78 matzoh balls in eight minutes at Kenny & Ziggy's New York Delicatessen Restaurant in '08. He can't be stopped.
2. Manny Pacquiao, Boxing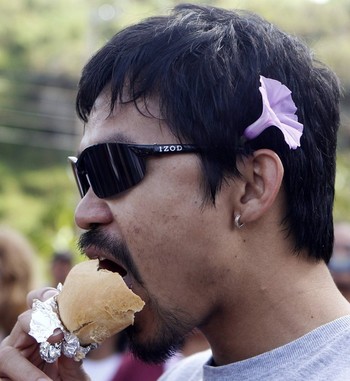 Image via fightsrec.com
Don't be fooled by his 5'7", 140-pound, eighth-grade frame, the Pac-Man can eat.
We expected his diet to feature fists, ropes and Ricky Hatton, but instead it includes a daily fix of six meals, five protein shakes and a total of 7,000 calories. No worries, he burns off 500 more.
All pac-dots beware.
1. Michael Phelps, Swimming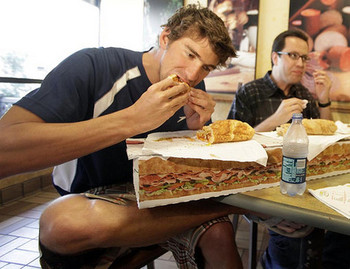 Image via examiner.com
You may see him repping the Subway franchise most of the time, but Olympian legend Michael Phelps has his own distinct diet that puts $5 foot-longs to shame.
Breakfast: Three fried-egg sandwiches loaded with cheese, lettuce, tomatoes, fried onions and mayonnaise. Two cups of coffee. One five-egg omelet. One bowl of grits. Three slices of French toast topped with powdered sugar. Three chocolate-chip pancakes.
Lunch: One pound of enriched pasta. Two large ham and cheese sandwiches with mayo on white bread. Energy drinks packing 1,000 calories.
Dinner: One pound of pasta. An entire pizza. More energy drinks.
Follow me for more food comas.
Keep Reading