Liverpool vs. Arsenal: 6 Key Matchups to Watch in Premier League Clash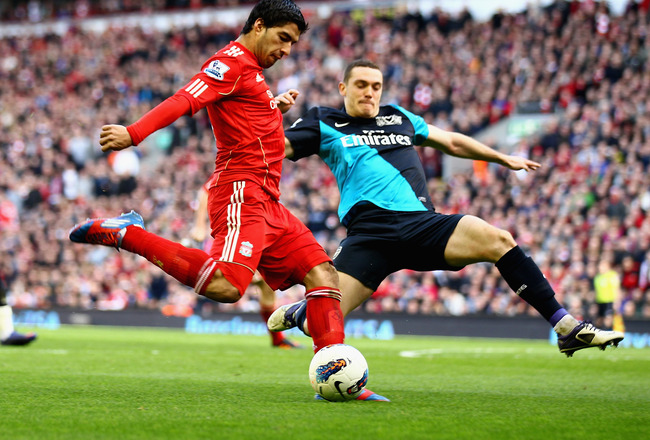 Clive Mason/Getty Images
Liverpool and Arsenal will face up to each other at Anfield this weekend in the Premier League, with neither club having yet won a league match this season.
The home side suffered defeat against West Brom and drew with Manchester City, while Arsenal have drawn 0-0 in both of their games against Sunderland and Stoke City.
Three points will be high on the agenda of both Brendan Rodgers and Arsene Wenger, as they not only look to kick-start their team's own seasons, but also further stall the progress of their Champions League rivals.
Here are six key on-pitch battles to watch out for during the game.
Luis Suarez vs. Thomas Vermaelen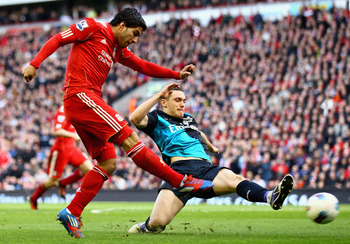 Clive Mason/Getty Images
Liverpool's best attacker against Arsenal's best defender is as good a place to start as any.
Luis Suarez has plenty of attributes, but his mobility and movement off the ball is certainly one of the best of them. As such it is unlikely that the oak tree-esque Per Mertesacker will be asked to mark him, instead leaving the job to the more than capable Thomas Vermaelen.
The Gunners haven't conceded a goal yet this term; Liverpool will certainly test that with their creative, attacking play, but finishing chances off has been their trouble for more than a year now.
Suarez will be key to making and taking chances for the Reds after scoring his first goal of the season last weekend against Manchester City.
Martin Skrtel vs. Olivier Giroud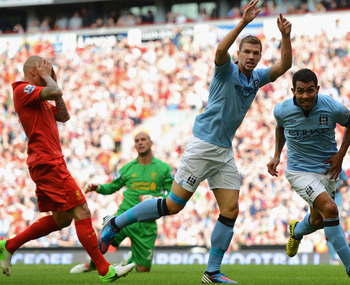 Michael Regan/Getty Images
Martin Skrtel, Liverpool's player of the season for last term, has had an up-and-down start to the new campaign.
Guilty of slipping over and leading to Daniel Agger's red card and a penalty against West Brom, he then scored a thumping header and put in an assured performance against Man City—until he gifted Carlos Tevez a late equaliser with a shoddy back-pass.
Skrtel is tough, uncompromising and will be back on his favoured right side of the defence.
For Arsenal, new forward Olivier Giroud is searching for the goals to make the departure of Robin van Persie more bearable for Gunners fans.
He played 25 minutes against Sunderland and the full 90 at Stoke, but he has so far failed to find the target with any of his five shots.
With three chances created for teammates in his 116 Premier League minutes thus far, there is some evidence he will be heavily involved in the build-up play for the Gunners—but his pass completion rate leaves plenty to be desired, weighing in at just 57 percent so far.
As a comparison, over the entire course of last season, van Persie found a teammate with 79 percent of his open-play passes.
Stats via eplindex.com
Joe Allen vs. Santi Cazorla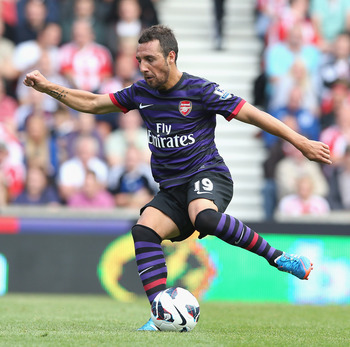 David Rogers/Getty Images
Liverpool's new midfield boy, or at least one of them, will be up against Arsenal's biggest hope for the new season.
Joe Allen will operate in a deep midfield role after the injury to Lucas Leiva, meaning he will more than likely be in direct contact with Santi Cazorla, Arsenal's impressive attacking midfielder.
Both play careful, measured passes, which can open defences or simply help their respective teams maintain possession; both are capable of moments of incisiveness and one-touch balls.
Scoring goals might not figure very highly on either list of attributes, but in terms of vision and creativity, you might not see two better and understated figures in the league this term.
If Allen can stop Cazorla as well as impose himself on the game for the Reds, the home team has a big chance of dominating the game. If Cazorla can find himself space, drifting from channel to channel, then Allen is going to spend a lot of time running after him to close down Arsenal's attacks.
This will be a big battle to watch.
Glen Johnson vs. Lukas Podolski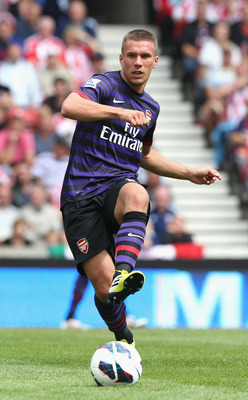 David Rogers/Getty Images
Another of Arsenal's new front men, Lukas Podolski has played both centrally and on the left in his early Gunners career.
Against Liverpool he should remain left-sided, bringing him up against Glen Johnson if, as expected, the England defender switches to his usual role at right-back.
There is plenty of pace and aggression in both of these players, who are both technically gifted, and either one is capable of beating the other on the ball.
Nuri Sahin vs. Abou Diaby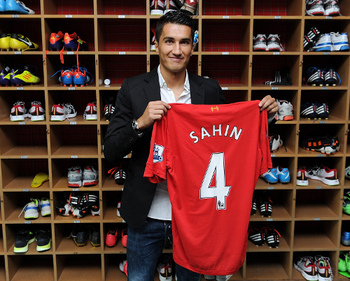 liverpoolfc.com for photo
Abou Diaby seems to have finally overcome his numerous injury problems and has started both of Arsenal's matches so far.
An energetic and athletic midfielder, Diaby performs the box-to-box role admirably for the Gunners and helps in winning back the ball as well as keeping the tempo going in the final third.
A Liverpool debut should be in the offing for loan midfielder Nuri Sahin, who the Reds will look to as they try and control the possession in the match.
Sahin is unlikely to last a full 90 minutes, not having had competitive football for any run since the end of 2010-11 season, but his ability on the ball will be a huge bonus for Liverpool in the absence of Lucas.
How he links with Allen and Gerrard could be crucial to the Reds' hopes of doing well over the next couple of months.
Raheem Sterling vs. Carl Jenkinson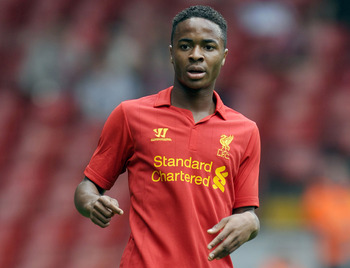 Clint Hughes/Getty Images
There's no guarantee he will start again, but after an impressive full-league debut against Manchester City, Raheem Sterling has given himself a good chance of being involved against Arsenal.
Great acceleration, plenty of tricks and a directness about his play which makes a cross or shot seem like a likelihood rather than a possibility when he gets the ball, Sterling adds a new dimension to Liverpool's attack, which excites the crowd.
The right-back for Arsenal has been Carl Jenkinson for the first two games, and the youngster will have his hands full if Sterling is indeed given the go-ahead to start his second Premiership game.
How Jenkinson deals with the slaloming runs of Sterling, both on the inside and outside, could have a determining factor on how many quality chances on goal are created for the home side.
Keep Reading

Liverpool: Like this team?