The 20 Funniest Mascot Fights Ever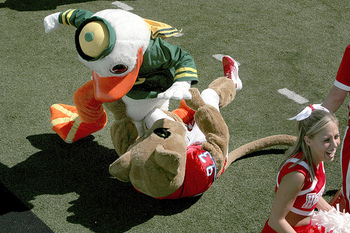 carlyerickson.wordpress.com
Eagle, Jaguar, Duck and Beaver. What do they all have in common?
They are mascots who were part of some of the funniest and meanest mascot brawls in sports history.
Mascot fights come in all shapes and sizes. From great intrastate rivalries, such as Oregon vs. Oregon State, to battles between forgotten franchises of the World Basketball Association, overzealous mascots duke it out for audiences everywhere.
Here are the 20 funniest mascot fights ever.
No. 20: James Madison vs. Coastal Carolina
You wont be seeing Coastal Carolina football ranked in the BCS Top 25 anytime soon, but don't tell its mascot.
The team may punch below its weight, but that blue bird sure doesn't!
No. 19: California vs. Stanford
On television, California's Golden Bear always looks like a sweet and cuddly buddy you could take home from the game.
But when facing archrival Stanford, that Golden Bear sure can perform a takedown!
No. 18: Toronto Raptors vs. Minnesota Timberwolves
Wow, this actually happened at a basketball game?
My hometown Chicago Bulls have a halftime act where a group of fat guys head out on the court to dance.
But one fat guy knocking another fat guy out gladiator style? You don't see that every day.
No. 17: Ohio vs. Ohio State
On the field, Ohio State usually trounces Ohio. The rivals' football games are barely even a battle before Ohio State carries the day—kind of like a hypothetical war between the United States and France.
But in the battle of mascots, Ohio's Rufus holds up his school's honor, wrecking Brutus the Buckeye during Ohio State's entrance.
No. 16: Oregon vs. Oregon State
Intrastate school rivalries are often bloody, and in Oregon, that blood is mixed with fake duck feathers and beaver fur.
While not the craziest fight of them all, this bout between the two mascots will help sustain this hated rivalry for years to come.
No. 15: Pittsburgh vs. Michigan State
Which muscly mascot doesn't know how to throw a punch?
We now know the answer: the Michigan State Spartan.
Ironically, Michigan State still came out on top in this lackluster bout. However, the combination of a battle with the Spartan's gladiator-like getup reminds fans of the Roman Coliseum and lands this fight on the all-time list.
No. 14: ESPN FA Cup Takedown
In this fight, two teams didn't fight one another—they took down the ESPN FA Cup.
Strangely, the takedown looked a lot like a super affectionate hug, except it took a long time for the Cup to get up.
No. 13: Wisconsin vs. Michigan State
Cheerleading isn't all about chants and acrobatics. It's about defending your school honor.
So when the Wisconsin Badger began prancing around with a Michigan State flag, one enterprising Spartan cheerleader knew exactly what he had to do.
No. 12: Cleveland City vs. Richmond
Maybe it's the lack of security, but these small-venue mascot fights are the most hilarious.
And when there is a professional wrestler in the mix, it's bound to be interesting.
No. 11: Northwestern State vs. Northeast Louisiana
I guess spirit wasn't enough.
When Chief Brave Spirit, the mascot for Northeast Louisiana, took a bit of friendly tussling and turned it into a brawl, he clearly didn't expect Vic the Demon to pound him into the ground.
Two minutes later, college security had to break it all up.
No. 10: Basketball Brawl
Sometimes, mascot fights just turn into pure mayhem.
Seriously, how did it take a whole minute to break these two apart?
No. 9: Rome vs. Cartersville
The Rome Gladiators and Cartersville Warriors of the World Basketball Association have a bitter rivalry that goes back centuries.
Well, at least their mascots seem to think so, judging by the ferocity of this fight.
Just one question: What is the World Basketball Association?
No. 8: 1-Punch Ticket to Heaven
Was it George Foreman in that hockey rink?
Mascot fights are usually long brawls between two sad sacks who can barely throw a punch.
But not when you have a heavyweight champion on the ice. Whoa!
No. 7: High School Rumble
School spirit is a big deal in high school, but these three mascots took it to another level.
The bright-faced yellow bulldog, fun-looking dinosaur and happy shark all look like they are ready to have a fun time.
Until they start throwing punches.
No. 6: Wausau Woodchucks vs. Rochester Hunkers
You rarely see a mascot's furry head ripped off. It's quite disturbing.
Even though you know it's a human head under the furry mask, it's still chilling when it is revealed like this.
No. 5: San Diego Chicken vs. Milwaukee Barney
Are these two of the oddest-looking mascots ever?
San Diego Chicken and a Barney lookalike were part of a dance-off, and things got just a little bit rough.
Perhaps they were fighting to win the title of strangest mascot in America?
No. 4: South Georgia Peanuts
Sesame Street characters may be loved across America for their morning life lessons, but that was not the takeaway from this South Georgia Peanuts game.
It was more of a gladiatorial lesson.
How many of you will think of Sesame Street the same way again?
No. 3: Alabama vs. Southern Mississippi
How bad can a fight between two mascots get? Just go down south, where intense football rivalries spill onto the sideline and turn into major brawls.
This battle looks like a wrestling grudge match, except that it isn't fake. With all the pushing and shoving into fences, I half-expected The Rock and Hulk Hogan to come down from the stands and join the fray.
No. 2: IUPUI vs. Oral Roberts
Jawz the Jaguar entered the wrong eagle's nest.
The battle between the IUPUI Jaguar and the Oral Roberts Golden Eagle is one of the most violent ever, going well past a few friendly pushes and shoves and into a full-blown duel.
I guess these two mid-major schools do punch above their weight—at least during timeouts.
No. 1: Oregon vs. Houston
Out in the wild, the cougar will take down the duck and eat it for a nice afternoon snack.
But the Oregon Ducks mascot turned that National Geographic special on its head and let the Cougar know who was boss.
This video may be world famous, but it will ever, ever get old. It's the best mascot fight ever!
Keep Reading