25 Least Exhilarating Summers in Philadelphia Phillies History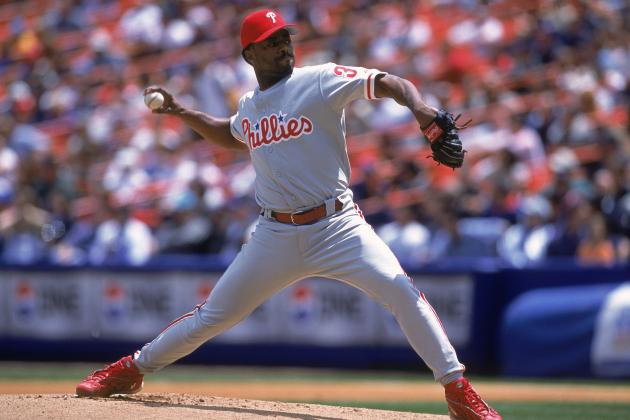 Jamie Squire/Getty Images

At this point in the season last year, heading down to Citizens Bank Park to check out the Philadelphia Phillies was at the top of the list for fans' summer plans.
Now, they'd rather take a nap. It's been that kind of season.
Sure, the Phillies have their excuses, but at the end of the day fans don't care about excuses. They care about having a team in the postseason hunt and getting ready to gear up for October baseball. But there will be no October baseball for the Phillies after this summer.
There was no big name, All-Star addition at the trade deadline. Instead, they sent a pair of former All-Stars packing: Shane Victorino and Hunter Pence.
But in a funny, peculiar kind of way, Phillies fans should find some kind of comfort in knowing that as sad as this season has been for the Phillies, it isn't the saddest by far. It's not even in the top 25.
So if you're looking for a reason to cheer up, here is what I can do for you. Take a look at this history of the least exciting seasons in Phillies history and be thankful that it isn't this bad.
Begin Slideshow

»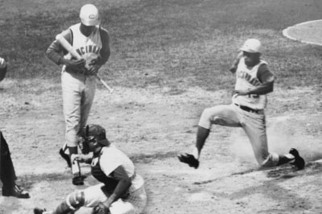 http://phillysportshistory.com/tag/chico-ruiz/
Sure, it was one of the most miserable seasons in Phillies' history, but was it one of the least exhilarating? I'm not so sure.
In 1964, the Phillies held on to first place for most of the season until the month of September rolled around. Manager Gene Mauch had overworked pitchers like Jim Bunning and Chris Short and they ran out of steam down the stretch.
With just 12 games to play, the Phillies looked like they would weather the storm and make the postseason. But not so fast. They would lose 10 of those final 12 games and miss the playoffs altogether.
That historic collapse, one of the worst in sports history, became known as "The Phold."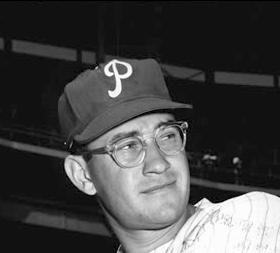 http://canthavetoomanycards.blogspot.com/2012/06/blow-out-candles-june-8.html
The 1946 Phillies were a blend of youth and veteran experience, but it just never worked out.
Del Ennis paced the offense but didn't receive much support. He was the only man on the club to hit better than .300 and OPS better than .800.
The best pitcher on the staff was 36-year-old Schoolboy Rowe, which should sum up the state of that club's pitching pretty nicely.
Of course, things would turn around for this club in just a few seasons.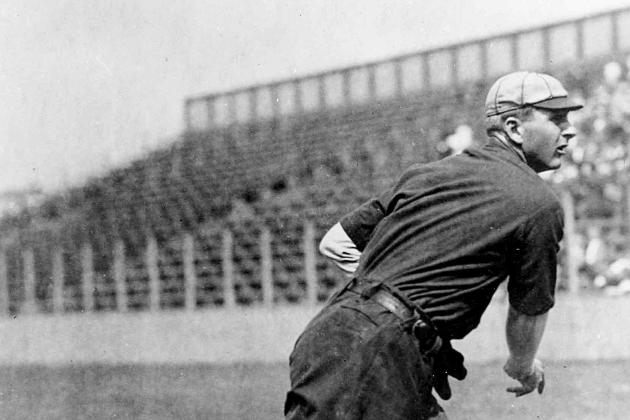 http://blogs.eagletribune.com/smittyonbaseball/2012/07/29/old-photo-of-the-day-boston-rustlers-hurler-brad-hogg/
The 1918 Phillies had some pitching, but so did most teams during this era. The real problem was that they couldn't hit if their lives depended on it.
Only four regular players posted an OPS-plus better than average that season, and the club's catcher, Bert Adams, managed to post an OPS-plus of 21 for the entire year.
The best player on this club was Brad Hogg, who won 13 games.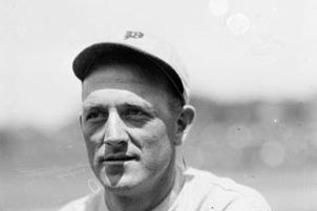 The pitching on this club was abysmal.
The Phillies went through the season using a majority of eight pitchers and not one of them posted an ERA south of four. The best hurler on the squad was Hal Carlson, and he posted an ERA of 4.23.
A 37-year-old Cy Williams led the offense, but he was pretty much alone. George Harper had a surprisingly good year, but the only two other players to post an OPS-plus of better than average were Jimmie Wilson and Chicken Hawks.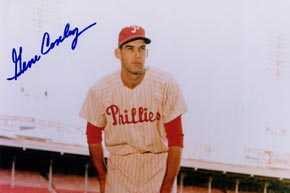 http://www.monstermarketplace.com/autographed-sports-memorabilia-and-display-cases/gene-conley-autographed-8x10-photo-philadelphia-phillies
In 1959, the Phillies were stuck between two of the most interesting seasons in their history, 1950 and 1964, respectively.
They say it has to get worse before it gets better, and for the Phillies it certainly did.
After appearing in the World Series in 1950, the Phillies went into a downward spiral that some wondered if they could ever climb out of.
That downward spiral came to a head in '59, when the Phillies were nothing short of terrible. In fitting fashion, the Phillies' best pitcher that season was Gene Conley in a starting rotation that also featured Robin Roberts.
The same could be said of the offense, where a relatively unknown catcher by the name of Carl Sawatski was having a better year than future Hall of Famer Richie Ashburn.
The Phillies would go on to win just 64 games that year. An omen?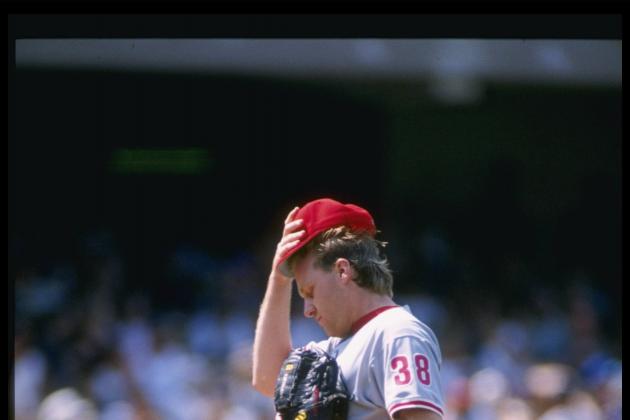 Jamie Squire/Getty Images

After five-straight division titles, people often wonder why Phillies fans are a little nervous about their club's down year in 2012. You can try and convince them that a "retooling" season isn't necessarily a bad thing, but it won't be easy.
Why? They're afraid of the 1990s.
Okay, so they're not really afraid of the '90s. But they're definitely afraid of the brand of baseball that the Phillies played then. Long before the All-Stars and aces, the Phillies fielded some bad teams.
Outside of Curt Schilling, there weren't many notable names on this club. The team's best hitter was Jim Eisenreich and the bullpen was anchored by none other than Ricky Bottalico.
Oy.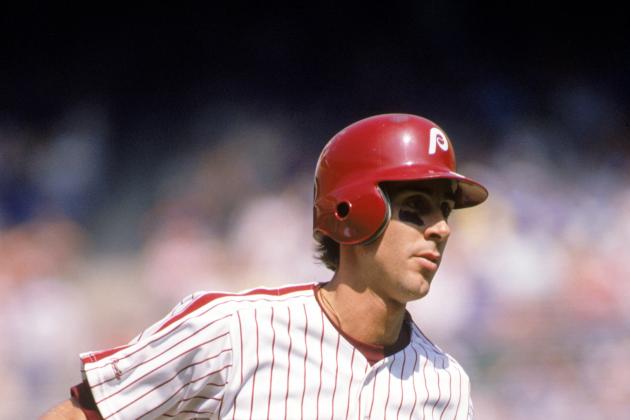 Rick Stewart/Getty Images

1989 was the end of an era for the Phillies. That would be Mike Schmidt's last season after he was sidelined for most of the year with nagging injuries and a new era began in Philadelphia.
It was the Von Hayes era. Talk about dramatic changes.
The Phillies, who acquired Hayes prior to the 1983 season, expected him to become the next face of the franchise but no dice. He had some solid seasons for the Phillies, like in '89, but never even belonged in the same conversation as Schmidt.
Fittingly enough in a season where they would lose their best player, the Phillies won just 67 games in '89.
(Phillies archives)
Rick Wise tried to make his last season with the Phillies a memorable one and he did a pretty solid job, winning 17 games.
The real problem was that no one else seemed to be in much of a hurry to do something exciting.
Joe Hoerner had a great season as the Phillies closer, but the rest of the starting rotation wasn't even average. The offense had just three players who had above average seasons and that group included Tim McCarver, Deron Johnson, and Willie Montanez.
Unsurprisingly, they won just 67 games. Wise would be traded to the St. Louis Cardinals in the offseason.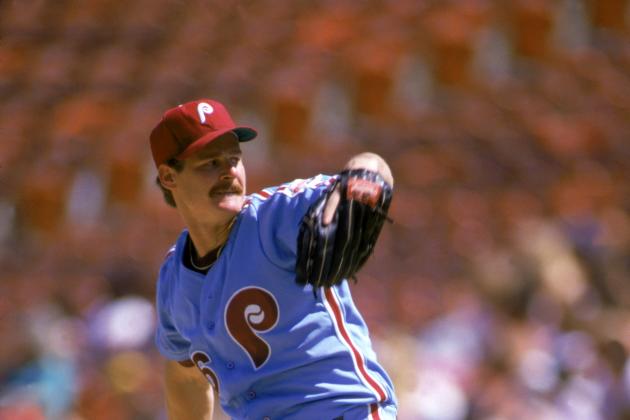 Stephen Dunn/Getty Images

The Phillies were really good and really bad during the 1980s.
After appearing in two World Series and winning one before 1985, the Phillies were barely heard of in the rest of the decade, including during the 1988 season.
That season wasn't very exciting at all. It featured the last full season from Mike Schmidt who, interestingly enough, would go on to place a lower OPS-plus than Von Hayes, but still the second highest mark on the club.
The biggest problem was the pitching. Not a single member of the Phillies' starting rotation posted an ERA-plus of better than average and Steve Bedrosian posted an ERA of 3.75 as the closer.
They'd go on to win just 65 games.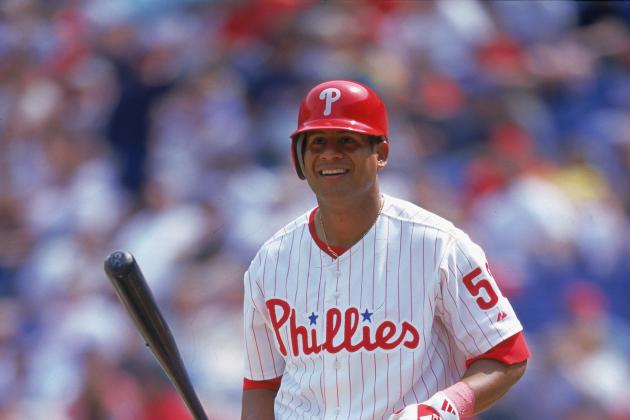 Doug Pensinger/Getty Images

After making the postseason just once during the 1990s, the turn of the century could only be seen as a good thing for the Phillies, right?
Not so fast.
Part of the club's numerous problems during the previous decade was a lack of commitment to winning from their ownership group, who had their eyes set on a new ballpark. While they had solid prospects in the farm system, becoming an entertaining contender was still years away.
In 2000, the club's best player was, unsurprisingly, Bobby Abreu. The second best offensive player was Scott Rolen, but he was getting ready to stage a coup.
The best thing that happened for the Phillies this season was the debut of their future leader, Jimmy Rollins.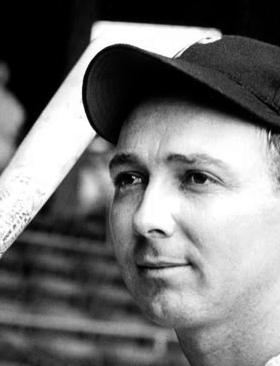 http://www.ootpdevelopments.com/board/ootp-mods-rosters-photos-quick-starts/184046-gambo-t_wil1-photopack-486.html
If I'd have been around to tell fans during the 1944 season that their Phillies would contend for a World Series in just six seasons, they'd probably laugh at me. There was just no glimpse of it.
The best offensive players on the club were a pair of outfielders named Buster Adams and Ron Northey, who would hit a combined 39 home runs. That was about all the offense this club got.
And they didn't exactly have the pitching to back it up. The best pitcher on the club was the team's "closer," Andy Karl.
They would win just 61 games, but alas, better days were just over the horizon...well, at least for a year.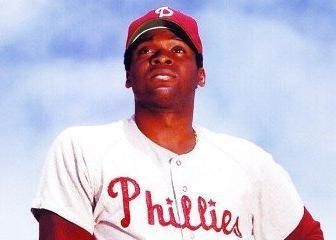 http://www.fanbase.com/photo/506355
Normally, I'd consider a team that featured a 27-year-old Dick Allen and a 30-year-old Johnny Callison a pretty exciting team, but you can never really count your chickens before they hatch with some of these Phillies teams.
Allen would go on to have the best season on the club and do what he does best: mash baseballs. He posted an OPS of .949. Callison, however, would have a more disappointing season, posting an OPS of nearly .200 points lower.
A 23-year-old Rick Wise gave fans some hope for the future of their starting rotation by winning 15 games, but also threw a bucket of cold water on them by losing 13.
When all was said and done, they lost 99 games and finished in fifth place in the NL East.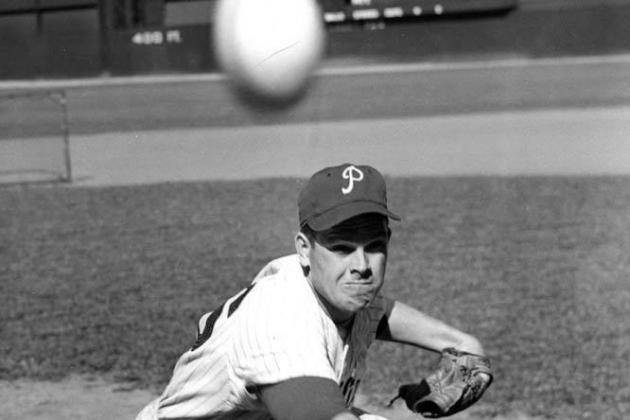 http://carnageandculture.blogspot.com/2010/05/robin-roberts-phillies-treasure.html
In any season where your best offensive player is Pancho Herrera, you know you have problems.
That was the case for the Phillies in 1960. They were a club trying to transition from "aging" veteran players like 33-year-old Robin Roberts, who would have the best season of any Philly, to younger, cheaper players like 23-year-old John Buzhardt.
As a result, the Phillies would wind up winning just 59 games in 1960. But hey, at least 1964 was right around the corner, right?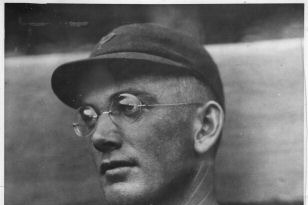 What do the 1922 and 2012 Phillies have in common?
Cliff Lee played for both of them.
Of course, we're not talking about time travel here. Long before Clifton Phifer Lee was brought into the world, an outfielder by the name of Cliff Lee was roaming the outfield for the Phillies.
Lee and fellow outfielder Cy Williams had solid seasons for the club offensively, but they didn't have nearly enough pitching to be entertaining.
These Phillies, also like with today's Lee, just couldn't win games.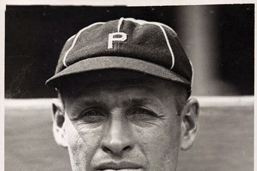 http://www.teamspiritextras.com/html/phillies.html
A couple of years after that 1922 club was finished boring its fan base to tears, the Phillies would put a similarly horrible product on the diamond two years later in 1924.
Of course, every club has its bright spots and for this Phillies club those bright spots were named Cy Williams and George Harper.
I don't think that you need me to tell you that when only two players on a baseball team have above average seasons, said team usually loses a lot of games. The '24 Phillies lost 96 of them.
Ouch.
But hey, at least they weren't the Boston Braves. Just when you thought it wasn't imaginable, that club went on to lose 100 games and finish behind the Phillies.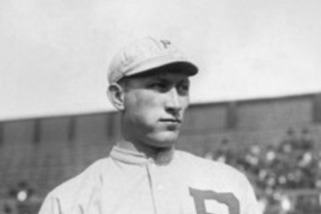 If it wasn't for Fred Luderus at first base and Lee Meadows in the starting rotation, this team may have been catastrophically bad.
Luderus, then 33 years old, paced the offense by hitting .293, but then again "paced" may be a strong word seeing as how no other player really came close to matching that.
Lena Blackburne managed to be impressively bad that season by hitting .199 though.
Meanwhile, on the pitching side of the ball, Meadows proved to be the best pitcher on the club. In spite of winning just eight games he still posted an ERA of 2.33.
But even the heroics of Luderus and Meadows couldn't help this team. They won just 47 games.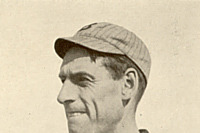 On paper, the 1904 Phillies should have been a lot better than they actually were which makes their disappointing season all the more, well, disappointing.
The offense had big names like Roy Thomas, John Titus, and Sherry Magee, but they were never able to put it together.
Combine that with the fact that their pitching was historically bad and it shouldn't come as a surprise that the 1904 Phillies could have been called the "Philadelphia Snoozefests."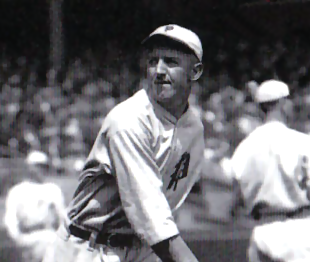 http://www.baseball-birthdays.net/viewtopic.php?f=2&t=214
The 1927 Phillies were a team with a lot of potential, so it is even more disturbing that this team somehow managed to fall asleep at the wheel and drop a hefty 103 games on the season.
It seemed to be the case more often than not during his Phillies career, but once again in '27, Cy Williams was right at the top of the club's offensive production, even at 39 years old.
In fact, this was a solid offensive club. Russ Wrightstone, Fresco Thompson, Heinie Sand and Freddy Leach all proved to be slightly above average at the plate. However, they just couldn't hide their pitching flaws.
Outside of Dutch Ulrich, who's pictured to the left, the Phillies pitching was absolutely dreadful. Ulrich was the only man to have an average season, and even he had a losing record of 8-11.
The rest of the six-man starting rotation combined to go an abysmal 32-67.

If there was ever a more exciting player in the history of the Phillies' franchise than Cy Williams who played for more boring teams, then that guy should have a plaque made in his honor.
Williams makes this list on yet another team, this time as a 33-year-old outfielder playing with an incredibly bad club.
This club, however, should have been better than they were. Outside of their middle infield of Jimmy Smith and Frank Parkinson, who were really bad in 1921, this was a solid offensive team paced by the contributions of Irish Meusel (pictured) and Ed Konetchy.
The pitching was largely average as well, despite every starter finishing the season with a losing record, among them being George Smith who was a putrid 4-20 on the season with a 4.76 ERA.
Of course, being "largely average" is not synonymous with being entertaining or winning, and this team did neither. They'd go 51-103 on the season and finish dead last.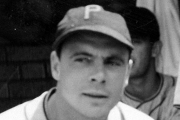 http://www.ootpdevelopments.com/board/ootp-mods-rosters-photos-quick-starts/184046-gambo-t_wil1-photopack-310.html
A decade from this point in time in 1940, the Phillies would field one of the most exciting teams of all time in a group that would become known as the "Whiz Kids" for their youthfulness and talent.
If you asked a Phillies fan what they thought of that prophecy in '40, they'd laugh in your face. It was hard to see then.
To put things into perspective, this was an era where having a big name player meant a lot, and this club's big name player was a 36-year-old Chuck Klein. Klein hit .218, posted an OPS of .637, and hit seven home runs.
I'm sure the fans let out a collective, "We're doomed."
Another outfielder by the name of Johnny Rizzo had a solid offensive season, but he couldn't save this team alone. They were bad.
They also tried to incorporate some youth, like 22-year-old shortstop Bobby Bragan, but he was terrible in '40, hitting .222 and posting an OPS of .565. His middle infield partner of Ham Schulte wasn't much better.
The real problem with this team was that they had zero pitching in an era where having good pitching was essential. Their best starter that season in terms of ERA-plus was Hugh Mulcahy, and he lost 22 games.
The Phillies would win just 50 games in 1940 and lose 103.
Also, this team had a pitcher by the name of Cy Blanton. Yes, I'm serious. Enough said.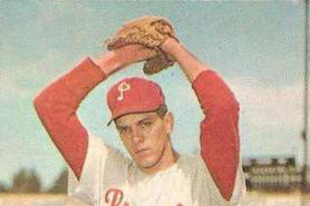 In just three years, the Phillies would contend for a division title. That makes the lack of success that this team had all the more disappointing. Like the wind being let out of a ship's sails.
In fact, a lot of players that would play in the infamous "Phold" of 1964 were on this team as well. They were supposed to be an entertaining team with the likes of Johnny Callison, Tony Gonzalez, Ruben Amaro, Tony Taylor, and Clay Dalrymple playing as regulars.
But only three players—Callison, Gonzalez, and Pancho Herrera—would have average seasons. Dalrymple and Taylor were nothing short of terrible.
From a pitching perspective, there was hope in a pair of young arms in Art Mahaffey and John Buzhardt (pictured), but these two would also combine to lose 37 games.
A 34-year-old Robin Roberts was also on this club and would go 1-10 with an ERA of 5.85.
It was just a miserable year for the Phillies.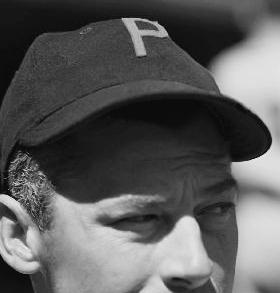 http://www.ootpdevelopments.com/board/ootp-mods-rosters-photos-quick-starts/217543-1939-starting-lineups-7.html
The Phillies had a tendency to move around a lot of talent early in their history, and you could say that was the case in 1938 when they would go on to lose 105 games.
Of course, the problem ran much deeper than that. Players that they expected to be big contributors offensively, like Chuck Klein, Pinky Whitney, and Morrie Arnovich, all had down seasons.
Their pitching was abysmal. The top three starters in their rotation—Hugh Mulcahy, Claude Passeau, and Al Hollingsworth—combined to go 26-54 with an ERA of 4.32.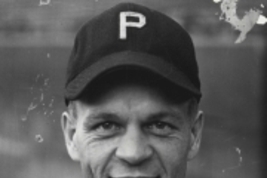 In a lot of ways, I think that the 1945 Phillies are kind of comparable to the Phillies teams that led up to the club's World Series run in 2008. A lot of the pieces were in place, but fans just couldn't see them yet.
The one player that would appear on both teams was catcher Andy Seminick, who was one of the club's best hitters in '45. But he was also one of few recognizable names on this team.
The pitching was horrible. The club's top four starters would lose 55 games on the season, and as a club, the Phillies would lose a total of 108 games.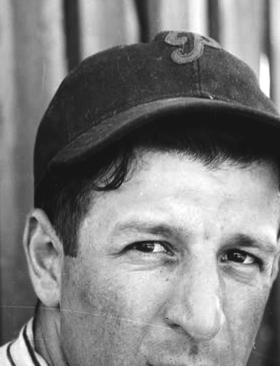 http://www.ootpdevelopments.com/board/ootp-mods-rosters-photos-quick-starts/184046-gambo-t_wil1-photopack-483.html
After just having mentioned the 1938 Phillies a few slides ago, a lot of the names on that club should still be fresh in your mind.
Well, that doesn't matter because most of them were gone before the 1939 season, and the Phillies were even worse—and less entertaining, no doubt—the following year because of it.
The Phillies would trade one of the best hitters in the history of their franchise, Chuck Klein, to the Pittsburgh Pirates and replace him with youngsters like Joe Marty and Hersh Martin, neither of whom panned out.
The club's best hitter that season was 33-year-old Gus Suhr. Who? Exactly.
The biggest improvement may have come in the form of the starting rotation, but it was a minimal improvement, if that. The only player that even came close to having a winning season was 38-year-old Syl Johnson, who was 8-8 with an ERA of 3.81.
Needless to say, this was the kind of club that forced a paper bag over your head. They wound up going 45-106 on the year.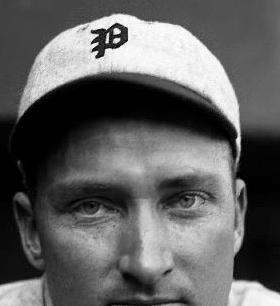 http://www.ootpdevelopments.com/board/ootp-mods-rosters-photos-quick-starts/184046-gambo-t_wil1-photopack-687.html
1928 was an interesting year. It was a year where southern Pennsylvania was walloped with 28 inches of snowfall, the birth of the Duke of Beaufort, and a historically bad Phillies team.
Okay, so it wasn't that interesting, but the Phillies really were historically bad, and the sad part is that they shouldn't have been.
This was a club that featured a 23-year-old Chuck Klein who wasn't playing everyday. First baseman Don Hurst had one of the best years of his career. Freddy Leach and Cy Williams both had solid seasons.
And the Phillies still stunk. Why, you ask? Blame it on the pitching.
The Phillies stuck with three primary starters—Ray Benge, Jimmy Ring, and Alex Ferguson—and they weren't very good. They combined to go 17-45 and post an ERA of 5.62.
Ouch.
Of course, when you consider the fact that the Phillies would lose 109 games as a team that season, the pitching doesn't seem as bad, does it?
Ah, rhetorical questions.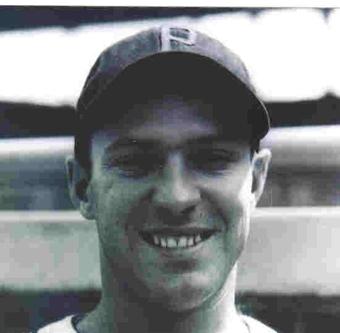 http://www.halloffamememorabilia.com/p-429958-autographed-hand-signed-8x10-photo-danny-litwhiler-phillies-mla-1792.aspx
These two teams were so bad that I decided to use one slide for them, name them co-losers, and save your eyesight.
Needless to say, the Phillies were really, really bad in the early 1940s. Saying "really" twice may not even exemplify the necessary amount of just how bad they actually were.
In 1941, the Phillies were pretty much falling apart with no real youth on the way, meaning that there wasn't much upside on the roster, and that's a problem.
Chuck Klein was 36-years-old. Pinky May was turning 30 years old. And no one else was very good.
The man who had the best offensive season in '41 was a first baseman by the name of Nick Etten, who posted an OPS of .859. He'd take quite a big step backwards in 1942 before joining the New York Yankees the next season.
The pitching was also pretty bad. Cy Blanton was on this team and that still gives me a jolly chuckle. The only starting pitcher to post an ERA lower than four was Lee Grissom, who posted an ERA of 3.97. Yup, not good.
For a reason that I have no idea if there's a reasonable answer to, most of this team would return in '42. The Phillies brought in a new second baseman and a pair of new outfielders, including 22-year-old Ron Northey, who would have a solid career but show few glimpses of it in his first season as a full-time outfielder.
The biggest turnover was in the starting rotation, where the five-man squad now consisted of Tommy Hughes, Rube Melton, Si Johnson, Johnny Podgajny, and Lefty Hoerst. Johnson, who was 35-years-old at the time, was the only pitcher older than 25.
Normally, youth is a good thing, but not when they're putting up these kinds of numbers. The five-man rotation was 39-87 on the season with a combined ERA of 3.91.
In '41 and '42, the Phillies would lose 111 and 109 games, respectively, and finish in last place. Over that two year stretch, they'd play some of the worst baseball in franchise history, going 85-220.
Talk about some of the least exhilarating baseball in history.