Michigan State Football: Why the Spartans Have the Best Defense in the Nation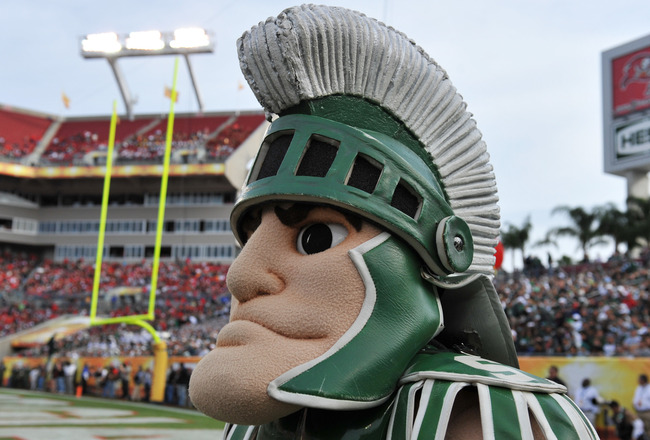 Al Messerschmidt/Getty Images
Although Jerel Worthy and Trenton Robinson moved on and are now in the NFL, the Michigan State defense is still one of the most feared in the country.
The Spartans may quite possibly have the best defense in the entire nation and they will prove that this season. They will be tested early, however, against Boise State in the first game of the season on Aug. 31.
This is sure to be a test of their defensive prowess and they will rise to the test. Michigan State was the proud owner of the best defense in the entire Big Ten Conference last season and it made Big Ten offenses look foolish all season.
Mark Dantonio has brought a new culture with him to East Lansing—a defensive, smash-mouth culture that the school hasn't seen in over a decade.
The mighty Spartans have the best defense in the country and here's why.
Depth at Every Position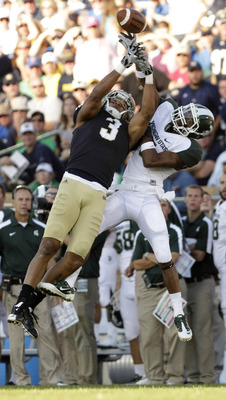 John Gress/Getty Images
Although the defensive line depth is not quite as impressive as the linebackers and defensive backs, each position is well-stocked.
The defensive line features starters such as William Gholston, Marcus Rush, Anthony Rashad-White and Tyler Hoover. Hoover missed most of last season due to injury so he will be a big addition to an already potent defensive front.
Size is not an issue for these front four either, with Gholston and Hoover both standing at 6'7" and White weighing in at 325 pounds. Former top recruit, Lawrence Thomas, will be a solid player off the bench.
Linebackers have been Michigan State's strong point for the past few seasons. All three linebackers are returning starters: Max Bullough, Denicos Allen and Chris Norman. Bullough is the quarterback of the defense and looks to improve an already scary defensive front seven. Norman and Allen are solidly-athletic linebackers that can play with the best of them.
Darien Harris, Steve Gardiner, Taiwan Jones and TyQuan Hammock are all solid linebackers that fall next on the depth chart behind these starters. It's safe to say that if any linebacker goes down with injury, there will be no issue in finding a replacement.
The defensive backs return three starters: Isaiah Lewis at safety, All-American Johnny Adams at cornerback and cornerback Darqueze Dennard. The newest starter is sophomore safety Kurtis Drummond, replacing Trenton Robinson which is a tall task.
Trae Waynes, Myles White, Jairus Jones and Mylan Hicks all back up the starters and have the talent to be starters themselves. The defensive depth will work to the Spartans' favor this season, making them the best defense in the country.
Most of Last Year's Starters Returning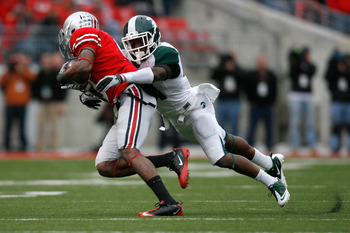 Kirk Irwin/Getty Images
The Spartans are returning eight of 11 starters from last year's Big Ten-leading defense.
The linebackers were tackling machines. Bullough had 77 tackles last season, Norman had 71 despite missing three games and Allen had 73 while missing two games. That's over 200 tackles that are returning at the linebacker position.
The defensive line is featuring two returning starters at both defensive end positions in William Gholston and Marcus Rush. Rush shocked everyone last season as a freshman, becoming an instant defensive star for the Spartans, recording 55 tackles and four sacks. His counterpart at the other end position is already a star. Gholston recorded 67 tackles and five sacks all while missing two games.
The returning cornerbacks are Darqueze Dennard and Johnny Adams. Adams is thought to be one of the best cornerbacks in the country and is also a preseason All-American. He racked up 47 tackles, three sacks, three interceptions and a touchdown for the Spartans last season.
Dennard, on the other hand, missed four games last season. He still managed to record 41 tackles, three interceptions and a touchdown in limited time.
Michigan State is returning just one safety in Isaiah Lewis. He was an All-Big Ten honorable mention last season and he is one of the best young safeties in the country. He will be a junior this season and will look to improve on his numbers from last year—a feat that will be hard to do. He had 69 tackles and a team-leading four interceptions, two that he returned for touchdowns.
Michigan State has an experienced defense and that will bode well for the Spartans this season.
Most Athletic in Big Ten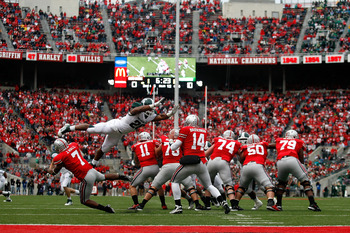 Kirk Irwin/Getty Images
There is no doubt that the Spartan defense is the most athletic in the Big Ten.
They're fast, they're strong and they can keep up with anyone and shut them down. The Spartans featured a top ten national defense last season that will only get stronger.
Mark Dantonio is starting to recruit the athletic defensive players that you would never find in East Lansing prior to Dantonio.
The linebackers can move from sideline-to-sideline with ease, the defensive line is quick off the ball, the cornerbacks are fast and can jump high to bat down passes and the safeties are quick and can hit as hard as any in the country.
The defense was sixth in the country in total defense, allowing just 277.4 yards per game. This was also good for first in the Big Ten.
This defense is scary and their athletic ability is second to none in the Big Ten. They have drawn comparisons to SEC defenses which are notorious for their scary athletic prowess. If any team in the Big Ten is going to knock an SEC team off in the BCS this season, it might just be the Spartans and their top defense.
Match Up Well Against SEC Teams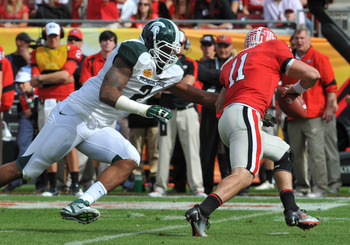 Al Messerschmidt/Getty Images
The Spartans are likely the best team in the Big Ten defensively that can match up with SEC opponents like they did against Georgia in the Outback Bowl last season.
They matched up well with the Bulldogs in the bowl game and beat them in double overtime, something very few people gave Michigan State a chance to do.
They have back-to-back 11 win seasons and it is primarily because of their solid defensive play each season. They have improved every year that Dantonio has been head coach and they will improve on defense again this year.
I know what you're thinking, how can Michigan State improve on a defense that was already top ten last season? Well, by being the top defense in the country this season.
They have the talent to be No. 1 in the country in total defense and I believe they will get there. I know it will be hard to top the SEC teams, but if any team could do it, it's this athletically-gifted Michigan State squad.
They Can Score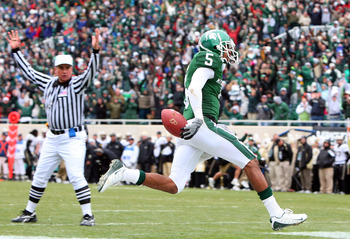 Jim McIsaac/Getty Images
There have been multiple occasions this season that they have intercepted the ball and taken it back for six points.
A play like this can change the momentum of the game in a heartbeat. In fact, on two occasions it had done just that last season.
In the Michigan game, a huge rivalry, Michigan State was having a tough time of extending its lead against the Wolverines. That is, until Isaiah Lewis picked off Denard Robinson and returned it all the way for a huge score. The Spartans never looked back and kept the momentum on their side, crushing the Wolverines for the fourth straight season.
The other big pick-six was in the Outback Bowl against Georgia. The Spartans were struggling to do anything against the SEC power. They couldn't score or move the ball offensively against the Bulldogs, another top defense like their own, fifth-best in total yards allowed at 277.2, just ahead of Michigan State.
Darqueze Dennard changed the tide of the game by intercepting the ball and taking it back for a touchdown, giving the Spartans life. They went on to win that game, while the interception was a big reason for that.
The defense had bailed out the offense a few times last season and if your defense can do that for you, you are in for a good season. The Spartans will have the best defense in the country next year and they can even act like an offense sometimes.
Keep Reading

Michigan State Football: Like this team?