New York Yankees vs. Texas Rangers August 13-16 Series Preview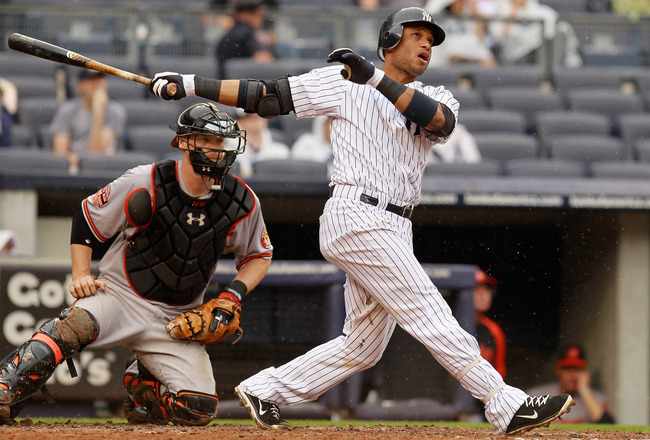 Robinson Cano and the Bombers are ready to swing for the fences against Texas starting tonight in New York.
Mike Stobe/Getty Images
The two best teams in the American League are set to duke it out this week over four games, as the Texas Rangers come to the Bronx to battle the New York Yankees. New York and Texas have nearly identical records (the Yankees have one more loss), and are the preliminary favorites to represent the American League in the World Series.
New York is 8-4 so far in August and is coming off a victory in the series opener last night. Their seven-game road trip through Detroit and Toronto saw them split a four-game series in Motown and take the series north of the border two games to one.
The Yankees remain on top of the majors in home runs, and they're currently first in team OPS. They've improved their batting with runners in scoring position, going from the 24th-ranked team to the 12th-ranked team in just over two weeks. Quite an impressive feat.
Texas is right behind the Yankees in team OPS and first in MLB in runs scored. Each team's home ballpark is ranked in the top 10 of all major league ballparks in home runs surrendered.
The two teams met in late April in Arlington for a three-game set, and Texas took the final two games to win the series 2-1. The Yankee saw Yu Darvish for the first time, who wowed them with 8.1 scoreless innings and 10 strikeouts.
This is the only series they'll play at Yankee Stadium, and it's expected that pitching will be at a premium.
The Rangers come in as winners of four of their last five games and eight of their first 11 games in the month of August.
Texas pitchers have struggled since the All-Star break. The team's pitching staff is ranked 23rd in ERA since the Midsummer Classic, and they added Ryan Dempster to the starting rotation while sending Roy Oswalt to the bullpen.
This series may not determine the fate of each team moving forward, but should be a good barometer for the American League's top two clubs as we enter the true dog days of summer here in mid-August.
Here is an offensive tale of the tape and a breakdown of the pitching matchups.
By the Numbers (major league rank through games played on August 13)
Team OPS (On Base + Slugging Percentage)
Yankees: 1st
Rangers: 2nd
Team Home Runs
Yankees: 1st
Rangers 7th
Runs Scored
Yankees: 3rd
Rangers: 1st
Batting Average
Yankees: 8th
Rangers: 1st
Batting Average with Runners in Scoring Position (RISP)
Yankees: 12th
Rangers: 3rd


Top Hitters
Yankees: Robinson Cano (.315 BA, .932 OPS, 25 HR, 68 RBI); Curtis Granderson (.240 BA, .823 OPS, 30 HR, 66 RBI); Derek Jeter (.318 BA, .781 OPS, 9 HR, 37 RBI)
Rangers: Josh Hamilton (.291 BA, .945 OPS, 32 HR, 99 RBI); Adrian Beltre (.304 BA, .830 OPS, 19 HR, 65 RBI); Ian Kinsler (.275 BA, .782 OPS, 13 HR, 55 RBI)
Who's Hot?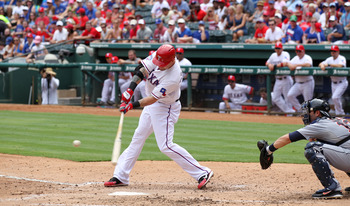 Josh Hamilton has come alive in the month of August.
Layne Murdoch/Getty Images
Josh Hamilton has had an excellent month of August, raising his OPS from .929 to .944 while knocking in 15 runs so far this month. Hamilton got off to a thunderous start in 2012 before coming back down to earth a bit this summer.
Eric Chavez helped to carry the Yankees to victory in the final two games in Detroit, and has shined brightly in August, raising his OPS from .796 to .873. He's done a terrific job since Alex Rodriguez has been out of the lineup with a broken hand.
Who's Not?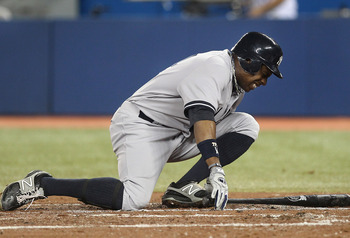 Curtis Granderson is still hitting homers but he's been slumping of late.
Tom Szczerbowski/Getty Images
Yu Darvish has come back down to earth. The summer has been cruel to the Japanese phenom. Since mid-June, his ERA has risen by a full point and he's giving up plenty more hits and walks than he was early in the season.
Curtis Granderson has gone cold so far in the month of August. He only has two home runs so far, and his batting average has tumbled to .240. The Yankees surely need their unassuming power-man to kick it back into high gear.
David Phelps (2-3 2.42 ERA) vs. Ryan Dempster (6-5 2.65 ERA; Combined NL & AL)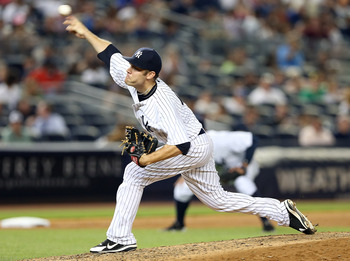 David Phelps has gone back and forth between the starting rotation and bullpen in 2012.
Elsa/Getty Images
Monday, August 13 7:05 p.m.
David Phelps makes the move back into the starting rotation against Dempster, who is starting only his third game with the Rangers. The 14-year veteran pitched his entire big league career in the National League before arriving in Texas.
Dempster is enjoying his finest statistical season as a starter and has turned in one dreadful start and one solid start since arriving on the junior circuit. The Yankees are hoping Phelps can continue his excellent rookie campaign and keep the Rangers at bay with his sneaky fastball and superb control on his breaking pitches.
**UPDATE**
New York won the series opener on Monday night behind a sharp five innings from David Phelps and an enormous grand slam off the bat of Nick Swisher. Eric Chavez also homered for the Bombers, and Derek Lowe made his Yankees debut by firing four highly efficient scoreless innings.
Hiroki Kuroda (10-8, 3.24 ERA) vs. Matt Harrison (13-6, 3.31 ERA)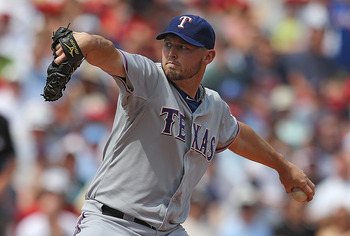 Matt Harrison is the Rangers best pitcher right now.
Jim Rogash/Getty Images
Tuesday, August 14 7:05 p.m.
Hiroki Kuroda has been the Yankees' best starting pitcher this season, and a vital part of the team's success. He leads Yankees starters in quality starts, innings pitched and wins above replacement (WAR). He's allowed seven earned runs in his last 34.2 innings pitched and has struck out 27.
Matt Harrison is the first of two Texas southpaws that the Yankees will see this series, and he has clearly been their best overall starting pitcher this season. He leads Rangers starters in ERA, wins and innings pitched.
Freddy Garcia (6-5, 4.85 ERA) vs. Scott Feldman (6-7, 4.64 ERA)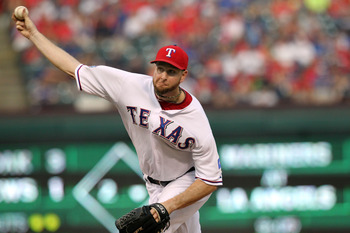 Scott Feldman has performed well of late for Texas.
Layne Murdoch/Getty Images
Wednesday, August 15 7:05 p.m.
Freddy Garcia continues to hang onto his spot in the Yankees rotation, one he's held since rejoining the rotation in early July. Length has hardly been his forte, though he has twirled four quality starts over his last seven.
Garcia hasn't matched up against a lineup as good as Texas all season.
Scott Feldman did not start out the year as one of Texas' starters, but he eased into the rotation due to injuries and is competing for one of the starting spots in a postseason game. Three of his last four starts have been dominant ones and, he's won all three games.
Ivan Nova (11-6, 4.70 ERA) vs. Derek Holland (7-6 4.92 ERA)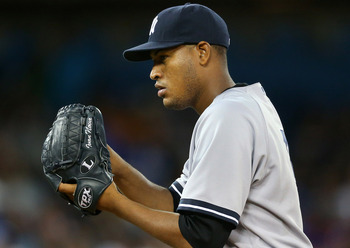 Ivan Nova regained his focus on Saturday and hopes to finish strong.
Tom Szczerbowski/Getty Images
Thursday, August 16 1:05 p.m.
Ivan Nova hopes to carry over the dominance from his awe-inspiring start Saturday in Toronto into this season finale. Nova pitched into the eighth inning, allowing only two runs and striking out 10 Blue Jays. This is the Ivan Nova Yankee fans know and love.
Derek Holland comes off a signature performance Saturday night in Arlington where he went toe-to-toe with ace Justin Verlander and, frankly, outperformed the Tigers star.
Holland's ERA is a bit higher than it was at this time last year, but he finished out 2011 very strong and Texas is hoping for the same in 2012.
Keep Reading

New York Yankees: Like this team?