The Biggest Winners and Losers of Bengals Camp, Preseason so Far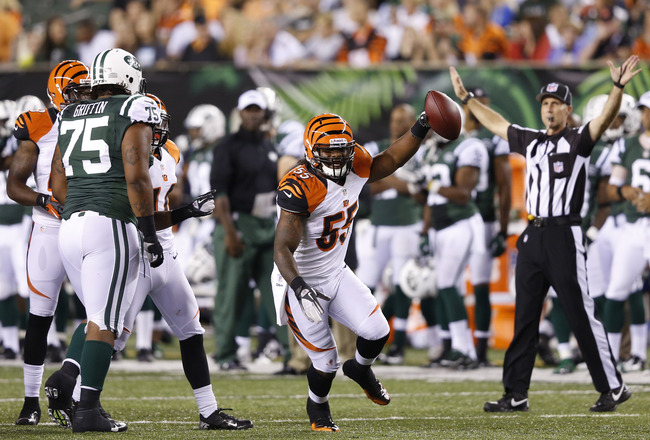 Joe Robbins/Getty Images
The Cincinnati Bengals have completed one preseason game and are entering yet another week of training camp practices with some clear winners and losers already being defined on the roster.
Injuries have not been kind to the Bengals so far, but the team did manage to scrape out a win over the New York Jets in preseason action.
The win is nice, but more importantly, several players emerged from the crowd to stand out for a final roster spot. Likewise, several players with high expectations surrounding them could not manage separate themselves from the pack.
The preseason is in its infancy, so the winners could still regress and the losers recover, but here are how things stand as of now for a few key Bengals:
Winner: Clint Boling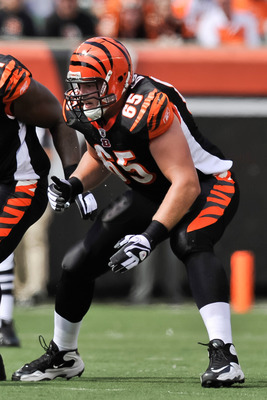 Jamie Sabau/Getty Images
Clint Boling was thrown to the wolves last year as a rookie starting at right guard after Bobbie Williams was suspended, and the results were disastrous.
This year, Boling is now tasked with becoming the starting left guard for the Bengals after Travelle Wharton was deemed lost for the season courtesy of a knee injury he suffered against the New York Jets.
The big difference this year is that there was no lockout to hinder Boling's adaption to the league. After replacing Wharton, Boling looked great in pass protection and paving the way down the field for the running backs.
That makes Boling an early winner.
Loser: Travelle Wharton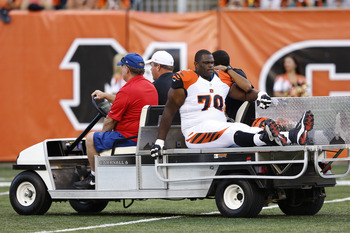 Joe Robbins/Getty Images
As previously mentioned, Travelle Wharton suffered a gruesome knee injury against the New York Jets and had to be carted off the field.
Wharton was supposed to be an upgrade over last year's starter and provide a massive upgrade in all areas. Instead, he'll be watching from the sideline for the duration of 2012.
All hope is not lost for Wharton in Cincinnati, as he signed a three-year deal with the team this offseason. However, if there is a hiccup in his recovery or his replacements play well enough, he could become expendable.
Winner: Armon Binns and Brandon Tate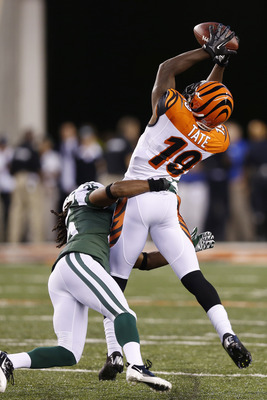 Joe Robbins/Getty Images
There was a mixed reaction this preseason when Brandon Tate and Armon Binns topped the depth chart behind A.J. Green for the Bengals.
Now, the naysayers might have a different opinion.
Tate and Binns looked great in limited action against the Jets, running crisp routes and connecting with quarterback Andy Dalton multiple times. In fact, both managed to end with two catches for 24 yards.
The statistics are not the important part here. Both looked to be on the same page and nowhere close to giving up their depth chart position. Most importantly, Binns and Tate were more consistent than the options behind Green were for all of last season.
Loser: Jordan Shipley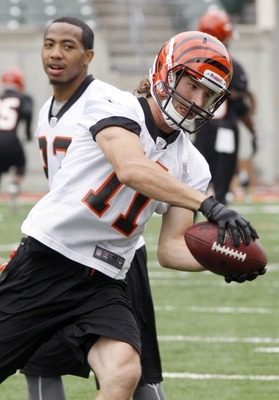 David Kohl-US PRESSWIRE
With Binns and Tate's sudden relevance in the football world, Jordan Shipley's hold on a roster spot in Cincinnati is slowly fading.
Shipley was injured last year and is still slowly easing himself back into things. He's a reliable slot receiver that fits the Bengals offense very well, but he is beginning to be passed by.
Outside of suffering a serious injury, Shipley also has little experience in Jay Gruden's West Coast offense, which essentially puts him on the same playing field as the rookies.
Time is running out for Shipley in Cincinnati, and his fellow wide receivers certainly are not helping his cause.
Winner: Dontay Moch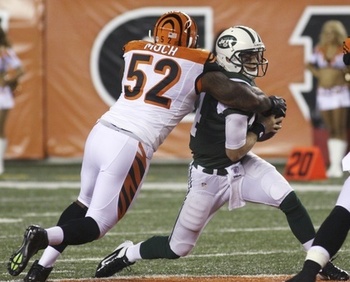 fanfeedr.com
While Dontay Moch has been wearing on the patience of the coaching staff and fans for some time now, it appears as if the wait may have been worth it.
It has been a long journey for Moch, who did not get to play at all last year after suffering from injuries and migraines. Then, this offseason he was suspended by the league for the first four games of the 2012 season.
Now all that could be behind Moch.
Against the Jets, Moch flashed his full potential as he abused the opposing offensive line on the way to recording 1.5 sacks. He was in the backfield on almost every play regardless of whether he was rushing from the defensive end or linebacker position.
Moch may be suspended the first four games of next season, but it may not matter if he keeps playing like this.
Loser: Manny Lawson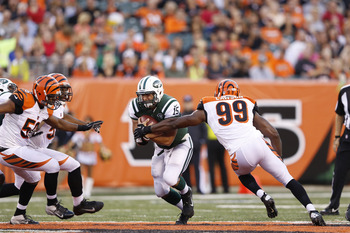 Joe Robbins/Getty Images
Manny Lawson is not in danger of losing his job just yet, but he better show something in the way of pass-rush or risk seeing his snaps gobbled up by the aforementioned Moch.
Head coach Marvin Lewis had spoke of using Lawson as a defensive end more this season to help generate more of a pass-rush. Against the Jets, he tallied one sack, but did not look as explosive as Moch.
Lawson is still a better all-around player, but Moch is quietly making a case for stealing at least some of his playing time.
Winner: Vontaze Burfict and Dan Skuta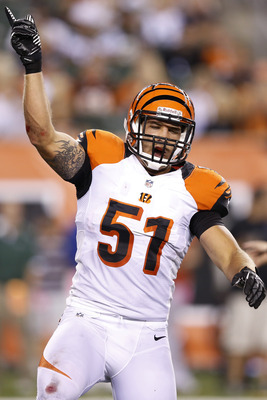 Joe Robbins/Getty Images
Vontaze Burfict may be the most polarizing player on the roster. Fans love him or hate him, but the coaching staff is truly starting to love him.
Burfict was everywhere on the field against the Jets, and he ended up recording six tackles and an interception. Statistics do not tell the whole story, as Burfict was always in perfect position to shut down the run.
For folks following Dan Skuta, his play against the Jets was nothing out of the ordinary. Now playing on the outside, Skuta had another dominant performance. He was by no means perfect, but he could end up pushing for a starting job.
While it was always known that Skuta would secure a roster spot, it was a long shot for him to win a starting gig. Not anymore.
Another long shot just a few weeks ago was Burfict making the final roster. Not anymore.
Loser: Rey Maualuga and Roddrick Muckelroy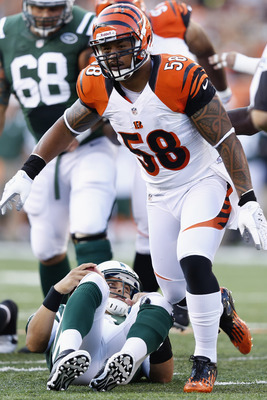 Joe Robbins/Getty Images
Rey Maualuga was one of the many players injured against the Jets, and it is a bad sign for the oft-injured linebacker.
Maualuga will miss some time, which could hurt his stock in the eyes of the coaches. While Maualuga has been out, the aforementioned Vontaze Burfict has been practicing with the first-team defense.
That is also horrible news for Roddrick Muckelroy, who, at one point, figured to be Maualuga's primary backup. He missed all of last year with a serious injury, but had a chance to bounce back in 2012.
With the emergence of Burfict, Muckelroy could be out of a job soon. For Maualuga, he would be wise to keep looking over his shoulder.
Winner: Cedric Peerman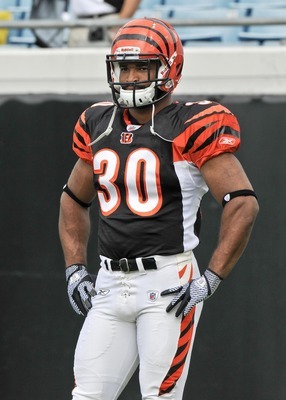 Fernando Medina-US PRESSWIRE
Cedric Peerman was the Bengals' best running back against the Jets, at least statistically. He carried the ball seven times for 30 yards and a touchdown.
Peerman looked explosive and, most importantly, consistent—a trait that has been lacking from the Bengals backfield for quite some time.
As the fourth running back on the depth chart, Peerman was susceptible to being replaced by other running backs this preseason. After his great rushing performance and his importance on special teams, it appears as if Peerman is not going anywhere.
Loser: Dan Herron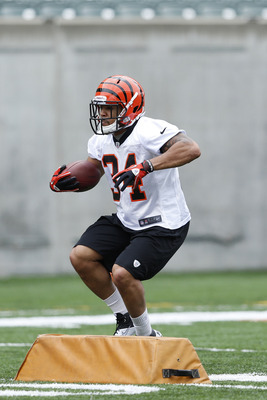 Joe Robbins/Getty Images
One running back that could have pushed Cedric Peerman for a roster spot was rookie Dan Herron out of Ohio State.
That won't happen in any way if Herron's performance against the Jets is anything to go by.
Herron carried the ball four times for eight yards. It is a small sample size, but Herron looked slow and unable to generate any push against the massive NFL linemen.
"Boom" has a long way to go this preseason, and if he performs well enough, he could very well end up on the practice squad. Anything after that just does not seem realistic at this point.
Jamaal Anderson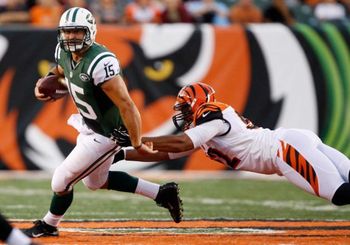 newstimes.com
Jamaal Anderson was part of a defensive line against the Jets that looked absolutely dominant for most of the game.
With the plethora of injuries around Anderson, it seems as if his roster spot is all but a lock at this point. Robert Geathers and Carlos Dunlap are missing serious time, as is backup nose tackle Pat Sims. Another end, Derrick Harvey, was flat-out cut.
Anderson joined the team via free agency because he was such a good fit with the Bengals defense. He is stout in all areas and can even kick inside to play tackle if needed.
While he may not compete for a starting job, Anderson looks to be a critical part of the Bengals' defensive line rotation in 2012.
Loser: Robert Geathers and Carlos Dunlap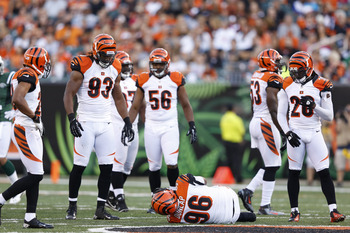 Joe Robbins/Getty Images
With Jamaal Anderson surging, it is only natural for others on the roster at his position to suffer.
Robert Geathers is missing some extensive time thanks to injury so far this preseason, but will likely be a starter upon his return. He is a veteran that plays hard and is a leader in the locker room.
Carlos Dunlap has the potential to be one of the most talented pass-rushers in the league, but he cannot seem to stay healthy. He was one of the injured against the Jets and will miss up to four weeks.
For Dunlap, this is devastating news, as he looked to have turned a corner this preseason and had his sights set on a starting job. Instead, he is once again hurt, which is starting to become an alarming trend.
Keep Reading

Cincinnati Bengals: Like this team?