Mo Farah Becomes British Olympic Hero, Wins 5,000 and 10,000-Meter Double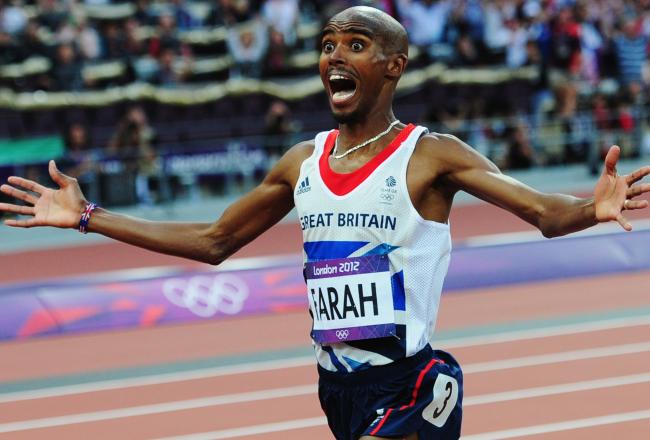 Stu Forster/Getty Images
Mo Farah just accomplished the near-impossible.
In triumphing in the 5,000-meter run after his 10,000-meter win just a few days before, he lived up to the wildest dreams of a home nation desperate for nothing short of glory.
His 5,000/10,000 double is the most clutch performance of the Games and one that will be the signature accomplishment of a British athlete in this Olympics—maybe forever.
Coming into the Olympics, Farah was the British hope in the distance races. It was all on him. There was nobody in the men's British stable of distance runners who was likely to make the final, let alone contend for a medal.
For a nation that has a long-standing love affair with distance races, this made Farah the target of everyone's hopes, dreams and, worst of all, expectations.
This wasn't a short-term thing, either.
British distance-running has been in a rut for some time. The middle-distance era of glory of the 1980s, of Seb Coe and Steve Ovett, had been replaced by an era of African dominance, British mediocrity...and Mo.
The media scrutiny was intense. No injury was minor. No defeat in a race was something that could easily be overcome. If he failed, there was nothing left, so a collective angst grew around his every move.
The British tabloids and the rabid public were so all-consuming that Mo made the wise decision of avoiding it altogether.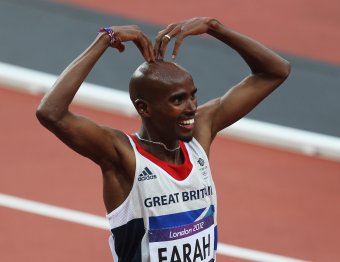 Streeter Lecka/Getty Images
He went about as far away from it as he could, to train with Galen Rupp and be coached by Alberto Salazar. That was across the ocean and then across the U.S. to Portland, Oregon.
His performances kept getting better, and with that, the dreams kept getting more ambitious. After winning a gold medal in the 5,000 and a silver in the 10,000 at the 2011 World Championships, suddenly the once-unthinkable crept into everyone's minds.
Could Mo capture the vaunted double on British soil? Could he join the Ethiopian Kenenisa Bekele, the Fin Lasse Viren and the legendary Czech Emil Zatopek as a member of an elite few?
As the event approached, the hype continued to build. The Brits were overachieving in nearly every sport and, more specifically, in track and field. It was Mo's time to make or break the Olympics for the British.
Before the races, the crowd made their feelings about him perfectly clear with raucous ovations rarely heard for distance runners. He did his part by pumping them up with frantic gestures, which made him look more like an NFL player than a distance runner.
In which Olympic sport do athletes face the most pressure to come up with a "clutch" performance?
Within the races, his tactics were absolutely perfect. In both the 5,000 and the 10,000 he faced fields loaded with Ethiopian and Kenyan talent. His own training partner, American Galen Rupp, was there too and in the form of his life.
There were five to 10 athletes in each race who legitimately believed they could win.
In both of the distance races, he played it cool in the early stages. He didn't get caught in some of the jockeying back-and-forth and the see-sawing pace set by other athletes. As Brits no doubt wondered why he wasn't taking closer order, he wisely stayed out of the fray until the crucial moments.
After expertly navigating the prelude of the races, he boldly seized the lead with just one lap to go. It was perfectly appropriate. Mo was the hunted, and as he whipped the crowd into a frenzy he made it clear that he wasn't leaving anything to chance.
This was him saying to his rivals: ''I'm going after history, now see if you can catch me.'' To beat him, someone would have to take it from him on his own terms and on his home track.
With the deft touch of a master, he calmly waded off the attacks of worthy champions. Athletes came on his shoulder and threatened to take the lead and a measure of control of his destiny. Mo was having none of that.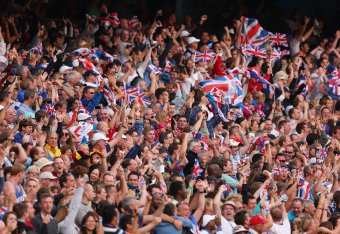 Cameron Spencer/Getty Images
As all of Great Britain alternately held their breath and yelled at the top of their lungs, Farah saved just enough in the final 50 meters of the homestretch not once, but twice.
He struck first and last, which is something almost never seen in distance races with so many evenly-matched athletes. His timing was unbeatable both on the micro-level, in the races, and on the macro-level; this was the best shape of Mo's career.
With two gold medals as a result of his brilliance, the unbelievable burden on him has been lifted. It's been replaced by admiration and recognition of what Mo is.
He is clutch; a man who spent years as the great hope of Britain, and then exceeded even the craziest dreams of his nation at their Olympics right in front of them.
As he came through in the final 50 meters to complete the incredible double, nearly all of Great Britain started to lose their voices. That was OK. There was nothing more they could ask of him, anyway.
This article is
What is the duplicate article?
Why is this article offensive?
Where is this article plagiarized from?
Why is this article poorly edited?