Burning Questions for Every Player on the Cincinnati Bengals Roster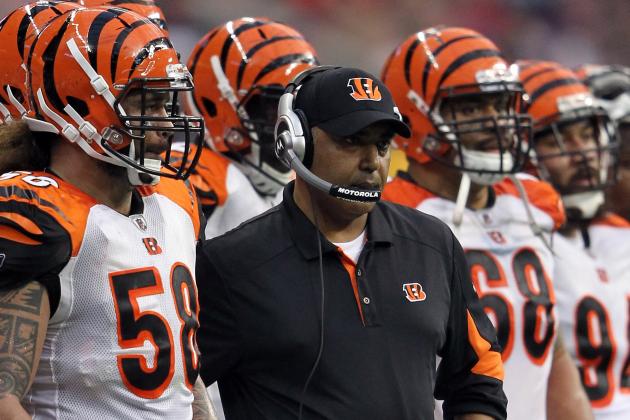 Jamie Squire/Getty Images

In roughly 36 hours (depending upon when you read this), the Cincinnati Bengals will take to the field for the first time this season in a real game.
OK, maybe not a "real" game, but for football junkies, Friday's preseason opener against the New York Jets is a cause to celebrate. A chance to finally see their beloved Bengals hit the field for the first time.
While Friday's game may lack in true football drama, it will be the first step toward molding the roster that will take to the field against Baltimore in the regular-season opener next month.
Let's take a closer look at the Bengals' projected opening-day roster and answer burning questions for each member of the team as we inch closer to football.
Begin Slideshow

»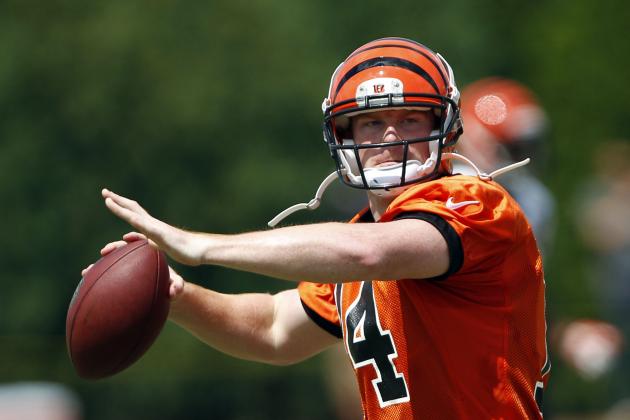 Frank Victores-US PRESSWIRE
Andy Dalton
Will Andy Dalton take a step back in his second season? All indications point to no. Although defenses will be more ready for Dalton, remember, he had an impressive rookie season without virtually any offseason workouts.
Is Bruce Gradkowski enough of an insurance policy for Andy Dalton? The answer is yes. If Dalton loses any considerable time to injury, Gradkowski could be a liability. But as he showed against Cleveland last year, in short stints, Gradkowski can win you games.
Who, between Zac Robinson and Tyler Hansen, will emerge as the chief clipboard holder? Thanks to the new rules governing third-string quarterbacks, both of these guys will, in all likelihood, not even appear on the 53-man roster. But Robinson is listed as third-string on the first depth chart. He has the leg up.
Frank Victores-US PRESSWIRE
BenJarvus Green-Ellis
Can BenJarvus Green-Ellis be the workhorse that Cedric Benson was? The answer to the question is no. But, he doesn't have to be. The Law Firm is a much more well-rounded back than Benson and will be more of an asset in Jay Gruden's West Coast offense. His presence will be felt in other ways.
Will Bernard Scott finally live up to the hype? Probably not. Although Scott is a magnificent athlete, he has shown to be injury-prone, and there is no reason to believe that he can stay healthy enough to emerge as a star. But, he should fit perfectly as a complement to Green-Ellis.
Will Brian Leonard score a touchdown this season by leaping over a defender? You'd better believe it. Also, count on Leonard keeping a game-winning drive alive with a third-down play. Maybe, the best pinch-hitter in the game.
Will we see Cedric Peerman anywhere else but on special teams? It's unlikely, given how deep the Bengals are at running back. But his contributions in the coverage game cannot be overlooked.
How valuable will Chris Pressley be in the running game this year? Potentially, very valuable. A true fullback, it will be Pressley's job to clear holes for Green-Ellis and Scott. But, his true value may be in pass-blocking. Expect him to be more involved.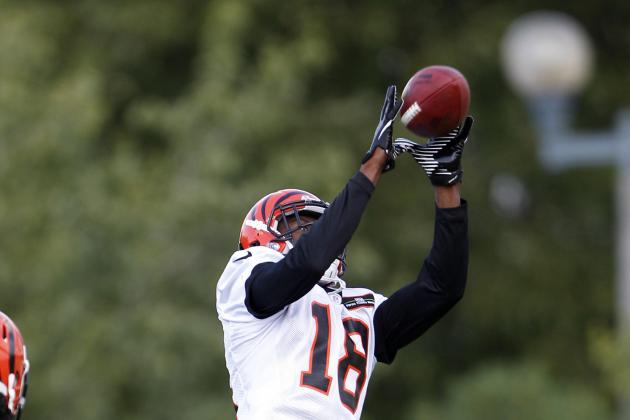 Frank Victores-US PRESSWIRE
A.J. Green
Is A.J. Green the best receiver in the game? Not yet, but it's close. What A.J. Green did last season without a full offseason was nothing short of spectacular. By the time December rolls around, he will be on everybody's short list of the best.
Is Brandon Tate enough to keep defenses away from Green? No, but then again, nobody is. As good as Green is, he would command double-teams even if Jerry Rice was on the other side. The coaching staff loves Tate, and he could emerge as a true No. 2 receiver. We'll find out over the next few weeks.
Is Jordan Shipley all the way back from his knee surgery? No, and the first few preseason games will be big in determining how healthy Shipley actually is. If he's ready to go, the Bengals' pass offense suddenly got much better.
Could Armon Binns actually emerge as the No. 2 receiver? He actually could. Largely ignored in the offseason, the speedy Binns has been making a name for himself and has a good chance of starting opposite Green on opening day.
Between Mohamed Sanu, Andrew Hawkins, Ryan Whalen and Marvin Jones, who has the inside lead on making the team? Good question. Hawkins is listed as second behind Green as a starter, and the coaches love Whalen's hands.
But, Sanu and Jones are burners, and there is always a place for guys like that. If you watch anything on Friday, watch the receivers. There's a heck of a battle brewing there.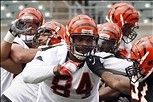 David Kohl-US PRESSWIRE
Jermaine Gresham
Is this the year we see Jermaine Gresham break out into a game-changing tight end? I'm going to say yes. I have a feeling we'll see Gresham lined up wide more often and using his speed to tear apart linebackers. Expect big things.
What is Donald Lee's place on this team? Mentor and blocker are at the top of the list, but he is also an underrated pass-catcher. Don't be surprised if Lee plays in quite a few packages.
Will we get a chance to see Orson Charles shine? Good question. Charles was one of the Bengals' most lauded draft picks, but he is mired in fourth on the depth chart. If he lives up to his talent, he will be a star.
Have we seen the last of Colin Cochart? Sad, but probably yes. The Bengals are not likely to keep more than three tight ends, and after Gresham, Lee and Charles, he is the odd man out. If he does get cut, don't expect him to remain a free agent for long.
Mark Zerof-US PRESSWIRE
Andrew Whitworth
Is Andrew Whitworth the best tackle in the game? No, but he may be the most respected. Pretty amazing to think of how good Whitworth is when considering he played guard his first few years in the league.
Is Andre Smith, gulp, the most underrated tackle in the game? Although most Bengals fans won't believe it, the answer is probably yes. Although his career got off to a rocky start, he quietly had a very good 2011 season.
How important is Kyle Cook to the Bengals success? Very important. As the center, Cook calls out line plays and guards the closest route to the quarterback. Plus, he has the kind of nasty streak you love in your O-lineman.
What can we expect out of Kevin Zeitler? Expect the mammoth rookie from Wisconsin to step right in and play guard like a seasoned veteran.
Who is Travelle Wharton and what can we expect from him? Wharton is a free-agent pick-up, and he should immediately upgrade a guard position that was a weak spot for the team last year.
Between Dennis Roland, Clint Boling, Reggie Stephens, Otis Hudson and Anthony Collins, who is the most likely to step up and contribute? I like Collins, who has played several different positions for the team over the years. Not a starter, but one who can come in and save the day if needed.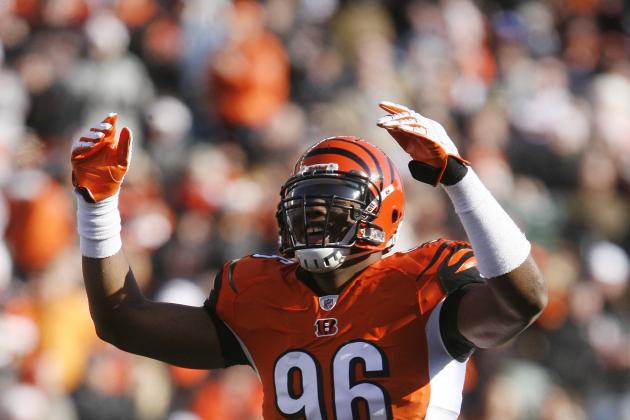 Mark Zerof-US PRESSWIRE
Carlos Dunlap
Is this the year Michael Johnson emerges as a star? Star, no. But Johnson has shown signs that he can be a disruptive force, and Mike Zimmer's rotation system allows him to rest and is perfect for his skills.
What about Carlos Dunlap? Is he going to be a star? Um, closer, but probably not. The key to Dunlap is consistency, and once he develops that, his name will be everywhere.
Is Domata Peko the key to the defensive line's success? Yes, he is. Not as flashy as the ends and not as productive as linemate Geno Atkins, Peko is still the pivot on which the line revolves. He gets a ton of tackles, but more importantly, funnels the action to the others and allows them to clean up plays.
After a Pro Bowl season, will we see Geno Atkins backslide? No way. Atkins is a force, and he'll only get better. The Bengals have been searching for a dominant interior lineman for decades, and they finally have one.
Can Robert Geathers regain his sack-happy form? He can, but whether it will be enough to push Dunlap or Johnson for starting time is yet to be seen. A poor preseason could cost him a roster spot.
How much will Devon Still contribute to the team? Maybe not much early on but there are many that believe he is Geno Atkins 2.0. He'll get a chance to shine on Friday.
Pat Sims, Jamaal Anderson or Brandon Thompson. Who has the bigger season? Sims has nearly played himself out of a job, while Thompson is still a raw rookie. Look for Anderson to surprise and get plenty of snaps.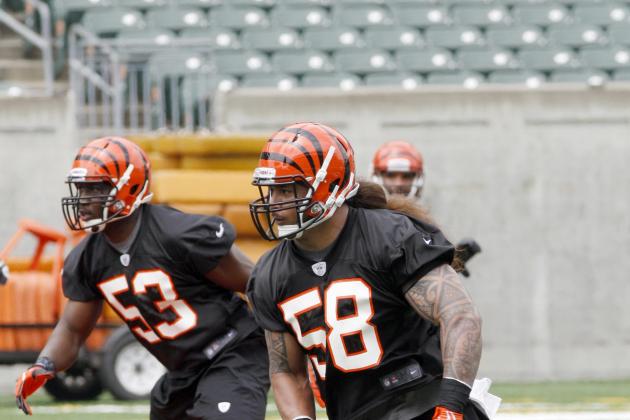 David Kohl-US PRESSWIRE
Rey Maualuga
Is this the year that Rey Maualuga takes the leap? Maualuga has had a rocky start to his career, but I think this is the year he emerges as a star. Look for Maualuga to live up to his vast potential.
Will Thomas Howard continue to be the leader of the offense? Yes. Thomas Howard may have been the best free-agent pickup in Bengals' history. He led the defense in tackles and brought a level of professionalism to the team. Expect the same.
What more can we expect from Manny Lawson? Like Howard, Lawson was a free agent last season and shined in his first year. Lawson was a surprise, but he appears to be getting better and should play a bigger role in the defense.
Which backup could eventually start, Dan Skuta, Vincent Rey or Roddrick Muckelroy? Skuta has started and could even possibly push Maualuga for a starting spot. But, the answer is Muckelroy. He could be a true find and could end up starting for a long time.
Vontaze Burfict, diamond in the rough or overrated? Probably a little bit of both. There are people who believe Burfict could be a star, but he is still listed as third on the depth chart. The guess here is he starts the season on the practice squad.
Frank Victores-US PRESSWIRE
Leon Hall
Is Leon Hall healthy and ready to go? This may be the biggest question on the team. Hall says he's ready, and Friday we'll find out. If so, the Bengals will be a much better defensive team
Can Nate Clements remain a viable second corner? Considering that the Bengals took a corner with their first pick, probably not. Clements played well in his first year with the team, but the end is near for the veteran. Hopefully, he can keep it together for one more year.
Was the Reggie Nelson of 2011 the real Reggie Nelson? Yes. Nelson was somewhat a bust in Jacksonville but had played extremely well with Cincinnati. I say he'll get even better.
Is Taylor Mays ready to start at safety? Probably not. Mays was a bust with the 49ers and only played sparingly last year for the Bengals. But, he is listed as the starter and will need to up his game to stay there.
Will Dre Kirkpatrick play a big part this season? Yes. Kirkpatrick is injured and will, in all likelihood, start the season on the PUP list, but by the end of the season, expect him to be on the field in nickel and dime situations.
Does Terence Newman have anything left in the tank? I think he does, although it may not be much. Like Roy Williams before him, Zimmer should be able to wring one good season out of one of his former players with the Cowboys.
What is Jason Allen's role on the team? Right now, Allen is listed as No. 2 on the depth chart. It's possible that Allen could even beat Clements out for a starting spot.
What can we expect out of Adam Jones? The former "Pacman" has cleaned up his act and is ready to play. Unfortunately, he's coming off injury and is third on the depth chart. The end may be near for Jones.
Will either Jeromy Miles or Robert Sands contribute in 2012? Considering how many question marks there are in the secondary, both may play quite a bit. How well they play is yet to be seen.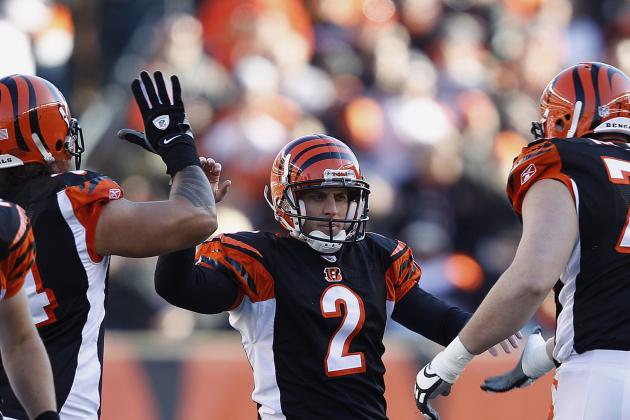 Frank Victores-US PRESSWIRE
Mike Nugent
Will Thomas Weber beat out Mike Nugent? The short answer is no. The longer answer is that Nugent missed only five field goals all season and no extra points. His job is secure.
How much of a weapon will Kevin Huber be? A pretty good one. Huber averaged 44.2 yards per punt and put 24 inside the 20. His punting only makes the defense better.
Who is returning kicks, Brandon Tate or Andrew Hawkins? The coaches love Tate in that role, but if he wins the starting receiver job, expect Hawkins to get more of the touches.
What does Clark Harris do again? He's the long snapper, and as long as you don't know his name, he's doing his job.