It seems that Sir Alex Ferguson is still well and truly in the race for the signature of Arsenal's wantaway striker Robin van Persie.
The Manchester United boss recently revealed his perseverance in the chase for the Dutchman, but also admitted that Arsenal would be hesitant to sell to one of their greatest rivals (via ESPN).
"We have made a bid and they've been trying to negotiate with other clubs," Sir Alex claimed.
"I don't have a gut feeling on it at the moment, I must admit. We're not getting any breakthrough with Arsenal."
With United seemingly only in the hunt for attacking players this summer, one must ask the question of exactly how the player would be incorporated into an already-loaded squad.
It is surely in the back of Sir Alex's mind that his team only lost to Manchester City on goal-difference last season, scoring four fewer than their rivals.
But four goals is nothing, especially considering that the Red Devils conceded four more than City as well.
Attacking midfielders Shinji Kagawa and Nick Powell have already been added, whilst more defensive-minded players have not.
Sir Alex must therefore have great faith in the ability of Tom Cleverley, Anderson and Michael Carrick, as well as being able to draw on Paul Scholes and Ryan Giggs to fill in in central midfield as well.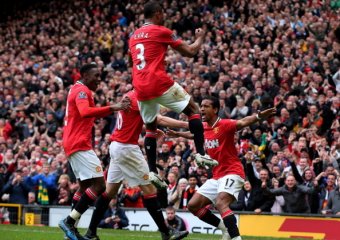 Alex Livesey/Getty Images
If van Persie is signed, United will surely keep to the traditional 4-4-2 formation, with the Dutchman and Wayne Rooney playing up-front.
Unfortunately, the addition will result in the marginalisation of Danny Welbeck and Javier Hernandez, who, although they aren't quite there yet, need plenty of playing time to develop into world-class players.
Although many have spoken of Rooney's ability to drop deeper, I have not been convinced by his form when he has played behind another striker.
But with van Persie in the team, such a formidable attack, even if Rooney does fall back, would be feared by all of England and Europe.
The player who will suffer the most from the signing would be Shinji Kagawa, who operates in the trequartista position, behind the lone striker.
If both Rooney and van Persie were to line up together, I can't see a place for Kagawa, unless he can be quickly groomed into more of a traditional central midfielder.
But this would be taking the Japanese international's best assets away from him, and would be running the risk of turning him into another Anderson in the process.
But still, these are problems that Sir Alex would prefer to have, rather than not.
Conversely, a move for van Persie would greatly benefit the team's wingers, Ashley Young, Antonio Valencia and Nani.
Should United sign van Persie?
Whilst a move for Lucas Moura would've harmed the trio, the Dutchman's arrival would solidify the need for two straightforward wide players.
Although I have previously expressed doubts over a soon-to-turn 29-year-old with past injury issues and a high wage joining the club, the addition of a world-class player to soften the blow of losing out on Lucas should be welcomed.
When Wayne Rooney has missed games in the last coupe of seasons, United have looked near-impotent going forward.
And if Cleverley and Anderson can keep fit (and that's a big if!), it would genuinely look like a title-winning squad.
Over to you, Robin.