Report Card Grades for Every Denver Broncos Rookie so Far in Camp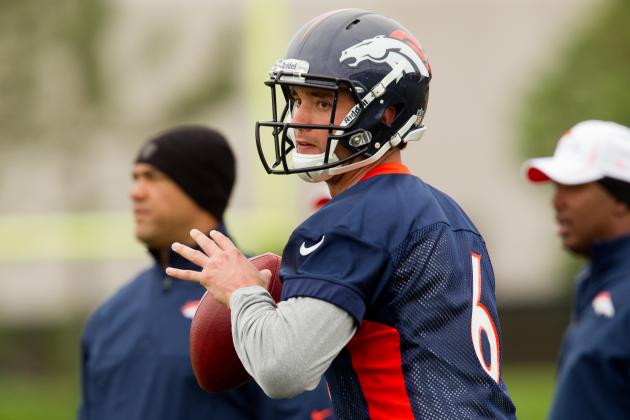 Justin Edmonds/Getty Images

The Broncos made seven draft selections on draft day this past April. They traded away their first-round draft pick for a lower pick in the draft and selected DT Derek Wolfe with their first selection early on in the second round to finally address the lack of talent in the interior of the defensive line.
Denver would go on to draft QB Brock Osweiler and RB Ronnie Hillman at the end of three rounds.
Denver targeted positions of need, drafting players at the DT, QB, RB, CB, C and OLB positions. All seven players are currently in training camp and competing for playing time.
It's about two weeks into training camp, and the Broncos released their first official depth chart of the 2012 season a couple of days ago. All seven of Denver's rookies are on various levels of the depth chart.
Here are the report card grades for every Broncos draft pick so far in camp.
Begin Slideshow

»
Justin Edmonds/Getty Images

As Denver's first selection at No. 36, the expectations for Wolfe entering the season are higher than that of any other rookie currently on Denver's roster.
Due to the free-agent departure of Denver's top defensive tackle of 2011, Brodrick Bunkley, more is wanted out of Wolfe in his rookie season, than say, somebody such as Ronnie Hillman. The Broncos currently have unknowns or veteran castaways competing for playing time at the tackle position.
Wolfe has done a good job thus far in camp. He is currently listed as the No. 2 LDE behind Jason Hunter. He is one of the defensive tackles in the nickel packages.
As of right now, Justin Bannan and Ty Warren are the starting defensive tackles on this team. Bannan has been sidelined a lot by injuries thus far, and when Bannan has been out, Wolfe has been the guy to fill in for Bannan at DT at times.
With a strong preseason, Wolfe may move further up on the depth chart.
Grade: B+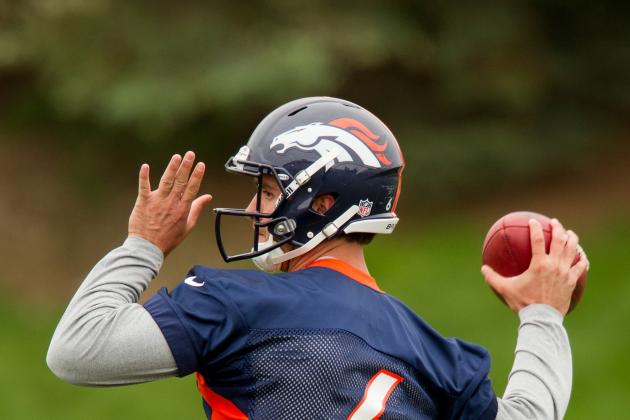 Justin Edmonds/Getty Images

Brock Osweiler was selected as the No. 57 overall selection late in the second round. His draft selection came as a surprise, as Denver was expected to take a quarterback in the draft, just not as early as the second round with Osweiler.
Osweiler is huge quarterback at 6'7". His ability to see over linemen is expected to aid him in his development as a quarterback in the pro game.
Osweiler, by most accounts, has had a solid training camp. Depending upon who you ask, Osweiler is either Denver's likely backup quarterback entering the season or is the No. 3 quarterback behind Caleb Hanie, as listed on Denver's depth chart.
Brock has had his growing pains in camp, at times having passes batted down at the line of scrimmage despite his tall frame, and at times looking like the clear best of the backup trio that is vying for Manning's backup job.
Grade: B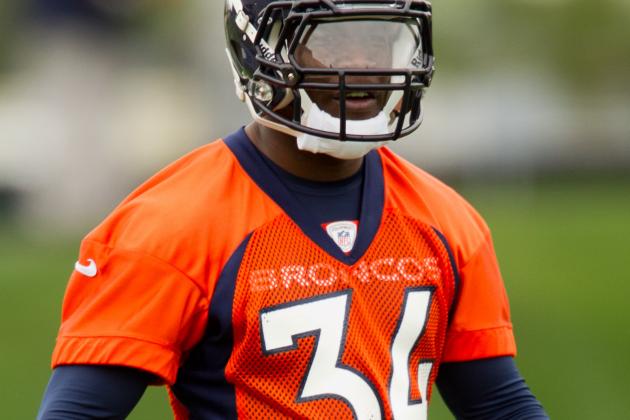 Justin Edmonds/Getty Images

Of all of Denver's draft selections, Ronnie Hillman may have the best chance to provide the most impact in his rookie season.
Having said that, although Hillman has frequently shown off his fast speed with long runs in training camp, he is listed as the No. 3 RB on the depth chart behind Willis McGahee and Lance Ball.
According to Mike Klis of the Denver Post, the No. 2 RB job is between Ball and No. 4 RB, Knowshon Moreno.
It would shock me if by the end of the preseason, Hillman doesn't end up as the No. 2 RB. In fact, I've written on Broncos101.com why he should supplant McGahee as the starter in 2012.
Having said that, the point of the article is for me to grade these rookies based upon their camp performances, not on their potential. Hillman has once again shown that he can be a game-breaker as a running threat.
However, it appears that Ball is ahead of Hillman on the chart as of this writing because of Hillman's deficiencies as a blocker and as a receiver.
Grade: C+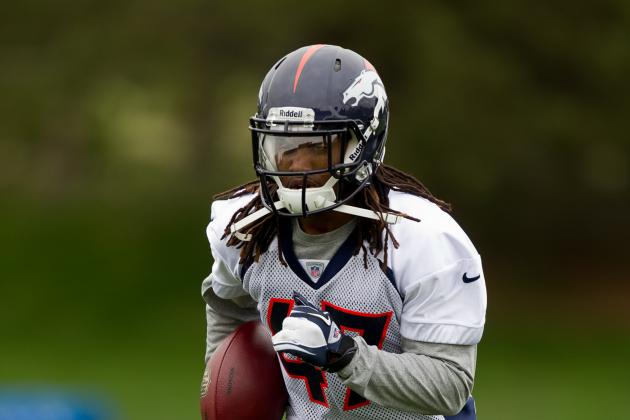 Justin Edmonds/Getty Images

Denver's first fourth-round selection has had a mixed training camp.
As of right now, Bolden is Denver's backup nickel back, covering the second team's slot receiver. That means on most plays, Bolden is facing Matthew Willis, and on occasion, has lined up against guys such as Mark Dell, Gerrell Robinson and Eric Decker.
The consensus on Bolden thus far in training camp is that Omar will have his fair share of good plays, while at the same time, having bad plays. This is not usual for a rookie, especially a fourth-round draft selection who was never expected to contribute immediately in the first place.
Bolden is currently listed as one of the No. 3 cornerbacks.
Grade: C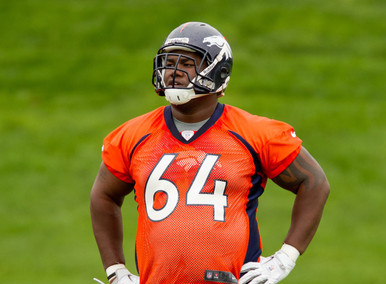 Phillip Blake is currently listed as Denver's No. 3 center on the depth chart.
According to Mile High Sports, Blake might not even make the roster. The Broncos may place him on their practice squad, which would be a huge disappointment considering the fact that he was a fourth-round selection. He was also expected to be J.D. Walton's top backup, but C.J. Davis has that spot locked up right now.
Not much has been heard about Blake's performance in training camp, and maybe it's because there just isn't anything notable to report upon.
Blake was seen as a guy who could potentially supplant the mediocre Walton down the road, but as of right now, Blake has to find a way to make the roster first.
Grade: F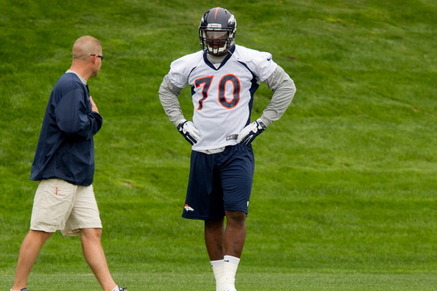 Justin Edmonds/Getty Images

The Broncos selected Malik Jackson with the 137th overall selection out of Tennessee.
Jackson is currently listed as the No. 3 defensive tackle on the depth chart. His motor has been on display throughout training camp, where he has been noted as putting pressure on the quarterback in the chances that he has received.
Depending upon his performance in the preseason games, Jackson will likely find his way onto the roster as part of the defensive line rotation.
Grade: C+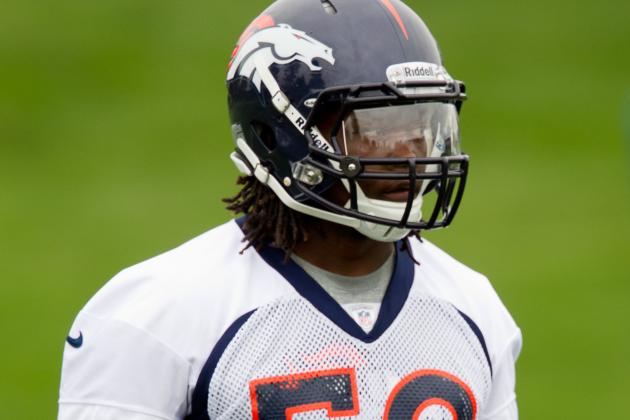 Justin Edmonds/Getty Images

Danny Trevathan was Denver's last draft selection at the No. 188 pick in the sixth round.
Trevathan has had a tremendous training camp and has already made quite the name for himself. Trevathan has worked in the nickel package on the first team. No rookie on the Broncos has seen more snaps with the first team than Danny.
With D.J. Williams' six-game suspension, there is an open spot on the roster for a linebacker to make his mark. Trevathan has capitalized on this opportunity and has been one of Denver's most impressive rookies thus far in camp.
Final Grade: A