Washington Nationals Need to Use Stephen Strasburg in the Playoffs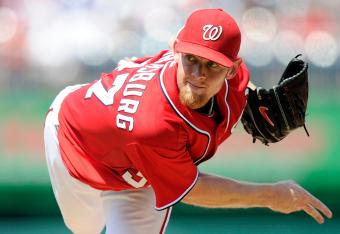 Greg Fiume/Getty Images
The Washington Nationals are in first place on Aug. 6. But they are more than a division leader. As of this writing, the Washington Nationals are the best team in baseball.
As odd as that is to read (and type for that matter), it looks like barring a collapse worthy of the 2011 Boston Red Sox, the Nation's Capital will see postseason baseball for the first time since 1933.
This sudden turnaround for the team that was the worst in baseball in 2008 and 2009 took everyone by surprise. Most unprepared for it appears to be the Washington Nationals themselves.
With their "once in a generation talent" ace Stephen Strasburg coming back from Tommy John surgery, the team has set innings limits for him to not wear out his surgically repaired ligaments, according to ESPN.com. And that would make perfect sense for an improving team not exactly ready to contend for a pennant.
Forgive Washington General Manager Mike Rizzo for not predicting the simultaneous collapse of the Philadelphia Phillis and the Miami Marlins. Not everyone could have foreseen the Atlanta Braves being the only other contender in the East.
Suddenly the Nationals are winning ahead of schedule, which would be fine except it could throw a wrench into their Strasburg plans.
A perfect combination of events have put the Nationals in a position where they may not just make the playoffs, but they could be the favorites to win the pennant.
Their rotation is one of the deepest in the game. Their bullpen is solid. Their lineup features original franchise savior Ryan Zimmerman healthy at last. When everything comes together, a team has to go for it.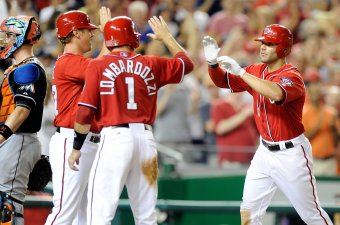 Greg Fiume/Getty Images
Forget once in a generation. This is the chance to give Washington fans a team like they haven't seen in four generations. The franchise which has one postseason appearance, as the 1981 Montreal Expos, could give DC a taste of October baseball for the first time in 79 years.
The Nationals could wrestle away fans not only from neighboring Baltimore but also from the frustrated Redskins faithful. They could do what the original Senators team could not after FDR's first year in office and what the second Senators team never did: Become a champion.
That is the objective of the team, right? And a championship team would mean more butts in the seats, more eyeballs on the telecasts and more Bryce Harper jerseys sold.
Sure, the Nationals have more than 2012 in mind when thinking about shutting Strasburg down. They want to have a winner on the field for 2013 and beyond.
But windows of opportunity for the playoffs can be so slim, especially in the National League. Just ask recent playoff participants like the Mets, Padres and Rockies how many chances they got at October glory.
Ask the 2007 Indians, who were one starting pitcher from winning the pennant and probably ending generations of misery if they have any regrets of losing their one real shot.
That Indians team had an ineffective Cliff Lee, who won the Cy Young Award the very next year. If Lee was effective in 2007, the Indians would have won the pennant over Boston.
The Nationals are in a position where they would be essentially be the same as the Indians removing an effective Cliff Lee from their postseason roster.
This article's author laments the babying of pitchers
A playoff rotation of Gio Gonzalez, Edwin Jackson and Jordan Zimmermann would be solid. Add Strasburg and it becomes the greatest thing to happen to Washington baseball since the musical Damn Yankees.
John Lannan or Ross Detwiler could be effective fourth starters in a playoff series. But imagine an elimination game being played and Detwiler is summoned to pitch while Strasburg sits chewing gum in the bullpen.
How would management live down not putting their best pitcher on the mound during their best chance to win it all? According to ESPN.com, Strasburg is not a fan of being shut down and wants to pitch.
There must be ways to limit Strasburg's innings and yet have him be available to pitch in October. In a previous Bleacher Report article, I suggested having Strasburg throw the middle innings of a game. Or maybe have him throw once a week instead of once every five days.
According to CBS.com, Rizzo might not be as strict on the actual innings that Strasburg will throw, but he alone will determine when the shutdown will take place.
Rizzo described it as "an eye test" rather than a "magic number." Washington fans are hoping the eye test will be seeing Strasburg help pitch the Nationals to a World Series title.
This article is
What is the duplicate article?
Why is this article offensive?
Where is this article plagiarized from?
Why is this article poorly edited?

Washington Nationals: Like this team?