Tennessee Titans Inside Slant: Tom Gower on the Good and the Bad of Camp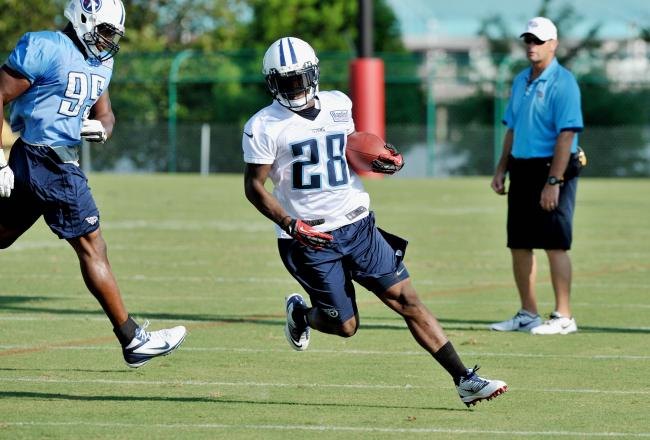 Johnson is rounding into his old form.
Jim Brown-US PRESSWIRE
The Tennessee Titans appear inscrutable from the outside, which is why we are headed inside to glean insight from one of the most knowledgeable writers around.
Aside from being a must-follow on Twitter, Tom Gower is best known for his work at Total Titans and the Football Outsiders. He's a contributor to the outstanding Football Outsiders Almanac, which is a perennial must-read for any educated fan of the NFL.
Tom has been patiently avoiding narratives, and is working hard to provide in-depth positional analysis for the Titans for weeks now. There's no better person to ask about Tennessee if you want level-headed, honest analysis of where the team stands.
B/R: Tom, what's the best news of camp so far for Tennessee?
Gower: The best news of camp so far for the Titans is by all accounts Chris Johnson looks like the Chris Johnson from a couple years ago.
Don't expect anything close to 2,000 yards this season, in part because he's not going to get 358 carries like he did in 2009, but for too much of 2011 he wasn't even a replacement-level runner. The Titans need him to at least be more of a sustaining runner than he was last year.
B/R: What's your biggest worry in camp?
Gower: The biggest worry of camp is the injuries. Kenny Britt wasn't expected to be at full health yet, but he's still (as of Sunday evening) on the Physically Unable to Perform list. Plus, he's meeting NFL officials, likely including Commissioner Goodell, Monday about his DUI arrest. The multi-game suspension hammer is likely to fall, but just how bad will it be?
The Titans also lost incumbent starting center Eugene Amano for the season to a torn triceps injury. They do have backups with the chance to be non-ghastly starters, Fernando Velasco and Kevin Matthews, but it's a hit to an interior line group that wasn't deep or that good.
B/R: One week in, do you feel better or worse about the team's chances in 2012?
Gower: Overall, I feel pretty much the same about the Titans as I did before camp began. Unlike Jets camp, the quarterback battle is controversy-free and not very media-friendly. Only one reporter has called Matt "Tim," and I think that was in minicamp even.
Britt's status isn't much of a surprise, and Amano's injury is just one of those things; it's a loss, but injuries are pretty close to inevitable and losing a non-elite center is relatively minor as far as losing a starter goes.
This article is
What is the duplicate article?
Why is this article offensive?
Where is this article plagiarized from?
Why is this article poorly edited?