Olympic Soccer Live Stream: How to Catch All the Women's Semifinal Action
Stanley Chou/Getty Images
The women's soccer tournament at the 2012 London Olympics is in the semifinal round and a chance to play for the gold medal is on the line.
All four teams remaining are ranked in the top seven in the world, and each remaining match will be competitive.
Unlike the men's competition, the Olympics is a major tournament for the women, and this will be reflected in the players' intensity during the games.
Here is the date, time, live stream information and preview for both matches.
France vs. Japan
When: Monday, August 6, 12 p.m. ET
Where: Wembley Stadium, London, United Kingdom
Live Stream: NBCOlympics.com
French Player to Watch: Marie-Laure Delie
Marie-Laure Delie has an incredible goal-scoring record with 38 goals in 45 appearances for the French national team. The 24-year-old striker is a constant danger to opposing defenses every time she steps on the field.
She has scored in two of the four matches she has played thus far. If France is able to pull off an upset, it will likely have to be behind a goal from Delie.
Japanese Player to Watch: Homare Sawa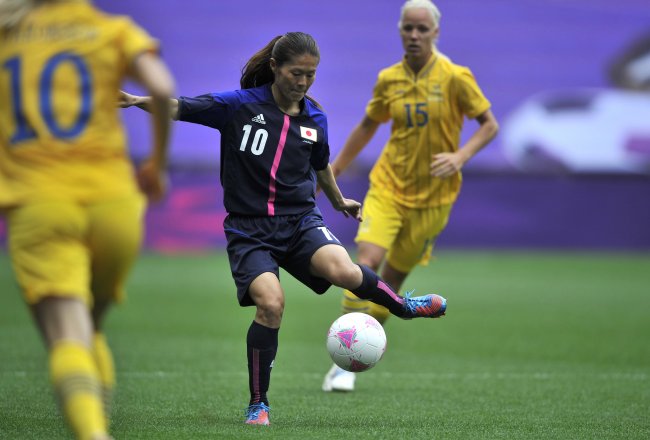 Francis Bompard/Getty Images
Homare Sawa is the reigning FIFA World Player of the Year and was the leading scorer in the 2011 World Cup, where she led Japan to victory over the United States.
Japan's Olympic tournament did not start off impressively, with two consecutive 0-0 draws. However, the team responded with wins over Canada and Brazil to reach this point and it will need Sawa's skill, experience and leadership to continue its success.
Who will win the semifinal match between Japan and France?
Prediction: Japan 2, France 1
The French have played well this tournament, but the seemingly inevitable World Cup final rematch between Japan and the United States will take place.
The Japanese are disciplined, talented and have momentum on their side after beating two quality teams in their last matches. This will be a closely contested affair, but Japan will edge out France.
Canada vs. United States
When: Monday, August 6, 2:45 p.m. ET
Where: Old Trafford, Manchester, United Kingdom
Live Stream: NBCOlympics.com
Canadian Player to Watch: Christine Sinclair
Whenever the Canadian national team has needed a goal in the last decade, it has been able to rely on Christine Sinclair. The 29-year-old forward has 140 goals in 188 appearances for her country.
Sinclair has three goals in the tournament up to this point and she has also captained the side. Facing the United States will be incredibly difficult, and Canada's talisman will need to come through with a historic performance if her team has any chance at an upset.
American Player to Watch: Alex Morgan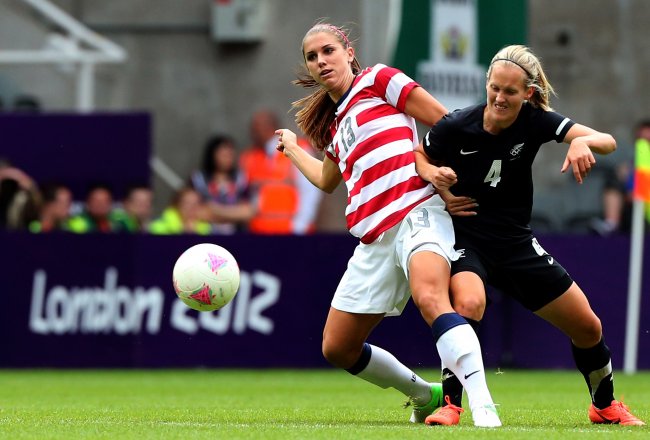 Stanley Chou/Getty Images
Morgan is an über-talented 23-year-old who was on fire coming into the Olympics. Her pace and power gave the already potent United States attack an entirely new dimension and although she has played well at times in London, she has lacked sharpness in the attacking third of the field.
Morgan suffered an injury when her knee collided violently with New Zealand goalkeeper Jenny Bindon's face and forced her to come out of the team's quarterfinal victory. At this point in the tournament, the competition will be more intense and the United States is going to need Morgan to brush off the bruises and elevate her play for these final two games.
Prediction: United States 3, Canada 1
Morgan will come through with a goal and the rest of the talented United States attackers will continue to play at a stellar level.
The Americans are rolling and it is difficult to see anyone stopping them on their road to a third straight gold medal.
This article is
What is the duplicate article?
Why is this article offensive?
Where is this article plagiarized from?
Why is this article poorly edited?