Detroit Red Wings: 9 Players That Need to Step Up This Year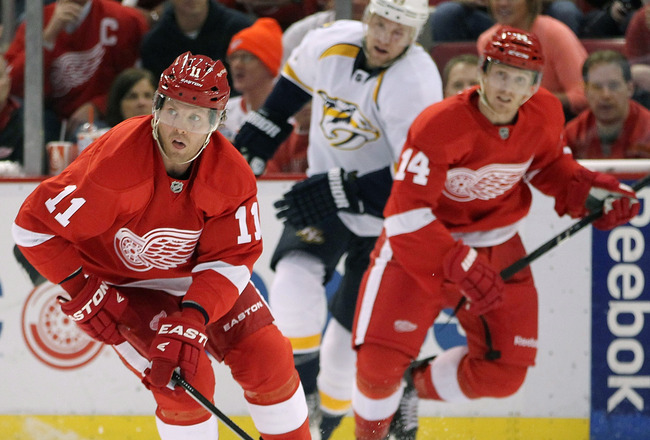 Gregory Shamus/Getty Images
The offseason has not gone well for the Detroit Red Wings. They lost Nick Lidstrom and Brad Stuart and have struck out at grabbing the bigger name free agents. They also haven't pulled off any major trades to help fill the weaknesses on the team.
It appears that the help for this team will need to come from within. There is no doubt that this is a talented squad, but they've fallen short of expectations for the past two years.
Here are nine players that need to step up for the team this season.
Dan Cleary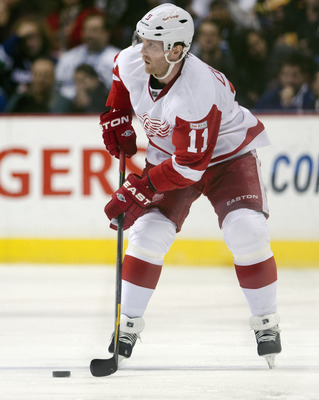 Rich Lam/Getty Images
Dan Cleary's career was resurrected when he came to Hockeytown. After stops in Chicago, Edmonton and Phoenix, he finally started to live up to his potential in Detroit, posting back to back 20-goal seasons once he arrived.
He had a career-best 26 goals in 2010-11, but fell off last year, scoring only 12 goals in 75 games. To be fair, he was banged up for most of the season, but Cleary needs to overcome that in order to be a factor on the offensive end for Detroit.
The Wings need him to return to his scoring, hard-playing ways.
Darren Helm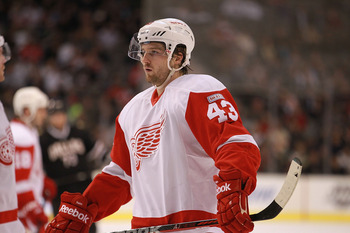 Ronald Martinez/Getty Images
Darren Helm is a great speedster, however, he just doesn't score as many goals as he is capable of. He reminds me of Luis Mendoza from the Mighty Ducks movies. Both were very fast skaters, but while Luis had problems stopping, Helm has trouble scoring.
He is great at agitating players and forcing them to cough up the puck. His defense often leads to breakaway chances, but an .064 shooting percentage clearly shows the issue.
Helm can be a 25-goal scorer. He is often picked as a possible breakout candidate, but the Wings are still waiting for him to make a big impact on the score sheet. The jury will be out again this season at the Joe Louis Arena.
Brendan Smith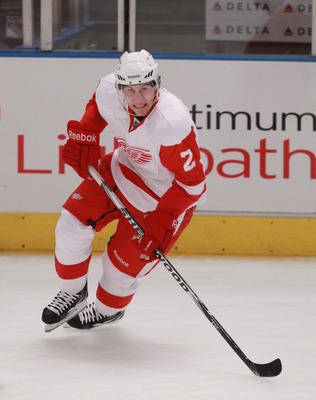 Bruce Bennett/Getty Images
Brendan Smith has been considered a safe bet to be a solid contributor to the team, that is, when he finally arrives. This appears to be the year and with the loss of Stuart and Lidstrom, the hope is that he reaches his potential very quickly.
He had a short stint with the team last season and did very well (in 14 games he had seven points, a fight and a plus rating). The Wings will need him to step into a top-four defender role and greatly minimize the typical rookie mistakes.
Damien Brunner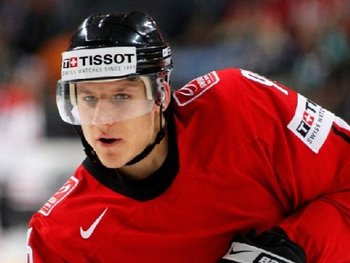 www.suedostschweiz.ch
Brunner was signed as a free agent after an impressive run at the World Championships. He led the Swiss A league in goals this past season, and has averaged 1.2 points per game over the past three years.
Detroit expects him to be a top six forward. If his success in Europe can transfer over to North America, then the Red Wings might have a steal on their hands.
The team has a history of making late-round steals in the draft and picking up players that other teams do not want, only to see them shine in Detroit. Hopefully Brunner becomes another great move by the Wings.
Niklas Kronwall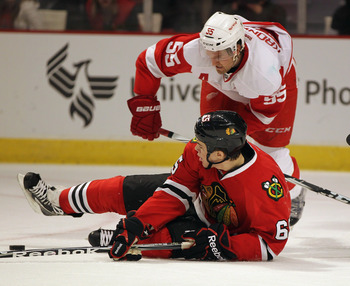 Jonathan Daniel/Getty Images
This is now Kronwall's defense. He has been growing into this leadership role the past couple of seasons, and with Stuart and Lidstrom now gone, the job is fully his.
He is coming off a career-best 15-goal season, but his importance is going to be beyond the score sheet. With much of the defense in question, he will need to make sure sound defensive play is his first priority as well as strong leadership.
Pavel Datsyuk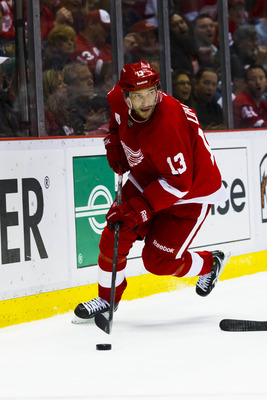 Rick Osentoski-US PRESSWIRE
There is no doubting that Datsyuk is one of the most talented players in the game and perhaps the best all-around player. The team needs him to be a little more selfish now. It is great to have a superstar share the puck so well and that still needs to be a part of his game, but he needs to score more.
It is much easier on opponents to play defense on someone else rather than Datsyuk; by giving up the puck, he is making it easier on them. A player of his abilities should be able to score at least 40 goals, if not more. His highest goal tally is only 32 and he has only topped 30 goals three times in his 10-year career.
The team needs a more consistent scorer. While they have tried to fill that gap in free agency, the best player to fill that role is already on the team.
Jimmy Howard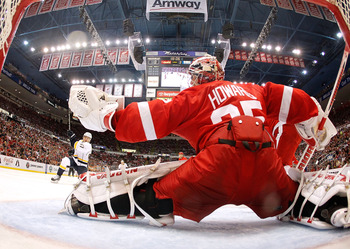 Gregory Shamus/Getty Images
With the questions on defense, the team needs to rely on Howard even more. Red Wing goalies often tend to get underrated because of the players in front of them; Howard will have the chance to prove that he is among the league's elite goaltenders.
He has been impressive as the starter for the past three seasons, and should be able to bounce back and dominate after injuries slowed him down during the second half of last year.
Patrick Eaves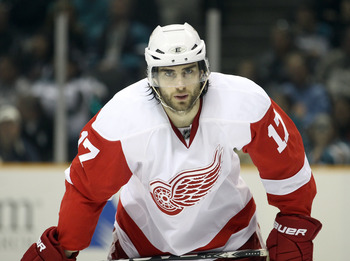 Ezra Shaw/Getty Images
Eaves has the chance to be a breakout candidate. He scored 20 goals in only 58 games during his rookie campaign in Ottawa, but has failed to live up to that number since.
He joined the Red Wings in 2009, and scored 12 and 13 goals in his two full seasons with the team. But he has never played more than 65 games in a season for Detroit, and often has limited time whenever he sees the ice.
Eaves' .110 shooting percentage with the Red Wings shows that he has potential. He missed almost all of last season with a concussion and broken jaw, and his return could be a spark to the offense.
Valtteri Filppula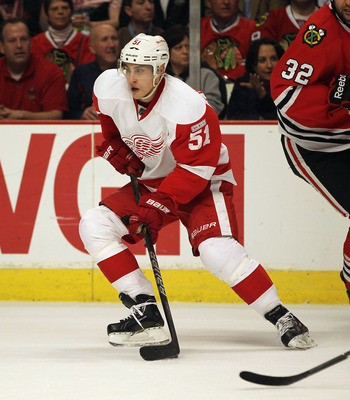 Jonathan Daniel/Getty Images
Filppula is coming off his best season ever with 23 points and 66 points. That far outpaced his previous best of 19 goals and 40 point, and he also proved to be a stronger player on both ends of the ice.
This season Filppula needs to prove that last season was not a fluke. Ideally he continues his improvement and reaches the 30-goal mark.
PJ Sapienza is a featured columnist covering the Detroit Red Wings as well as many other sports.
You can follow him on Twitter.
Is the Red Wings Playoff Steak in Danger?
Bobby Ryan or Rick Nash, Who Is Better for the Red Wings
Keep Reading

Detroit Red Wings: Like this team?