US Men's Gymnastics: 10 Things That Went Wrong in Stunning Team Failure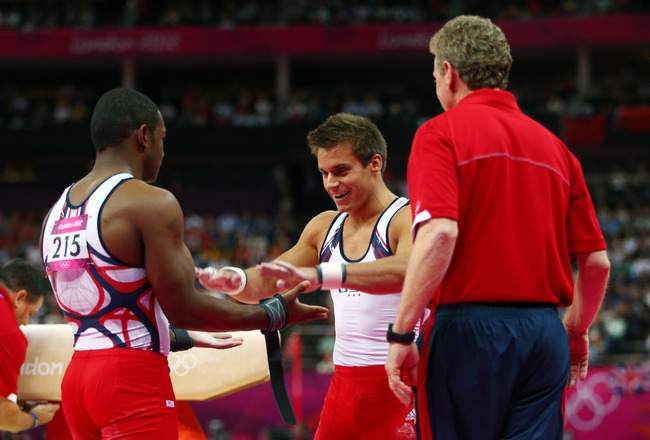 Michael Steele/Getty Images
Everything seemed perfect for the U.S. Olympic men's gymnastics team not long ago.
The men were hitting all their routines in major competitions throughout the year and seemed to be a shoo-in for a medal in the Olympics team finals.
As the London Games neared, many thought the men had the ability to win gold.
It seemed more likely than ever when Team USA stood in first after the preliminaries.
But then all that anticipation turned into disappointment during Monday's team finals. China blew the U.S. gymnasts out of the water. Great Britain, Japan and Ukraine were left fighting for the final two podium spots, while Team USA finished fifth.
What exactly went wrong for Team USA that left them off the podium? Here's a look at the top-10 things that went wrong for the Americans.
Inexperience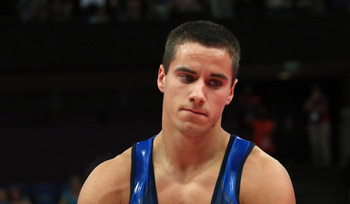 Ronald Martinez/Getty Images
It has been said that the American men were too inexperienced for the international stage, and that came out during the team finals.
Jonathan Horton is the only gymnast who was on the 2008 Beijing bronze-medal team. Jake Dalton and Sam Mikulak are still in college, and Danell Leyva and John Orozco have limited international experience.
This showed, as nearly every gymnast made an uncharacteristic mistake.
The positive of having youth on their side is that these same men can come back in 2016 demanding revenge.
Pommel Horse Problems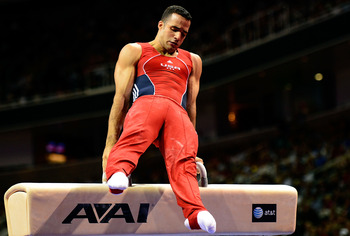 Ronald Martinez/Getty Images
The Americans are historically weak on the pommel horse, and it showed Monday in their three routines.
Danell Leyva is one of Team USA's top performers, and he took a fall, scoring only 13.400 on a stage where anything less than 14.000 is a major problem.
I think this poor performance put Leyva in a bad mood from the get-go.
Sam Mikulak hit his routine, but anchor John Orozco performed a slow and unsteady routine that resulted in a 12.733.
The Americans gave away more points than they could afford on the pommel. These mistakes were just too much for Team USA to overcome.
A Rough Day for Orozco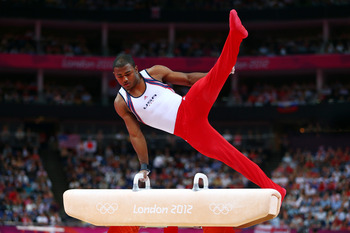 Michael Steele/Getty Images
John Orozco, who is typically a consistent performer, was just not on top of his game Monday.
He looked unsteady and uneasy throughout the competition, specifically on pommel horse and vault where he received very low scores.
He stayed on the pommel horse, but it was not pretty to watch—it seemed like he was giving everything he had just to not fall off the apparatus.
Then, he landed on the ground on his vault, which meant Team USA had to swallow another miss.
He looked like he was going to start crying after he missed his vault routine.
Subpar Vaults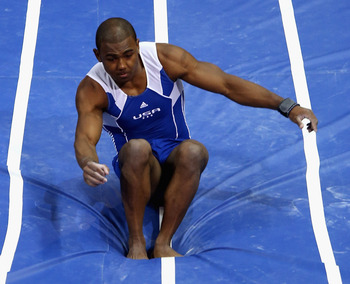 Ezra Shaw/Getty Images
The way gymnastics scoring works, the vault is the best place to make up ground on the leading teams. The Americans needed to take advantage of this.
But John Orozco's flop of a dismount typified the overall performance. With their failures on the vault, the Americans lost any hope of securing a spot on the podium.
Lack of Momentum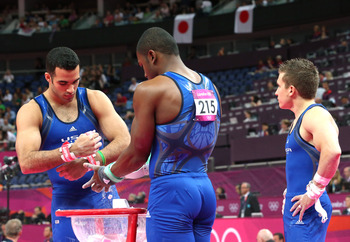 Ronald Martinez/Getty Images
Once Team USA had subpar performances on the parallel bars and vault, they just didn't seem able to pick themselves up.
During preliminaries, Olympic trials and Visa championships, the men were feeding off each other's momentum, hitting routine after routine.
There was never any momentum on Monday, and the scores showed that.
Three-Up, Three-Count Rule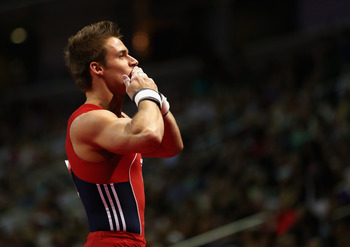 Ezra Shaw/Getty Images
The men paid dearly for the three-up, three-count rule.
In the Olympic finals, only three gymnasts were able to compete on each apparatus, and all of those routines count.
That did not work out well for the Americans, as they had to count two mistakes on pommel horse, one on vault and one on floor.
One of their biggest strengths was depth, and they weren't able to use it on Monday. If the Americans were able to put four gymnasts forward and only had to count three routines, then they may have fared a lot better.
Not Enough Difficulty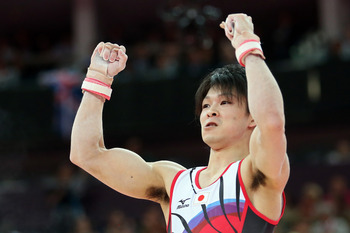 Ronald Martinez/Getty Images
Historically, Team USA just doesn't have the same difficulty in its routines as international powerhouses Japan and China. However, during the preliminaries, it looked like Japan and China didn't have that advantage anymore.
But on Monday, those countries, specifically China, proved themselves worthy of the top positions.
The skills of the Chinese and Japanese on high bar were just unreal.
Where Was the Passion?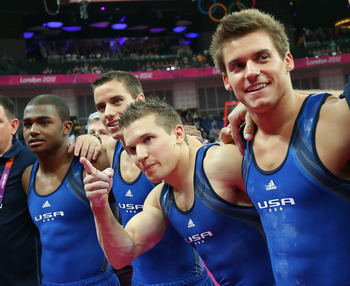 Ronald Martinez/Getty Images
The big talk about Team USA was how they were "one team, one dream." They seemed completely focused on believing in themselves, proving the world wrong and earning a team gold.
They appeared to have unity and spirit in the weeks leading to the team finals.
However, that drive, passion and unity were not present on Monday. They were like five separate entities, all dealing with their own issues.
Horton tried to pull the team together, but it was just a train wreck.
Upset by the Underdogs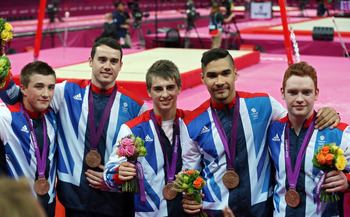 Streeter Lecka/Getty Images
This wasn't like Beijing, where Team USA wasn't even slotted to make the team finals and ended up winning bronze.
The Americans were expected to do well this time around, expected to make the podium. It would have been a surprise, but not a huge one, if they won the gold.
This provided an added sense of pressure for the Americans and gave the real underdogs a chance to sneak into the mix.
Everybody wanted Louis Smith and the Brits to succeed. In front of their home crowd, they had the advantage of being the underdog and having an overwhelming sense of support.
Ukraine practically came out of nowhere, fighting for a chance at the podium. They almost had it, too, before Japan edged them out to win silver, leaving Great Britain with bronze.
These teams snuck in and outperformed Team USA.
Too Little, Too Late
Ronald Martinez/Getty Images
Team USA had a very strong finish on the parallel bars and high bar, but it just wasn't enough.
Those were the types of performances they needed to be giving during the entire competition. It's like they didn't truly show up until the final two rotations, and then it was just too little, too late.
The final surge was needed just for the U.S. team to place fifth.
The most impressive American routine was probably Horton's final high-bar routine. He looked strong and artistic, and it was a magnificent finale for the captain's team competition. The routine was good for a 15.2.
Too bad for Horton that he will never have that team gold medal he was looking for.
Keep Reading