Alabama Football: Top 10 Out-of-State Targets for 2014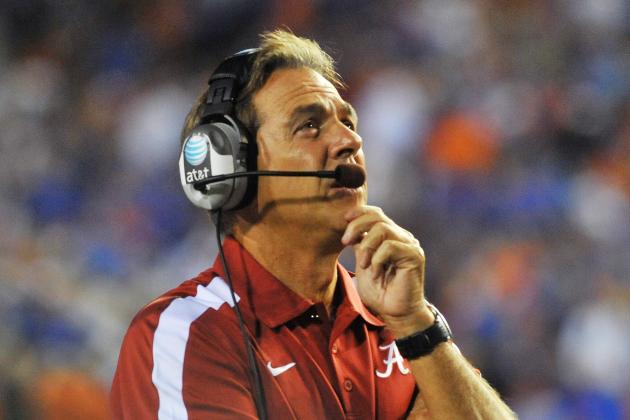 Al Messerschmidt/Getty Images
Nick Saban and his staff are already hot on the trail for several of 2014's top targets that live outside the state of Alabama.
Alabama's 2013 recruiting class is nearly full currently sitting at 18 verbal commitments, but while a few big fish still remain for Nick Saban and his staff, the Crimson Tide have already gotten a head start evaluating for 2014.
Saban's latest camp session featured some of the nation's best prep juniors from around the nation.
With the state of Alabama possessing an unusually strong junior class, Saban can be more selective in recruiting targets that reside outside the Tide's neighboring territories.
Even though the long list of soon-to-be high school juniors still have two years to play on the prep level, Saban has already identified several top targets from across the country that are interested in playing their college football at the Capstone.
Which of the nation's top juniors should Tide supporters be keeping close tabs on?
Find out in this breakdown of Alabama's top 10 out-of-state targets for the class of 2014.
(List is in alphabetical order.)
Begin Slideshow

»
Add Fournette—rated as the nation's top running back prospect for 2014 by 247 Sports—to the growing list of things for Alabama and LSU fans to spar over.
The New Orleans product has rushed for 3,692 yards and 41 touchdowns over the last two seasons.
He camped at Alabama in June and participated in LSU's camp this week, and his recruitment appears to be a two-horse race between the SEC West titans.
Frazier represents the Natural State's top junior prospect, with early offers from in-state schools Arkansas and Arkansas State in addition to the Crimson Tide.
The 6'3", 303-pounder is a run-stuffer at defensive tackle, and he would be an ideal candidate to plug the middle in Alabama's three-man defensive front.
Thus far, Frazier has visited the Razorbacks and camped last month in Tuscaloosa.
Considered the consensus top player in the country for the class of 2014 at this point, Hand was on campus in Tuscaloosa for nearly a week.
The Virginia native is a candidate to lineup at defensive end, or perhaps at the Jack linebacker position in Alabama's 3-4 scheme.
After securing the pledge of fellow Virginia product Jonathan Allen for the 2013 class, the Crimson Tide sit in a good position to land the top pass-rusher from that state for the second consecutive season.
In addition to his trip to Tuscaloosa, Hand—who recorded a whopping 21 sacks as a sophomore—has recently visiting Virginia Tech, Virginia and North Carolina.
Hurd is an impressive athlete that can hurt defenses at running back or receiver on the college level.
At 6'3", 210 pounds, the Tennessee native and 4-star athlete visited Tuscaloosa in April for the A-Day game, and made a return trip last week for Saban's camp.
Hurd has accumulated offers from the Crimson Tide as well as Ohio State, Michigan, Nebraska, Tennessee and Vanderbilt amongst others.
Knox is one the nation's best offensive tackle prospects—as evidenced by an offer list that includes Alabama, Ohio State, Texas. Michigan and Oklahoma State amongst several others.
The 6'5", 300-pounder from the Lone Star State has taken in recent camps at Texas and Oklahoma State.
The Crimson Tide are believed to be in his top group of choices, along with the Buckeyes and Longhorns, in the early stages of his recruitment.
Lane was recently named the top receiver recruit in the country for 2014 by 247 Sports, and he will be one of the top players from the talent-rich Sunshine State.
The 6'2", 190-pound Homestead (FL) native averaged more than 30 yards per reception as a sophomore, and recorded a touchdown roughly once every three times he touched the ball.
Lane was in Tuscaloosa for Saban's camp last week, and he's made recent visits to FSU and Miami—with those three teams making up the early list of favorites for the electric wideout.
The younger brother of Crimson Tide offensive lineman Isaac Luatua, this California product is the top tight end in the class of 2014, and the top player in the Golden State according to 247 Sports.
Alabama has offered and appears to be a heavy favorite, but that has not stopped him from amassing an impressive offer list—with powerhouses like USC, Notre Dame, Ohio State, Florida State and Miami being a few of his more notable suitors.
The 6'4", 230-pound Luatua averaged more than 10 yards per reception as a sophomore.
Saban has had a tremendous amount of success recruiting in the Peach State, and McMillan may be the biggest prize available in Georgia's class of prep juniors.
The 6'3", 236-pounder is rated as the nation's No. 2 inside linebacker by 247 Sports, and he holds offers from Alabama, Georgia, Ohio State, Florida and Auburn plus several others.
McMillan may become an even bigger priority if Alabama is unable to lure a top 2013 prospect to fill the void left by the decommitment of Reuben Foster.
Tabor and in-state star Marlon Humphrey represent the top corners that are likely to be on the top of Alabama's wish list for 2014.
Per BamaOnline, Tabor visited Tuscaloosa last month and left stating Alabama as his early leader.
In addition to the trip to Tuscaloosa, Tabor has taken visits to Auburn, Florida and Tennessee—which along with Florida State, are the main schools trying to play catch-up to Alabama for Tabor's services.
Willis is the younger brother of 2012 signee Landon Collins, and if his recruitment is anything like his older brother's, Alabama and LSU supporters better strap in for a wild ride until February of 2014.
Willis and the boys' mom, April Justin, are already preparing for the madness that is likely to surround his process.
The 6'2", 246-pound defensive end from New Orleans has taken numerous visits to Alabama and LSU, but Florida may be the wild card in his recruitment.