The 2012 NBA Summer League has kicked off in Las Vegas, NV and is a showcase for the best young talent in the league. It is especially useful for incoming rookies and allows them to see where they stack up against established NBA players across the country.
Many of those rookie players are former Kentucky Wildcats stars. In fact, five members of the 2011-12 team and four players from the 2010-11 squad are making their mark in summer league. Nearly all of them are contributing, while others are really making a name for themselves in their first introduction to the NBA.
The star UK alum at the summer league has been Terrence Jones. Now playing with the Houston Rockets, Jones has scored in double figures in all five contests so far. He is averaging 18.2 points per game and 8.6 rebounds per game, including a breakout performance against the Portland Trail Blazers on July 17. Jones scored 24 points, grabbed 12 boards and dished out three assists.
If Terrence can keep up this play for the rest of the summer, he will likely cement a prominent role with the team heading into next season. On a roster full of forwards, Jones has separated himself from the rest of the pack in this event.
Jones' former teammate, Doron Lamb, has also played extremely well so far in Las Vegas. In his first game in a NBA jersey, Doron poured in 20 points, converted eight of his nine free throw attempts and pulled down four rebounds.
He kept us his stellar play on July 18th against the Washington Wizards, scoring 12 points and added three rebounds to his totals. Lamb is on a team who lacks bench scoring from the perimeter, so he could secure a major role on the team if he keeps scoring at this rate.
Which player are you most excited to follow next season in the NBA?
Lamb and Jones have played extremely well so far, but perhaps the best overall game of any former Wildcat came from Michael Kidd-Gilchrist. The second overall pick in the 2012 NBA Draft debuted for Charlotte on July 13th against Sacramento and lit up the gymnasium with his energy and hustle.
Kidd-Gilchrist stuffed the stat sheet by scoring 18 points, hauling in eight rebounds, handing out five assists and stealing the ball four times. His overall play appears to validate the team's reasoning for drafting him second overall. Unfortunately, he did injure himself during that game and has been resting on the bench ever since then.
Meanwhile, Brandon Knight has represented the 2010-11 squad well with his performance in the summer league. In fact, his previous game was his best so far. Brandon managed the team like a true point guard and scored 19 points, dished 14 assists and grabbed three rebounds. That is the kind of performance that Detroit hopes become more regular in Knight's second NBA season.
It has not been all fun and games for former Calipari point guards. Specifically, Marquis Teague has played very inconsistently and will need time to develop to the NBA game. His first game could not have gone much worse; he shot 4-17 from the field and only tallied one assist.
But to Teague's credit, he bounced back in the next contest on July 18th. Marquis poured in 14 points, recorded five assists and played effectively on defense. Looking forward to next season, he has a prime chance to start early in the season for Chicago as their superstar lead guard Derrick Rose recovers from surgery. If Teague can improve his consistency between now and then, he could cement a spot on the roster from day one of the season.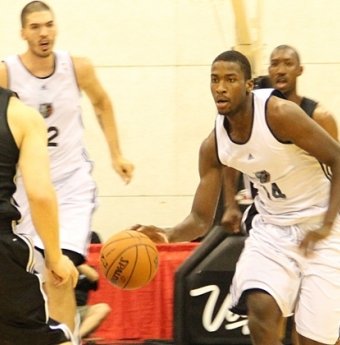 Another player who has been streaky at best is Darius Miller. He has not put together two consecutive solid games yet this offseason. In Miller's first game, he only scored one field goal but did record three steals, showing his intensity on the defensive end.
Then, Miller exploded on July 16th against the Bucks and scored 11 big points, hauled in three boards and finished with a block and a steal to boot. It was the kind of overall performance that Darius will be expected to provide during his rookie season.
Keeping up with the inconsistent trait, former Cats star Josh "Jorts" Harrellson fits into this mold as well. Granted, he was traded not too long ago from New York to Houston, so he has barely had any time to get acclimated with the team. It showed in Josh's first contest, in which he was scoreless and only grabbed two rebounds.
However, he did the same thing that Darius did and played stellar basketball in his second outing against Marquis Teague's Chicago Bulls. Harrellson hit a three-pointer en route to 13 points off the bench.
Harrellson starred in his final season at Kentucky largely because of the absence of Enes Kanter. He was forced to bypass playing college basketball and was drafted third overall last season by the Utah Jazz. He did not get much of a chance to play behind a very deep and talented front court.
However, there should be a bigger emphasis this season on developing Kanter and it appears that has happened. He has played brilliantly and scored in double figures during his previous four contests.
So far in the summer league, Kanter is averaging 10.4 points, 8.8 rebounds, over one steal and one assist during per game. He has always been known as a high-level rebounder, but now he is showing off more of his offensive game and defensive versatility. Kanter is on track to live up to the third overall draft status that is associated with himself.
DeAndre Liggins is still playing for the Orlando Magic and has displayed a nice all-around game thus far in the summer league. He has not exploded in any particular game, but his averages of 5.6 points, 4.6 rebounds, 2.8 assists and 0.8 steals is a sign that he is becoming a stat sheet stuffer and could become a valuable player off of the bench for Orlando.
All in all, each player has contributed and shown off impressive aspects of their game. Some of these UK icons are poised to become important role players, while others are ascending towards the stars in their early NBA career. Each player is representing the bluegrass state well and will hopefully continue their stellar play during the 2012 NBA Summer League.