Tennessee Football: Twitter Reaction and Analysis from SEC Media Days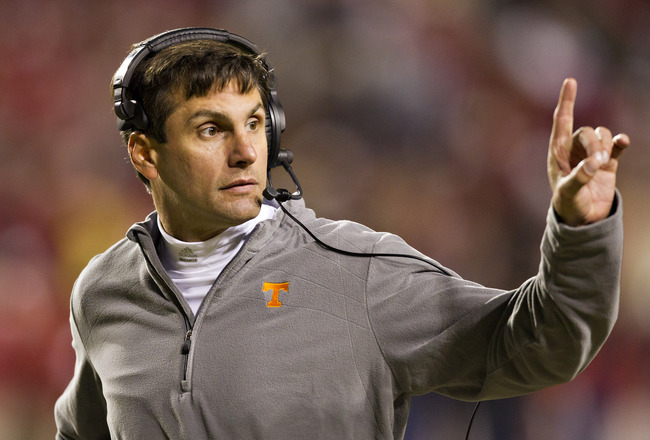 Wesley Hitt/Getty Images
Derek Dooley will take the stage today in Hoover, Ala. in the final day of SEC Media Days. The Tennessee program is a part of the last day of coverage, and will lead the day. Twitter will be aflutter, and as reactions and analysis pour, this will be your guide to the Tennessee Volunteers' Media Day.
With Dooley will be Ja'Wuan James, Herman Lathers and Tyler Bray. Bray will receive a lot of attention as the Vols' quarterback has been a hot topic in the offseason. Bray is what makes Tennessee a dark-horse for the Eastern Division crown.
As the day moves along, check back for updates from Twitter and analysis for the Volunteers.
Lofty Goals, Big Results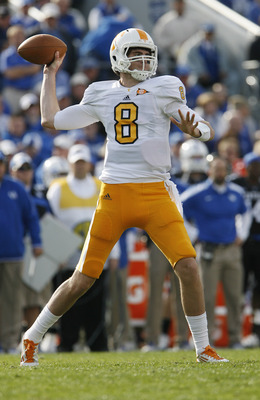 Mark Zerof-US PRESSWIRE
Tyler Bray is doing his best to create the highest expectations possible for a veteran Tennessee quarterback. According to this tweet by Joe Schad @schadjoe, Bray is doing a fantastic job producing his own expectations.
Tyler Bray: Like Peyton Manning I am trying to make every throw look the same

— Joe Schad (@schadjoe) July 19, 2012
Bray is very good and reaching for the stars is always a plus. I expect he will be one of the best in the conference at quarterback this season.
Tyler Bray Says Vols Can Win the SEC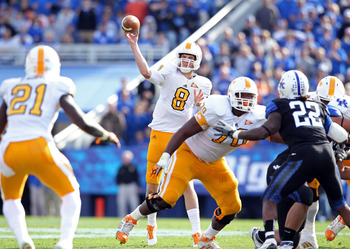 Andy Lyons/Getty Images
Eric Bowman @E_ROCK12 brought Tyler Bray's SEC comments alive here:
Tyler Bray on ESPNU #SECMediaDays: "I believe we have a team that can come back and win the SEC" #Tennessee

— Eric Bowman (@E_ROCK12) July 19, 2012
Yes, Bray said that the Vols could win the SEC. Love this guys passion, and his all black Johnny Cash like suit.
Dooley Isn't on the Hot Seat, the Players Are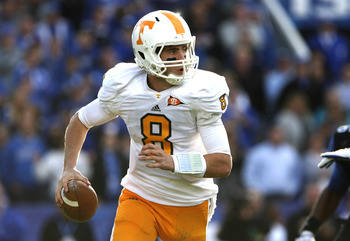 Mark Zerof-US PRESSWIRE
According to Joe Schad @schadjoe with ESPN, Tyler Bray said that the players were on the hot seat, not Derek Dooley this season.
Tyler Bray: "Coach Dooley isn't on the hot seat. We are."

— Joe Schad (@schadjoe) July 19, 2012
I would go with that, except you can't fire players or pay them millions of dollars. It is good to see the guys having their coaches back though.
Tennessee No Longer the Welcome Mat for SEC Teams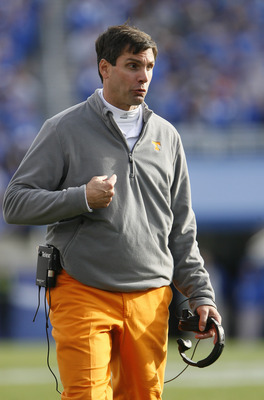 Mark Zerof-US PRESSWIRE
The Atlanta Journal Constitution Georgia Twitter feed @ajcuga dropped this Dooley quote on us from the SEC Media Days podium:
Derek Dooley: Vols much improved. "You're not going to have Tennessee to kick around anymore." Media Days coverage: ajc.com/sports/uga

— AJC UGA (@ajcuga) July 19, 2012
Defense, defense, defense. That chant needs to resonate in Knoxville for the Vols to not be the welcome mat for teams this season.
I do expect great things from Tennessee's offense this year, as Tyler Bray is poised for a huge year.
Tyler Bray's First Suit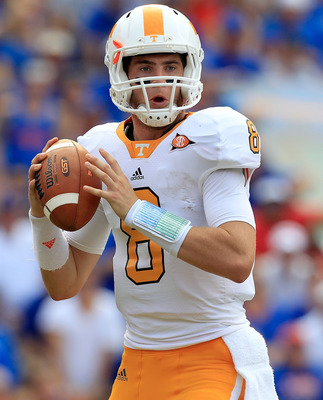 Sam Greenwood/Getty Images
Tyler Bray has embarked on a new journey in life, he has a suit. According to Edward Aschoff @AschoffESPN Bray had never owned a suit before SEC Media Days.
Interesting Bray fact: Never owned a suit while he lived in California and had never been to a wedding. Now he owns a clean black suit #Vols

— Edward Aschoff (@AschoffESPN) July 19, 2012
Never been to a wedding? Bray has lived life the right way so far.
Saban Answers Question About His Protege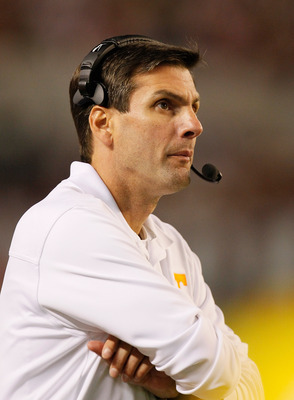 Kevin C. Cox/Getty Images
When asked about his protege Derek Dooley, Nick Saban had this to say according to Alex Scarborough @AlexS_ESPN with ESPN.com:
Saban on Dooley's job at Tennessee: "A lack of continuity created a difficult situation. ... He had a stroke of bad luck last year."

— Alex Scarborough (@AlexS_ESPN) July 19, 2012
Dooley did have a bad run with bad luck, but at the end that is football. This season has to be a good year for the Vols, no matter who is doing the endorsing.
Dooley on Top of Modern Fashion?
Photo via Sara Jane Harris Twitter Page
Derek Dooley wants to stay on top of his fashion. According to Sara Jane Harris @sarajaneharris he is doing just that at SEC Media Days.
Derek Dooley loves fashion... says to reporter, "Love your suit man, now I'm sorry I didn't wear mine like it." twitpic.com/a9c9by :)

— Sara Jane Harris (@SaraJaneHarris) July 19, 2012
I have to admit, the gold MC Hammer pants are jumping. Dooley says: "hey, can't touch this."
Special Defensive Linemen Need to Apply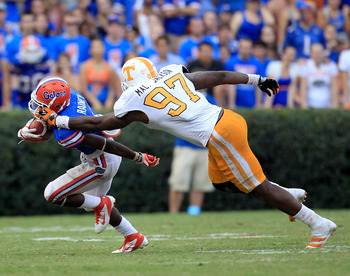 Sam Greenwood/Getty Images
Saturday Down South is moving with updates from SEC Media Days and quoted Dooley on the defensive line here:
"It's hard to win in this league without some special defensive linemen." -Derek Dooley

— Saturday Down South (@SDS) July 19, 2012
Having special defensive linemen is a must, and that is the one position that has a lot of questions heading into 2012. Tennessee has recruited well with Dooley, but defensive linemen are hard to recruit and develop. Here's hoping that Dooley finds a "special" one this fall.
Justin Hunter Back to Burning Corners This Season?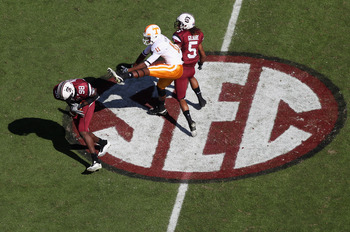 Streeter Lecka/Getty Images
According to Josh Ward @Josh_Ward of MrSEC.com, Ju'Wuan James says lookout for Justin Hunter's return this fall.
Tennessee OL Ja'Wuan James said WR Justin Hunter looks the same athletically as he did before he tore his ACL last September.

— Josh Ward (@Josh_Ward) July 19, 2012
If Hunter is indeed back, Tyler Bray will have his favorite target back on the field and a playmaker that can burn any defense in the country.
Offensive Line Should Be a Strength This Season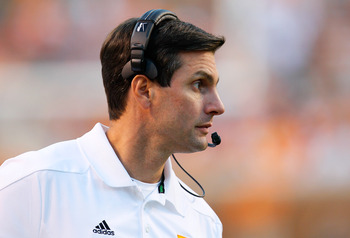 Kevin C. Cox/Getty Images
Expect the Tennessee offensive line to be a strength this season. Barrett Sallee quotes Derek Dooley here:
Dooley: "We inheried an OL that has three starts. Now, we have 106 starts. We have a talented group. There are some NFL guys playing."

— Barrett Sallee (@BarrettSallee) July 19, 2012
106 starts? I would say they should be pretty good as well. This should be a strength led by Ju'Wuan James this season. Tennessee's offense will be very potent.
Linebacker Corps Is a Strength According to Dooley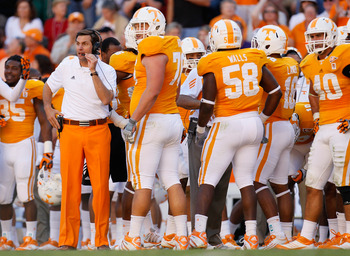 Kevin C. Cox/Getty Images
Derek Dooley was first to the hot seat at SEC Media Days, and he was not afraid to say that linebacker is a strength on defense for the Vols this season.
Dooley said that he believes the defense could be a strength, but the Vols must find playmakers in the secondary and on the defensive line. Tennessee should be great on offense, but defense is the biggest question heading into 2012.
I am with Dooley—the linebackers look very good. Finding answers at d-line will be crucial this season, as the 'backers will be wanting to roam free.
Herman Lathers a Natural Fit for Media Days Honor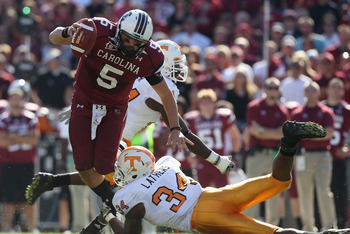 Streeter Lecka/Getty Images
Herman Lathers is a natural fit for the honor of SEC Media Days attendee with Tennessee. Lathers has battled back from two major injuries to rejoin his team and is looking to build a great season for the Vols in 2012.
Coach Dooley mentioned Lathers to the media as Chris Price @Chris_PriceIT of InsideTennesee.com reports via Twitter:
#Tennessee #Vols head coach Derek Dooley says its hard to complain when you here (sic) Herman Lathers story. #SEC #mediadays

— Chris Price (@Chris_PriceIT) July 19, 2012
Lathers will be a leader for the Volunteers this fall and Dooley needs it on defense. Bringing Herman was a great move.
Keep Reading

Tennessee Volunteers Football: Like this team?