WWE: Top 10 Matches of 2012 (So Far)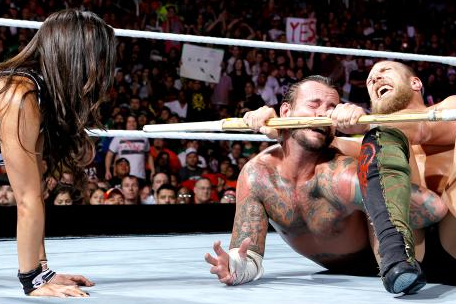 With the Money in the Bank pay-per-view behind us, we are more than halfway done with 2012.
This year has been pretty good, built off of several great pay-per-views derived from some really fantastic, high-quality matches.
Ranking these matches was not easy, and I must have organized the top seven in 10 different orders, but this is my attempt at the top 10 matches of 2012 so far.
You'll notice the that two wrestlers keep popping up again and again...
Begin Slideshow

»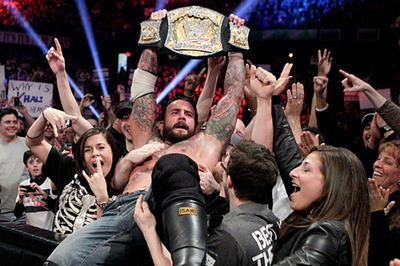 Honorable Mention: Dolph Ziggler vs. Kofi Kingston (Superstars 3/8/12)
I added in this honorable mention mainly because I was at Raw that day, and despite the Rock, Shawn Michaels, and Triple H all being in the house, it may have been my favorite part of the night. Kofi and Dolph put everything they had into this match in what is probably the best Superstars match ever. Watch it if you can.
10.) CM Punk vs. Daniel Bryan (RAW 1/30/12)
At least John Lauranitis did something right when he made this Champion vs. Champion match the day after the Royal Rumble. Punk and Bryan put on a show for the Raw crowd and, despite the fact that Jericho interfered and the match ended in a DQ, we were given a preview of what was to come in the summer.
9.) CM Punk vs. Chris Jericho (WrestleMania 28)
CM Punk and Chris Jericho put on the best WWE Championship WrestleMania match in years and yet it only makes the spot of number nine on this list. The two of them had a fantastic match where Punk simply refused to stay down.
8.) WHC Money in the Bank Match (Money in the Bank)
The Money in the Bank match for the World Heavyweight Championship had a botch here and there, but it was all made up for with some amazing spots. Whether Christian was spearing people off and onto ladders, Tyson Kidd was performing a ridiculous-looking power bomb, or Ziggler was hitting an amazing Zig Zag and winning the whole thing, it was a great ladder match.

7.) CM Punk vs. Chris Jericho (Extreme Rules)
Punk and Jericho topped their WrestleMania match at Extreme Rules with this Chicago Street Fight for the WWE Championship. The street clothes made the street fight more real and I still don't know how Punk got up after the codebreaker/chair to the face.

6.) John Cena vs. Brock Lesnar (Extreme Rules)
John Cena was manhandled in Brock Lesnar's return match to the WWE, and it was truly epic to watch. This match would be higher on this list if Cena hadn't turned into SuperCena again and he hadn't made the speech which amounted to nothing in the end. Still though, an awesome match to watch.

John Cena and the Rock may not have had the most technically sound match of 2012, but the year-long build, energy of the stadium and exciting moments helped this match make the top five.
It was probably the most anticipated match of all time in the WWE and it really didn't disappoint.
I know that I was screaming no when Cena hit the final Attitude Adjustment on the Rock, furious when Cena tried to mimic the People's Elbow and ecstatic when the Rock jumped up and nailed the Rock Bottom.
It was an excellent match, and it deserves to be at number five.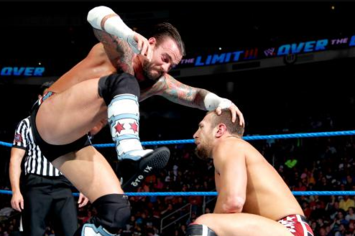 When Daniel Bryan became the number one contender for the WWE Championship, wrestling fans everywhere got really excited for a pay-per-view match between these two.
They have yet to disappoint.
Bryan and Punk put on an absolute clinic of superb technical wrestling at Over the Limit, with several different submission maneuvers and a picture perfect finish.
These two easily have the feud of the year so far, in great part because of their wrestling ability... and some crazy chick.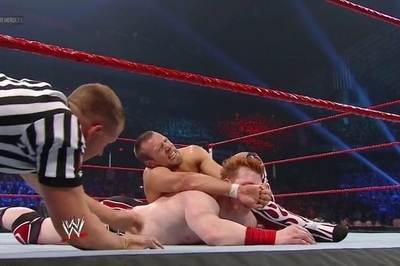 After losing to Sheamus in 18 seconds at WrestleMania 28, Daniel Bryan got his rematch for the World Heavyweight Championship at Extreme Rules in a two out of three falls match.
Both men were awesome in this match, but Bryan carried them to greatness.
After disqualifying himself by loosening Sheamus' arm for the first fall, Bryan used the Yes Lock to secure the second fall for himself.
Luckily for Sheamus, he doesn't need his arm to finish off his opponents and two Brogue Kicks later, Sheamus was the victor.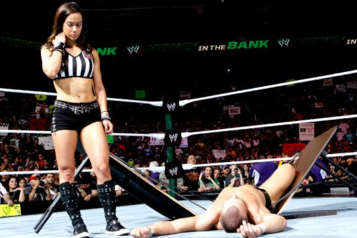 This match really impressed me.
Yes, it was not as technical as their match at Over the Limit, but the brutality of it was unbelievable.
Between the kendo sticks, Punk flying at Bryan on the barrier outside the ring, the extremely painful-looking Yes Lock with the kendo stick, and the final table breaking, these two really put their bodies on the line.
The only part of this match that could have been better was if AJ had been more involved, but I'm not complaining, this was an awesome match.
But nobody was going to beat number one...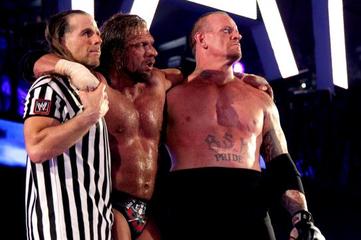 The end of an era.
This match is the closest that we've gotten to seeing a five-star match so far this year, and it got pretty darn close.
It was always going to be difficult for Taker and Triple H to top their match from WrestleMania 27, but they manged to pull it off. Did you see Taker's back after that match? So many chair shots!
I actually thought the streak was going to end when Michaels and Hunter hit the Sweet Chin Music to Pedigree combination, but the streak lived on.
This picture couldn't describe the ending any better, as three legends made the match of 2012 to this point. I doubt that it will be overtaken.
Thanks for reading and let me know your thoughts!