BYU Football: Predicting the Outcome of Each Game This Season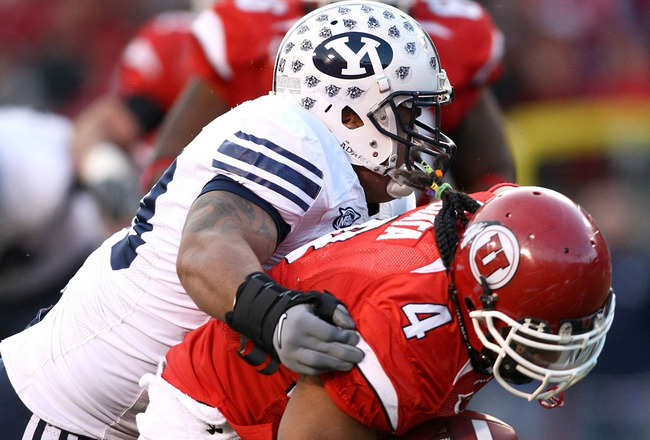 Jonathan Ferrey/Getty Images
BYU faces one of the most difficult road schedules in the history of their program this season, and welcomes several other competitors to LaVell Edwards Stadium. We don't yet know what the outcome of each contest will be, but here's how I think they will end up.
I know, these probably won't turn out to be exactly correct, and some of them may not be even close, but here are my predictions.
Week 1: Washington State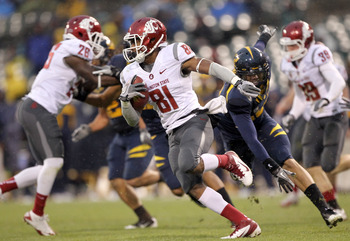 Ezra Shaw/Getty Images
My Prediction: BYU Wins, 45-38
Many people believe that this game could easily be a blowout win for BYU. Despite a 4-8 record last year, new head coach Mike Leach has (so far) changed the look of Washington State's program.
With an entirely new offense in place, a shootout may not be surprising. If Washington State comes out with the fierce style of play that Leach installed at Texas Tech, a nail-biter could be a great possibility.

Week 2: Weber State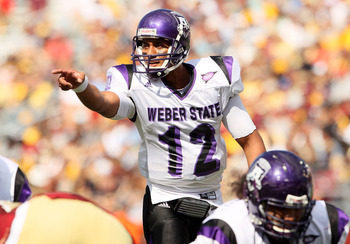 Elsa/Getty Images
My Prediction: BYU wins, 63-10
Really, what did you expect?
Weber State finished last season with a 5-6 record (all five of their wins coming from Big Sky teams). As an FCS team, a loss for the Cougars would be nightmarish and, I might add, very unlikely. Expect to see a boring, blowout win similar to last year's Idaho State game (minus the temper tantrum at halftime).
Week 3: Utah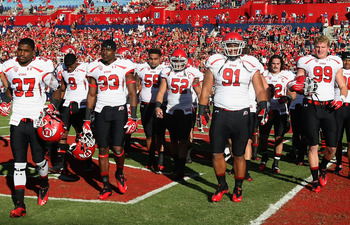 Christian Petersen/Getty Images
My Prediction: BYU wins, 28-25
Due to the recent announcement of a hiatus in the rivalry (via The Salt Lake Tribune), there is no way that this chapter of the "Holy War" will be played gently in any way.
To add to the momentum, the game will be played at Rice-Eccles Stadium, the home of the Utes. If the Cougars want to get revenge for their embarrassing 54-10 loss at home last year, they will have to defend the running game and force Utah to pass, because of the backfield threat the Utes have in John White IV.
Week 4: Boise State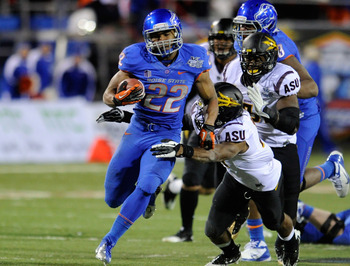 Ethan Miller/Getty Images
My Prediction: Boise State wins, 35-33
Boise State takes a big blow to their offense, as they lost quarterback Kellen Moore last year to graduation. But don't count the Broncos out—head coach Chris Petersen is now 73-6 at Boise. They only have 11 starters returning, but expect to see plenty of depth.
Expect an air attack from the Cougars, with Riley Nelson scrambling every once and a while. Ultimately, I don't think the Cougars can come up on top in the end. It will be close, but Boise State will walk away with the win.
Week 5: Hawai'i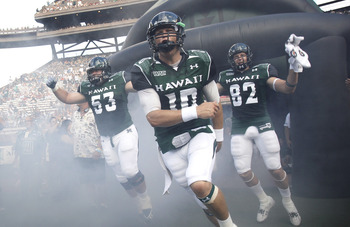 Kent Nishimura/Getty Images
My Prediction: BYU wins, 44-21
When these two teams met six months ago, it led to a Cougar blowout despite home-field advantage favoring Hawai'i. This year, the game will be played in Provo, giving BYU an extra advantage.
Although the Warriors return junior quarterback David Graves, I can't see Hawai'i pulling off the upset.
Week 6: Utah State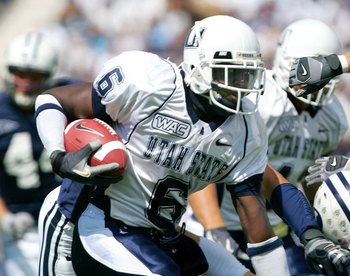 Kent Horner/Getty Images
My Prediction: BYU wins, 34-14
The last segment of this so-called "rivalry" came last season, when backup quarterback Riley Nelson came off the bench to lead BYU to the victory. This year, the outcome will probably be much different, as Utah State will be without star running back Robert Turbin.
BYU will be a much different team, with an experienced quarterback and a hard-nosed defense. Even with Chuckie Keeton returning to lead the Utah State offense, they should be able to handily beat the Aggies.
Week 7: Oregon State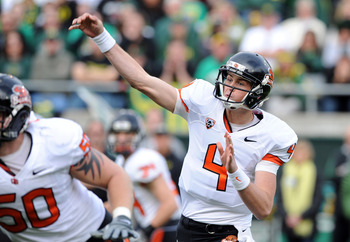 Steve Dykes/Getty Images
My Prediction: BYU wins, 42-28
When the Cougars beat Oregon State last year by 10 points, a local Oregon newspaper reported that "Riley Nelson (was) too slippery for the Beavers" and that he "burned the Beavers with his arm and his legs."

If Nelson can perform even close to as well as he did that game (87 rushing yards, three passing touchdowns), the Cougars shouldn't have much of a problem winning this one.
Week 8: Notre Dame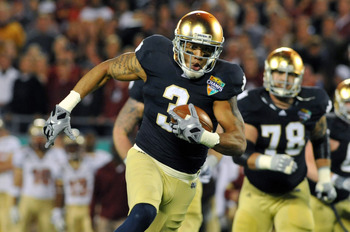 Al Messerschmidt/Getty Images
My Prediction: BYU wins, 17-14
Many people have said that this game will be the beginning of a new rivalry, and I won't be surprised if it is. Notre Dame and BYU are two religious schools that have a rich history in the game of football, and have found recent success. The two squads share an independent status, and have signed a six-year contract to play each other.
Notre Dame currently faces a quarterback competition, as BYU faced last year. Expect to see either Andrew Hendrix or Everett Golson on the field during the game. No matter the quarterback, the Irish bpast one of the best tight ends in the country, Tyler Eifert. If BYU's defense can stop him for most of the game, a win is possible.
With a strong defenses on both teams, it should be a low-scoring affair. Don't expect the score to exceed twenty plus points.
Week 9: Georgia Tech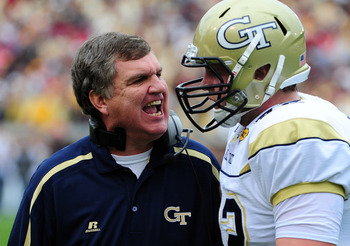 Scott Cunningham/Getty Images
My Prediction: BYU wins, 28-24
BYU is riding a four-game losing streak against ACC teams, and has a 2-6 overall record against them. Georgia Tech finished the 2011 season with an 8-5 record, but will bring back a key player in quarterback Tevin Washington.
Expect a close game in this one, as it is played in Atlanta. If the Cougars have good pass coverage in the game and produce on offense, BYU should leave Georgia with a win.
Week 10: Idaho
Eric Francis/Getty Images
My Prediction: BYU wins, 56-6
BYU vs. last year's worst team in the WAC.
At LaVell Edwards Stadium.
Enough said.
Week 11: San Jose State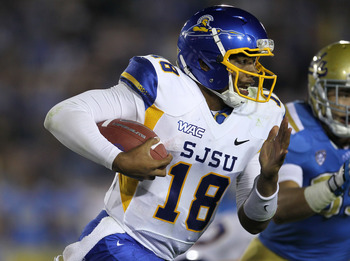 Stephen Dunn/Getty Images
My Prediction: BYU wins, 38-14
The Cougars may have had a tough time beating the Spartans last season, but they won't be facing a quarterback battle this time around. Although it will be played in San Jose, California, this should be an easy win for BYU.
You may want to watch the linebacker duo of Vince Buhagiar and Keith Smith in this one. They gave BYU's offense some difficulties last season.
Week 12: New Mexico State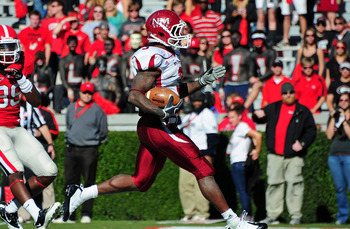 Scott Cunningham/Getty Images
My Prediction: BYU wins, 52-10
There's no way to end a season like blowing out a WAC team.
Sigh.
Well, at least the second string (and third and fourth) may get some playing time.
Keep Reading

BYU Football: Like this team?