UFC on Fuel Results: Anderson Silva Is Keeping the Belt Warm for Chris Weidman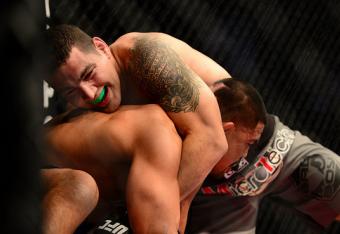 Mandatory Credit: Kyle Terada-US PRESSWIRE

Anderson Silva has no chance of beating Chris Weidman. The current champ is simply keeping the belt warm for Weidman.
Absurd?
Think again.
Chris Weidman just dismantled the highly touted Mark Munoz in a fight that didn't come close to being competitive. Weidman took Munoz—a highly skilled wrestler in his own right—down with ease and dominated him on the ground.
However, this wasn't all Weidman had to offer. He floored Munoz with a devastating elbow and then finished the fight with ground-and-pound.
This is a man who is tailor-made to destroy Anderson Silva.
Just look at what another talented wrestler—Chael Sonnen—did to Anderson Silva in the first round of their most recent fight. Sonnen took Silva down at will and even got mount. In their first fight, Sonnen took Silva down at will for the first four rounds!
Of course, Sonnen eventually lost in both fights—in the first by means of a Hail Mary triangle choke, and in the second due to, in large part, an ill-fated spinning back fist that caused him to lose his footing and get pummeled by Silva.
Weidman, a capable striker and literally a world-class submission grappler, wouldn't make such grievous errors.
A Silva-Weidman fight would go this way: Weidman would take Silva down (as fast as Sonnen took Silva down this past Saturday) and would use his superior wrestling and grappling abilities to control Silva from the top en route to either a unanimous decision victory (if Silva is lucky) or a submission.
Weidman vs. Silva: Who wins?
Silva has nothing for Weidman. Yes, his striking is better, but Weidman's wrestling and grappling advantage is far greater than Silva's striking advantage.
Silva can't submit Weidman, nor is it likely that he could shrug off Weidman's takedowns and (T)KO Weidman.
"But Silva has clowned impressive grapplers before! Just look at the Demian Maia fight," you say?
Chris Weidman is no Demian Maia.
Maia is a phenomenal grappler but just a good—not great—mixed martial artist. Also, when Maia was fighting Silva, Maia's striking game was deficient and anemic.
Weidman doesn't have such a problem, as indicated by his impressive victory over Munoz and his training with the famed striking coach Ray Longo. Furthermore, Weidman's wrestling base gives him takedown abilities that Maia lacked against Silva.
Silva has no answer for Weidman's overwhelming talents as a mixed martial artist.
The man is an amazing wrestler and grappler, and he's a skilled enough striker to set up a takedown on Silva and avoid mistakes that would part him from consciousness. The aged Brazilian will not be able to compete with Weidman, who is a fighter from the next generation.
Thus, Silva's middleweight title reign is at an end. The 37-year-old is now relegated to keeping Chris Weidman's belt warm until Weidman meets him in the Octagon to claim what is his.
This article is
What is the duplicate article?
Why is this article offensive?
Where is this article plagiarized from?
Why is this article poorly edited?