Limited Carries May Sap NFL's Most Explosive RB, Michael Turner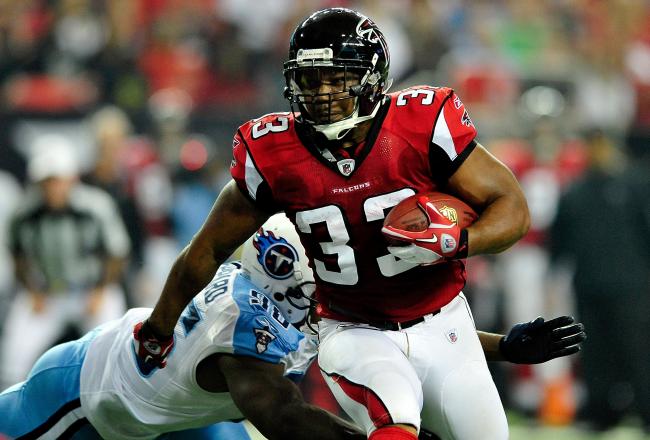 Michael Turner led the NFL last year with 21 explosive running plays.
Grant Halverson/Getty Images
In three of Michael Turner's last four seasons, the Atlanta Falcons running back has rushed for over 1,300 yards and eclipsed the 300 carry mark. He's a perennial double-digit touchdown back and has never averaged less than 4.1 yards per carry in any of his eight seasons as a pro.
But last season Turner started to wear down as the season progressed.
He tallied four 100-yard games in the first half of the season, but just two in the second. His touchdown total was also almost 100 percent higher in the first half (7) than in the second (4).
Turner was being sat from the practice field during that second-half stretch of 2011 to try and ensure he lasted until the end. He was also dealing with a groin injury that could have been the culprit as well.
Barring an injury, how many carries with Atlanta take away from Michael Turner in 2012?
The Falcons will attempt to limit Turner's carries in 2012 to, once again, make sure he lasts 16 games. But, while that's a great idea for his longevity, it may be a bad idea for his production.
In Turner's four seasons with the Falcons, when he rushes the ball 20 or more times in a game, the Falcons are 27-3. Success comes to this team when Turner runs the ball frequently.
It also take some time for Turner to get the feel for a particular game, according to a locker room conversation with the running back last season. Turner said he works through a lot of short gains before being able to break out a big run.
And when it comes to big runs, no one was better in the NFL last year than Turner.
Turner was the most explosive running back in the league, according to Pro Football Focus, in the number of plays he posted of 15 yards or more. He notched 593 yards on his league-best 21 carries of 15 yards or more.
But like Turner said, there are a lot of short- or negative-yardage plays in between big plays.
In this Week 2 game against Philadelphia last season, Turner busted out a 61-yard gain in the fourth quarter with 7:47 left to play. Left guard Justin Blalock pulled and opened up a gaping hole for Turner on the right side.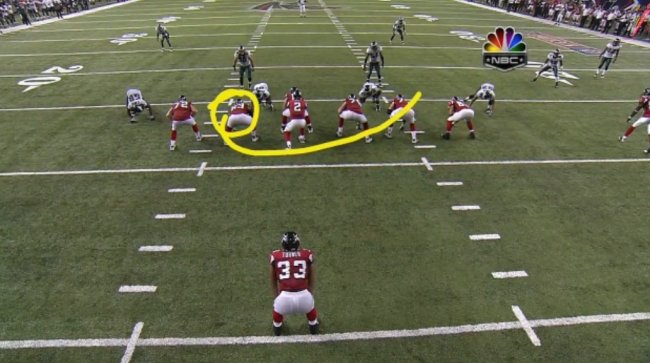 Michael Turner busts off a 61-yard run against Philadelphia in Week 2 of the 2011 season.
Left guard Justin Blalock pulled and opened up a gaping hole for Turner on the right side.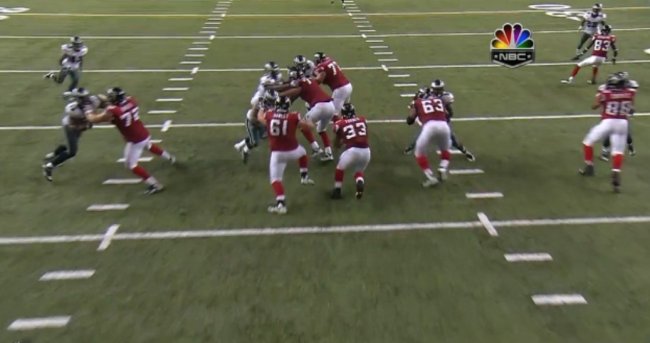 Justin Blalock's hole-opening block.
As easy as that 61-yard run looked, Turner had suffered on the previous 10 plays, rushing for nine yards with four negative-yardage snaps.
This goes to show you that Turner needs a lot of carries to lead the league in big plays. His 21 plays of 15 yards or more were fantastic and show that Turner can still run with the best backs in the league, but in his other 280 carries he averaged 2.84 yards per carry.
It's an easy correlation to see. If Turner's carries are reduced in 2012, his yardage will likely go down. But, with the way Turner runs, if too many of his carries are taken away, his big-play production make suffer dramatically.
This article is
What is the duplicate article?
Why is this article offensive?
Where is this article plagiarized from?
Why is this article poorly edited?