Michigan Football: 7 Reasons the Wolverines Will Improve from Last Year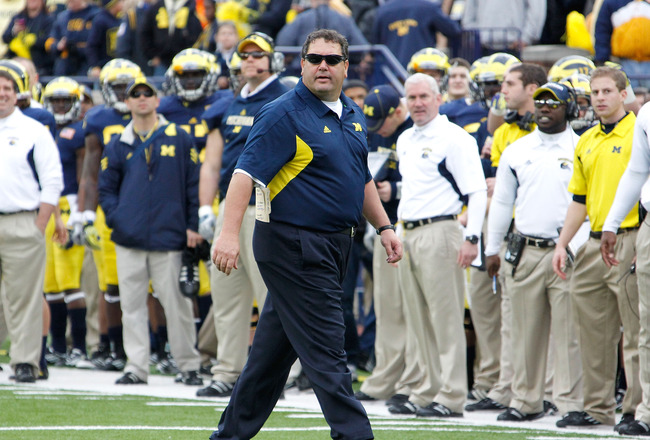 Gregory Shamus/Getty Images
Last season the Michigan Wolverines had their most successful season in recent memory, winning 11 games, including a BCS bowl game against the Virginia Tech Hokies. This year, the expectations have never been higher as head coach Brady Hoke returns along with 14 starters, including eight on the defensive side of the ball.
There is no doubt that it will be a lot more difficult in 2012 thanks to a brutal schedule that includes Alabama and road trips to Ohio State, Nebraska and Notre Dame. But there are many reasons why Wolverine fans should feel confident and believe that this year's team can improve on such a successful season.
Here are a few reasons why this Michigan team will be better than last year's.
Underrated Receivers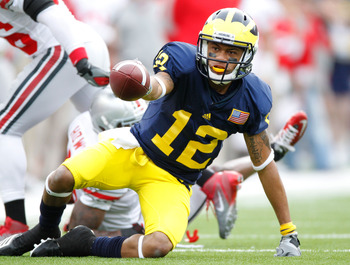 Gregory Shamus/Getty Images
One of the biggest weaknesses on this Michigan team is the lack of receiver production. The Wolverines were ranked eighth in the Big Ten last season, averaging just 182 passing yards per game. It doesn't make things any easier when your top receiver, Junior Hemingway, is no longer on the roster.
The good news is that this receiving corps does not lack talent.
Roy Roundtree is an experienced wideout heading into his fifth-year and has big play ability. He has yet to contribute consistently but has shown at times what he is capable of. Jeremy Gallon is a speedster who really stepped up his sophomore year, hauling in 31 passes for 453 yards. Expect an even bigger year this season.
Then you have big targets in Jerald Robinson and Jeremy Jackson, both of whom can play huge parts in this passing game as their size creates mismatches.
None of these receivers may be household names, but the talent is there to improve in 2012.
Loaded Recruiting Class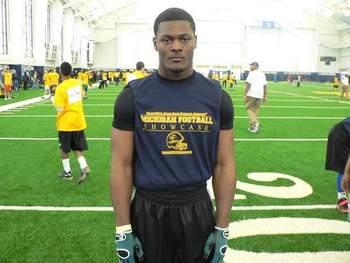 Photo via: touchthebanner.blogspot.com
While Michigan is tearing up the 2013 recruiting class, it also put together a terrific 2012 class that includes 25 talented players. It was rated by most recruiting sites to be a top five class in the country and many of the players could play huge roles in this year's success.
Linebacker Royce Jenkins-Stone likely has the brightest future, as he is somebody who can do it all. He is a sure tackler, makes plays from sideline to sideline and is a force in the run game and pass coverage. Expect to see him on the field quite often and for him to become a difference maker for this defense.
Other players that could see playing time in 2012 include offensive lineman Kyle Kalis, defensive end Tom Strobel, defensive tackle Ondre Pipkins, linebacker Joe Bolden and tight end Devin Funchess.
Will Campbell Is Ready for a Big Season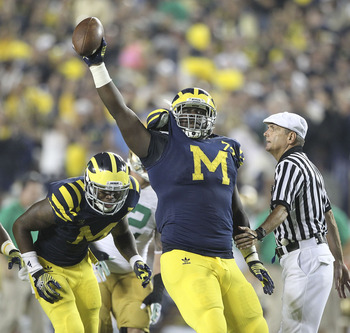 Leon Halip/Getty Images
One of the Wolverines main concerns is the defensive line, as they lost a lot of production to graduation. The most important player that must now step up is defensive tackle Will Campbell. Assuming that everything goes well with his arrest, you have to believe that he will finally get his act together on the football field.
Campbell is a former 5-star recruit from the 2008 class, although he hasn't done much so far in his Michigan career. With that being said, he still has a terrific skill set and probably the most upside as far as the NFL is concerned.
"He's one of the hardest working guys we have had this summer," said defensive coordinator Greg Mattison via AnnArbor.com. "We are excited about what he's doing."
Expect big things from the senior in 2012 as he will help fill some of the holes on this unit.
Secondary Depth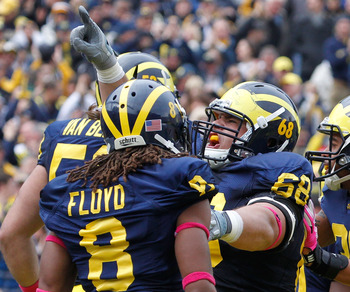 Gregory Shamus/Getty Images
While Will Campbell tries to generate pressure on the defensive front, the secondary is a unit that is already established. Michigan only allowed 190 passing yards per game last season, which was good for fifth in the Big Ten and 16th in the country. Those numbers should continue to improve considering the Wolverines only lost Troy Woolfolk from a season ago.
Michigan has two fifth-year seniors leading the way in J.T. Floyd and Jordan Kovacs. Thomas Gordon showed to be a sure tackler at the safety position, while Blake Countess showed promise in his freshman year. Even true-freshman Jarrod Wilson has made an early impact on the coaching staff and should earn playing time this year.
When you have a secondary as complete as the Wolverines you give yourself a chance to stay in a lot of football games.
An Improved Denard Robinson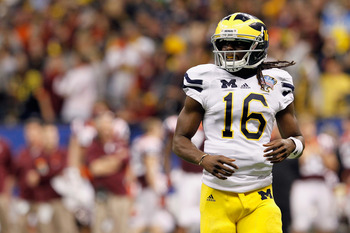 Kevin C. Cox/Getty Images
We all know Denard Robinson is one of the most exciting players in the country. He has led the Wolverines in passing and rushing yards the last two seasons and is extremely fun to watch. But he still has to improve his game as he has thrown 30 career interceptions, including 15 last season alone.
His mechanics and decision making are things that offensive coordinator Al Borges has been working on with him and it should pay off once the season begins.
"He still has an occasional error," Borges said via AnnArbor.com. "The thing about Denard is because he's so athletic, he can create. ... He has that ability. Now, he has to understand, and we're talking to him all the time about creating, yet not doing something that simply isn't there. Make plays, don't make miracles."
If Robinson is able to cut his interception total under 10 for the year, Michigan will be in much better shape and you will likely see the senior quarterback earn a trip to New York.
True Running Back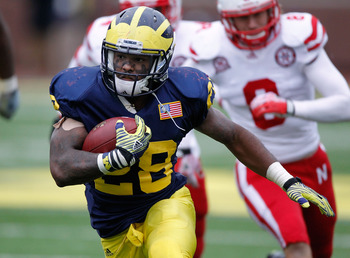 Gregory Shamus/Getty Images
Running back Fitzgerald Toussaint became the first Michigan player to rush for over 1,000 yards not named Denard Robinson since 2007. He averaged more than five yards a carry, scored 10 touchdowns and when he rushed for more than 100 yards in a game, the Wolverines were undefeated.
Toussaint should get a few more carries than the 187 he had last season and provide another weapon on the offensive side of the ball for the Wolverines. If he can build on a productive sophomore season this offense will be even more explosive than the 404 yards it averaged last year.
Second Year Under Brady Hoke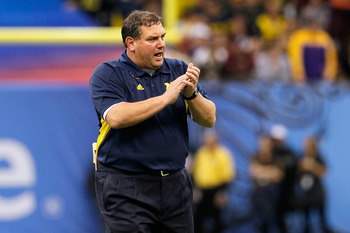 Kevin C. Cox/Getty Images
Brady Hoke was able to take over this team and in one season was able to increase the win total by four. Defensive coordinator Greg Mattison took over a defense that was ranked dead last in the Big Ten in 2010 and improved it to where it was ranked 17th in the country last season.
"I think we know each other a little better, and I think we know the system a little better in all three phases," Hoke said via ESPN. "I think we're further along in terms of their mindset, how they condition, how they do things, how they lift in the weight room and how we want to practice. The tempo and those things. I think that part of it is becoming more ingrained every day."
We can talk about the difficulty of the schedule all day long. The fact is that this team has talent and is well coached enough to compete with the best of teams. With the majority of the starters returning and another year under the belt of the coaching staff, this team could surprise many in 2012.
Keep Reading

Michigan Wolverines Football: Like this team?