5 Veteran Free Agents the Cincinnati Bengals Should Bring in for Training Camp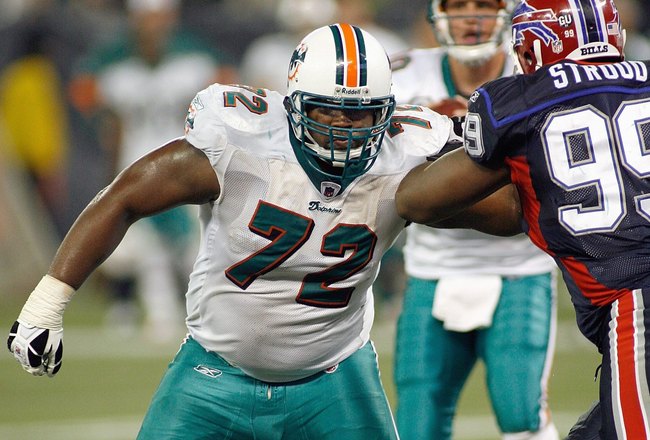 Rick Stewart/Getty Images
Training camp is drawing ever closer, and in Cincinnati, all signs are pointing toward a continuation of 2011's surprisingly successful youth movement.
Andy Dalton and the upstart Bengals turned a number of heads in 2011, their playoff berth considered a big surprise following the personnel overhaul that gripped the Queen City for much of the summer.
One year on and not much has changed. The Bengals are still perceived as underdogs with too little youth to pose a significant threat to the league's big boys.
However, while the Bengals have stockpiled youth, they have also added a number of veteran acquisitions in the likes of Travelle Wharton, Jason Allen and Terence Newman.
It will be this mix of the old and the new that will help the Bengals in their quest to take the next step in 2012, and while training camp is just around the corner, it's still not too late to add a few more names to the list.
Here are five free agents the Bengals should consider inviting to training camp this year.
G Jake Scott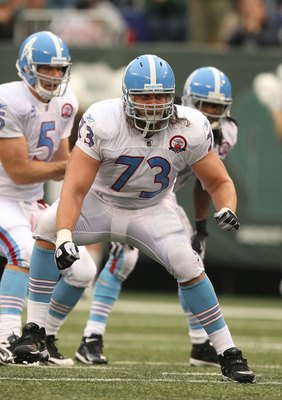 Al Bello/Getty Images
Jake Scott may not be a name that excites the masses, but this free-agent guard could be a solid pick-up for the Cincinnati Bengals and is well worth an invite to their training camp this Summer.
Scott is a durable player having started 121-of-128 games in his eight-year NFL career, and while he may not have "lit it up" in those appearances, he has proved serviceable and could be just the man to provide some depth behind Travelle Wharton and rookie Kevin Zeitler.
This 31-year-old guard is no long-term solution, but given the struggles of Clint Boling in 2011, he would prove a more confidence-inspiring backup for Wharton and Zeitler.
Scott would be the ideal candidate to join the Bengals in training camp and would bolster a position that lacks depth, with only Boling and Otis Hudson likely to provide adequate backup if called upon.
OL Vernon Carey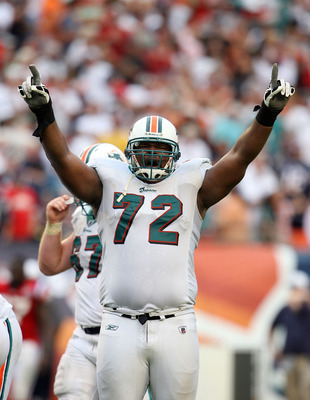 Doug Benc/Getty Images
Another player with limited mileage left on his NFL career is former Miami Dolphin Vernon Carey.
Having held a starting position through seven seasons with the Dolphins, Carey is certainly battle ready and could provide the Bengals with depth in a number of spots.
Carey's primary position with the Dolphins was that of right tackle, but with Andre Smith improving and Anthony Collins chasing shortly behind, Carey could be of use elsewhere in Cincinnati.
Carey is a clean player and carries a greater firepower than the previously mentioned Jake Scott. He's consistent in both the run and passing game, making him a solid plug-and-play pick-up in terms of depth.
The former Phin has played at both guard positions in Miami as well as tackle and would give the Bengals a solid option along the offensive line if the injuries begin to pile up.
Interest in Carey will likely prove high when camp opens, and the Bengals would really benefit from having his talents in their wings.
SS Jim Leonhard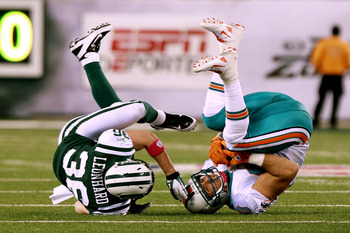 Nick Laham/Getty Images
With the departure of Chris Crocker this offseason, the Bengals are hoping for a rapid progression from Taylor Mays in time for the 2012 NFL campaign.
Mays has impressed thus far in practices with his first unit and is the prime candidate to nab the starting job this summer.
However, with Robert Sands and Jeromy Miles still some way off and only rookie George Iloka an adequate replacement for Reggie Nelson and Mays, the Bengals are in need of a shade more depth at the position. A veteran would prove beneficial, at least during camp.
Jim Leonhard would be a true strong safety in a team littered with "inbetweeners," but despite those veteran expertise, Leonhard is held back by an ever-growing list of injuries.
Having missed the vast majority of 2010 and 2011, with various injuries, there's justified doubt as to how much Leonhard has left in the tank.
He may not climb higher than third on the Cincinnati depth chart, but Leonhard is worth bringing in to guide the relatively young crop of Bengals safeties. Given his recent struggles with injury, he may be best suited to a limited role in 2012, and he could get just that in the Queen City.
WR Braylon Edwards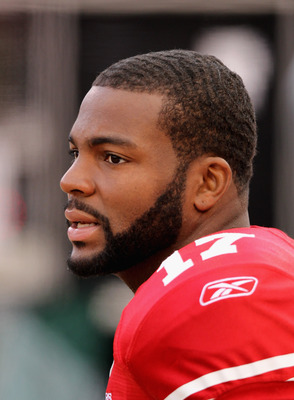 Ezra Shaw/Getty Images
Braylon Edwards to the Bengals is a prospect who has been talked about for quite some time, given the Bengals' significant youth at wide receiver.
Without a credible No. 2 wide receiver, A.J. Green is going to see double, and perhaps, triple coverage floating his way in 2012, which will put significant pressure on Jermaine Gresham, Jordan Shipley and BenJarvus Green-Ellis.
Braylon Edwards immediately provides a threat at No. 2, and while he has slowed somewhat in recent years, he still brings a good pair of hands and dominating size at 6'3".
The Bengals have expressed interest already this offseason, but the talk has since died down. With training camp drawing ever near and still no interest from other teams, the Bengals could get a bargain in Edwards.
He would likely battle with Brandon Tate for the starting job, and hopefully in doing so, light a fire under Binns, Jones and Sanu in the process.
Edwards' fate will come down to whether the Bengals are fully confident with the youth movement they have begun to employ, and if not, let's not forget that Edwards is certainly not the only name still available to bring in.
WR T.J. Houshmandzadeh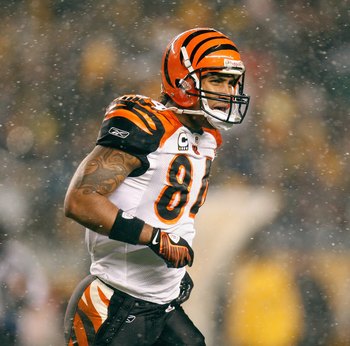 Gregory Shamus/Getty Images
Braylon Edwards doesn't float your boat? How about this guy?
Following Chad Ochoncinco's release from the New England Patriots, I have to admit that for the briefest of moments, the sentimentalist in me wanted him to return to Cincinnati.
However, perhaps a more realistic option would be bringing back T.J. Houshmandzadeh. Before his departure for Seattle in 2009 in search of money following a Pro Bowl season, Hoosh was highly regarded and greatly adored by the Bengals fans and coaching staff.
He may have struggled to find his footing in the years since his time in Cincinnati, but Marvin Lewis is all for recapturing the rangy receiver's ball-handling skills and overall ability.
With Jordan Shipley on the rebound from a torn ACL and an incredibly green wide receiving core outside of him, Houshmandzadeh could provide a trusted veteran presence in the locker room and a trusted pair of hands on the field.
After a fairly disappointing few years, Hoosh would come with a relatively low price tag, and hopefully, a humble attitude.
The Bengals seem set on the youth movement at WR, but if they get cold feet, Houshmandzadeh would be a relatively safe bet.
Keep Reading

Cincinnati Bengals: Like this team?