Silva vs. Sonnen 2: Why Sonnen Will Take Fight the Distance (and Win)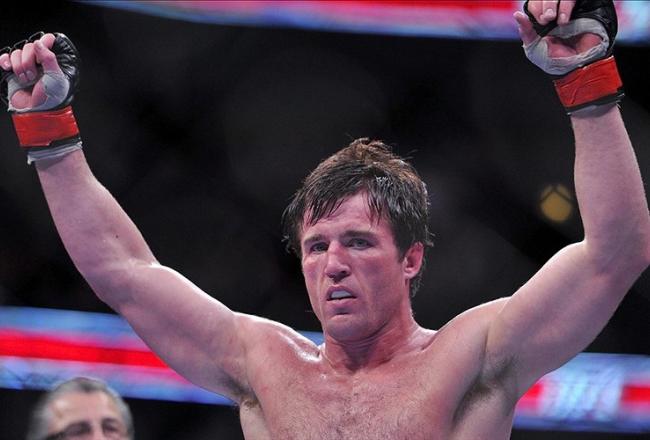 Mike Dinovo-US PRESSWIRE

The UFC will be the talk of the sports world following Saturday night's UFC 148 rematch between Anderson Silva and Chael Sonnen. In arguably the biggest mixed martial arts fight of all-time, the two middleweights will clash in a rematch to determine who is the rightful UFC middleweight champion.
Sonnen first challenged Silva at UFC 117, decisively winning each of the first four rounds of the contest before being submitted with an unexpected triangle choke with less than two minutes left in the fight.
Don't expect the same outcome in the rematch.
Make no mistake about it, Anderson Silva is the greatest UFC fighter of all-time. His records are almost unfathomable. Highest winning percentage (100 percent), longest winning streak (14), most title defenses (9), highest percentage of strikes landed (68.5 percent).
He's just on another level.
..but Chael Sonnen is his kryptonite.
Many seem to believe that Silva has gotten so much better since the first Sonnen fight in August 2010 that the rematch won't even be a contest.
While he brutally knocked out both Vitor Belfort and Yushin Okami while sustaining almost no damage himself, the truth is that almost no one has ever questioned whether his standup was the best in the division.
What we want to know is whether or not he can avoid being taken down.
We thought we would see that ability challenged when Silva fought Okami at UFC 134. Unfortunately, in an incredibly odd turn of events, Okami attempted just one takedown in over seven minutes of fight time before being knocked out by the champion.
Chael Sonnen will not make that same mistake.
If Sonnen is anything, he is an incredibly intelligent fighter. He knows the holes in his opponents' games better than they know it themselves, and he exploits them like few others in the sport can. That's exactly what he did against Silva in the first fight.
While Silva danced around the cage, Sonnen kept the pressure on him and tagged him time after time, particularly in the first round when both men were fresh. His standup was on point and he took the fight to the champion on the feet. Then when he saw the opportunity, he quickly brought the fight to the ground.
For four and a half rounds, Sonnen battered Silva around the cage. It looked as if he was on his way to becoming the new champion when, out of nowhere, the triangle choke caused a quick ending to the fight.
While others believe that Silva has improved enough to avoid being rag-dolled by Sonnen again, most seem to be overlooking the obvious improvements in the challenger's ground game.
Certainly Sonnen's submission game isn't on the level of Silva's, but he showed a very obvious advancements in his jiu-jitsu during his fight against Brian Stann at UFC 136, when he submitted the brawler with an arm-triangle choke. The improvement was even acknowledged by perhaps the best jiu-jitsu practitioner in MMA, a man who holds a victory over Sonnen, Demian Maia.
While Silva was picked apart both on the feet and on the ground in the first fight against Sonnen, there is really only one area that Sonnen needs to improve in from what he did at UFC 117—he needs to avoid being submitted while in control on the top.
If he can do that, look for the sequel to be very similar to the original in this two-part story. The difference will be that this time the fight will go 25 minutes, there will be a new undisputed UFC middleweight champion and his name will be Chael P. Sonnen.
For more MMA news, fighter interviews and opinions, follow Nick Caron: @NicholasCaron.
This article is
What is the duplicate article?
Why is this article offensive?
Where is this article plagiarized from?
Why is this article poorly edited?