UFC 148 Fight Card: 7 Things You Won't See at the Event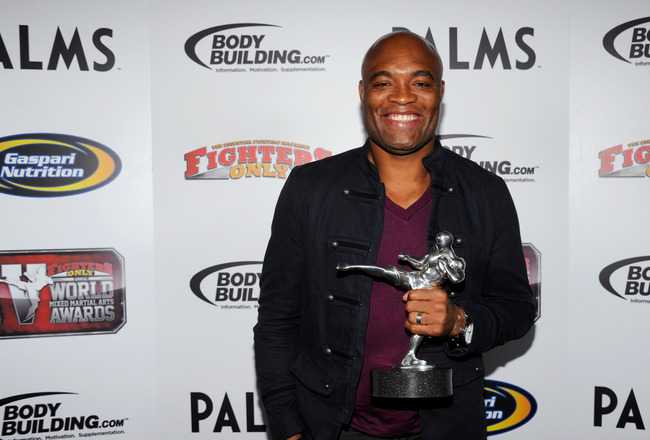 Ethan Miller/Getty Images
On Saturday night, the most anticipated fight card of the year will take place, as UFC 148 goes down in Las Vegas, Nevada.
The main event features a middleweight title fight between two of the most dominant fighters of all time: Anderson Silva against the man to push him to the brink in their first fight, Chael Sonnen.
Also on the card are former light heavyweight champions Tito Ortiz and Forrest Griffin, Cung Le against Patrick Cote, Chad Mendes against Cody McKenzie and more.
Here's seven things that you will be certain not to see tomorrow night.
Melvin Guillard Losing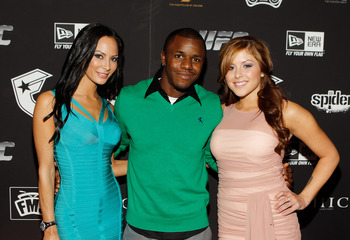 Isaac Brekken/Getty Images
Melvin Guillard will be stepping into the cage against Fabricio Camoes on the FX portion of UFC 148.
Guillard has lost his last two fights by rear-naked chokes, against both Joe Lauzon and Jim Miller. You will not see Guillard lose three in a row.
Fabricio Camoes is a solid opponent, he is 14-6-1 and has won three fights in a row. But he's not at the same level as Guillard.
Guillard will win this one early with a fantastic knockout.
Ivan Menjivar and Mike Easton NOT Being a Fight of the Night Candidate
Tom Hauck/Getty Images
Ivan Menjivar and Mike Easton will be kicking off the PPV portion of the card in the bantamweight division. The winner of this fight will be very close to the top 10 in the division, and it's sure to be a barnburner.
Menjivar's last fight, against John Albert, was wildly entertaining and Menjivar earned a submission of the night for his performance.
Easton is equally as entertaining, although he doesn't have any fight night awards to back it up.
Every bantamweight fight has the potential to be awesome, this one will absolutely live up to the hype.
Chad Mendes vs. Cody McKenzie Finishing with a Guillotine Choke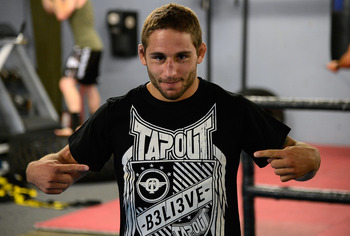 Thearon W. Henderson/Getty Images
When I say guillotine choke, I also mean McKenze-tine. There will be no submission of that sort in this fight.
Cody McKenzie has become well known for his guillotine choke, which he calls the McKenze-tine. He has finished 11 opponents with it, and all 11 of those have been his last 11 wins.
Unfortunately for McKenzie, his opponent, Chad Mendes, trains at Team Alpha Male with guys like Urijah Faber and Joseph Benavidez. For those that don't know, the guillotine choke is the weapon of choice with that fight team.
There is no way that Cody will be able to catch Chad with one, and I don't see Chad pulling one on Cody either.
Demian Maia Winning by Submission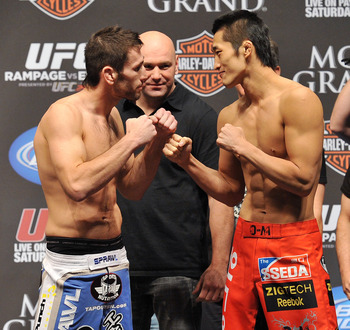 Jon Kopaloff/Getty Images
Demian Maia will be making his welterweight debut against Dong Hyun Kim. Maia started off his UFC career impressively, submitting five straight opponents, and winning four submission of the night awards.
The only time he didn't win was when Dustin Hazelett scored a helicopter armbar.
However, since that time, Maia has gone eight straight fights—four victories—without a submission.
In addition, Dong Hyun Kim is 15-1-1 [1 NC] and has never lost by submission. He is a black belt in Judo and fought Nate Diaz and didn't get submitted.
Maia may win this fight, but it won't be a submission victory.
Cung Le Knocking out Patrick Cote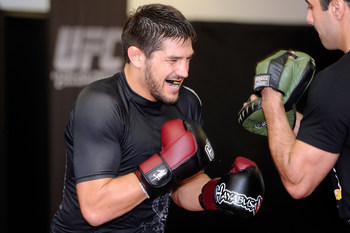 Richard Wolowicz/Getty Images
Patrick Cote is 17-7 in his MMA career. He has fought against Tom Lawlor, Alan Belcher, Chris Leben, Tito Ortiz and Anderson Silva.
The only time he has lost by (T)KO was when he suffered a knee injury in the Anderson Silva fight. He has never been stopped by strikes.
Cung Le is 7-2, with all seven of his victories coming by some form of (T)KO.
If Leben can't stop Cote, neither will Le.
Forrest Griffin and Tito Ortiz Go to a Split Decision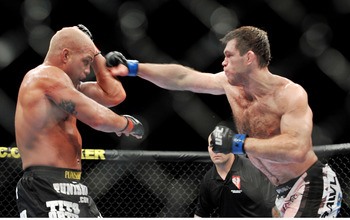 Jon Kopaloff/Getty Images
It's already happened twice. There's no way it happens again.
Tito won the first fight by split decision (30–27, 28–29, 29–27) at UFC 59. Forrest won the second fight by split decision (28–29, 30–27, 29–28) at UFC 106.
There's simply no way a third fight is a split decision.
Anderson Silva Defeating Chael Sonnen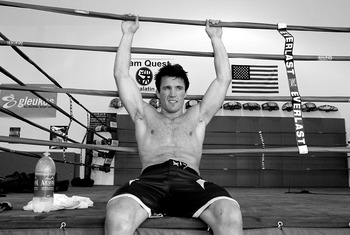 Jonathan Ferrey/Getty Images
The last prediction here is easily the boldest.
It is my opinion that we will not see an Anderson Silva victory.
Chael Sonnen dominated the first fight, and people can claim Silva's rib injury, and Sonnen's testosterone to epitestosterone ratio impacted the fight, but Sonnen dominated.
On Saturday night, we'll see who really is the better fighter.
Tim McTiernan is a Featured Columnist for Bleacher Report. For the latest news on everything MMA, follow him on Twitter @TimMcTiernan.
Keep Reading