Tuesday's Rams News and Notes at Noon
July 3, 2012

Handout/Getty Images
Welcome to Tuesday's edition of Rams News and Notes at Noon, the most media-sheep-resistant shot of Rams daily news.
I'm filling in for Shane Gray, so read on to get your daily taste of sweet Rams goodness. But I warn you, there's no going back.
Rams TE Brody Eldridge Slapped With Four-Game Suspension
Yet another Rams player felt the wrath of commissioner Roger Goodell. Brody Eldridge, a low-level tight end the Rams acquired this offseason, was given a four-game suspension for the use of a performance-enhancing substance.
This report was initially made public by Howard Balzer via Twitter, and NFL.com later elaborated with more details.
Eldridge will be able to attend training camp and other offseason activities, but Week 5 is the earliest he'll be able to suit up this season.
In his two NFL seasons, Eldridge has 14 catches for 84 yards and zero touchdowns in 16 total starts.
Wide receivers Austin Pettis and Nick Miller were also handed suspensions near the end of last season for the use of performance-enhancing substances, making Eldridge the third Rams player to be caught in less than a year.
Since Eldridge is a replaceable talent, his chances of making the roster are now extremely slim.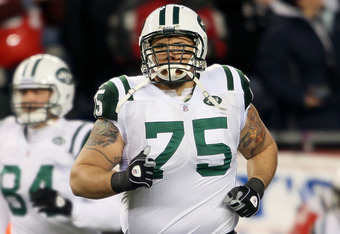 Elsa/Getty Images
ESPN Releases Rams Pre-Camp Analysis
ESPN's Mike Sando recently posted his thoughts on the Rams' upcoming training camp.
Sando carefully looked over every player at each offensive position on the Rams' roster and divided the players into three separate categories—Safest Bets, Leading Contenders and Longest Odds.
Obviously, the "Safest Bets" are players practically guaranteed to make the roster. "Leading Contenders" highlights players who are likely to make the team, while "Longest Odds" consists of players who have their work cut out for them.
For the most part, there were no major surprises.
One questionable move by Sando was placing offensive lineman Rob Turner in the "Longest Odds" category. Turner was signed away from the New York Jets in free agency, which means he knows the system and was able to consistently make the Jets roster (which has far more offensive line talent than the Rams).
Brandon Gibson Among League Leaders In Percentage of Dropped Passes
Ever wonder why Rams receivers were so bad at consistently catching the football, yet the receivers were far from leading the NFL in dropped passes?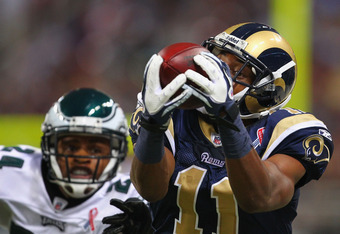 Dilip Vishwanat/Getty Images
Well, that's because the 2011 Rams fielded the worst offense in football, so the receivers didn't see enough passes to lead the NFL in drops.
However, Brandon Gibson ranked high in percentage of dropped passes according to a report by Pro Football Focus.
Gibson had 18 drops out of 141 catchable balls over the last three seasons, which was enough to put him at No. 5 on the list with a 12.77 percent drop rate.
With the offseason additions of Brian Quick, Chris Givens and Steve Smith, Gibson will have to piece together a remarkable camp in order to earn a roster spot.
Visit Pro Football Focus for the full list.
Former Rams WR Isaac Bruce Interview with Fox 2
Former Rams great and Super Bowl champion Isaac Bruce, who we all remember as the greatest Rams wide receiver of all time, recently caught up with Maurice Drummond of Fox 2 for an interview.
In the interview, Bruce discusses the nostalgia of returning to Rams Park. He also discusses what it takes for young athletes to excel at the NFL level, and he shares his opinion of newly-hired head coach Jeff Fisher.
Biggest Rams Media Misconceptions
I mentioned media sheep in the introduction, which is why I must remind you all to check out Part 1 of Shane Gray's "St Louis Rams: The Biggest Media Misconceptions About the St. Louis Rams."
In the first segment of Shane's series, he discusses an annoying train of thought that bothers every St. Louis Rams fan: St. Louis Is a Baseball Town Rather Than a Great Sports and Rams Town.
It makes me cringe just typing it.
The piece can be found right here on Bleacher Report.