Ranking Every DB on the Miami Dolphins Roster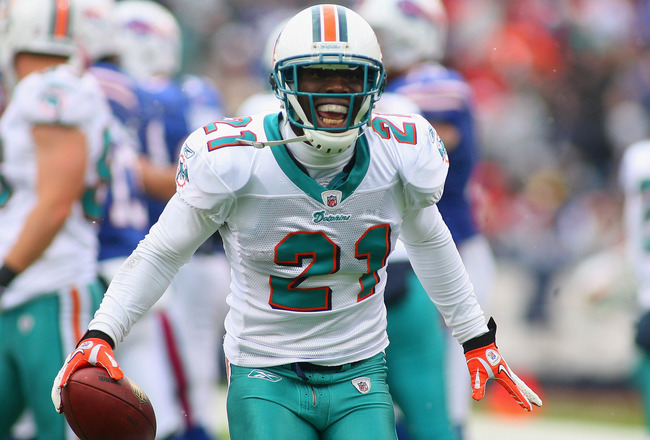 Rick Stewart/Getty Images
Reviewing the 2011 season, you can pinpoint countless blemishes on the Miami Dolphins' roster.
Jeff Ireland is making a concerted effort to eradicate those blemishes, but Rome wasn't built in a day. One unit that desperately needed—but didn't receive—a makeover this offseason was the secondary.
Last season, the Dolphins pass defense ranked 25th in the NFL. Without two reliable safeties, consistency from their starting cornerbacks and virtually no depth, it's easy to see why this unit struggled so much.
Despite these depth issues, the Dolphins only added nickelback Richard Marshall and backup-caliber safety Tyrell Johnson this offseason. This suggests that Ireland believes some of the team's developmental projects are ready to establish themselves as legitimate starters in 2012.
Although some of Miami's defensive backs are loaded with potential, only a handful have actually performed well in game settings.
Here's a look at how Miami's defensive backs stack up entering training camp.
No. 9: Nolan Carroll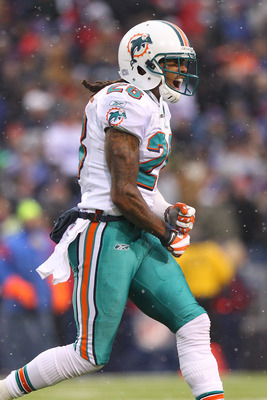 Tom Szczerbowski/Getty Images
Nolan Carroll made a name for himself during training camp two years ago, but he hasn't done much since.
In 2010, Carroll was an anonymous rookie whom the Dolphins had just taken a fifth-round flier on. It didn't take long for Carroll to shed that anonymous label. He was a standout throughout the summer, and his play suggested he may be a future starter.
Carroll couldn't translate that offseason success to regular season success, however. He's spent the bulk of his two NFL seasons returning kicks and serving as an inconsistent backup cornerback.
There's no doubt Carroll has the physical tools to become a solid player, and he believes the lockout hindered his development. Given Miami's lack of depth at cornerback, Carroll will have a chance to prove that he is in fact past the sophomore slump.
No. 8: Jimmy Wilson
Photo via www.buy-dolphins-tickets.com
Jimmy Wilson's career trajectory bears a striking resemblance to Nolan Carroll's.
The Dolphins took a seventh-round flier on Wilson in 2011, and he immediately made his presence felt. Wilson was a ball-hawk in training camp, snatching interceptions and displaying a striking blend of strength and explosiveness.
Wilson also failed to thrive in a regular season game setting much like Carroll did in his rookie season.
Now, the question lingers: Will Wilson continue to follow in Carroll's footsteps? Or will he progress from his rookie season and become a serviceable defensive back?
Only time will tell. Wilson is fighting an uphill battle, though. He's undersized at 5'10", 185 pounds and needs to have an outstanding training camp to earn a starting safety spot, but he's in the running nonetheless.
Whether or not he wins that job, Wilson should see time at cornerback, so he'll have every opportunity to show that he's no fluke.
No. 7: Tyrell Johnson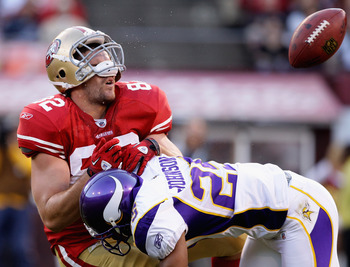 Ezra Shaw/Getty Images
After four unproductive, unspectacular NFL seasons, it's safe to slap the bust label on Tyrell Johnson.
The Minnesota Vikings used a second-round pick on Johnson in 2008, but the former Arkansas State star never materialized, and the 'Fins scooped him up in free agency back in April.
Johnson has the anatomy of an NFL safety, and he displays sufficient speed, agility and burst. However, his attributes are strictly specific—not great. Johnson is a relatively reliable tackler, but he'll probably spend most of his time on special teams.
Although Nolan Carroll and Jimmy Wilson have greater potential than Johnson, he's more proven than both youngsters.
No. 6: Reshad Jones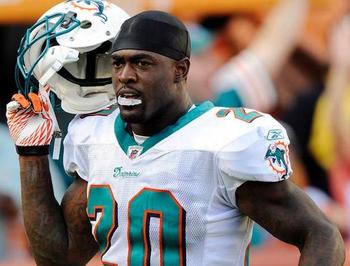 Photo via TheFinsiders.com
Following Miami's series of OTA sessions, Reshad Jones became one of the most hyped players on the roster. The third-year safety made plays left and right and now has a firm grasp on one of the starting safety jobs.
It's great to see Jones shine in practice, but let's not get ahead of ourselves. Practice success does not automatically transfer to game success. Jimmy Wilson and Nolan Carroll wowed in practiced too, and we saw how that turned out.
Until Jones proves himself in the regular season, he doesn't warrant a higher ranking.
Last season, he was a liability in pass coverage and often the object of fans' frustration. Jones did improve as the season wore on, and he possesses all of the tools required of a starting NFL safety.
If he puts it all together in 2012, he will skyrocket up this list.
No. 5: Tyrone Culver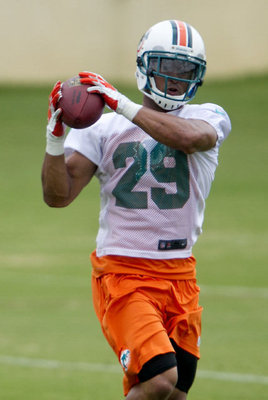 Photo via MiamiHerald.com
Hopefully by season's end, all of the aforementioned players on this list will leapfrog Tyrone Culver.
But as it stands today, he is the team's fifth-best defensive back.
Unlike all of those aforementioned players, Culver has proven that, when called upon, he will deliver. There's a reason why he was retained during the 2008 roster turnover and has stayed with the 'Fins since.
Culver is a trustworthy backup safety and special teams contributor, and he's probably fourth in the safety pecking order. After the season, Culver should free-fall down this list. But again, as it stands today, he's more proven than Reshad Jones, Jimmy Wilson and the others.
No. 4: Chris Clemons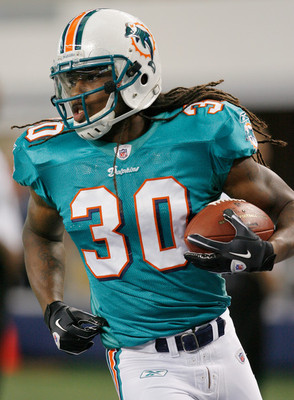 Photo via DolphinsTalk.com
Even though Reshad Jones managed to fend off Chris Clemons for playing time last season, Clemons still has the edge.
Why?
Because Clemons has actually shown us that he can be a serviceable and reliable starter, something Jones is yet to do.
Clemons secured a starting role in 2010, and although he was unspectacular, he got the job done. Just when Clemons started to look like a potential fixture at safety, a hamstring injury derailed his 2011 season.
Now that he's healthy, Clemons should and most likely will start alongside Reshad Jones. Although Clemons' ceiling isn't as high as Jones', he is a more consistent player who has shown he can handle significant responsibilities before.
No. 3: Richard Marshall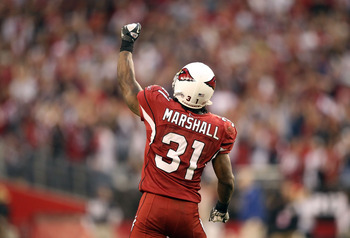 Christian Petersen/Getty Images
Although cornerback and safety were two areas Jeff Ireland needed to address this offseason, he only brought in one impact defensive back: Richard Marshall.
Marshall, a six-year veteran who played for the Arizona Cardinals last season, will be Miami's starting nickelback in 2012. Assuming he doesn't flop, Marshall will provide a substantial upgrade from Will Allen.
He has intercepted three or more passes in five of his six NFL seasons, and he has the athleticism to keep up with the league's quickest receivers.
With Marshall onboard, the Dolphins pass defense should make strides and match up much better with pass-happy teams like the New England Patriots.
No. 2: Sean Smith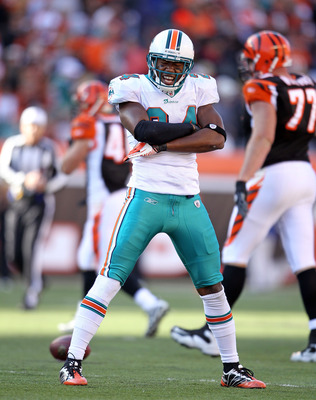 Andy Lyons/Getty Images
Sean Smith is easily one of the most, if not the most physical gifted defensive backs in the NFL. How many other DBs are 6'3" and still run sub 4.5 40s?
In 2010, Smith was one of the NFL's best cornerbacks. He ranked second in TA/COV (times thrown at per coverage snaps) and fourth in REC/COV (receptions allowed per coverage snaps), putting him in company with Darrelle Revis and Nnamdi Asomugha. Had Smith not dropped a league-high five interceptions that year, he would've been a First Team All-Pro.
But last year, Smith inexplicably regressed, surrendering the 13th-highest yardage total among cornerbacks. He was a fraction of his former self.
Smith has shown that he can not only be the best defensive back on the roster, but one of the best in the league. However, his inconsistency is troubling, and it prevents him from earning the top spot on this list.
No. 1: Vontae Davis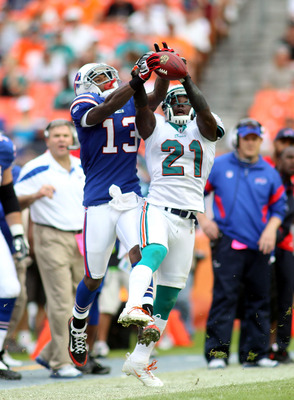 Marc Serota/Getty Images
While Vontae Davis might not have the physical gifts of Sean Smith, he maximizes his stocky 5'11", 203-pound frame.
Davis boasts extraordinary strength and athleticism, which allows him to match up man-to-man and jam some of the league's best wide receivers.
Last season, Davis stumbled out of the gate, and Tony Sparano benched him in Week 9 for showing up to practice hungover. After that incident, Davis turned his season around and looked like the stud cornerback the Dolphins thought they drafted in 2008.
Davis racked up four interceptions last season and given his physicality, experience and skill-set, could emerge as a top 15 or top-10 cornerback in 2012.
Keep Reading

Miami Dolphins: Like this team?