Michael Waltrip Talks About "The Waltrip," Dale Jr., MWR and More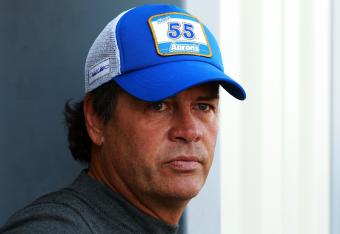 Chris Trotman/Getty Images
NASCAR's Michael Waltrip is a racer at heart who has felt the highs and lows of a sport he loves. He has fought the battles of a team owner and now he is reaping the rewards of his efforts, but Drew Brees might be one of his toughest competitors yet.
Country Time launched its first new product in 14 years, Half & Half, a combination of lemonade and iced tea. Michael Waltrip and Drew Brees are among some celebrity power bringing attention to it.
The Country Time Campaign For a Name on Facebook allows individuals to become part of a campaign to name the drink.
Waltrip claims the obvious choice is "The Michael Waltrip" since he drove the Country Time car back in the day.
Waltrip also believes the drink should be a tea and lemonade drink since he is more of a tea guy.
Brees has thrown down the gauntlet by questioning Waltrip's athletic ability because of driving in circles.
Waltrip claims, "He throws a ball, anybody can do that. It takes a real special talent to race a car."
The winner in the campaign will be treated to special events with their celebrity choice. YouTube videos and Twitter provide entertaining banter with the candidates in the Country Time Campaign For a Name.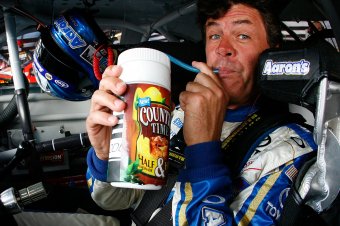 Tyler Barrick/Getty Images
Waltrip, as a team owner, has been able to keep major sponsors in long term relationships while other major teams struggle to find and retain sponsors despite the talent level of the driver.
He claims NAPA and Aaron's have been the cornerstones at MWR and he considers them partners as opposed to just a business relationship.
Waltrip stated, "We've done a nice job accommodating them with anything they wanted to do over the years." He hopes to announce the extension of Martin Truex Jr. and NAPA for 2013 and beyond.
It was obvious heading into the 2012 season that MWR was on the path to becoming a top-tier team. Now he has two drivers, Clint Bowyer and Truex in the top 10 of the standings. Bowyer has one win.
Waltrip said, "Our goals were to win multiple races in 2012, not just a race. We haven't accomplished our goals, but we will never feel like we are there."
He added, "That's trouble if you think you are there, because when you get there, everybody has already left."
With the July race at Daytona coming up, the two-time Daytona 500 winner will be driving the Aaron's Dream Machine No. 55 Toyota.
"It defines NASCAR. It's our signature track and I love going there and I can't wait to get there," Waltrip said of the historic Daytona International Speedway.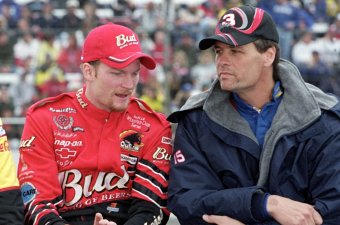 Donald Miralle/Getty Images
MWR presently has no plans for a fourth team, but they do have the infrastructure to handle four teams. Brian Vickers has driven a few races for him this season and performed well.
Waltrip stated, "We love Vickers, he's done a great job for us and we certainly hope that we have him in 2013 for a partial schedule." The owner at MWR also understands Vickers could go with another team.
Dale Earnhardt Jr. and Waltrip are friends and they usually speak on a weekly basis at the track. He stated that the 143-race winless streak was not something they discussed.
Waltrip said, "No, we don't really talk about stuff like that, we more just talk about life in general. He's happy, he's in a really good place."
At Sonoma, Waltrip said, "I told him how proud I was of him. He was just really content and happy."
In response to changes in Earnhardt, Waltrip stated, "I don't know, he just seems like the same old Junior to me, but he's haulin' ass, so that's really cool. I love to see his effort. I like to see him up front fighting for wins."
Mark Martin is driving a partial schedule with MWR behind the wheel of the No. 55 Aaron's Dream Machine Toyota.
"He has just made us better. His youthful enthusiasm for a 53-year-old man is amazing, " Waltrip said of the veteran driver.
Waltrip claims the win by Junior and his second place finish at the 2001 July race in Daytona is his most memorable moment other than the tragic Daytona 500 that year when we lost the "Intimidator."
"We were able to stand on top of the cars in the infield. It was an amazing, amazing sight and spectacle in the sport. All those fans were cheering at the top of their lungs and we couldn't even hardly hear each other," said Waltrip.
He added, "I just never will forget that feeling. We returned and conquered."
Waltrip now gets his greatest satisfaction from the fact that his teams are doing well. He finds comfort in going to the race track knowing his teams will perform.
Waltrip stated, "Predominantly everything I have and everything I do revolves around my commitment to NASCAR on the team ownership side."
Now, if only Waltrip can win the Country Time Campaign For a Name with "The Waltrip," and get another victory or two with his teams, all will be right in his world.
All quotes were obtained courtesy of a telephone interview with Michael Waltrip.
This article is
What is the duplicate article?
Why is this article offensive?
Where is this article plagiarized from?
Why is this article poorly edited?