Why the New York Yankees Should Already Regret Trading Jesus Montero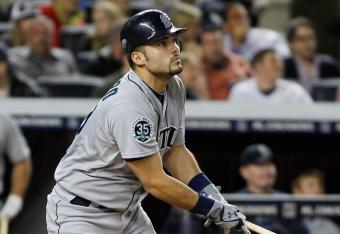 Mike Stobe/Getty Images
The Yankees are going to make a trade for a starting pitcher. That is fact.
It is as predictable as the sun rising in the morning. They have turned a moribund season around where they shot from a .500 record to the top of the division in a little more than a month.
But yesterday, the Yankees had to put both Andy Pettitte and CC Sabathia on the disabled list at the same time. In one swift stroke, the most effective 40 percent of their rotation was put on the shelf. And unless Pettitte uses some of the stuff he misremembered using, his recovery from a broken ankle will sideline him into August.
The Yankees will need to acquire a new pitcher to help them in the short term and give them depth in the postseason. The Rays can certainly heat up, the Orioles have been a gigantic surprise and the left-for-dead Red Sox are on a roll.
The Bronx Bombers cannot hold them all off with Phil Hughes, Ivan Nova and a prayer.
There are some quality arms that could be on the market. Ryan Dempster, Matt Garza and perhaps even Cole Hamels could be moved. But the Yankees greatest strength for acquiring players, their seemingly bottomless pockets, does not always land them a prized player in midseason. What they need is a prime trade chip to pry loose an available pitcher.
And if they cannot shore up their pitching staff, they might be looking to the offseason trade of Jesus Montero to Seattle as the problem.
Montero was, for several years, the most attractive prospect for potential trade partners. Along with Joba Chamberlain, the right-handed slugging catcher was rumored to be the key factor in a number of deals including a pair of potential trades for Cliff Lee.
Each time, the Yankees resisted moving a player they compared to Miguel Cabrera.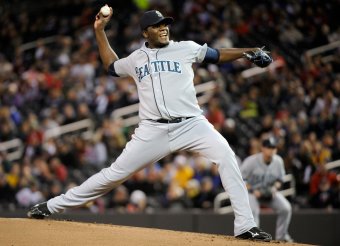 Hannah Foslien/Getty Images
Then this winter, he was packaged off to bring in young Michael Pineda in an effort to make their pitching staff younger and healthier. Of course, Pineda, who was awful in the second half of his rookie season, showed up overweight and tore his shoulder, costing him the season.
Defenders of the trade claim that the Yankees made the deal for the future because the Yankees are known for sacrificing the present for the future. They point out that Montero has not put up great numbers for the Mariners.
Of course any day Montero shows up to play for the Mariners is an improvement over Pineda's season with the Yankees.
The most frequent defense of the trade is "Montero did not have a position." He is a part-time catcher and designated hitter. So far this year, he has caught a combined no hitter and shown flashes of terrific power.
But he would not have played catcher for the Yankees.
His position would have been trade bait. He was a terrific chip for other teams to offer a veteran arm, but they cashed him in for a pitcher with one good half and enough health issues that he could not make it out of spring training intact.
Being able to offer someone like Montero could be the difference between a trade for Zack Greinke and a trade for Wandy Rodriguez.
Having Montero on the team or in Triple-A could have been the promise of a big deal looming. Instead they have prospects like an injured Manny Banuelos, a struggling Dellin Betances and Mason Williams, who is all the way down in Single-A.
The Yankees can still pull off a potential deal, but it would be easier to do with a prime trade chip.
At least they will have Pineda for the 2013 rotation.
This article is
What is the duplicate article?
Why is this article offensive?
Where is this article plagiarized from?
Why is this article poorly edited?

New York Yankees: Like this team?