Florida State Football: Meet Jimbo Fisher, Seminoles' Extremely Intriguing HC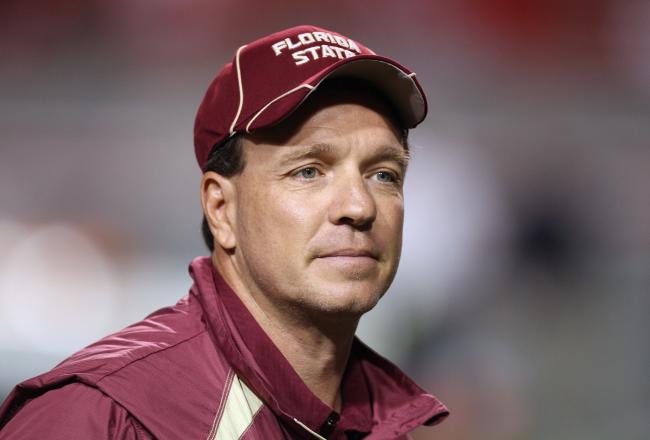 Streeter Lecka/Getty Images
Every week here on the Your Best 11 blog, we will be highlighting a coach from either the Big 12, Pac-12, ACC or Big East. Typically, the coach will be an assistant to help you get to know the staff from your favorite programs. This week though, we take a look at a head coach with an intriguing history.
Jimbo Fisher is not a new name to the Florida State community.
Heading into his third year as the Seminoles' head coach, Fisher has had an interesting road to where he is today. This road, however, is deeply rooted in familiarity with the Bowden family. In college, Fisher played quarterback for Terry Bowden—son of Bobby Bowden, the legendary head coach of the Florida State Seminoles—at Salem College.
When Terry Bowden left for Samford University, Fisher went with him. It was this move that would begin a career heavily linked to the Bowden family.
Fisher's first coaching experience would also come at Samford as a graduate assistant coach working with quarterbacks. After two seasons, Fisher moved with Terry Bowden to become the quarterbacks coach at Auburn University alongside Bobby Bowden's other son, Tommy Bowden.
Will Jimbo Fisher take Florida State to the national title game in the next five years?
Fisher would then separate from the Bowdens for a while, as he coached one season at Cincinatti, followed by seven seasons at LSU. After interviewing elsewhere, Fisher would eventually find his way back to the Bowden family. In 2007, Fisher was made the "head coach-in-waiting" for the Florida State Seminoles. He was to succeed Bobby Bowden, the second most winningest coach in all of major college football.
Fisher would spend three seasons in this role, with a contract of $600,000 per year and a $2.5 million buyout clause. If Fisher was not FSU's head coach by January of 2011, the university would owe the head coach-in-waiting a cool $5 million.
In 2012, Fisher officially became Florida State's head coach after the program was under Bobby Bowden's reign for 35 years. He is only the ninth head coach in Seminole history.
The first-year head coach hit the ground running. At the end of the 2010 season, Fisher led the Seminoles to a 10-4 record. To top it off, Florida State defeated South Carolina 26-17 in the Chick-fil-A Bowl. In 2011, Fisher guided FSU to a 9-4 season and an 18-14 win over Notre Dame in the Champs Sports Bowl. By the end of his first two years, Fisher is off to the best two-year start in all of Florida State history.
The accolades have followed for Fisher, who was named the 2010 Football Writers Association of America's Freshman All-America Team Coach. He is also tied for the second-most wins by a rookie coach in ACC history.
It has been a while since the ACC has been in competition for a national title, but under Fisher, it looks like the Seminoles could just be headed back that direction. The 2012 season will be Fisher's third, but with his work ethic and dedication, it appears that the head coach has no intentions of slowing down. Considering who Fisher was surrounded by all through his collegiate and coaching careers, it would not be surprising for him to be wildly successful at Florida State.
The Bowden family has always been a part of Fisher's football life. This is now his time to shine on his own.
This article is
What is the duplicate article?
Why is this article offensive?
Where is this article plagiarized from?
Why is this article poorly edited?