Spain vs. France Euro 2012: Bold Predictions for Quarterfinal Clash
June 23, 2012

Michael Steele/Getty Images
Anything can happen in one game at the European Championship. Any team can beat another on any given day.
It's what makes the sport so exciting.
Spain vs. France on Saturday afternoon will provide drama at its finest. Both teams have the quality of making a deep run in this tournament which makes for a thrilling outcome.
Here are some bold predictions for Saturday's clash. 
Spain wins possession battle 65-35
Spain is known for dominating teams in the time of possession area. 
It was 60-40 against Italy, 66-34 against Republic of Ireland and 65-35 against Croatia. They're going to do it again on Saturday.
France is a much better club than Croatia and the Republic of Ireland, but they will still find themselves playing defensive football. Spain will play similar to the way they're known for. 
France wins 1-0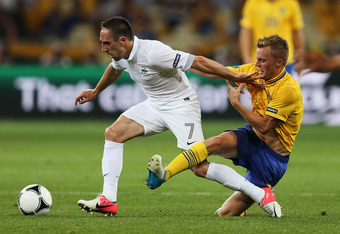 Julian Finney/Getty Images
Spain hasn't exactly been the dominating team we have seen over the past four years. They don't have the same form, technique and possible desire to prove to people that they are the best in the world despite out-possessing teams.
There is just something missing. 
Maybe we expect too much or maybe I am just missing something here, but this team is beatable. France has the quality, has the potential and star-power up front to defeat Spain.
Will they put it together for 90 minutes? That's the question. Anything can happen in one game and I think France will find a way to get it done. 
Karim Benzema scores the game-winning goal
France's world-class striker Karim Benzema has been held scoreless through three games at Euro 2012. He's due for a breakout performance.
It will happen against Spain.
Spain loves to hold possession of the ball, wait for the perfect play and try to break the defense by going right at it. But they have a tendency of passing up too many shots. They try to make the absolute perfect play just about every time.
It makes them vulnerable.
France will play a tight, defensive formation that will allow Spain to beat the ball around in the final third. If they can hold up and execute on the few chances to counter-attack, France has a better-than-expected opportunity to win this game.
But it will come down to finishing in the final third. When France decides to counter-attack, goal scorers like Benzema have to be ready to finish. Benzema scored 21 goals for Real Madrid in La Liga this past season.
He has the ability to finish any play if he is given the space to operate. Spain will give him that space once or twice in this game. He'll bury the game-winner.