Bellator 71: Main Card Predictions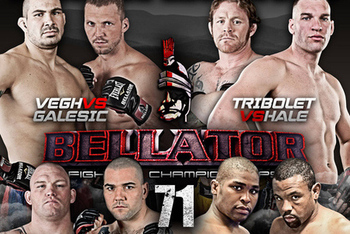 mmamania.com
Bellator 71 marks the beginning of the 2012 summer series for Bellator, which plays host to a light heavyweight tournament. The winner of the tournament will meet Christian M'Pumbu, the current light heavyweight champion.
Also on the card is Brett Rogers, a heavyweight who showed great promise in the beginning of his Strikeforce career, but fell on hard times since.
Here are the full main card predictions for tonight's event.
Brett Rogers vs. Kevin Asplund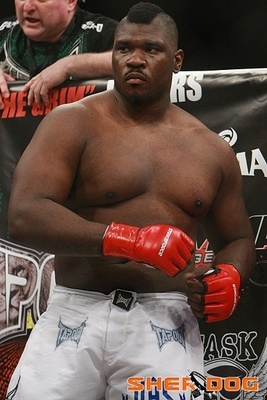 sherdog.com
In the heavyweight division, former Strikeforce employee Brett Rogers meets Kevin Asplund.
Rogers' record currently sits at 11-4 (1 NC). He has knocked out nine opponents on his way, including a 22-second trouncing of Andrei Arlovski.
Lately, he has fallen on hard times, dropping four of his last six, as well as fighting one of those fights to a "no contest." Along the way, he was beaten by Fedor Emelianenko, Josh Barnett, Alistair Overeem and Eddie Sanchez.
His opponent, Kevin Asplund, will likely agree to stand toe-to-toe with him, as he is also a power puncher. Asplund has finished 11 opponents with strikes and submissions. This will be his biggest test to date despite being on a 15-fight win streak.
Prediction: Rogers def. Asplund via knockout
Roy Boughton vs. Emanuel Newton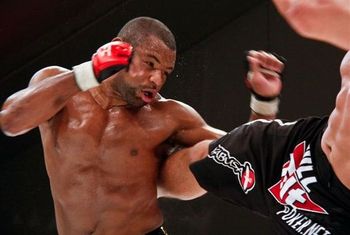 tapology.com
In the light heavyweight tournament, Roy Boughton meets Emanuel Newton for a chance to make it into the semifinals.
Roy Boughton is 8-2 in his career, winning four times by submission and two by knockout. Notably, Boughton has knocked off Murilo Rua, brother of Mauricio Rua. He is well-rounded and a threat to any fighter in the tournament.
Meanwhile, Emanuel Newton has quietly become a threat in the light heavyweight division. He is 17-6, using his well-rounded skills to earn tapouts, decisions and knockouts consistently.
Notably, Newton has earned victories over James McSweeney, Rodney Wallace, Dwayne Lewis and Roger Hollett. This resume tells me that Newton has a great chance come fight night.
Prediction: Newton def. Boughton via decision
Tim Carpenter vs. Beau Tribolet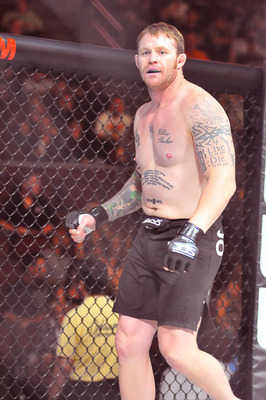 sherdog.com
In the next light heavyweight quarterfinal, Tim Carpenter replaces Rich Hale to take on Beau Tribolet.
Tim Carpenter is no stranger to the Bellator cage, as he has competed in it four times. His only loss is to champion Christian M'Pumbu, showing that he can hold his own.
He is 8-1, finishing four in his time. This includes a decision win over Daniel Gracie. Carpenter is comfortable on the mat, using his submissions to score points and wins.
On the other hand, Beau Tribolet is 7-1, finishing every fight he's won. His latest win is over UFC veteran Chase Gormely, who Tribolet finished with strikes.
Prediction: Tribolet def. Carpenter via decision
Zelg Galesic vs. Attila Vegh
mmalinker.com
The battle of two Europeans takes place next, as Zelg Galesic of Croatia meets Slovakia's Attila Vegh.
Galesic is 11-6 in his career, winning nine by knockout. The chink in his armor is submission defense, as he has fallen to tapout five times. Galesic has lethal striking, which he will try to use on his European adversary.
Vegh is coming off his Bellator debut, a split decision win over Dan Spohn. This fight against Galesic is a definite step up in competition, but that should not worry the 25-4-2 Slovak. He has finished 19 opponents, a credit to his killer instinct.
This one will be close, but expect Vegh to drop his first fight in six outings.
Prediction: Galesic def. Vegh via decision
Travis Wiuff vs. Chris Davis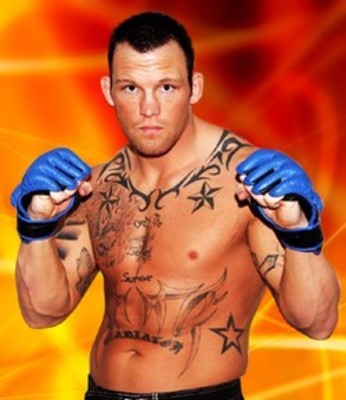 fiveknuckles.com
In the final of the light heavyweight quarterfinal, longtime MMA veteran Travis Wiuff meets Chris Davis.
Wiuff holds the distinction of beating Bellator light heavyweight champ Christian M'Pumbu recently. Wiuff is 66-14 in his career, finishing 44 on his way. The well-rounded veteran has recent wins over M'Pumbu, Anthony Gomez and Jeff Monson.
Meanwhile, Davis is the definite underdog in this bout. He is 10-3 in his career, finishing all 10 victories by knockout or submission. His latest loss is to M'Pumbu, which he fell by knockout. Every time he has stepped up in competition, he has faltered, so I see no difference in this fight.
Prediction: Wiuff def. Davis via knockout
Keep Reading