Thursday's Rams "News and Notes at Noon"
June 21, 2012

Dilip Vishwanat/Getty Images
Welcome to Thursday's addition of St. Louis Rams "News and Notes at Noon," the most fertile breeding ground for daily Rams headlines and news.  
I'm filling in for Shane Gray today, and even though it's the slowest time of the NFL year, I will still manage to scrape together a collection of the latest Rams headlines. 
Rams Organization Accomplishes Broadcasting Excellence
The Rams have a 15-65 record over the last five years, but the organization is finding alternative ways to succeed off the field. 
The Rams Broadcasting Network (RBN)—the team's in-house broadcasting company that produces every Rams game and all of the phenomenal videos from StLouisRams.com—was acknowledged by winning 32 Telly Awards, including four Silver Stars (the highest award possible for any given category). 
One of the Silver Star awards (according to the Telly Awards website) was awarded to the Rams for a video titled "What Would You Do?", which captures fans performing gross acts in exchange for on-field passes, such as drinking pickle juice out of Steven Jackson's shoe (because nothing says "family fun" like mild acts of prostitution). 
According to the report from StLouisRams.com, the Telly Awards received 11,000 entries from five different continents. 
Here is what vice president of broadcasting and creativity Scott Brooks had to say:
"The RBN team is composed of talented and passionate members who have developed into one of the top crews in all of sports and we're proud that they are being recognized for their hard work and long hours.  Our goal is to continue to bring national recognition to the Rams' brand." 
Bowling For TASK
As part of Rookie Week, a number of St. Louis Rams rookies attended a bowling event held for the special needs kids of the TASK organization (Team Activities for Special Kids).
Some of the notable rookies in attendance included Michael Brockers (first-round draft pick), Isaiah Pead and Brian Quick (second-round draft picks), as well as Trumaine Johnson (third-round draft pick) and numerous others. 
No information was provided as far as which Rams player finished with the top score. 
You can see a video covering the event at StLouisRams.com
Rams Rookies Host a Youth Football Camp
Along with bowling, the Rams Rookie Week featured a Youth Football camp that was presented by Barnes-Jewish Hospital and Washington University Orthopedics. 
The camp hosted more than 100 children who not only had the chance to meet real NFL players, but they also learned fundamentals in a fun environment. 
Again, you can watch the coverage of the event at StLouisRams.com
Rams Are Confident Scott Wells Will Be Ready For Training Camp 
According to a report by Pro Football Weekly, the St. Louis Rams are confident that newly-acquired center Scott Wells will be on the field when training camp arrives at the end of July. 
Wells, who signed a four-year contract for $24 million with Rams this offseason, had a knee scope recently and was forced to miss the team's Organized Team Activities (OTAs). 
Wells' return is vital. Before the season can begin, he needs to develop a comfort level with the linemen playing alongside him. Also, him and Bradford have to coordinate snaps and make the process second nature. 
If the injury is delayed for whatever reason, it would be a huge blow to the Rams. 
John Clayton Does Not Share Enthusiasm With Rams Fans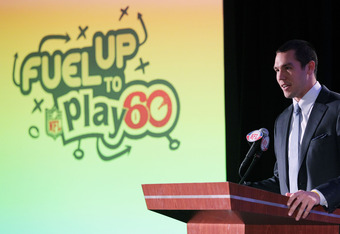 Doug Pensinger/Getty Images
John Clayton, a reporter for ESPN, recently predicted that the Rams would finish the 2012 season with a 4-12 record and find themselves dead-last in the NFC West. 
In the ESPN.com article that outlined the prediction, NFC West blogger Mike Sando agreed with the reasoning, but also acknowledged that four wins may be overly cautious on Clayton's part.
"The projections I made last month set the Rams' over-under at 5.5 victories, behind those for San Francisco (10), Seattle (8.5) and Arizona (7.5). I'll say Clayton's figure is on the low side, but I won't say it very loudly."
But even though fans will criticize Clayton and Sando for viewing the Rams as a sub-.500 team, their logic is sound due the the team's youth and overall inexperience. There are simply too many variables and unknown commodities within the roster. 
On the other hand, the veteran leadership of head coach Jeff Fisher and the overhaul of new talent could ultimately force both Sando and Clayton to eat their words a year from now.