Pacquiao vs. Bradley: All 5 Judges Tasked to Review Bout Favor Manny
June 20, 2012

Jeff Bottari/Getty Images
All five judges tasked by the World Boxing Organization (WBO) to review the controversial Manny Pacquiao vs. Timothy Bradley fight were unanimous in declaring Pacquiao the winner after analyzing the video of the fight.
The result of the five judges' review was made available to RingTV on Wednesday.
In a split decision from the three ringside judges, Bradley snatched Pacquiao's WBO welterweight crown on June 9 at the MGM Grand Garden Arena in Las Vegas, Nev.
After the fight, two of the judges scored the bout in favor of Bradley, while the third judge gave it to Pacquiao. All three judges came up with an identical score of 115-113, with judges C.J. Ross and Duane Ford favoring Bradley, and Jerry Roth giving the nod to Pacquiao.
In a poll posted by CSNBayArea.com, among 53 media people who covered or watched the fight, 50 of them said Pacquiao won the fight, while just three said Bradley was the winner.
In another poll, HBO Sports reported 91 percent of those who viewed the Pacquiao vs. Bradley fight said Pacquiao won, while only seven percent believed Bradley was the victor and two percent deemed it a draw (via InsideSports).
In an effort to ascertain who really won the fight, WBO president Francisco "Paco" Valcarcel asked five seasoned boxing judges to review the video of the Pacquiao-Bradley fight.
Valcarcel said the five judges all voted for Pacquiao as the winner, by scores of 117-111, 117-111, 118-110, 116-112 and 115-113.
According to Ronnie Nathanielsz's PhilBoxing column, Valcarcel dispelled the notion of overturning the decision.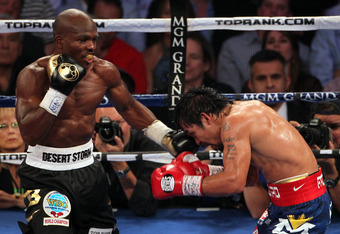 Jeff Bottari/Getty Images
"Even if I saw Pacquiao win, the decision of the judges is legal and their decision cannot be revoked by us," Valcarcel told the Manila Standard Today. 
Top Rank promoter Bob Arum praised Valcarcel for his efforts in finding the truth, saying, "That's a Solomon-like conclusion. Paco is a good man, he really is. I have great respect for him and what he says."
"It's appropriate for him to make that final conclusion," Arum added.
Pacquiao has not decided whether he will accept Bradley's rematch offer on the table for November. The fighting congressman from the Philippines is still working on the most pressing problems facing his displaced constituents in the Sarangani province who were rendered homeless due to severe flash floods in their communities.
After distributing money and provisions to flood-stricken civilians, Pacquiao will rejoin his family over the weekend in Los Angeles, Calif.