Arizona Diamondbacks: Why the Kevin Youkilis Trade Was Doomed from the Start
June 20, 2012

Rob Carr/Getty Images
As the Kevin Youkilis trade rumor saga enters its second round, the Arizona Diamondbacks are once again reportedly in the mix.
We have been down this road before.
Ever since the Pittsburgh Pirates theorized a trade with Boston for Youkilis, MLB's rumor mill has been spinning. Since June 9, all of six teams—the Pirates, White Sox, Dodgers, Indians, Braves and Diamondbacks—have been linked to a potential trade for the beleaguered Red Sox third baseman.
So why has the Youk-to-Copper State trade been doomed from the start?
Though Ken Rosenthal and Jon Paul Morosi describe Youkilis as a "player in decline," there is plenty to be excited about as the veteran third baseman is a .286 AVG /.874 OPS hitter. Youkilis might be in a slump as of late, but the Cincinnati native is a three-time AL All-Star—most recently making the Midsummer Classic squad in 2011.
Nonetheless, Youkilis is, with all due respect, a bum—Baseball Player Salaries refers to players who significantly under-perform based on their annual salary as "bums." With Youkilis taking home $12,000,000 this season, the Red Sox have spent precisely $3,000,000 per Youkilis home run, $521,739 per run scored and $413,793 per hit.
By the time you finish reading this article, Youkilis will have earned enough scrap for a nice meal, pocketing 38 cents per second, $22.83 per minute and $1,369 per hour.
Ergo, it is no surprise that Diamondbacks GM Kevin Towers has been less than enthusiastic about the prospect of spending at least $6 million—or the balance of Youkilis' $12 million salary—on acquiring a slumping veteran.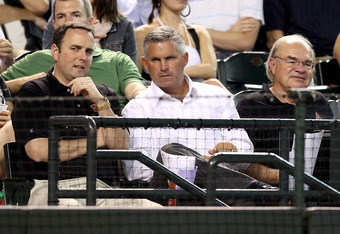 Christian Petersen/Getty Images
If the cost weren't enough of a deal-breaker, the Red Sox allegedly asked Arizona about outfielder Gerardo Parra. In 2012, Parra is batting .263 with 17 extra-base hits, 79 total bases and a .761 OPS. This season, Youkilis is clubbing just .216 with 10 extra-base hits, 48 total bases and a .645 OPS.
For those quick to point out that Parra has had 186 at-bats whereas Youkilis has received just 139, keep in mind that Parra has fallen prey to the strikeout 37 times. Youkilis? 39. 
Case closed.
In its present form, the Youkilis trade has been doomed from the start; however, extenuating circumstances such as a "roster crunch" and Boston's increased willingness to eat some of Youkilis' contract could make such a deal more enticing for clubs like Arizona.
Take Parra off the table and the deal might even be too good to be true. With left-handed pitcher Joe Saunders set to enter the trade rumor mill, a Youkilis-Saunders transactions might prove beneficial for both parties, what with Trevor Bauer in the wings for the D-Backs and Boston reported to be in search of a brand new starting pitcher.
After all, Boston seems to be the catalyst for unlikely trades—2008's blockbuster Manny Ramirez-to-Los Angeles coup remains the shining model for the absolutely bizarre.
Does Mannywood have a Youkizona sequel on its way? Only time—and the Red Sox's level of desperation—will tell.