SF Giants' Matt Cain Receives Perfect Gift in Mizuno Samurai Sword
June 19, 2012

Lisa Blumenfeld/Getty Images
Matt Cain was already armed with a wide array of pitches, but now the dude is packing a samurai sword. 
Things do get fairly busy when you throw a perfect game. I wouldn't know first hand, as my biggest accomplishment is the one time I didn't eat a box of thin mints, but we'll move on. 
Matt Cain threw a perfecto a week ago against the Houston Astros and then pitched Monday night against the L.A. Angels. 
Before he got started on his five innings of work and eventual 5-3 win, he needed to reap some rewards. 
According to Yahoo! Sports, his pitching day began by recording a spot for the night's Late Show with David Letterman, a segment entitled, "Things I Want to Achieve Now That I Have Thrown a Perfect Game."
The best of the day came in the form of a samurai sword. 
BuzzFeed Sports tweeted this picture and assumption that a perfect game comes with a perfectly sweet gift:
Apparently this is what you get for throwing a perfect game - yfrog.com/nt508rlj

— BuzzFeed Sports (@BuzzFeedSports) June 19, 2012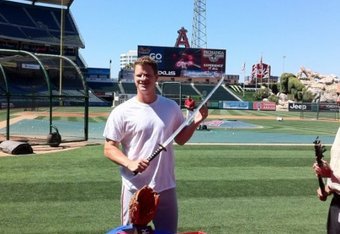 According to the Yahoo! Sports report, there is a perfectly good reason Cain was given a samurai sword that nerds like me will covet from afar:
He then accepted the gift of a samurai sword from Mizuno USA, a company that he endorses. According to Mizuno, the sword has only been awarded to its brand ambassadors on five different occasions with the most recent being Dallas Braden's perfect game in 2010.
You too can have your very own samurai weapon. You need only to endorse Mizuno and to then throw nine innings of perfection.
As for me, I will just watch Kill Bill one more time and call it a job well done.
Follow me on Twitter and get the party started.